When it comes to vacation homes in Southwest Montana, the outdoors are a huge part of the appeal. Buyers and renters choose this region specifically for what the outdoors have to offer!

That's why vacation home landscaping trends are so important. It always helps to pay attention to what's new and how outdoor spaces can be fully capitalized in order to get the most out of what Southwest Montana has to offer.

As experts that are immersed in the field, we want to be your eyes and ears and report back on what we're seeing. Here are some of the new landscaping ideas for vacation homes that are trending.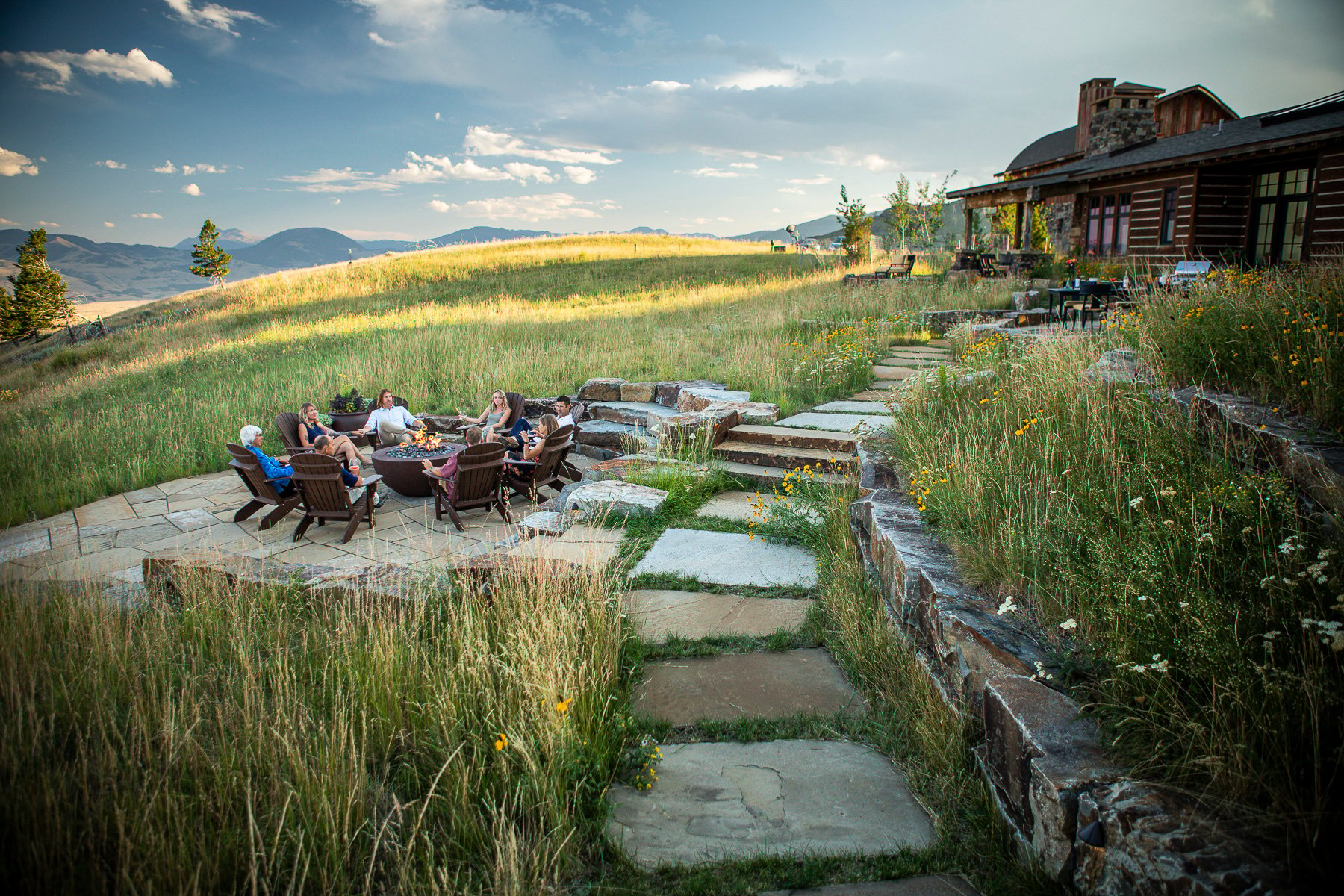 Vacation Home Landscaping Trends
As you know, the Montana vacation home market is booming. If anything, the pandemic may have inspired even more interest in vacation homeownership and rentals as people are looking to get a break from their everyday homes and "escape." What better place to do that than in gorgeous Southwest Montana?

As we've mentioned, one of the draws of the region is our close connection to nature. From the mountainscapes to the wildflower meadows—and all of the gorgeous wildlife that visitors and homeowners can connect with—Montana offers an immersion into nature that can be hard to come by elsewhere. Of course, in order to fully achieve that, home buyers and renters are looking for certain features within the landscape.

Here are a few of the new landscaping ideas for vacation homes that appear to be the most popular.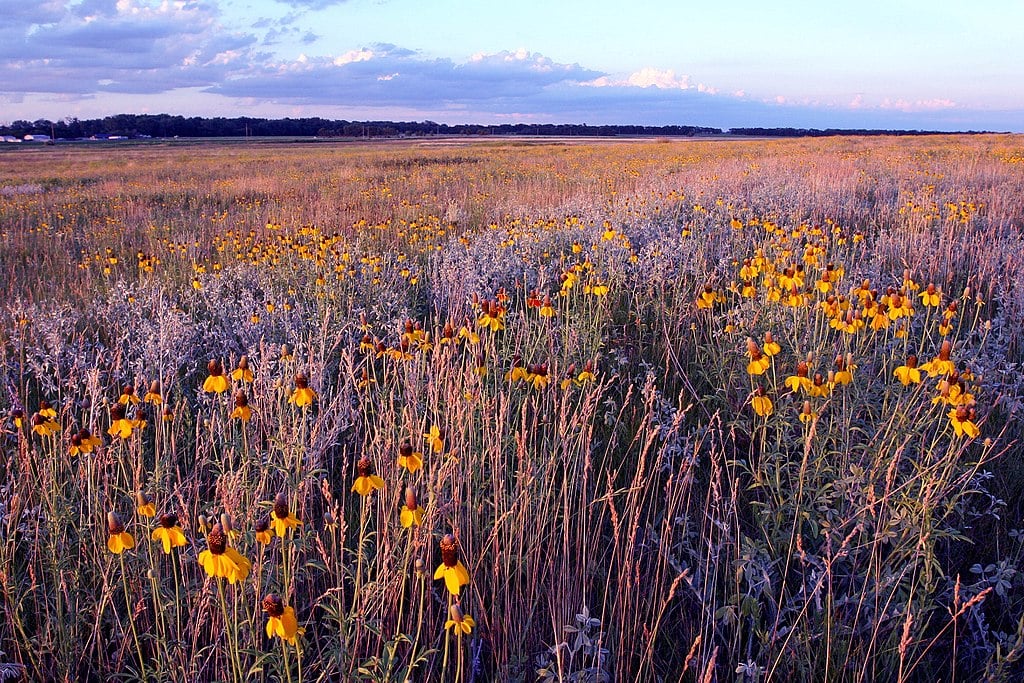 1. Plants that Attract Birds
Have you seen some of the mainstream media news stories about how birdwatching has "soared" (pun intended) during the pandemic. Experts have said that the Covid-19 pandemic lockdowns inspired more people to become "connected with nature," and this has generated an unprecedented interest in birdwatching!

We could get all psychological and surmise that it may be that the birds remained "free" during the height of quarantining and lockdowns that they attracted so much interest. But perhaps it's something simpler than that. It could just be that we all slowed down a bit and began noticing what was always there! Beautiful birds have always been part of the Bozeman and Big Sky, MT naturescape, but we're all paying a bit more attention to them than ever.

And now we're seeing more interest in landscapes that attract birds. By incorporating certain plants into the landscape, gorgeous birds can be enjoyed right in one's own backyard!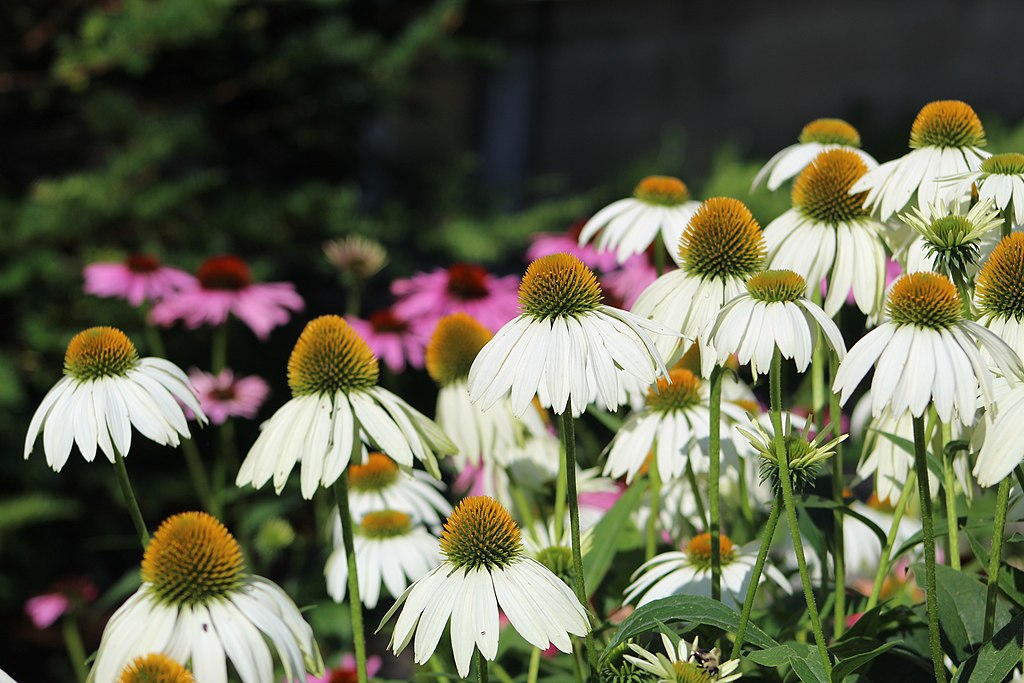 2. Outdoor Fire Features
Another one of the hottest (another pun intended) vacation home landscaping trends that we are seeing in Southwest Montana is the inclusion of fire features in outdoor living areas. Fire features naturally draw us in. If you've ever found yourself staring at a roaring fire, you understand the "pull" that they have. As humans, we are intrinsically drawn to the light and the heat of a fire.

Because of that, fire features help inspire gathering spots and they also make staying outdoors longer more feasible by keeping the space warm and toasty even after the sun goes down.

Whether it's a fire pit, fire bowl, or some other fire feature, an element like this is a popular trend that we don't see going away.
3. Landscape Water Features
You might have guessed this one was coming next. Of the Southwest Montana vacation home landscaping trends that we are seeing, water features are also high on the list. One reason for this is that water features help people feel more connected with nature. There's nothing quite like the sound of water splashing and trickling as you sit outside and enjoy the view.

Water features create a sense of "zen," that helps people to truly relax—and isn't that what vacation is all about?

Water features can also help to create a sense of privacy since they drown out other noises. So, even if your client's vacation home isn't remote, a water feature can help create that sense of being immersed in nature and away from the hustle and bustle of life.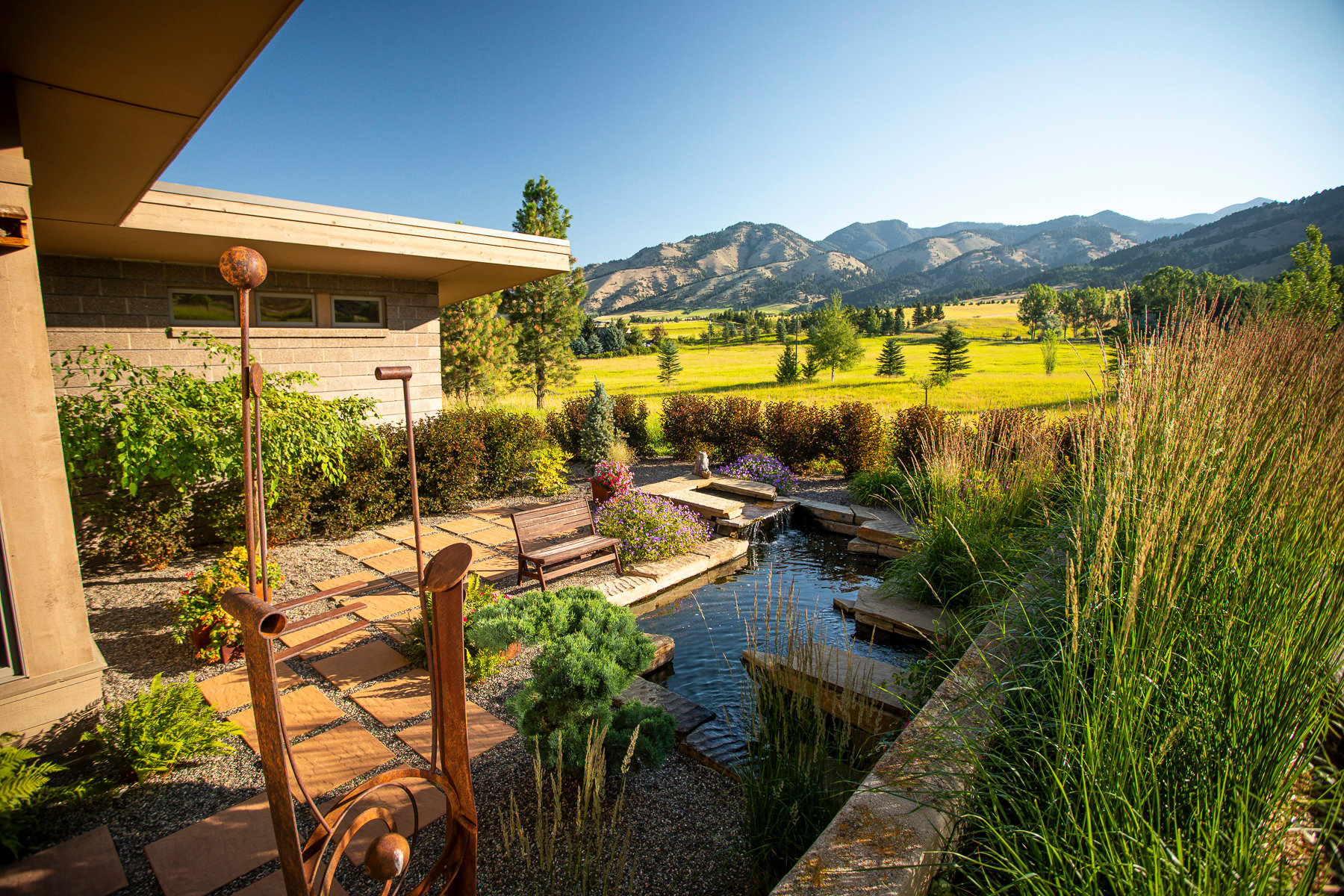 4. Increased Environmental Concern
Another of the vacation home landscaping trends that we are seeing is increased interest in environmental concerns. Actually, residents and vacationers in Southwest Montana have always been pretty eco-conscious so that's not exactly new. Because this is an area so appreciated for its natural beauty, people who live and visit here are generally concerned about doing what they can to play a role in protecting it.

But the ways that we can be eco-conscious as homeowners have evolved and we find that people care about keeping up with these trends.

One way that Southwest Montana property owners are aiming to be eco-conscious while also reducing the maintenance their landscape needs is by using native plants. The deep root systems of native plants can help prevent erosion. They are also well-adapted to the local conditions so they need very little care to look and perform their best. Native plants are incredibly drought-tolerant.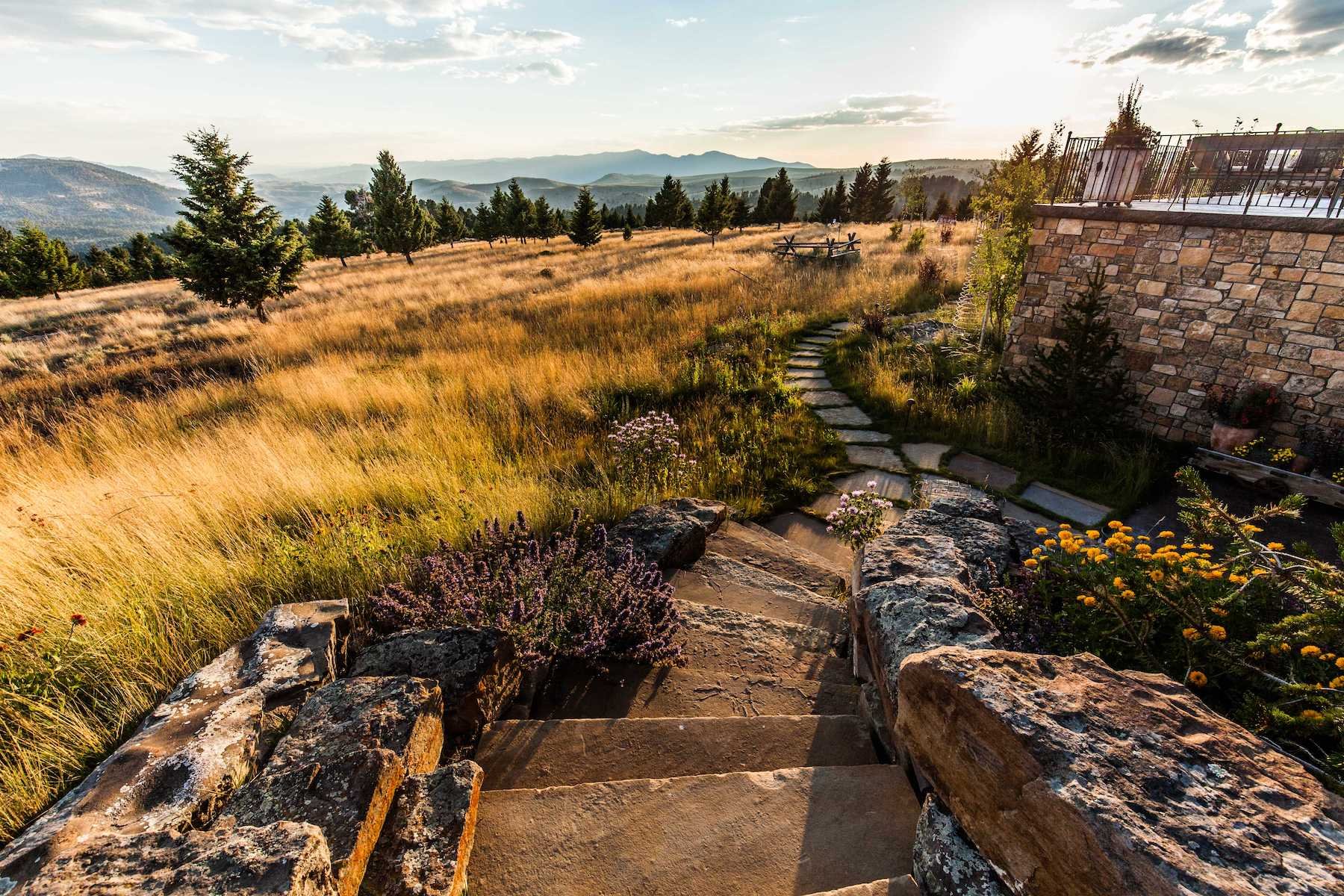 But Southwest Montana property owners also want to know that their landscape is being maintained with eco-friendly measures that make an effort to minimize water waste, utilize environmentally friendly products, and even incorporate new technology like robotic mowers and electric power equipment.

All of this makes Montana property owners feel good about limiting their environmental impact and being able to simply enjoy the natural beauty of the landscape.
5. Outdoor Living Areas that Encompass It All
While we've touched upon a few of the features that can make up an outdoor living area, at the end of the day, it boils down to the fact that Montana vacation homeowners or visitors care about outdoor spaces where they can spend more time outside. If the goal is to really become immersed with nature and to enjoy more time outdoors, then they'll need the outdoor living area, complete with all the amenities, to have these experiences.

We've already mentioned fire features, water features, and certain plants, but there are so many other elements that can help to make a complete outdoor living space. Some to consider are:
Hardscaping (the "heart" of the outdoor living area is the patio)
An outdoor kitchen
Lawn areas
Seasonal container gardens and plant beds
With the goal being to spend more time outside, these amenities will help inspire those special moments.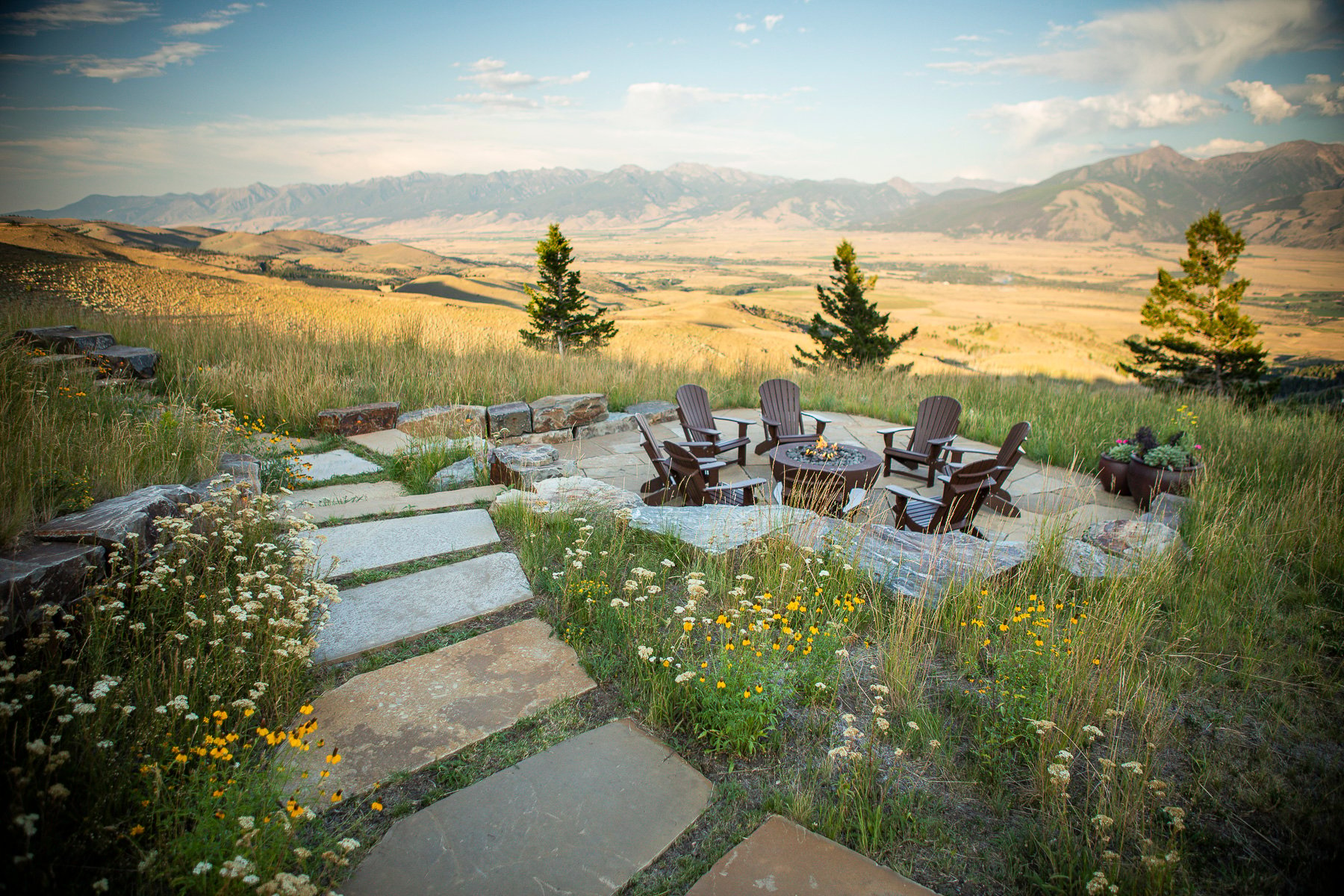 Finding a Partner to Help Keep You Inspired with New Landscaping Ideas for Vacation Homes
At the end of the day, your clients turn to you to be someone who is their eyes and ears when they can't be here in Southwest Montana. As part of that, they look to you to keep up with what's new and what's trending.

As your experts in the landscaping field, we love to keep our professional partners up-to-date with new landscaping ideas for vacation homes. We know that when you share these with your clients it makes you come out looking like a superstar! You're taking the time to keep up with the latest trends because you have your clients' best interest at heart—and they appreciate you for that.

At Blanchford Landscape Group, we want you to know that we're here for you.

We go into these partnerships with local professionals in our area (Realtors, Property Managers, Architects, and Custom Home Builders) in order to support their landscaping needs. And we absolutely view part of that duty as keeping up with what's new. We know that this information helps you to build even stronger relationships with your clients which is something we feel good about.

If you're a professional in the Bozeman or Big Sky, MT area and would like to learn more about how we can provide landscaping services to your properties, let's connect. We love partnering with winners and would love a chance to succeed together.