A patio can be one of the most exciting additions to any outdoor living area. The patio will be a gathering and lounging space where you might enjoy time with friends, share a meal with your family, or even just put your feet up and relax.
But as you begin the process of building a patio, you might start to feel overwhelmed with everything that's involved.
In fact, when it comes to how to plan a patio, you may not even be sure what's involved. You know that you want to make sure that you end up with a patio that you truly love—one that is not only aesthetically appealing but also functionally relevant. The last thing that you want is a patio that was designed too small or doesn't meet your needs in some other way.
As you look to begin the process, asking questions that can help you (and patio design companies that you might be considering working with) narrow the scope of what you want and need.
Asking the right questions will even help you choose the right patio builder to work with. Working with the right professional on this type of project will help ensure that it is designed and built right.
Patio Design Questions to Ask Yourself
If you're still in the stage of figuring out exactly what you want, then the following questions will help you get a better sense of what you're looking for before making appointments to meet with patio designers.
Of course, you don't have to know exactly what you want before setting up a meeting, but it always helps to have some things already figured out. That's because good patio designers are going to pose these same types of questions to you when you meet with them.
1. How Do I Plan to Use the Space?
Good patio design companies will typically start off a design consultation with a question like this so it helps to already know the answer.
Ask yourself:
What is the purpose of this space?
Why am I having this patio designed and built in the first place?
Is it to host lots of events?
Do you want to dine outside or is it more of a lounge space with some chairs and a fire pit?
Spending some time envisioning how you anticipate using the space will really go a long way in what will ultimately become the "patio plans" when you get a designer involved.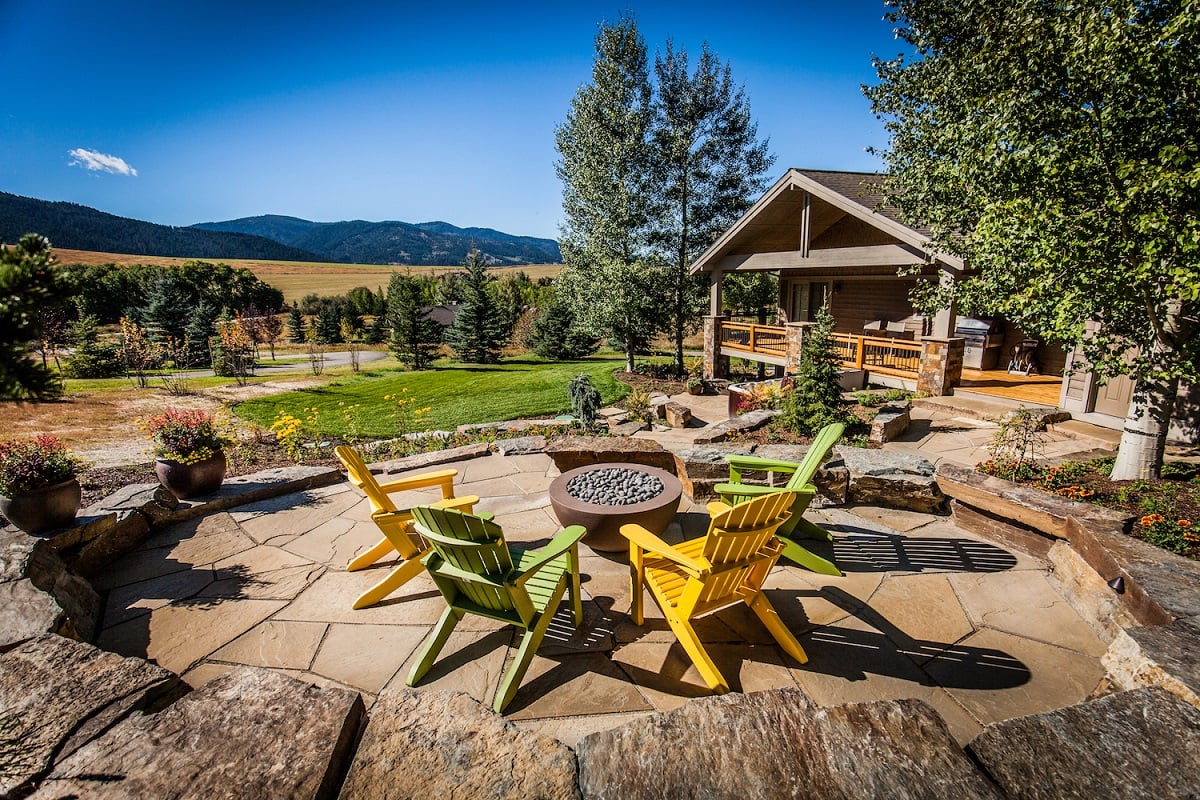 Oftentimes, people have multiple uses in mind for a patio and that's great, too. In fact, that might even mean the difference between a patio that has one space and one that has multiple areas (like a dining area and a lounging area).
The more you think about the type of events that you like to host (if any), the more detailed your patio design can be. Everything from how people move about in the hardscaped spaces to where they might stop and sit can be considered.
In addition, how many people might be using the space is also really important in terms of its size. There will need to be thought given to whether the people you frequently host could all fit comfortably on the patio. Even details such as the size of your outdoor dining table really matter. Does it need to seat 4 or 8? These kinds of details can make a big difference. The last thing that you want is chairs falling off the lip of the patio because they don't quite fit.
2. What Do I Want My Patio to Look Like?
It always helps for homeowners to have some ideas of what they like in mind before beginning the design process. Everyone's taste is different and patio styles can vary dramatically. Everything from the material to the layout can dictate an overall aesthetic feel of the space.
In general, there are several factors that patio design companies will keep in mind as they plan your patio design. These are your personal preferences, the architectural style of your home, and the surrounding area (are you in more of a natural setting or an urban setting?). A good design ensures that all three are in harmony.
3. What Added Features Do I Want?
The patio itself is just one part of the project. Many homeowners also want additional features including such as a fire or water feature.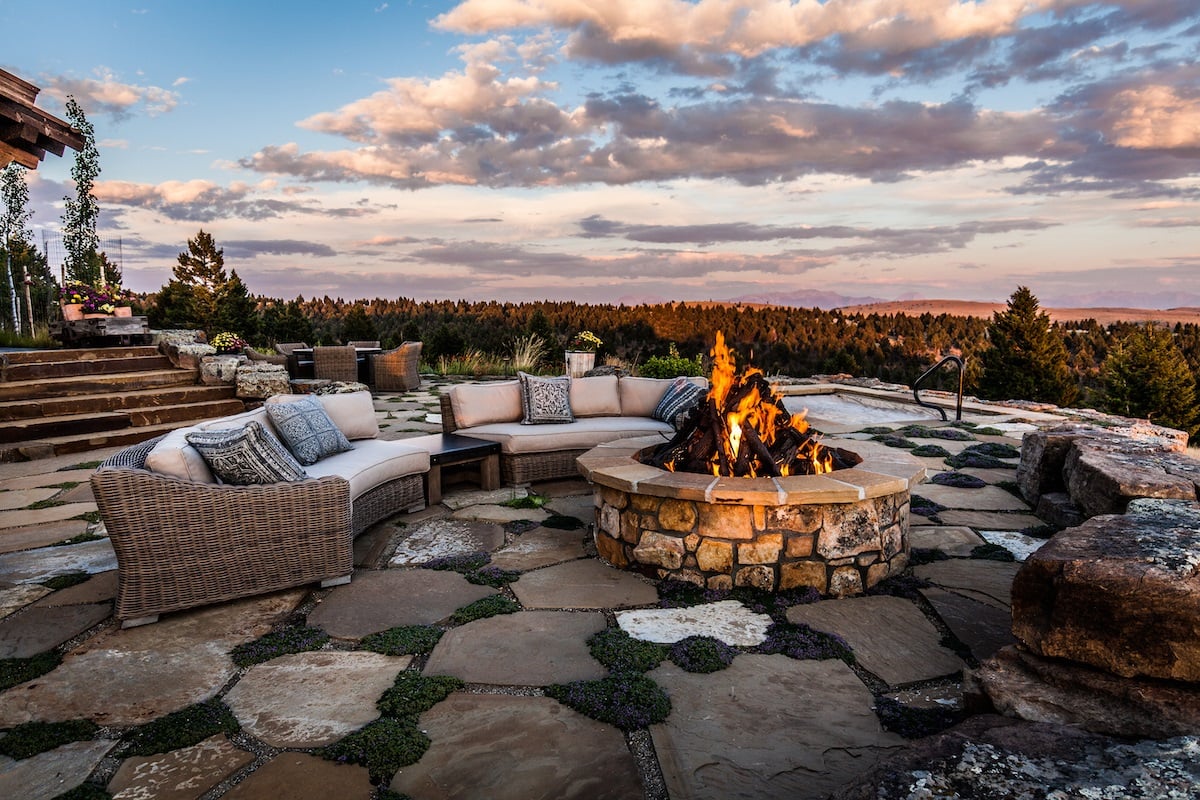 Of course, these features go back to the first question regarding how the space will be used. If you're someone who envisions spending a lot of lounge time by the fire then you'll definitely want a cozy fire pit spot. But maybe you'd rather maximize dining space with a big table and you just want a small water feature nearby for ambiance.
Everyone is different and therefore their needs will vary dramatically. Thinking through what you want will help you determine what's best for your specific patio plans.
4. What is My Budget?
Budget is a factor on any landscape design project, and patios are no different. No matter how big or how small, everyone has a budget.
It helps to have some idea of what you're willing to spend on your patio as you begin the project as this will come into play as you make decisions on factors such as materials, size, and even added features.
Questions to Ask Patio Design Companies
Now that you have a much stronger sense of what it is that you're looking for with your patio, you might be ready to talk to some patio design companies and really get the ball rolling.
It's important to recognize that not all companies are created equal and when it comes to getting the patio that you truly desire, it's really important that you hire the right company. Asking the following questions will help you get a sense of whether it's a company that you feel you can trust.
5. How Do You Stand Behind Your Work?
There are a lot of great patio design companies out there. But there are also plenty that will build your patio and then quickly move on to the next job, even if it means leaving you with a problem. This is why it's so important to ask how they will stand behind their work.
Do they offer a warranty? How will they handle it if something goes wrong? You should be able to feel confident that you aren't going to be left with an issue and no resolution should a problem arise.
At Blanchford Landscape Group, for instance, we have a very strong warranty that includes five years on any workmanship or material issues. That means, if something goes wrong, we'll take care of it.
In fact, while a lot of patio design companies push warranty work off, we actually prioritize it. That means that if a warranty issue arises, we'll correct it quickly, even if it means putting it ahead of pursuing new work.
This is all in line with our mission to build long-term relationships with our clients. We're not the type of company that moves on to the next project and forgets we ever knew you. We are all about building ongoing relationships which is why we prioritize our existing customers.
6. Do You Have Any Examples of Your Patio Designs?
It can be really hard to get a sense of the level of skill and craftsmanship that a patio design company has without seeing their work. It's vital to recognize that not all patio companies are the same, some may do better work than others.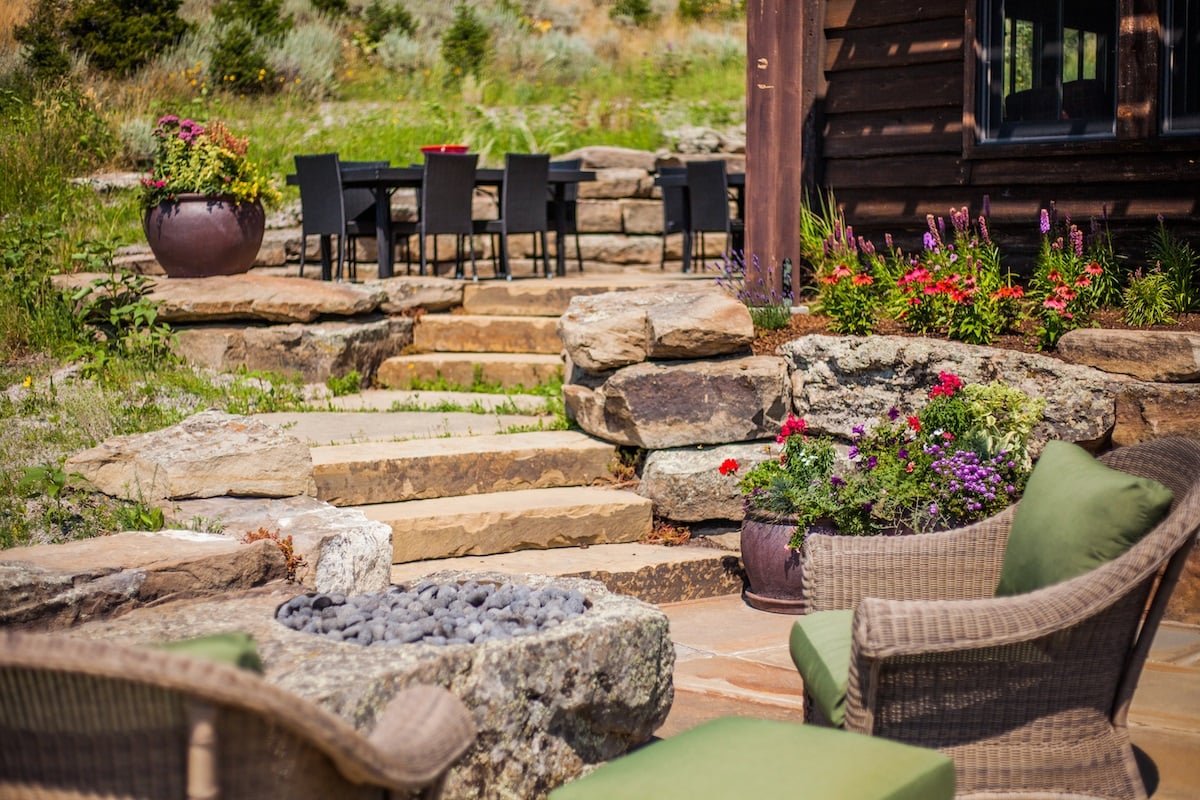 Take a look at the company's online photo gallery and ask if there are any other examples that you can see before making any decisions.
7. What Material Do You Think Will Work Best For My Patio?
As we mentioned, a good patio designer will take into consideration your wants and needs as well as the architectural style of your home and the space surrounding your future patio when developing patio plans. With all of that in mind, some materials might work better than others when it comes to designing your patio.
Of course, budget can also dictate materials. Natural stone can cost almost twice as much as pavers, so this is another important factor to keep in mind.
8. Can You Both Design & Build My Patio and Surrounding Elements?
There are patio design companies, patio build companies, and then patio design and build companies. Choosing the latter will ensure the most seamless transition from the patio plans to the actual completion of the project.
When you work with a company that only does design, and another company has to actually do the construction, there can be disconnects. The same thing is true if you work with a company that only does construction.
It's ideal to work with a company that can do it all.
9. Can You Maintain my New Patio Space?
Once you have a new patio, which will likely be one part of an overall outdoor living area, chances are that you want to keep it looking fantastic. That will mean choosing a company that can go on to also maintain your space in the future.
However, not all companies offer landscape maintenance services.
At Blanchford Landscape Group, we really believe in maintaining long-term, ongoing relationships with clients. That's why we like to work with clients in which we design, build, and maintain their spaces.
Clients choose us to do all three of those things because nobody knows the space better than we do (after all, we designed and built it). For a lot of homeowners, this is a really big value add to working with Blanchford.
10. What Other Ideas Might I Have Missed?
Considering the fact that a patio design company has built so many patios over the years, there's no question they may have ideas you might not have thought of, so it's also worth asking this open-ended up question.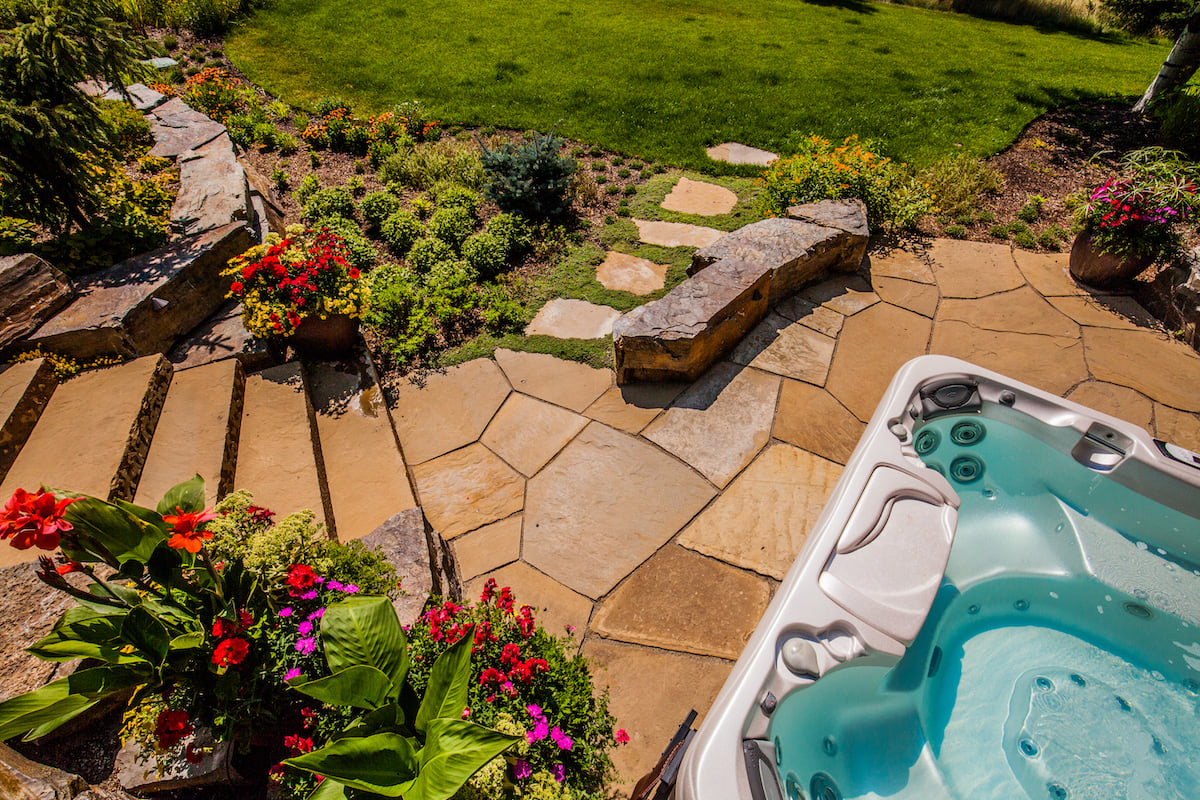 In the end, your outdoor living space should be a blending of your ideas (including your wants and needs) and the expertise of a professional designer. That might mean taking some of your ideas and also suggesting ways to improve upon them. It could also mean suggesting something you didn't even consider. It's a whole process and it should involve working closely together.
Getting Started With Your Patio Plans in Bozeman, MT
Adding a patio to your Bozeman or Big Sky, MT property is an exciting undertaking. When it's finished, you'll have a gorgeous space that you can use however you like. Whether that means entertaining friends or enjoying the company of your family, it should be the space that you want and need.
However, ensuring that your space comes together the way that you want it to comes down to hiring the right company for the job. Not every company treats the patio design process the same way.
At Blanchford Landscape Group, our design process is comprehensive because we recognize just how important these outdoor living spaces are that we are creating. There are no "cookie-cutter" patios in our portfolio because with each and every project we are starting from scratch.
As we mentioned, not only do we design patios, we build them. And, we can see them all the way through to maintenance, which is a big value-add for our clients who don't want to go out and have to find a new company to maintain their new space. They already know and trust us and would rather just keep the relationship going.
If you want to feel confident that a project as important as your new patio is going to be completed right, then it's vital that you make a wise choice amongst patio design companies. That decision can truly be the difference between a finished project that you absolutely love and one that falls short of your wishes.
Are you ready to get the process of designing your patio started at your Bozeman or Big Sky, MT home? Let's connect and talk about your project. Then, we can meet and begin talking about your ideas! We can't wait for you to be able to enjoy your beautiful new patio.