When it comes to the hardscaped areas in your outdoor living space, the choice between natural stone vs. pavers is a critical decision. That's because the patio material you choose will have a major impact on the overall look and feel of the space.
Of course, there are a lot of factors that go into that decision. Having a better understanding of the differences in these two materials as well as what can be achieved with them can help you make the best decision for your Bozeman or Big Sky, MT home.
Natural Stone vs. Pavers: What's the Difference?
First and foremost, we want to be clear that the word "stone" sometimes gets thrown around, even if being used to talk about pavers, which are not actually real stone. There is definitely a difference between these two patio materials, which we want to help clarify.
Defining Pavers
To be clear, when talking about pavers, we're talking about man-made, interlocking hardscaped pieces that are typically made from a concrete mixture and come in a variety of shapes and colors.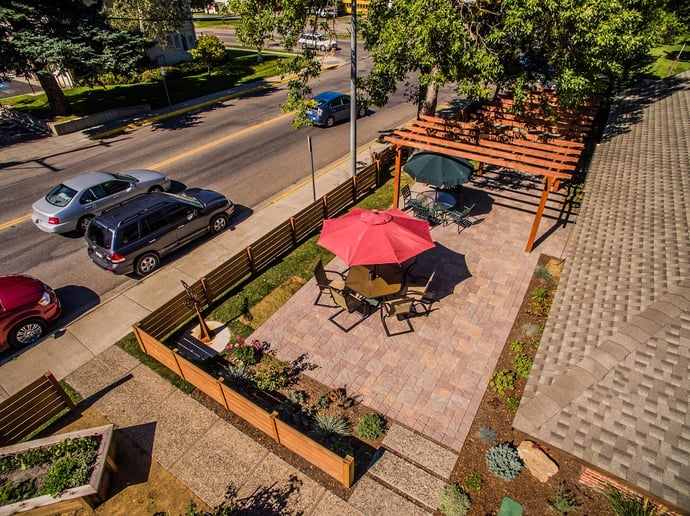 Defining Natural Stone
When talking about natural stone, we're talking about stone is that naturally occurring in the environment and cut into pieces in order to be used for hardscaping projects.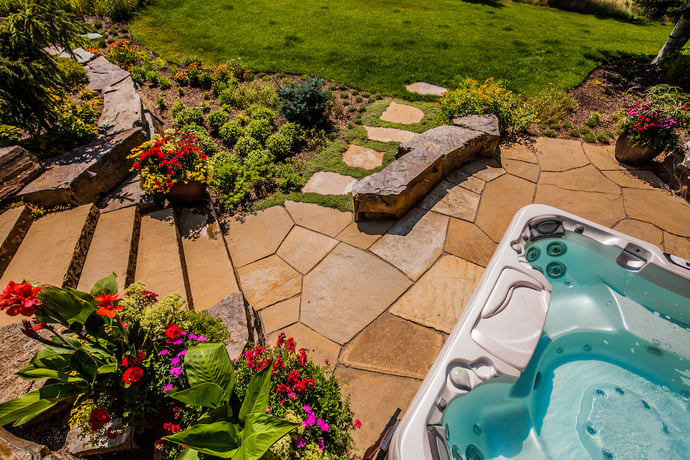 Similarities and Differences Between Pavers and Natural Stone
Both patio materials are durable, although it's fair to say that natural stone is the more durable choice. After all, it has survived in nature for thousands of years!
While the surface material of pavers can weather over time, and begin to expose the aggregate (tiny rocks and pebbles that comprise the structural filler in the concrete by acting as a binding agent), natural stone will outlast your time in your home (going on indefinitely).
There is also a value proponent to natural stone in that it can be torn up and moved around on the property if you were to decide you want to expand or change a hardscaping project in any way. There is that "reusability" piece to it that makes homeowners feel as though they are really getting the full value out of their investment in this product.
Pavers, on the other hand, have a "shelf life," which we'll talk more about later.
Our Hardscaping Material Preference
At Blanchford Landscape Group, our preference is generally to use natural stone for patios in Bozeman and Big Sky, MT, as well as for retaining walls. When looking at natural stone vs retaining wall block, there is a big aesthetic difference when it comes to blending with nature.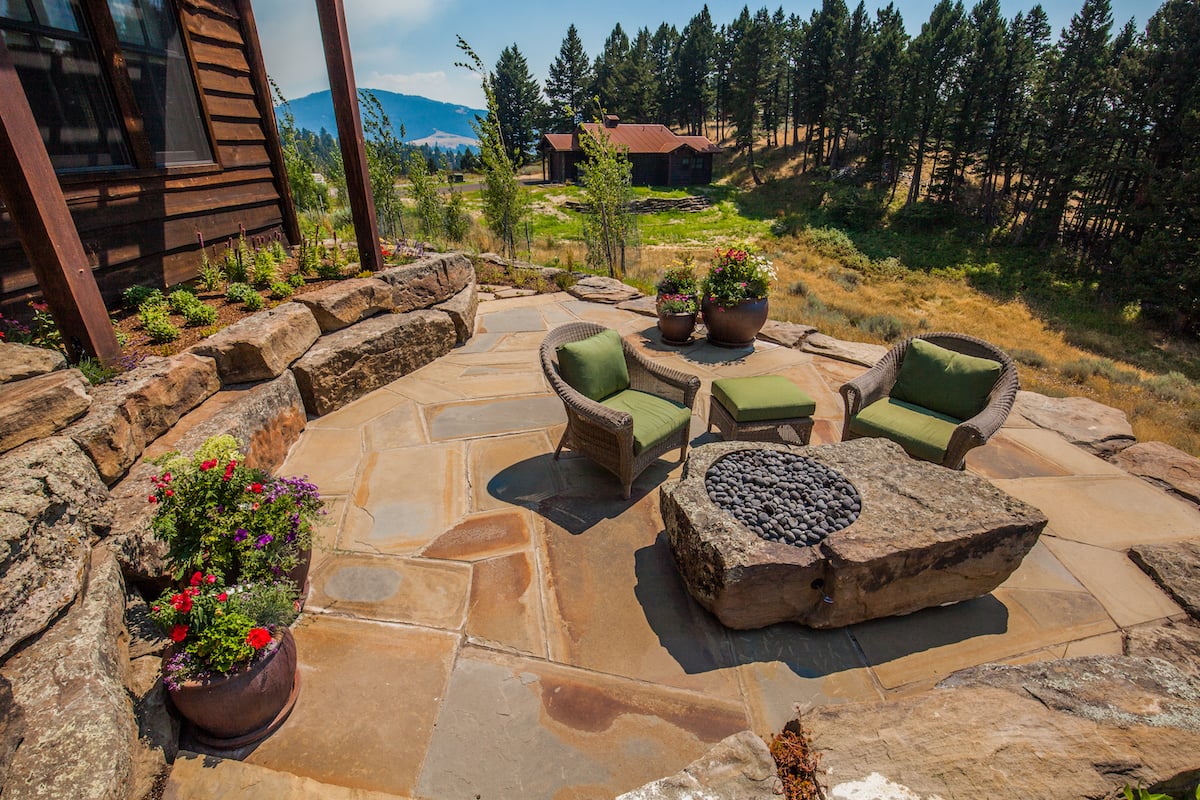 For a good majority of our projects, natural stone is the superior choice (which we'll explain in more depth in this article). However, we do work with both materials and there are times when pavers wind up being the most appropriate choice for a certain project.
Let's dive in deeper to help you understand some of the thought process involved in choosing between these two materials.
How are Patio Materials Chosen?
There are several key factors that go into choosing the material that is best for any given project.
Architectural Needs
The very first (and arguably the most important) point to consider is matching the clients' needs to the home's architectural design. In other words, we don't want to choose a material that is going to completely contrast the material that is found on your home.
Our goal is always to make the outdoor living space a seamless transition from the home itself—in other words, an extension of the home and its living space. But when the outdoor living space looks "out of place" it can be jarring and impact that transition that we aim to achieve.
The Surrounding Landscape
We'll also look at the surrounding landscape and will consider how to work the material into what's already there. Without a doubt, natural stone is going to allow for the most seamless blend in a lot of cases.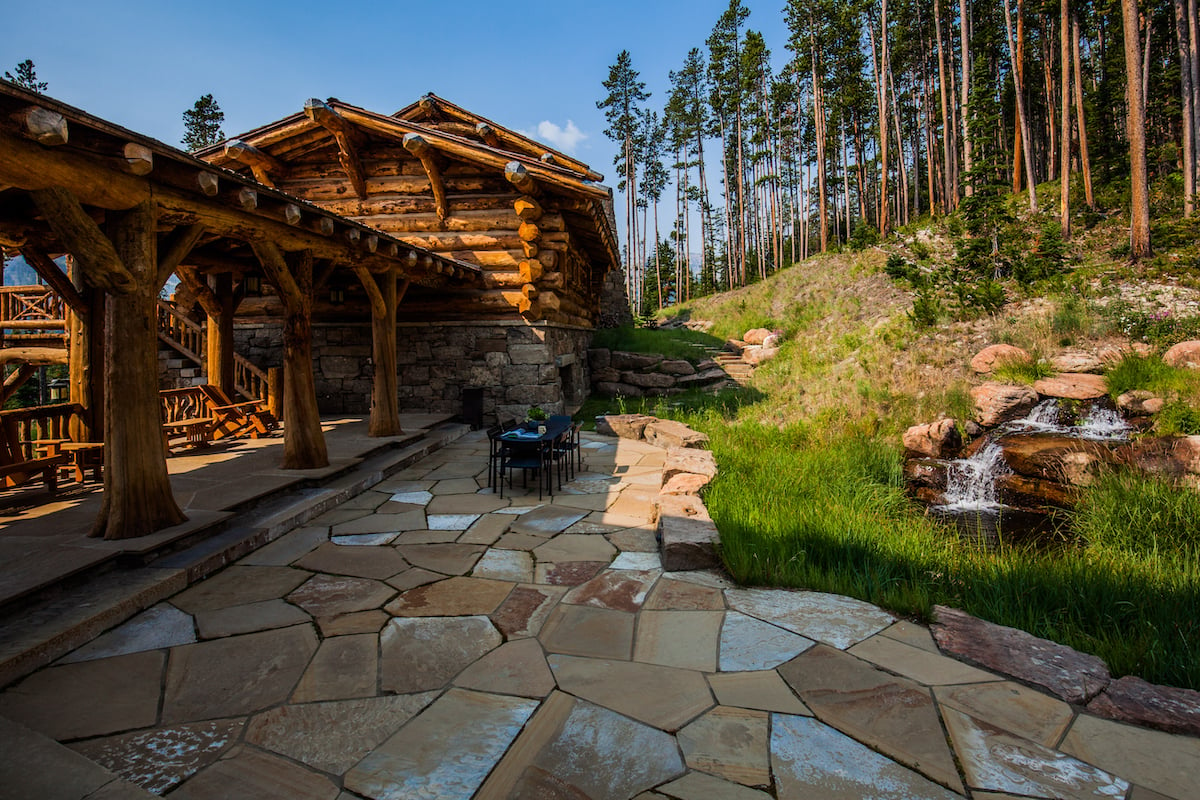 However, there are ways to achieve a natural look with pavers, too. And we should point out that even when working with pavers, we'll still often do a lot of boulder work to enhance the space's ability to blend with nature.
There are times, such as working with urban or suburban properties, that pavers do make good sense. When the property isn't as surrounded with lots of natural elements but is more of a city site, the modern look of pavers could potentially even be the better choice.
Client Preferences
Undoubtedly, we must also consider what the client prefers as this will certainly play a role in the decision-making process. Some clients do have a strong preference toward one material over another.
There's no question that pavers have a sense of formality to them. They convey a more "modern look," and as we mentioned,, that may actually be the ideal choice.
However, natural stone has a sense of elegance that can't simply be replicated (even though some pavers are made to look like natural stone). Perhaps the biggest benefit of using natural stone is its authenticity. Try as you might, you simply can't beat the "real thing," and that's quite important to a lot of our clients.
Landscape Budget
Of course, budget does also come into play here (which is part of the client's needs). Natural stone is around twice the price of pavers so that is a factor that we keep in mind when weighing natural stone vs. pavers.
We'll discuss cost in more detail as we recognize that our clients want to have a better understanding of their investment.
Understanding Natural Stone Cost
As we just mentioned, natural stone typically costs around twice the price of pavers. With a project utilizing natural stone, you're not only paying for a superior product, but you're also paying for extra labor.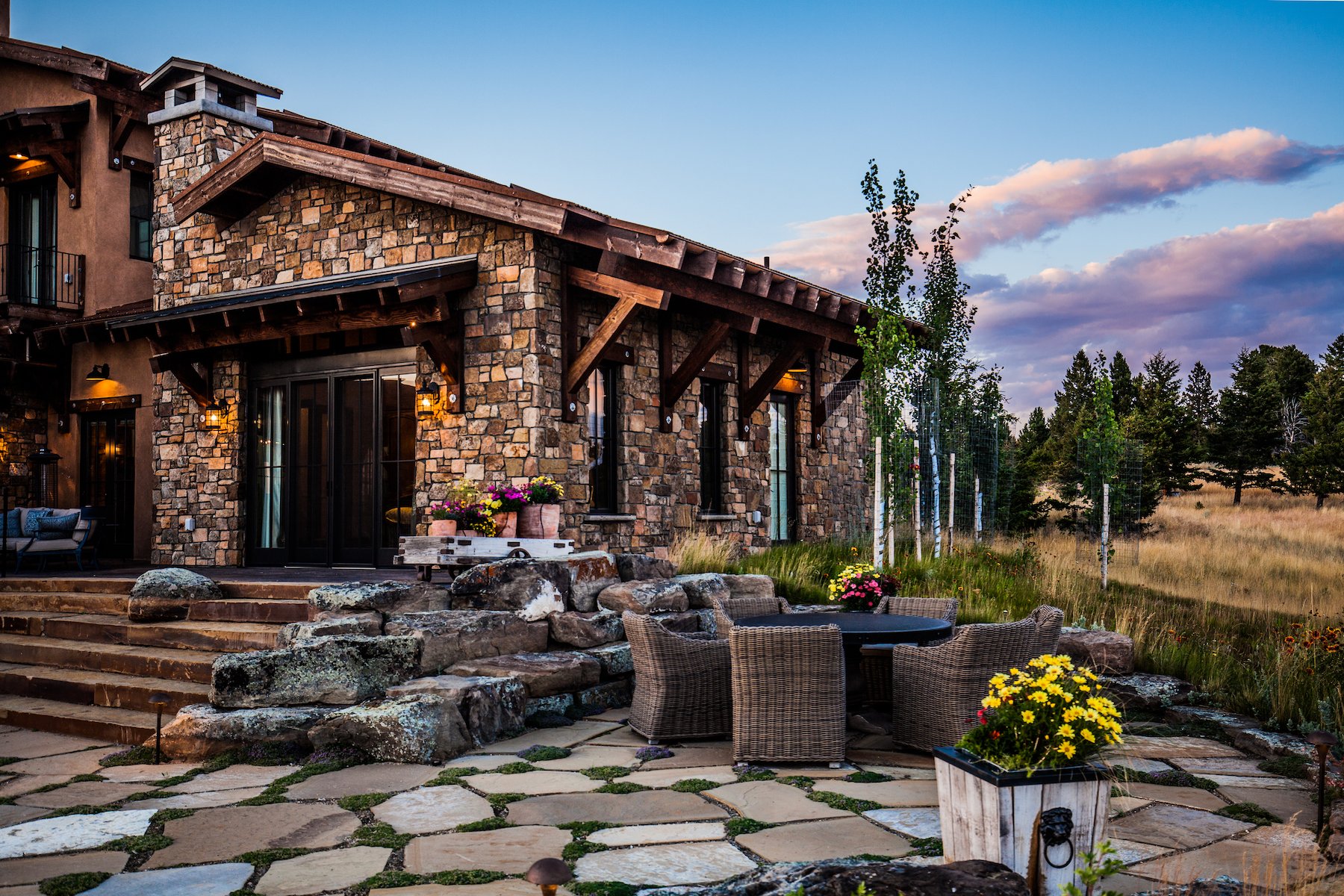 Installing a natural stone patio is more labor-intensive and complicated than installing man-made pavers (which are literally designed to fit together, almost like puzzle pieces).
It's worth noting that natural stone installation isn't something that just any old patio builders in Bozeman or Big Sky, MT can do. It takes skill, expertise, and an artistic eye for design. That all means paying a little more for a landscape design company that has the know-how to install a natural stone patio (or retaining wall) the right way.
While it can be intimidating that natural stone is more costly, we'd also argue that you are getting better value for your investment. A natural stone hardscape project can be a "one-and-done" investment. It's a timeless look that is never going to go out of style.
Pavers, on the other hand, tend to need updating over time. We often tell our clients that pavers have a "timestamp" on them. Not literally, of course, but what we mean is that they don't offer the timeless and classic look of natural stone (which has appeared in nature for thousands upon thousands of years and literally can't go out of style).
For all of these reasons, those who do choose natural stone tend to view it as an "asset" that is worth the investment. Since we do work with so many beautiful and high-end homes in Bozeman and Big Sky, MT, we also want to point out that choosing a material that is on par with the value of your home makes sense. You don't want to cheapen the look of your outdoor living space because of the wrong material choice.
This is quite similar to what we would advise in terms of the size of the space. You wouldn't do a tiny little hardscaped area for an expansive home—it just wouldn't look right. So much of (good) landscape design comes down to ensuring that everything is in balance.
What are some of the Popular Natural Stone Choices?
Because we are matching the outdoor living project to the home's architectural needs and usually using the same stone that is found on the home itself, that often means that we're using sandstone.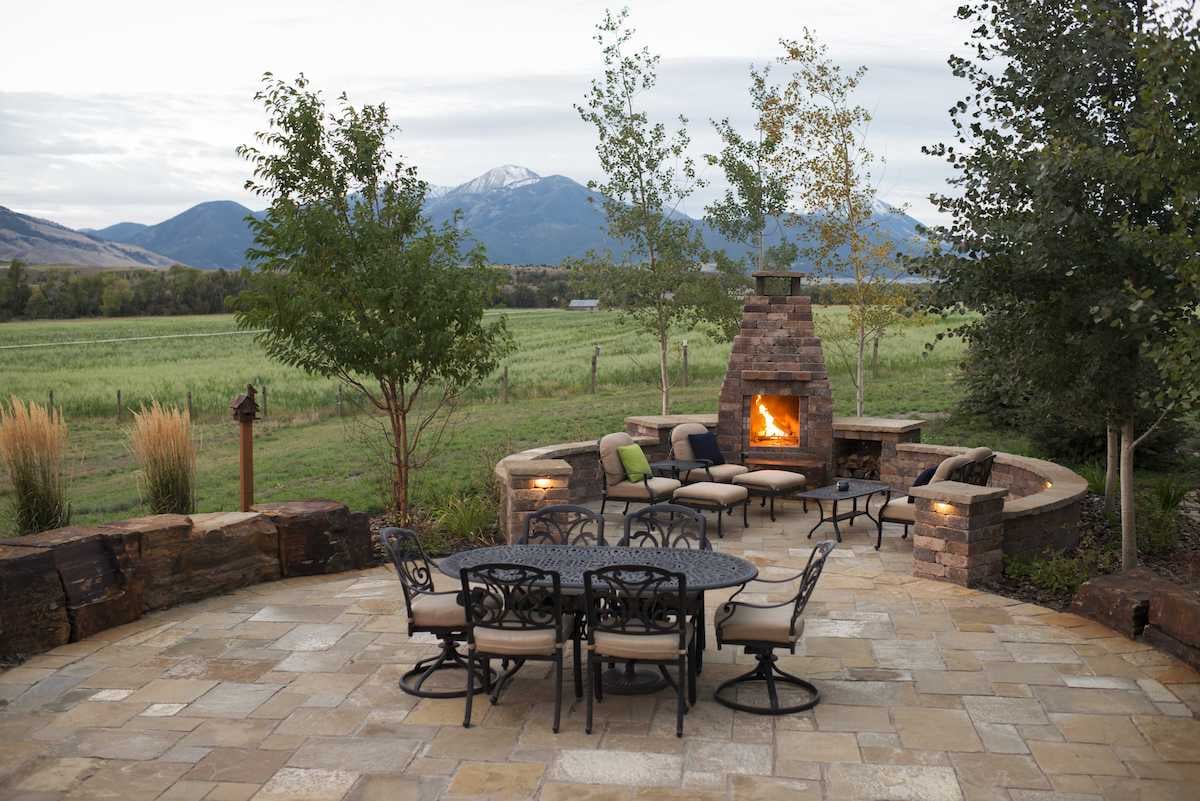 One specific stone that we use a lot is Frontier Sandstone, which is a timeless material as it is indigenous to the area. It also blends well with natural boulders, which we like to use a lot of in outdoor living project. We have also brought in a Sandstone that comes from Tennessee.
We do also import Bluestone, which comes from Pennsylvania. Bluestone is a gorgeous stone material that has a blue and/or grayish appearance. Though it's not a local material, it really does blend beautifully with the Montana landscape. And surprisingly to many, even though we do need to transport it across the country, it costs about the same as stone that comes from just two hours away. That is because our local stone is a finite resource.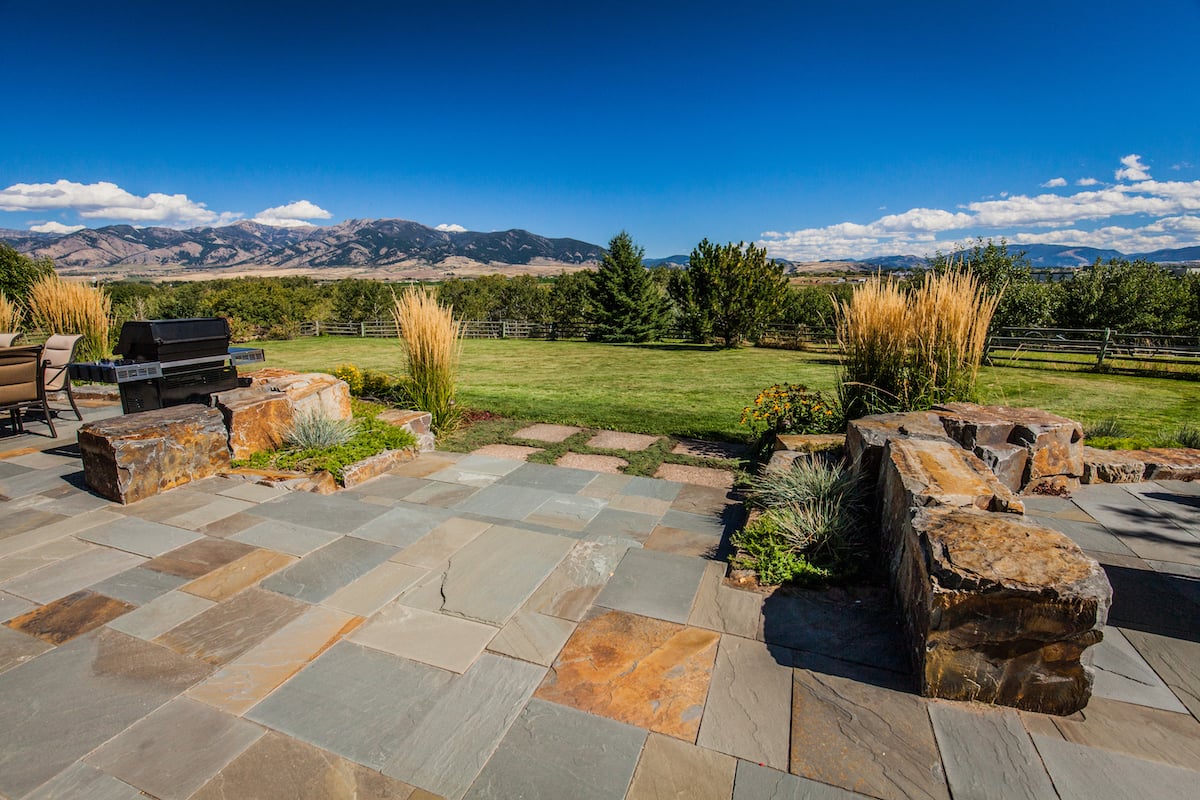 The truth is, we are always thinking about sustainability and that has led us to contemplate whether it is in fact more sustainable to import stone that is in great abundance rather than using up a finite resource, locally. These are some of the evolving thoughts that are constantly on our minds as we continually look to guide our clients in the best possible decisions for their property.
Making the Best Patio Material Decision for Your Bozeman or Big Sky, MT Home
It is clear that in most cases, our preference would be to use natural stone. The authenticity of the stone as well as its timeless look makes it a wise investment for a good majority of our clients.
But we do understand it's not for everyone and there are some cases where the formal and modern look of pavers is actually the better choice—particularly for our urban clients.
Ultimately, it comes down to the fact that we want you to be happy with your choice. We genuinely care about our clients and our projects and we do believe your material selection is one of those big decisions that will have a significant impact on your overall satisfaction with the end result.
Fortunately, by choosing the right landscape design company to help guide you in the process of designing and building your outdoor living area, you can feel confident that you'll make the best choices and be able to fully enjoy the end result.
Are you ready to begin the process of designing and building your ideal outdoor living space at your Bozeman or Big Sky, MT home? Let's connect and talk about your project. Then, we can meet and begin talking about your ideas.