When it comes to getting more usage and enjoyment out of your property, landscape lighting is one of the best things that you can add to your outdoor living project. Lighting has both aesthetic and functional benefits, not only does it allow you to use your space after the sun goes down but it also adds visual appeal, safety, and security.
Not all landscape lighting is created equal. A bad lighting job can ultimately do more harm than good on your property.
Here are a few illuminating lighting facts to keep in mind if you are considering landscape lighting for your Bozeman or Big Sky, MT home.
1. For
Landscape Lighting
in Montana, Less is More
Lighting is really important when it comes to safely navigating your property in the evening hours. You want to make sure that you and your guests can very clearly see stairs or elevation changes that could pose trip and fall hazards. There's no question that getting safely around your outdoor space in the nighttime (and being able to use it to the fullest) hinges on lighting.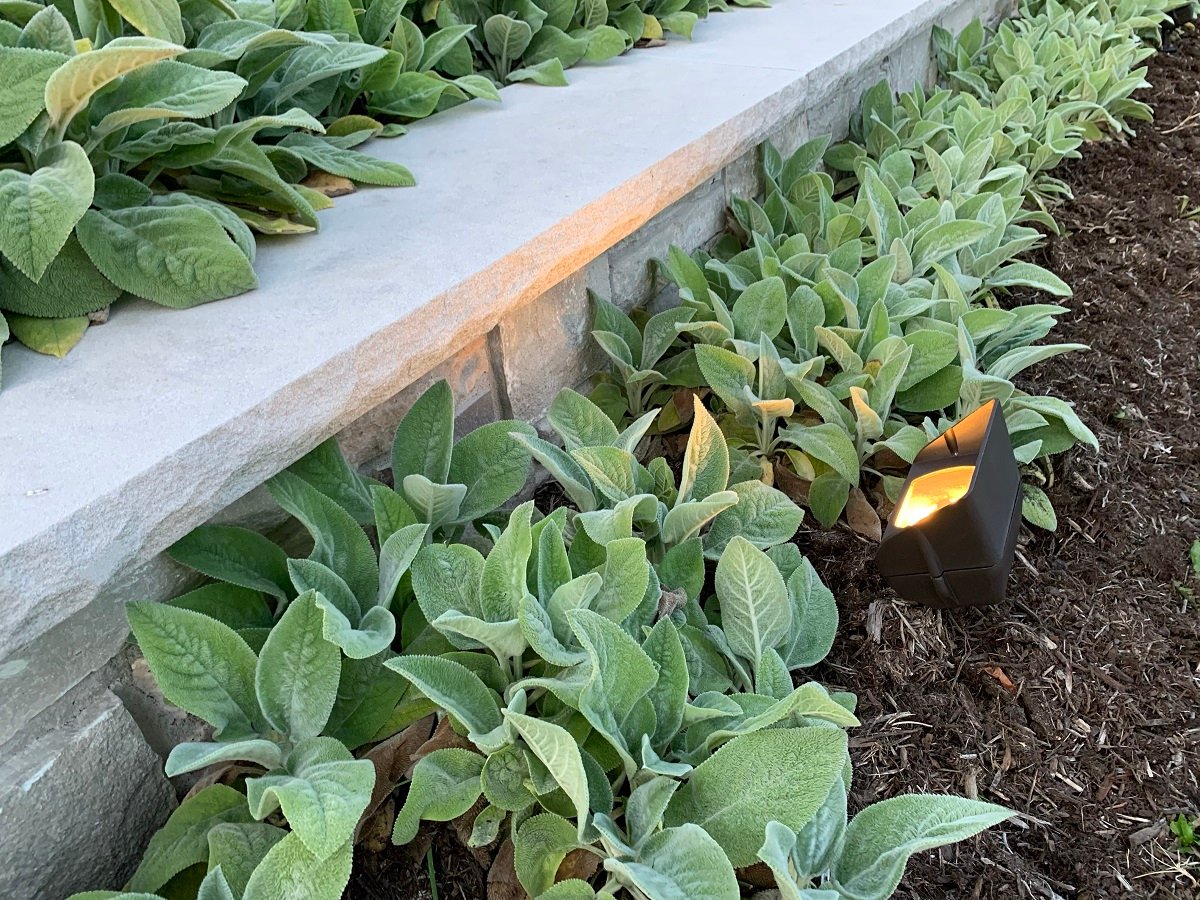 That being said, here in Montana, we want to do everything that we can to avoid light pollution. One of the many reasons that people love their homes and vacation homes here in Bozeman and Big Sky, MT is because of the gorgeous night sky. People love looking at the stars and we don't want to do anything to have a negative impact on that experience.
Adding too much lighting can absolutely have a negative impact.
Excessive lighting can take away from the aesthetics, as well. You want pathways that are subtly lit so that people can safely navigate them. You're not trying to create an airport runway or use lights that are blinding. Too much light really does take away from the natural beauty and detract from the aesthetics of the natural beauty of the outdoors.
Sadly, we do see mistakes like this made. Lighting that is over-the-top with spotlights that shine too brightly or an excessive number of fixtures can stand out in a bad way. The goal should be using "just the right amount" of lighting to achieve a very specific goal.
2. Use Lots of Downlighting in Your
Landscape Lighting Design
To go along with that effort to avoid excess lighting or light pollution, you'll want to make sure that your design is focused on using downlighting appropriately—not uplighting which really can mess with the view of the nighttime sky.
Conversely, with downlighting, we're essentially simulating the light of the moon by having lights shine down on the space from above. When mounting lights to trees to create a downlighting effect, it can also create really unique effects as the lights shine through the branches and the leaves.
3. Hide the Fixtures in your
Landscape Lighting Design
for Natural Appeal
Another thing that we like to do with lighting design is to go out of the way to hide the fixtures. We think that seeing a bunch of lighting fixtures around your outdoor space during the day takes away from the natural appeal.
One unique way that we integrate lighting into an outdoor space while simultaneously hiding the fixtures is to incorporate the lighting into boulders. We've also used plant material to incorporate landscape lighting into a space in a subtle (and hidden) but effective way that doesn't detract from the aesthetics.
4. Wildlife Must be Taken Into Account in the Design
One unique challenge that is posed by the landscape lighting design of Bozeman and Big Sky, MT properties is the fact that we must take local wildlife into account. We rarely use landscape lighting on stakes in the ground because inevitably a moose or another animal will step on it and break it.
For this reason, our efforts to hide landscape lighting fixtures are not just about avoiding infringement on the aesthetics, but also about making sure they don't get destroyed because of poor placement in areas where wildlife may roam.
5. LED is the Way to Go
At Blanchford Landscape Group, we have moved exclusively into offering LED lighting, which is the latest in lighting technology. There are some key benefits to this. LED bulbs last longer, are more durable, and are more energy efficient (meaning your energy bill will not rise significantly).
Most companies are making the switch to LED because of its superiority. Failing to use LED bulbs is a mistake you don't want to make. Though LED bulbs cost a little bit more upfront, the benefits far outweigh that added cost. And because LED outperforms old landscape lighting, in the long-run, you'll actually be saving money in your electricity bills and maintenance expenses over time.
In general, it's important that you're not skimping on landscape lighting products. The landscape lighting fixtures that you can purchase in a big box store are going to be subpar to anything that a professional landscape lighting designer is using. These cheap materials won't hold up to the Montana weather and will end up needing replacement over time. It makes more sense to invest in a higher quality product that's going to stand the test of time.
Choosing Amongst the Best
Landscape Lighting Companies
Getting the results that you're after will ultimately come down to the company that you choose for your landscape lighting design. While high quality, professionally installed landscape lighting can be a substantial investment, it's one that can also be incredibly valuable and enhance your use and enjoyment of your outdoor space.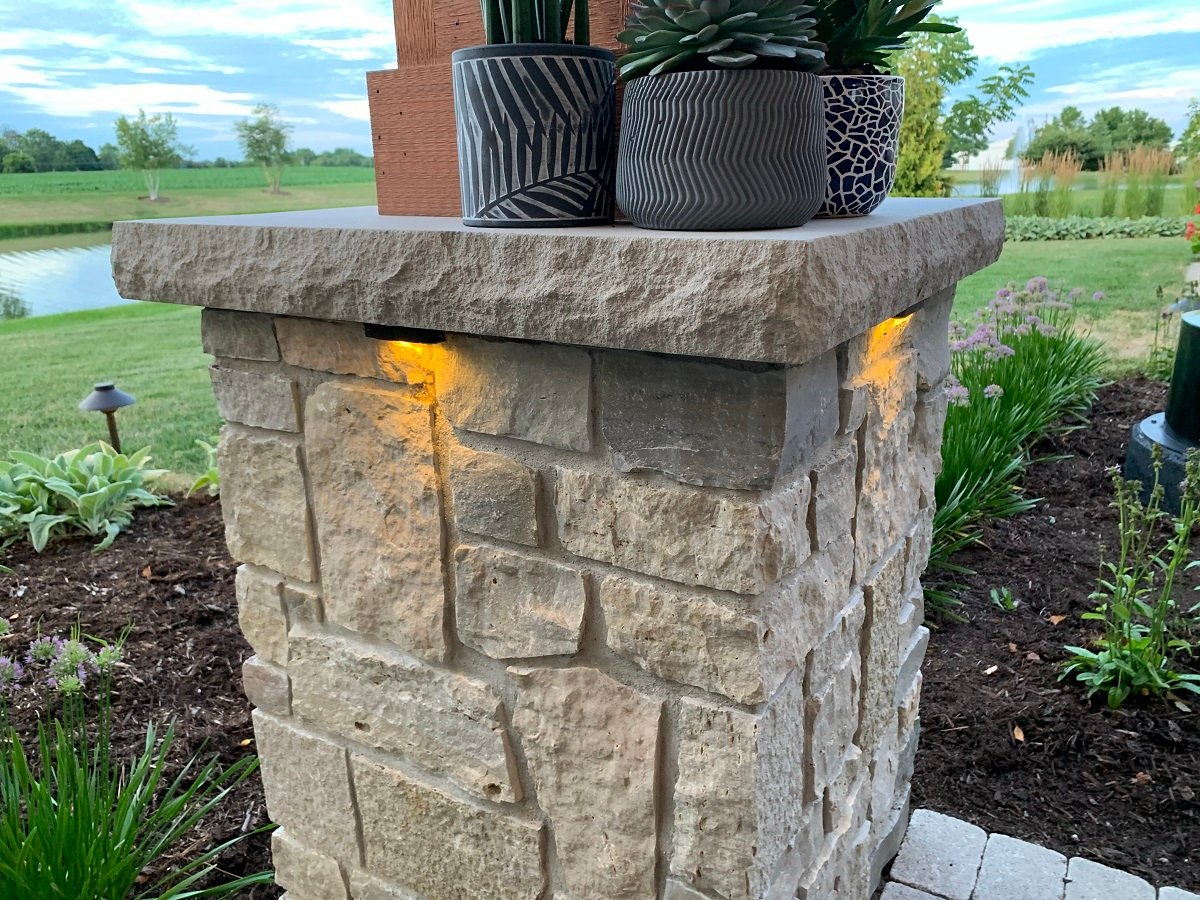 But that's all hinging on the idea that the lighting is installed properly and with some important considerations in mind. Some of the ideas we mentioned above are thoughts that go through our minds here at Blanchford Landscape Group. But we can't speak to the thoroughness (or thoughtfulness) of other companies. We are constantly thinking everything through so that we get the end results that our clients are seeking.
After all, the last thing that you want is to choose a lighting company that is going to use cheap materials, doesn't have an eye for design, or, might add lighting that will detract from your enjoyment of the beautiful nighttime sky.
There are also some homeowners who might take on landscape lighting as a DIY project. But we believe that there is a night and day difference between projects that are DIY (or completed by an unskilled professional) and those that were professionally lit with design in mind.
Remember that Every Detail Counts
Landscape lighting is an important part of your outdoor living project as it will help make the space more usable and enjoyable after the sun goes down. But it's important to remember that it's just one element of a total project. You want to choose a company that can handle all aspects of your outdoor living project from its design to its construction and even its ongoing maintenance.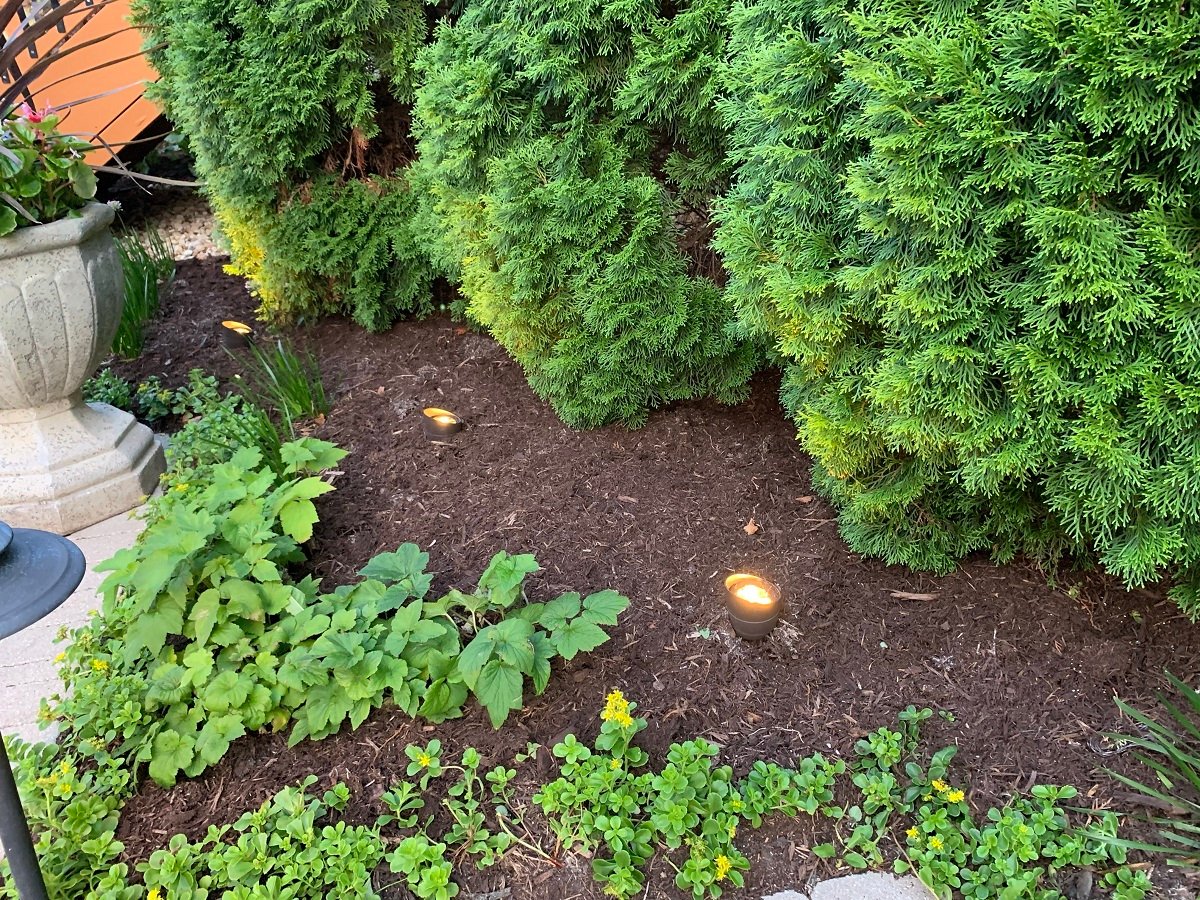 Ultimately, you want to choose a company that puts a high level of attention to detail and thought into all aspects of the work so that no detail goes overlooked. While some people call landscape lighting the "icing on the cake," we believe it's more than that. And we believe that every single detail of the project matters.
There's nothing more frustrating than a finished project that doesn't feel complete because a detail was overlooked. Or, even worse, a finished project that has elements which frustrate or annoy you—like having an obscured view of the night sky because of too much light pollution.
Working with Blanchford Landscape Group on Your
Landscape Lighting
Project (and More)
At Blanchford Landscape Group, we are committed to continually improving. We are always challenging ourselves to be better and we are serious about not becoming stagnant. Our design process is comprehensive because we recognize just how important these outdoor living spaces are that we are creating. That means that we'll look at your space and make design decisions that will work best for you—not only for the lighting, but for all aspects of the work.
In the end, your decision in choosing the right landscape designer is a big one. But by choosing wisely now, you can prevent so many problems on the back end. In fact, by making that wise choice in landscape design companies, you can ditch the worries about how your project will come together and instead simply enjoy watching your vision take shape.
Are you ready to get the process of designing your landscape lighting at your Bozeman or Big Sky, MT home? Let's connect and talk about your project. Then, we can meet and begin talking about your ideas!