Mountain life. It's probably a good part of the reason why you chose to have a home in Bozeman, MT in the first place. Whether it's your primary residence or a vacation home, you know that mountain living is unlike life in other parts of the country.

As you know, so much of this lifestyle is about embracing the outdoors and everything that it has to offer. It's not just the mountains but the landscaping that surrounds them, too. It's also the wildlife that lives here. Some research estimates that mountains are home to as much of a quarter of the Earth's biodiversity on land.

Not to be corny, but mountains rock!

Because of that, you're interested in landscaping ideas for mountain homes. You want to make sure that any exterior changes or additions that you make complement your mountain lifestyle and help you to enjoy your property even more.

We've rounded up some mountain living outdoor ideas to help get you started.
Landscaping Ideas for Mountain Homes
These mountain home exterior ideas should help get you daydreaming about how to enhance your space in ways that allow you to enjoy it to the fullest.
#1: Capitalize on the Views
Mountain living is all about enjoying the scenic views. When you bought your home you likely envisioned enjoying that scenic view of the mountainscape from a deck or patio…and now you want to make sure that really happens!

This is where the strategic placement of any new outdoor living space comes into play.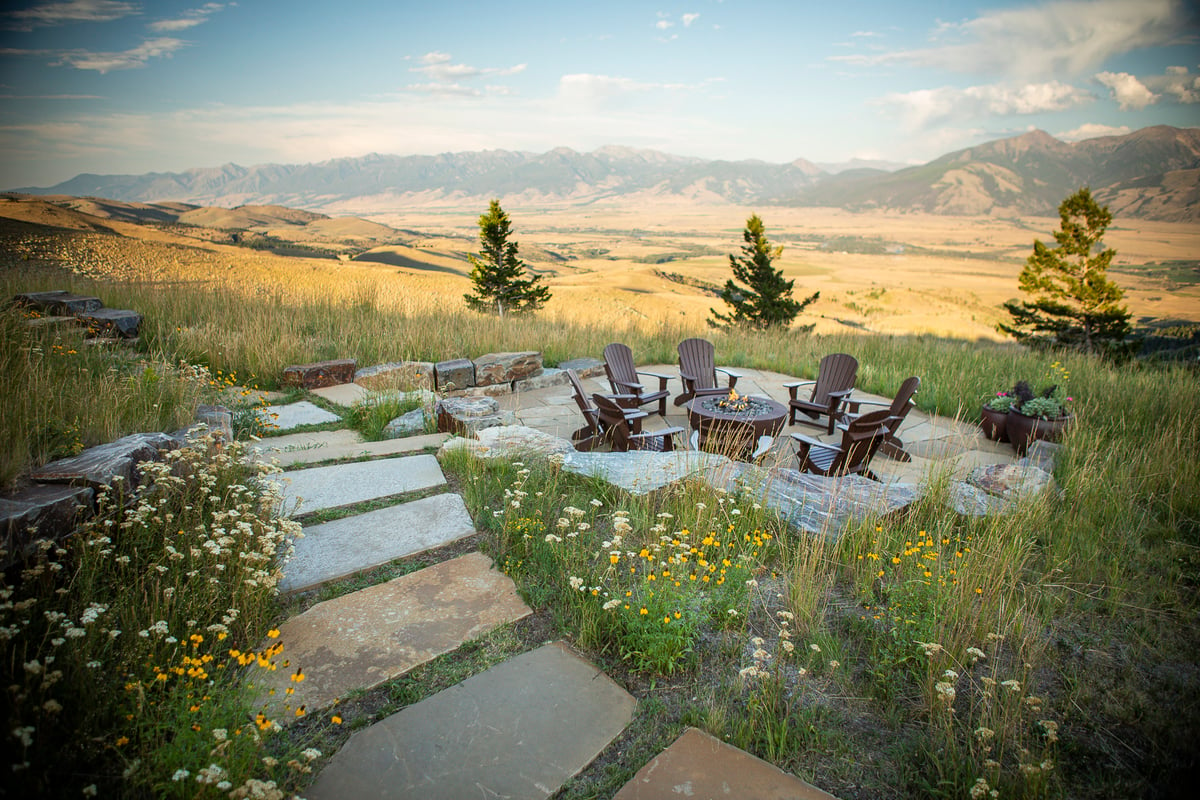 You want to make sure your deck or patio is installed in a spot where you can enjoy the best view. And you also want to make sure that any additions you make to the property (such as structures, like pergolas or pavilions) don't somehow BLOCK a view somewhere else.

If you're able to get that million-dollar view from the patio but it's blocked by a poorly placed structure on other areas of the property, that might still be a source of frustration. Sometimes people don't think about this until it's too late. For instance, you might suddenly realize you can no longer see the mountains from your kitchen window now that a pergola is blocking the view.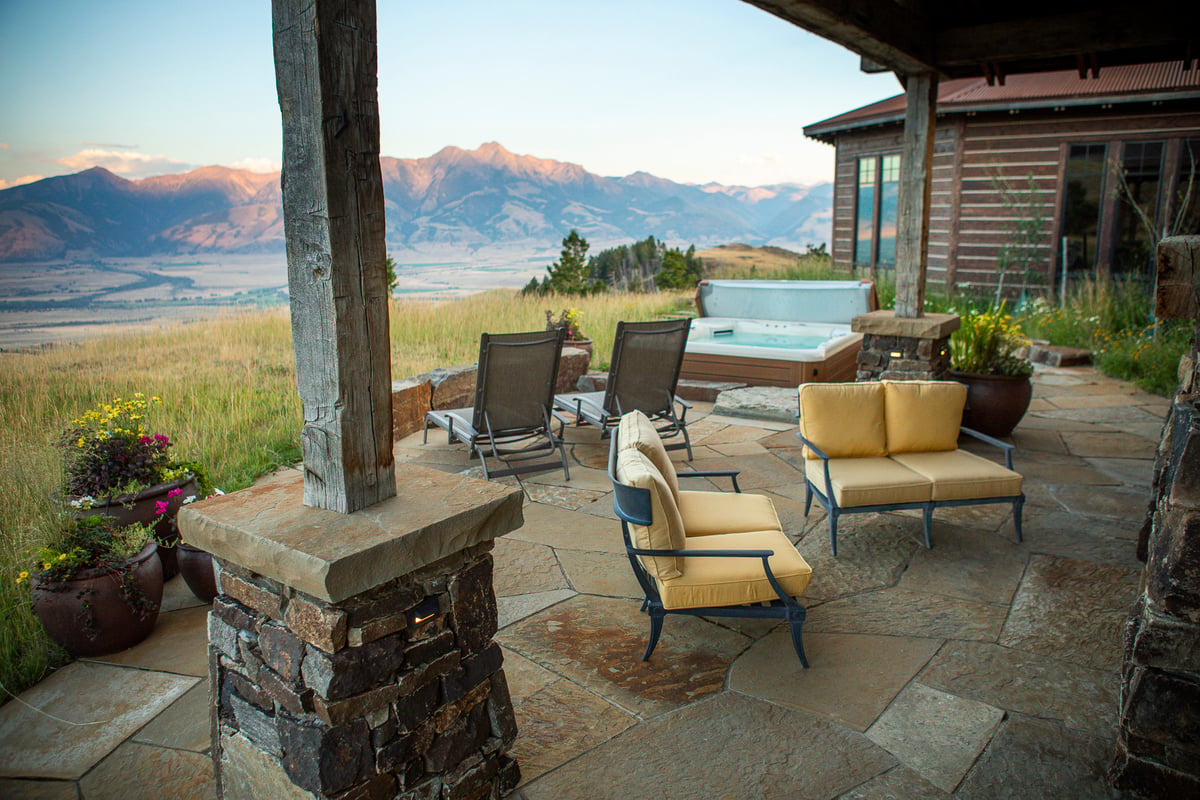 That's why it's so important to think through ALL scenarios when planning landscaping ideas for mountain homes.
#2: Create Outdoor Living Spaces to Maximize Outdoor Time
Since mountain life is largely about spending time outside, you want to make sure that you create a comfortable and welcoming outdoor space where you want to spend as much time as possible.

From cooking and dining al fresco to reading a book to even doing your daily yoga, you want to make sure that your outdoor space meets your specific needs so that you are spending as much time there as you want.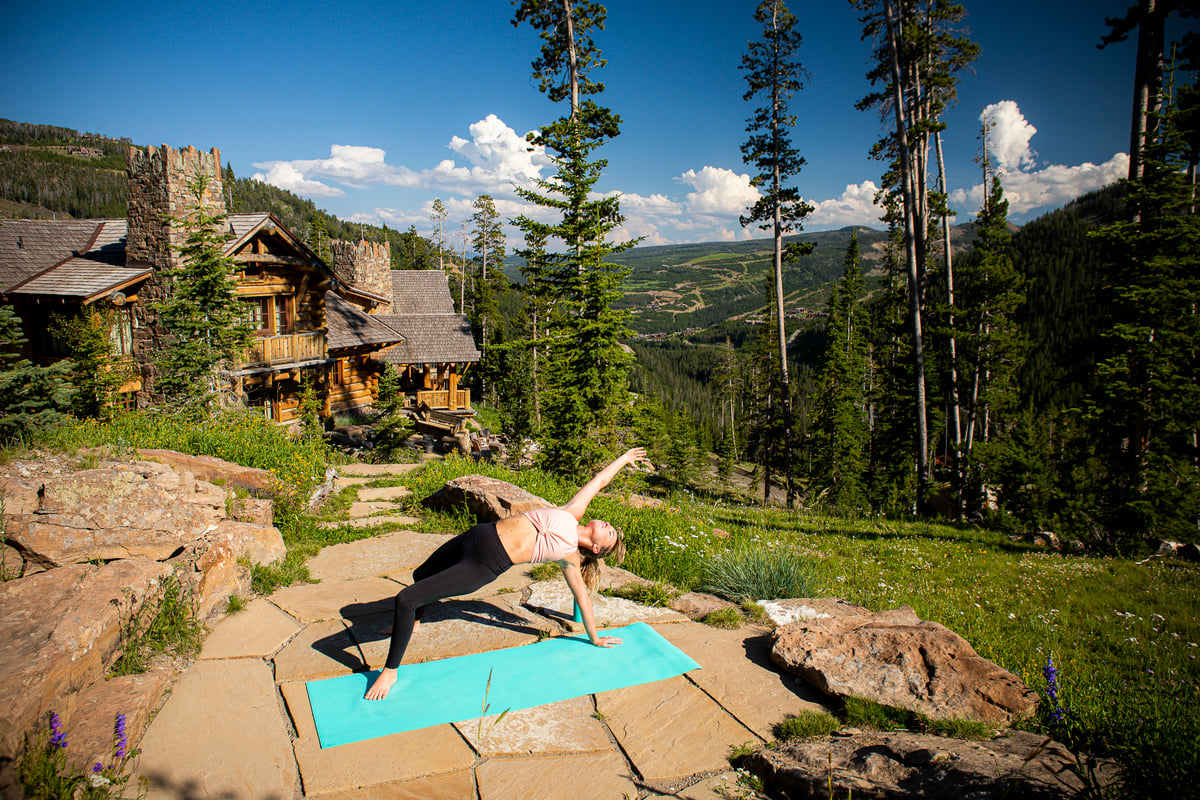 Oftentimes, being outside is a benefit simply because it's not inside. So much of our life is spent indoors. It can feel like a welcome break to get outside. But in order to do that more often, you need the space to accommodate it.

At Blanchford Landscape Group, we have plenty of ideas for outdoor rooms that can be used to spend time outside the way that you wish to spend it.

For most outdoor living spaces, it all starts with a patio. But then it's the amenities and features that you add which can really make the space special.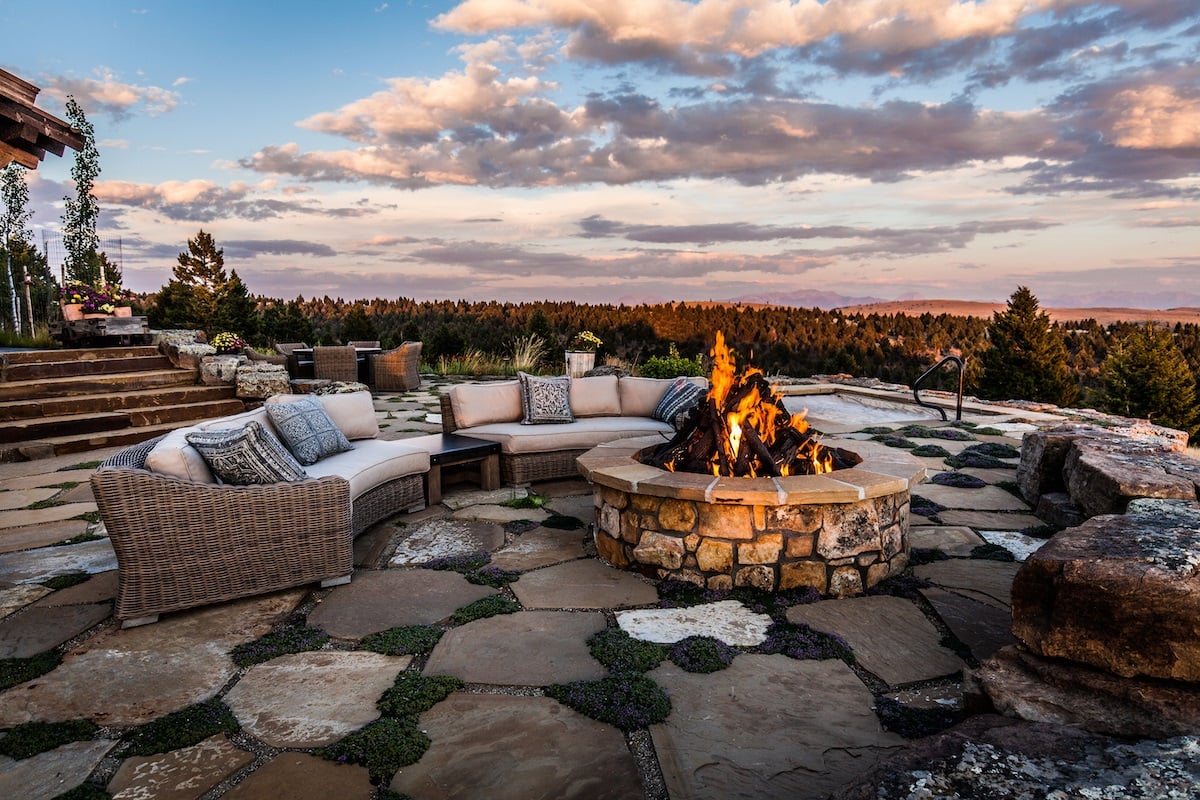 From outdoor fire features that add light and heat to your space to water features, hot tubs, or an outdoor kitchen, your outdoor space can help you live the best possible mountain life in your Bozeman, MT home.
#3: Blend New Landscaping with Nature
Mountain life is also about embracing nature. So, you want to make sure that any mountain backyard ideas you're implementing work with nature as opposed to against it. When this is done well, there is a seamless blending of your newly created landscape with the existing one.

Some of the ways that we can blend nature and landscaping include the following.
Incorporating Native Plants

: Native plants not only make low-maintenance additions but they look amazing, too. Native plants are those that have already been part of the local region for hundreds or possibly even thousands of years. As a result, they are well-adapted to the conditions and do not need a lot of extra care to look and perform their best. Native plants tend to be incredibly drought-tolerant and particularly hardy. And when it comes to blending nature with new landscaping, native plants are the way to go.


Using Meadows: Incorporating meadows into the design is another great way to blend nature and landscaping. A wildflower meadow is a quintessential landscape element of mountain life. You see them naturally occurring all around us and they are incredibly appealing and beautiful, not only for their colorful blooms but also for the gorgeous birds and butterflies that they attract. They are a great way to "naturalize a perimeter" so that the original landscape blends harmoniously with the new one.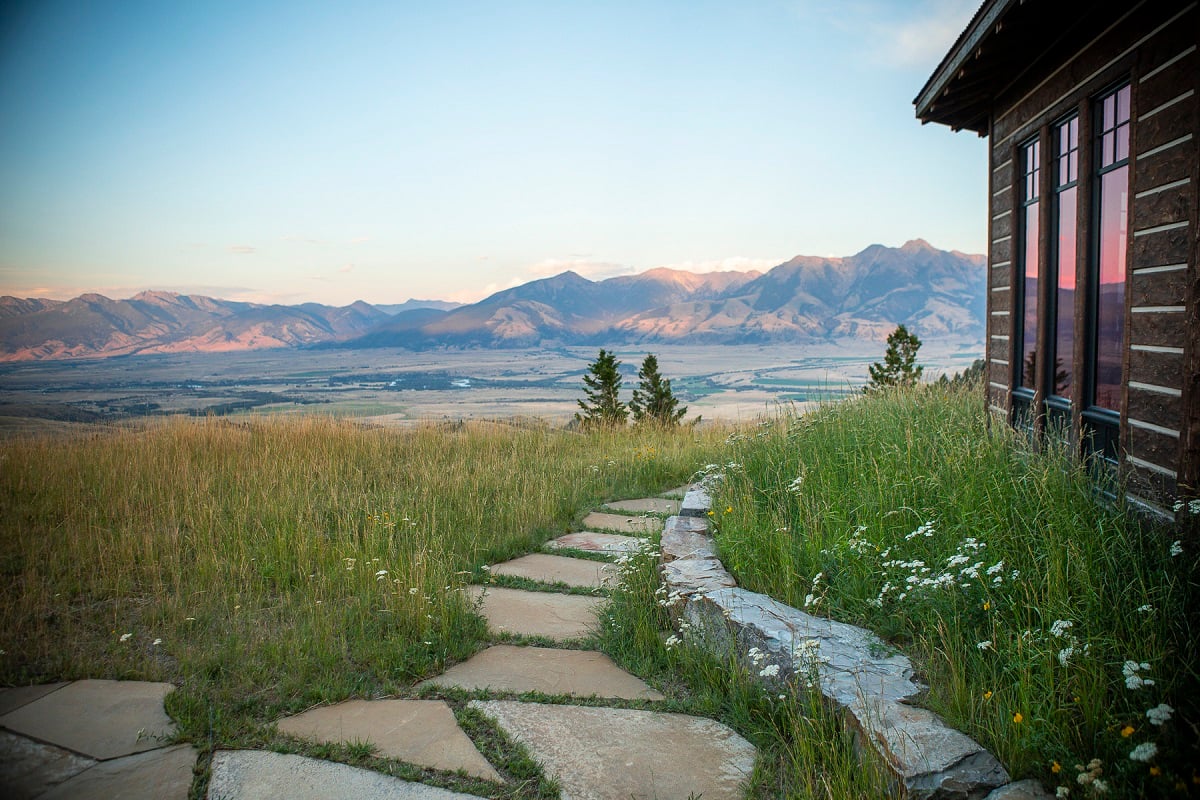 Creating a Wildlife Plan: As we mentioned before, the local wildlife is a huge appeal to mountain living. So, when coming up with mountain backyard ideas you want to make sure you have a good wildlife plan. This means creating a wildlife-friendly landscape that allows you to enjoy the beautiful creatures of the land…but also considers the fact that those creatures could easily destroy your new landscaping. At Blanchford Landscape Group, it's not uncommon for our wildlife control solutions to require in-depth brainstorming sessions with multiple experts. We use our collective expertise and experience to come up with the most effective solutions for our clients.



Incorporating Rocks and Boulders

: Another great mountain living outdoor idea that works with nature is using rocks and boulders in your design. Rocks and boulders are naturally occurring in the landscape and are an excellent way to blend what's already there with whatever you're adding. It will feel like a mountain home oasis with the right use and placement of rocks throughout your landscape. At Blanchford

, w

e love using rocks for steps, retaining walls, seats, and more. They can achieve both aesthetic and functional purposes within our landscape designs.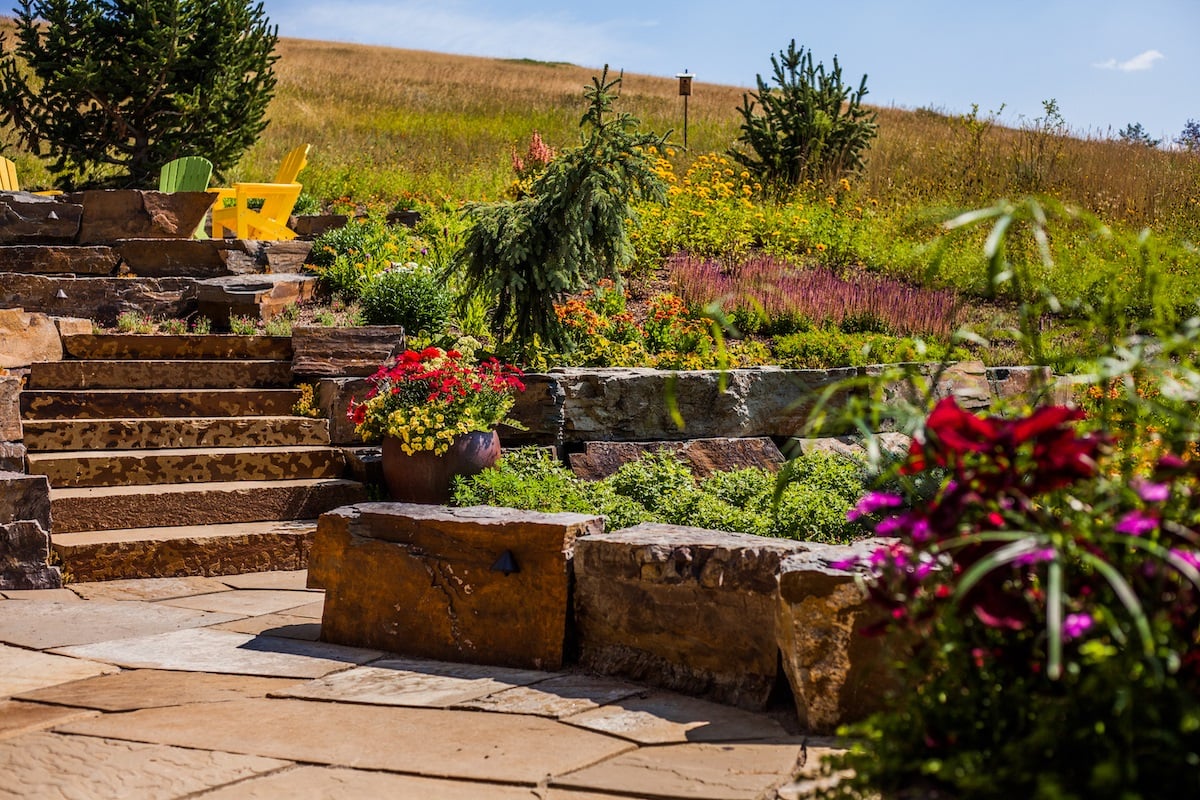 Working with a Professional on Mountain Home Exterior Ideas
These are just a few ideas that can help to enhance your mountain living experience. But we know that you likely have other ideas specific to your space. Your goal is to create a beautiful space that will encourage you to spend more time outside but that doesn't look just "plunked there."

The best mountain home landscapes look like they were always meant to be there.
This can be successfully achieved by working with a landscape design/build professional who has extensive experience working on Mountain properties. As you know, mountain life also comes with challenges such as access to the home, rocky and sloped terrains, and even its own microclimate.

For these reasons, you really want to make sure that you are working with a landscape professional who truly understands working in these conditions.

At Blanchford Landscape Group, we live and work here, just like you. We're extensively familiar with the region and working within the challenges it can pose. A tremendous amount of planning goes into these types of spaces but it's something that we absolutely love to do.

Unfortunately, there are plenty of companies out there that create cookie-cutter spaces and won't be committed to considering both the functionality as well as the harmony with nature that you are seeking. They also won't take the time to consider every little detail that should go into making your project unique.

But at Blanchford Landscape Group, we understand that every property (as well as every homeowner) is unique and so are their wants and needs. We'll discuss how you plan to use your space and what activities you would like to be able to spend more time outside doing.

Then we'll help you create the mountain living space of your dreams.

Are you ready to get the process of designing your outdoor living area started at your Bozeman or Big Sky, MT home? Let's connect and talk about your project. Then, we can meet and begin talking about your ideas! We can't wait for you to be able to enjoy your amazing space.