One of the key elements of our landscape design philosophy is that the immediate environment of the site (nature) must be considered. Bozeman and Big Sky, MT are known for natural features like expansive prairies, mountains, an abundance of wildlife, and naturally occurring plants like wildflower meadows.

When it comes to creating a new landscaped environment within that habitat, we want to make sure that we are paying homage to nature. In other words, instead of detracting in any way from the enjoyment of these elements, we want to enhance it.

One way that we can achieve this natural look is by using boulders and large rocks in landscaping. By adding boulders and large rocks into the design, it can have a tremendous impact on the overall look and feel of the space, assisting it in connecting harmoniously with the natural surroundings.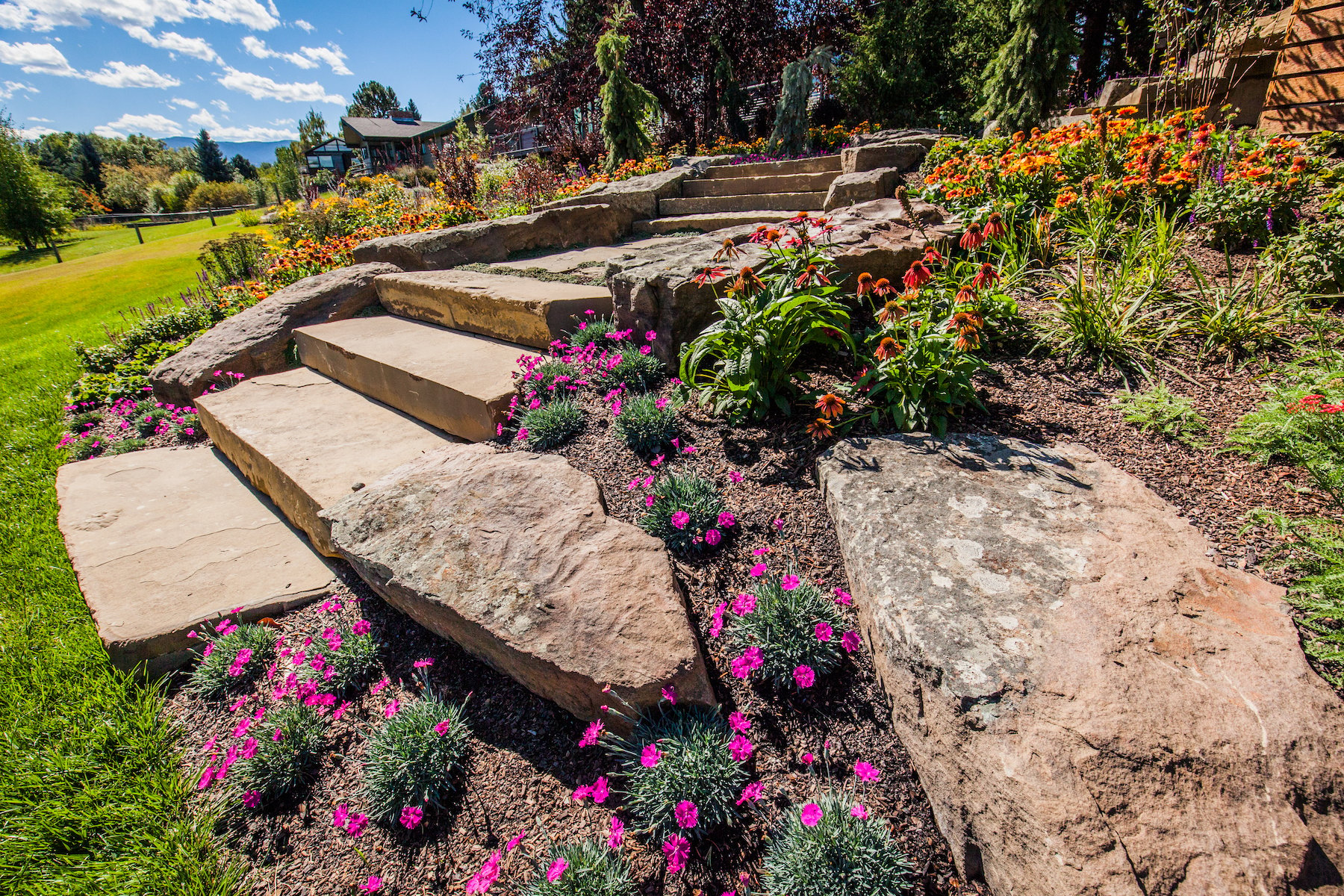 How to Use Boulders in Your Landscape
There are a multitude of different ways that landscaping with boulders and large rocks can be completed. At Blanchford Landscape Group, we love using these elements to blend the natural world into the landscaped world in a seamless fashion.

To help get your imagination churning, we've rounded up some different ideas on how to use boulders in landscapes.
Using Boulders for Walls
When it comes to using boulders in landscape design, one way that we love to do this is with boulder and rock slab retaining walls.

When creating a new landscape, retaining walls are often needed to hold back the soil and prevent erosion in areas of grading change. This is a very functional purpose but that doesn't mean we want the finished product to look utilitarian.

Rather than using a manmade paver or block, when we use boulders or rock slabs to create a wall like this, it has a much more natural and beautiful look.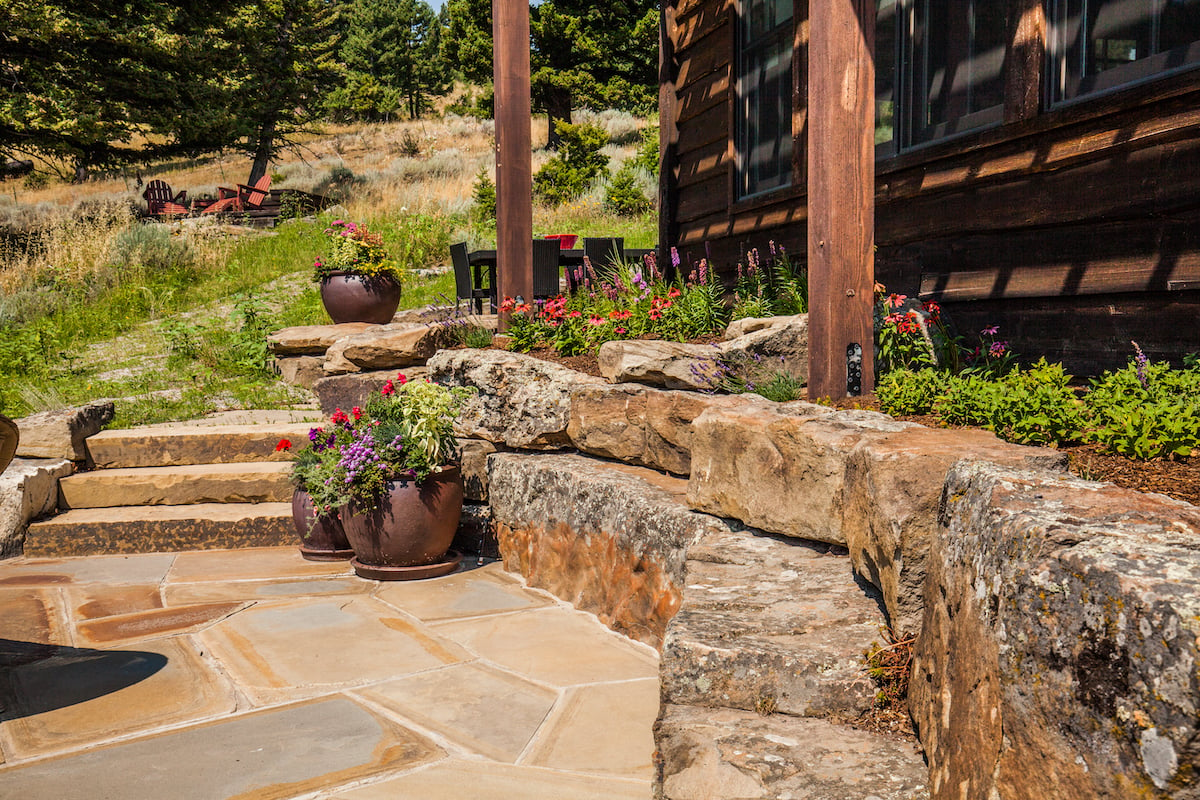 Oftentimes, a rock wall can also double as a seating area for overflow seating around a patio. It also creates a sort of "ledge" around a patio or other hardscape areas where you might add a container garden or other design elements.

Again, it's about considering both functionality and aesthetic appeal when creating the perfect landscape design.

Perhaps most importantly, the use of a boulder wall does a tremendous job of blending nature into the design.
WATCH THIS VIDEO TO LEARN MORE ABOUT OUR DESIGN/BUILD SERVICES
Using Large Rock Slabs for Stairs
Another way that we use large rocks within a natural landscape design is to add them for stairs. Again, rather than using a manmade paver which has a much more utilitarian look, we'll use rocks to create traversable stairs.

This is just another way that we can achieve both functionality and aesthetic appeal. With a gorgeous slab stairway built into a hillside or slope, homeowners can get safely from one area of the property to another without detracting from the property's natural appearance.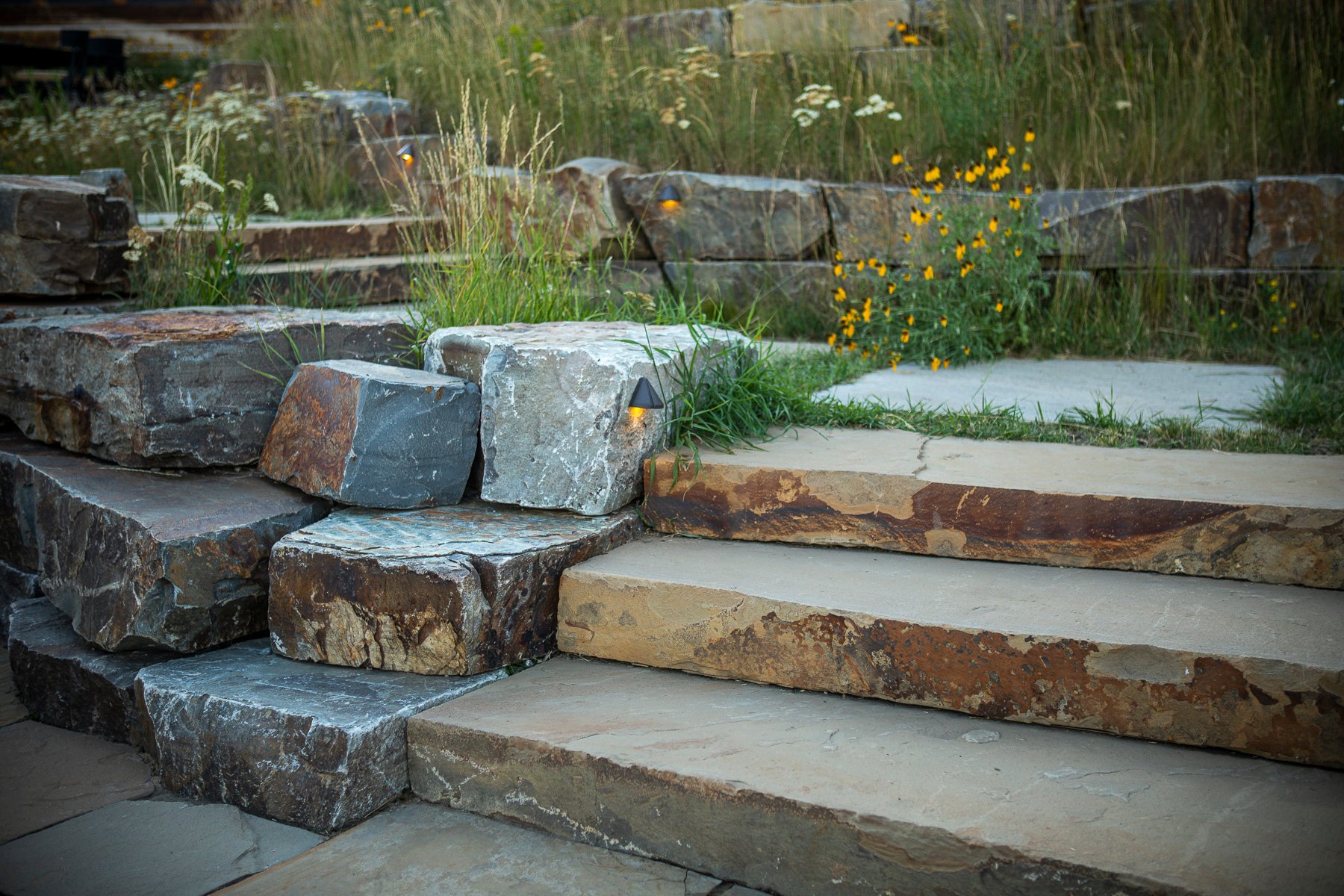 Adding a Boulder Fire or Water Feature
Another way that we have completed landscaping with boulders and large rocks is to use these elements to create a completely original fire or water features.

For instance, for one of our clients, we used a large boulder to carve in an area for them to burn a fire. The other half of the rock was used as a table space so that the homeowners would have a place to set down drinks or a plate.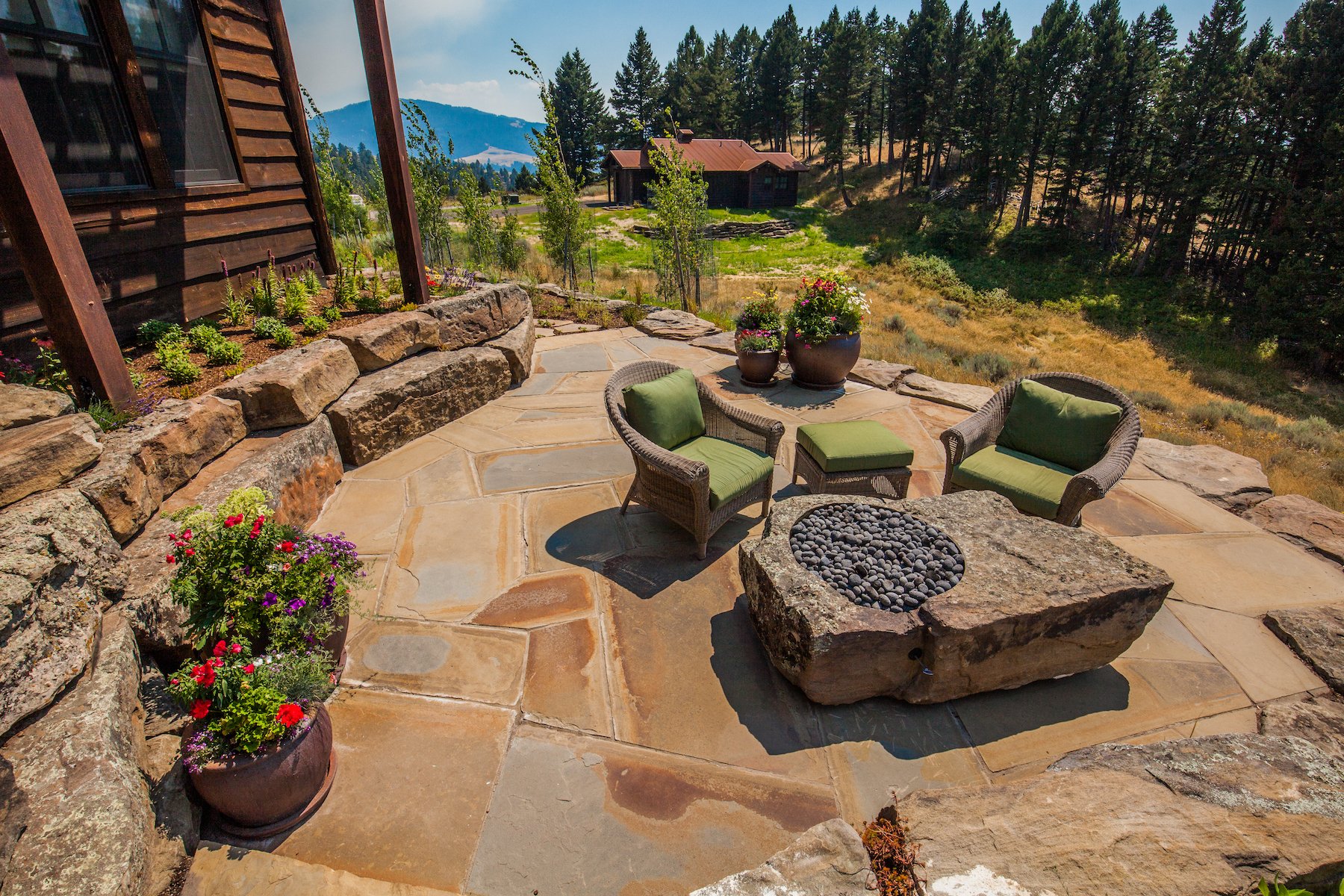 This boulder fire feature was completed for a mountain-based property that needed something natural to truly "fit" the space. The other fire features that the homeowners had considered were ultimately too modern-looking to suit the natural space. So, we created something completely original for them.

We have also used boulders to create unique water features for our clients. A cored boulder with some bubbling water can be a great way to add a natural-looking feature to your Montana landscape.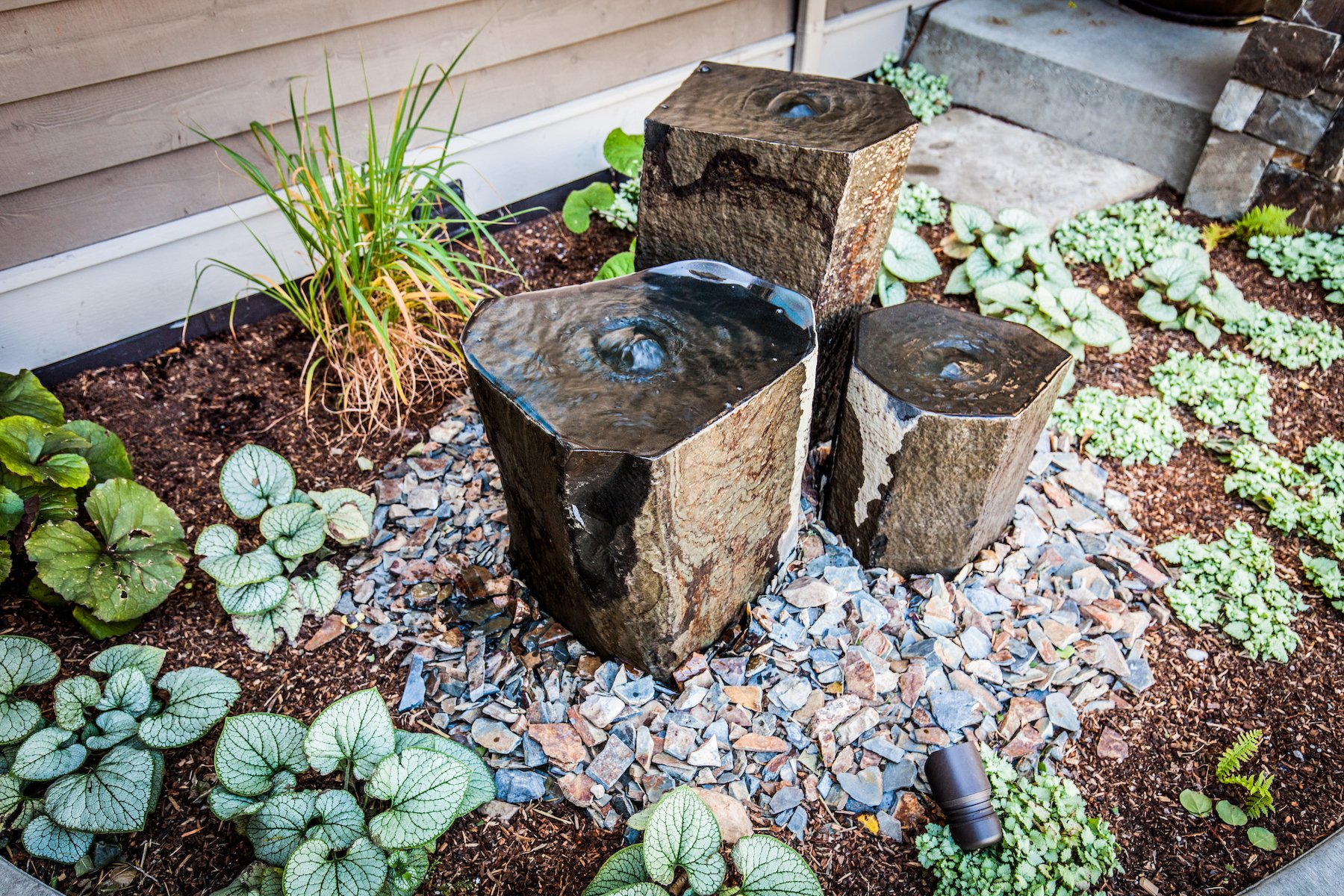 Or, maybe you even want something a tad bigger, like a pondless waterfall. With a pondless waterfall, the flow of water "disappears" into an underground reservoir. The design typically includes some beautiful boulders with the water cascading down them. Plant life can be tucked into the rocks to add an even more natural look.
Incorporating Lighting Into Rocks and Boulders
Another way that we're landscaping with boulders and large rocks is that we're incorporating landscape lighting, too. For one, we're shining lights on landscapes and boulders so that they can be enjoyed artistically in the evening hours.

But we're also building lights right into boulders to contribute to nighttime functionality. With landscape lighting, you want just the right amount of light to be able to safely traverse the space at night.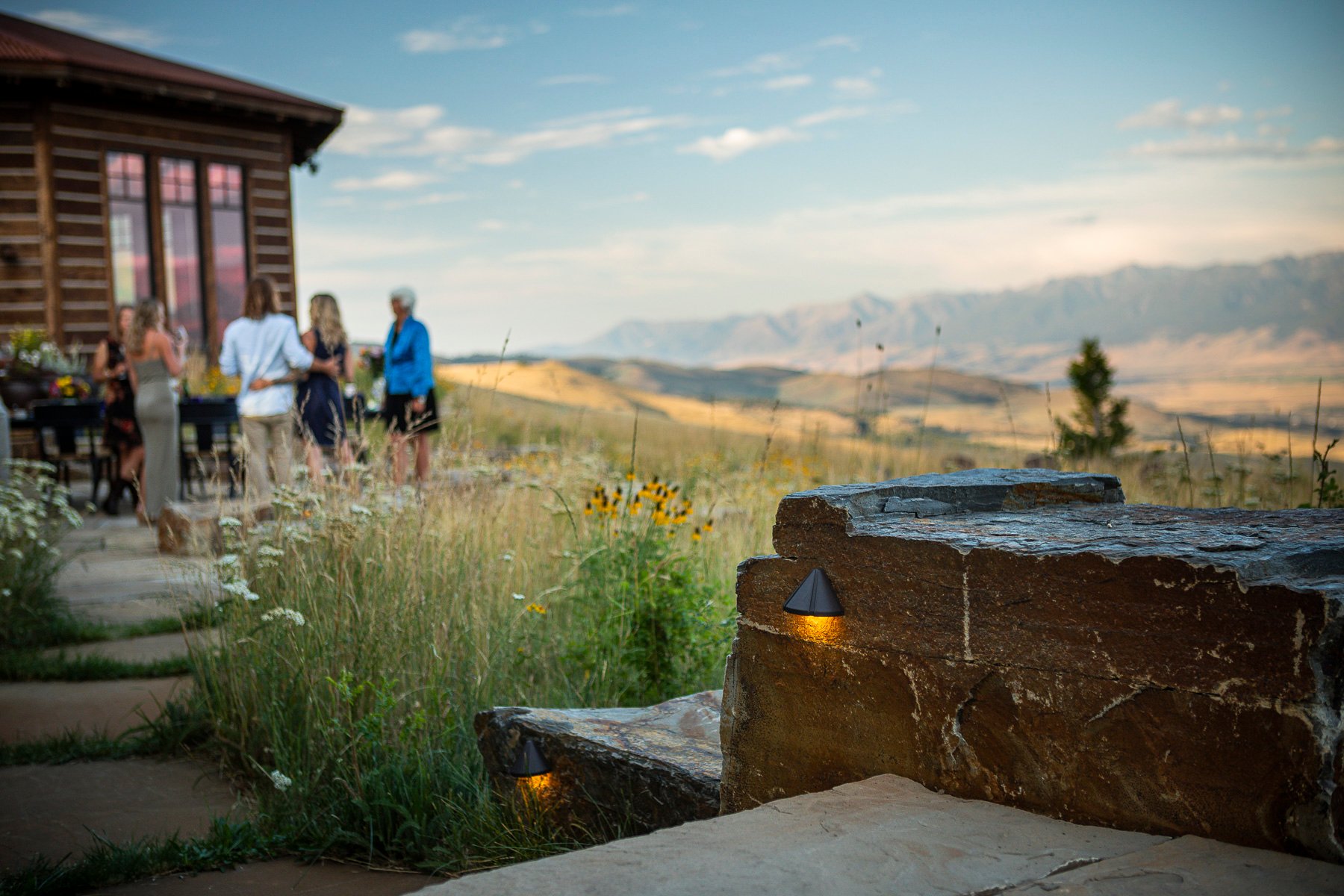 Using a Boulder as a "Statement Piece" on its Own
It's also important to point out that a boulder truly can be a statement piece on its own. Simply using boulders and large rocks in landscaping does add a sense of interest and appeal to the design while also giving it a more natural appearance. It doesn't always have to be part of a fire or water feature or part of a wall.

Simply strategically placing boulders around a landscape design can make a huge difference in adding to the overall look and appeal of the space. One of the added benefits is that boulders contribute to a low maintenance landscape. Unlike plant material, it's not like you have to do anything to maintain a boulder.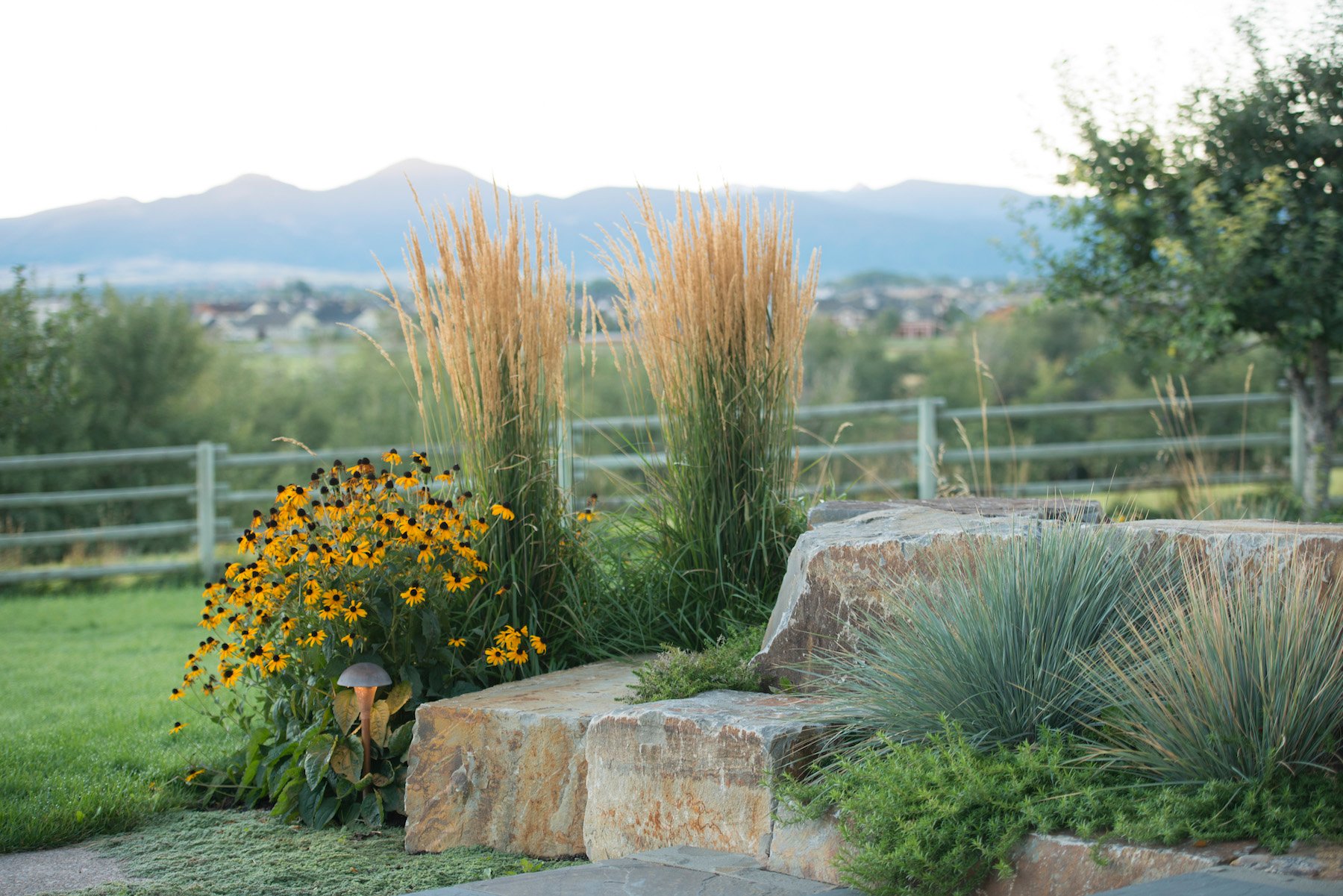 The Logistics of Using Boulders and Large Rocks in Landscaping
Of course, you might be wondering how we get such enormous rocks onto our clients' properties in the first place.

At Blanchford Landscape Group, we have invested in a new piece of equipment for setting large slabs. Lifting and moving these massive rocks is no simple feat. But the addition of a pneumatic paver lifter to our equipment fleet has made a world of difference. We are now able to make these larger rocks easier to manage so that we can offer our clients more options in their designs.

This is a piece of equipment that not all landscaping companies will invest in. But we believe strongly in being able to offer our clients the best. Oftentimes, we will use many large rocks and boulders in a single landscape design and we need the equipment to be able to make this possible.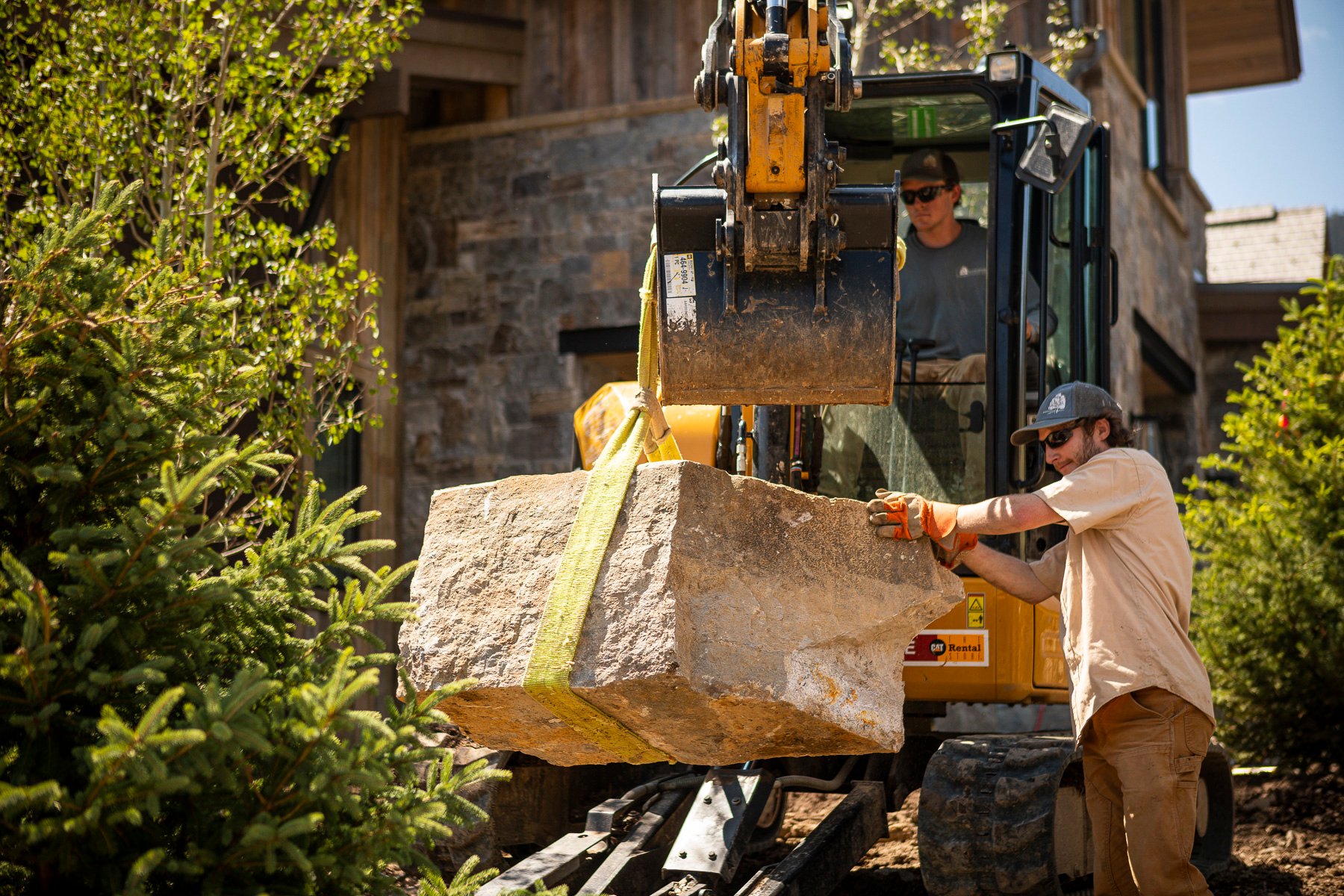 Working with Blanchford Landscape Group for Landscaping with Boulders and Large Rocks (and More)
Using boulders in landscape design is just one way that we're doing what we can to ensure that your finished landscape blends seamlessly with the gorgeous natural world around you. We understand that these elements of nature are what draw so many people to our region in the first place and we want to do everything we can to preserve that.

Any time that we are creating a landscape design, we never attempt to outcompete nature.

When designing an outdoor living area, we are always working with nature to maximize the views and ensure that anything which already exists there continues to contribute positively to the newly designed space. Using boulders and large rocks in landscaping is one of many ways that we achieve this.

The end result is that the new landscape doesn't look just "plunked there," but rather as though it was always meant to be a part of the space.

As you can likely tell, this is something we take quite seriously. But not all landscaping companies will be as dedicated to preserving nature. That's why it's important to make a wise choice when it comes to the company you're going to work with.

At the end of the day, we believe that with great care and respect given to the natural space, our landscape additions can make the enjoyment and beauty of your new landscape even better.

Are you ready to begin the process of creating an outdoor living area with beautiful boulders and rock slabs at your Bozeman or Big Sky, MT home? Let's connect and talk about your project. Then, we can meet and begin talking about your ideas. We can't wait for you to enjoy your amazing outdoor space!