Chances are, one of the things that you love about Southwest Montana is the natural surroundings. As Olivia Newton-John once said, "Nature is the most beautiful thing that we have." We couldn't agree more.

We understand that whether you live here year-round or you have a vacation home here, you want to do what you can to celebrate nature with landscape design.

The last thing that you want is for your landscape design to attempt to outcompete nature in some way. You want something that complements the natural surroundings so that you can continue to enjoy nature to the fullest.

That's why we're talking about landscaping with nature in mind. There are some very specific ways that we make sure any landscaping additions or changes that we make work with nature as opposed to against it in some way. This is important when it comes to getting the most out of your Southwest Montana landscape.
Adding Native Plants for a Natural Landscape Design
First and foremost, landscaping with native plants can be a great way to ensure that the landscaping additions to your property blend with nature.
Native plants are those that have already been part of the local region for hundreds or possibly thousands of years. This makes them a low-maintenance choice, too. Since native plants are already adapted to the region they need less water and overall care to perform well in their habitat.

There are many native plant choices that would make a lovely addition and we've written an entire article on them.

Because these plants are naturally adapted to the land, they make an eco-friendly choice for your landscape. They play a role in minimizing water waste. And because they don't need a lot of upkeep or care, they are largely self-sustaining. This is all when talking about landscaping with nature, as opposed to making choices against it.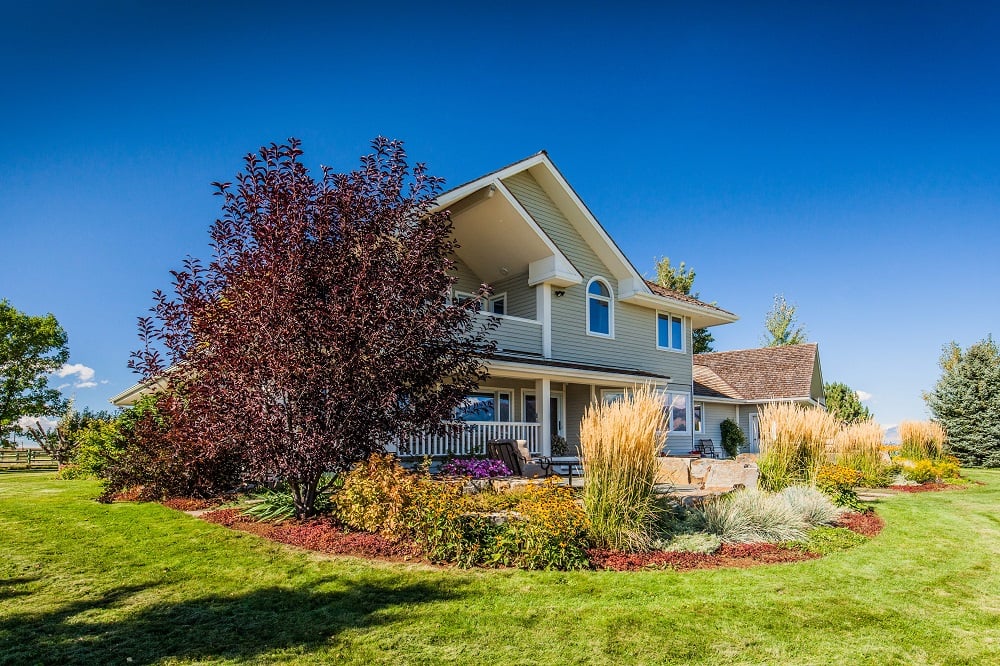 But in terms of creating a natural landscape design, there are absolutely aesthetic benefits to using natural plant material, as well. In general, we take our cues from nature, and that means making plant choices that look like they were supposed to be there (not ones that clash).

Using native plant material helps to create a more "naturalized" setting that blends with the natural surroundings. It's always optimal when the two settings blend seamlessly rather than looking like you have a landscaped area and then nature (as two entirely separate entities). They should work together.
Working with Wildlife when Landscaping with Nature
Another really important consideration when landscaping with nature, is the surrounding wildlife. Here in Southwest Montana, it's abundant! We have elk, moose, mule deer, and even a wide variety of beautiful birds. And that's one of the wonderful things about our region.

People love that they can be in close proximity to the lovely wildlife that roams here.

But wildlife-friendly landscaping comes with a lot of challenges. In fact, we've written an entire article on that topic, too. There are so many considerations that come into play when creating a landscaped space that is safe for wildlife but also beautiful (and won't be completely decimated by these animals).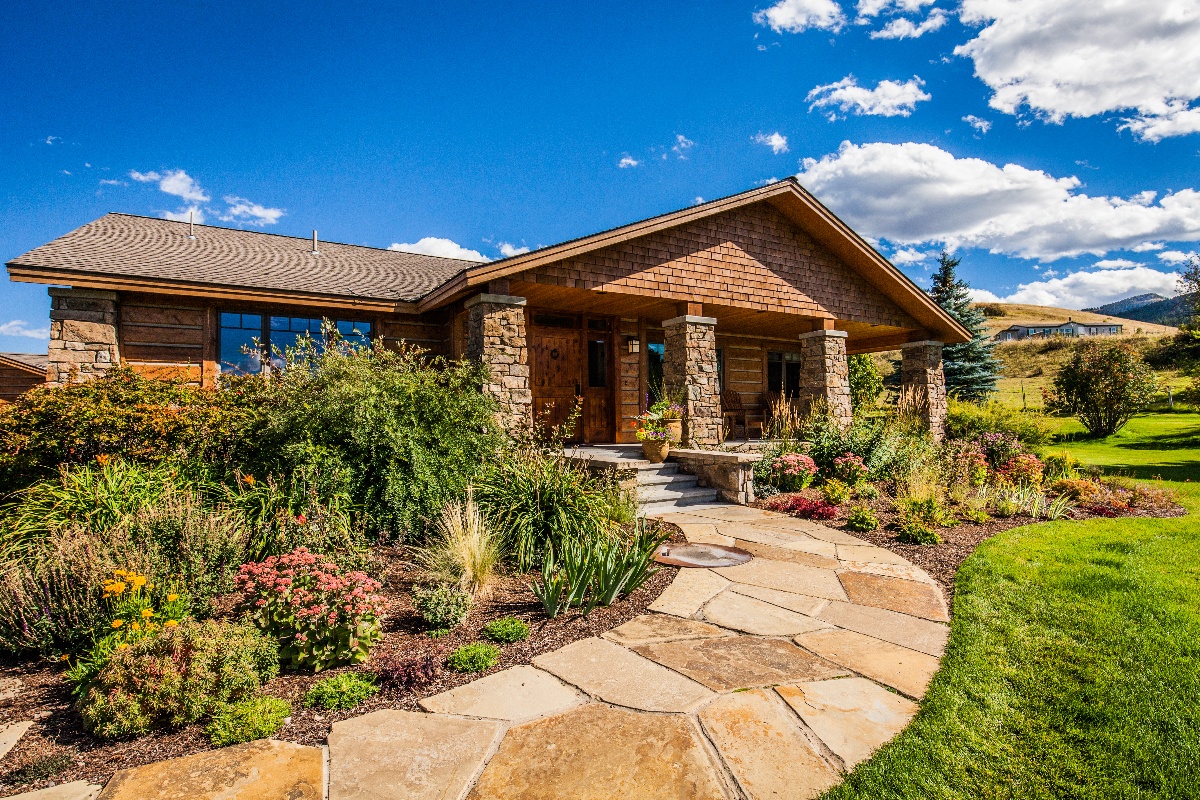 Some of the important considerations include creating a space that protects the local wildlife. That means being cognizant of not adding plant material that could be toxic or harmful to the local animals.

It also means thinking about wildlife control solutions.

While you want to be able to enjoy the local wildlife and you certainly want to protect them, you also don't want them to completely destroy your landscape. In landscaping with nature, we will take into account how the local wildlife will be able to "use" the space without causing damage. On many of the properties that we work on, wildlife roams freely. So, we need to be creative in our thinking.

How can we ensure that the wildlife can pass through but not ruin the landscape design?

One of the more simple but effective solutions that we use is incorporating deer-resistant plants, shrubs, and trees. These are plant choices that are less likely to become deer food. Whether it is because of an unpleasant taste, odor, or texture, we choose plants that tend to be avoided by deer.

But we often need to go far beyond plant choices and also think about location as well as other solutions like wrapping certain plants come winter. Solutions for wildlife control are not usually simple and do require some expertise and understanding of wildlife in the region. It's important that your landscape company has a good idea of what solutions will work best for what areas.

At Blanchford Landscape Group, it's not uncommon for our wildlife control solutions to require in-depth brainstorming sessions with multiple experts. We use our collective expertise and experience to come up with the most effective solutions for our clients.
Using Meadows for Landscaping with Nature
As you know, wildlife meadows are a quintessential landscape element found in Southwest Montana. You'll see these naturally occurring all over the region. They are beautiful not only for their abundance of bright flowers but also for the lovely birds and butterflies that they draw in.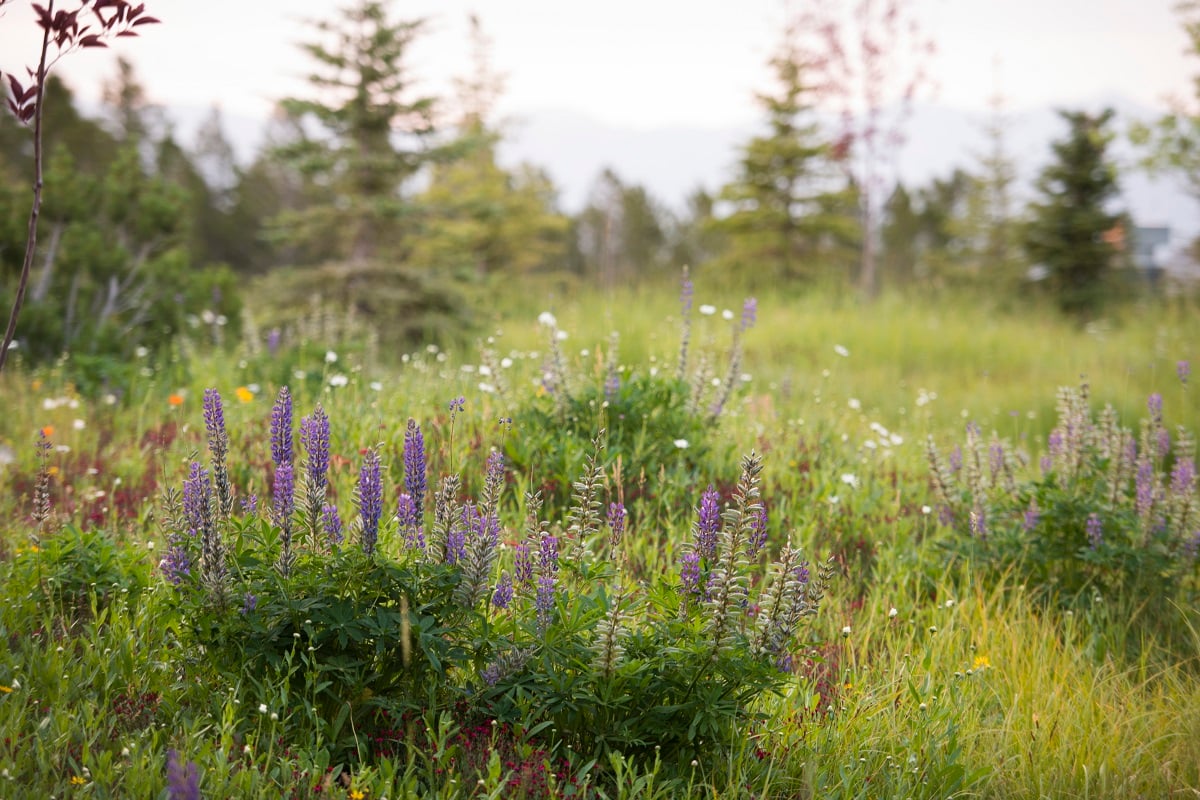 For these reasons, many homeowners also love using wildflower meadows on their property. They can be a great way to bridge the gap between the natural landscape and the property landscape.

A wildflower meadow is a way to "naturalize the perimeter," which is something that we talk about a lot when creating a natural landscape design. The idea is to ensure that local nature and your landscape blend seamlessly.

Of course, there's a lot involved in caring for a wildflower meadow, which is something that we dive into in the article linked above.

Because these meadows are bordering the natural landscape, they are prone to becoming overrun with invasive weeds from nature. If this is not maintained properly, your meadow can quickly become messy or even begin to disappear as unwanted weeds take the place of the gorgeous flowers you want in your meadow.

This brings up an important point when landscaping with nature.

Nature is definitely beautiful. But it can also be messy and can take on a life of its own quite quickly. You've surely seen what happens when plant material is not tended to (and it wouldn't be in a natural habitat). It grows quickly and can start to look overgrown and messy. Therefore, a really important consideration is keeping the maintained areas groomed the way you want them and sometimes knocking back invasive weeds that creep in from nature.
Choosing a Landscaping Company that Will Celebrate Nature with Landscape Design
As you can see, landscaping with nature can be an involved process. It's important that you choose a company that will take it seriously. After all, you want a landscape that is beautiful but that also complements nature (without harming the local ecosystem in the process).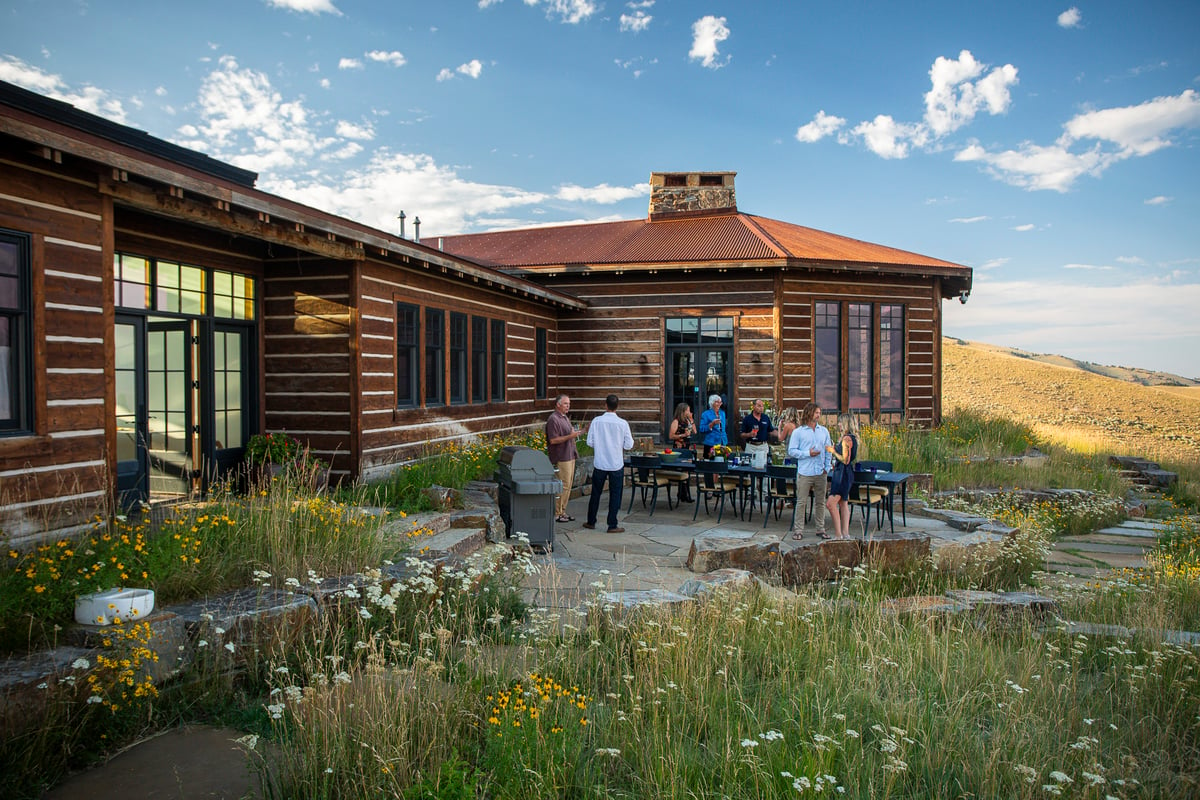 At Blanchford Landscape Group, we take landscaping with nature very seriously. It's not uncommon for our brainstorming sessions to include multiple experts from the team, all devising the best solutions for each of our client's individual properties.

These are well-thought-out designs and maintenance plans (not something that is just thrown together).

While not all landscaping companies are going to go through that effort, we think that it's something that cannot be overlooked. We not only want to do our part to protect the local ecosystem and to preserve nature, but we also want to help ensure that our clients are getting the landscape of their dreams and enjoying the outdoors to the fullest as a result.

Are you ready to begin the process of creating a natural landscape design at your Bozeman or Big Sky, MT home? Let's connect and talk about your project. Then, we can meet and begin talking about your ideas. We can't wait for you to enjoy your beautiful outdoor space!