When it comes to outdoor living spaces, the goal is to find ways to create more functional and usable space, outside. The best way to achieve this will depend on how you envision using the space.

Are you someone who wants to connect with nature? Entertain guests outside? Enjoy more meals outdoors? Relax in a hot tub or around a fire pit? Or, perhaps several of these and more!

In this article, we've rounded up a bunch of outdoor room ideas and considerations so that you can start thinking about what elements will help to give you the perfect outdoor living room design. After all, with an investment like this, you deserve to be confident that you're going to get the most possible use and value out of it.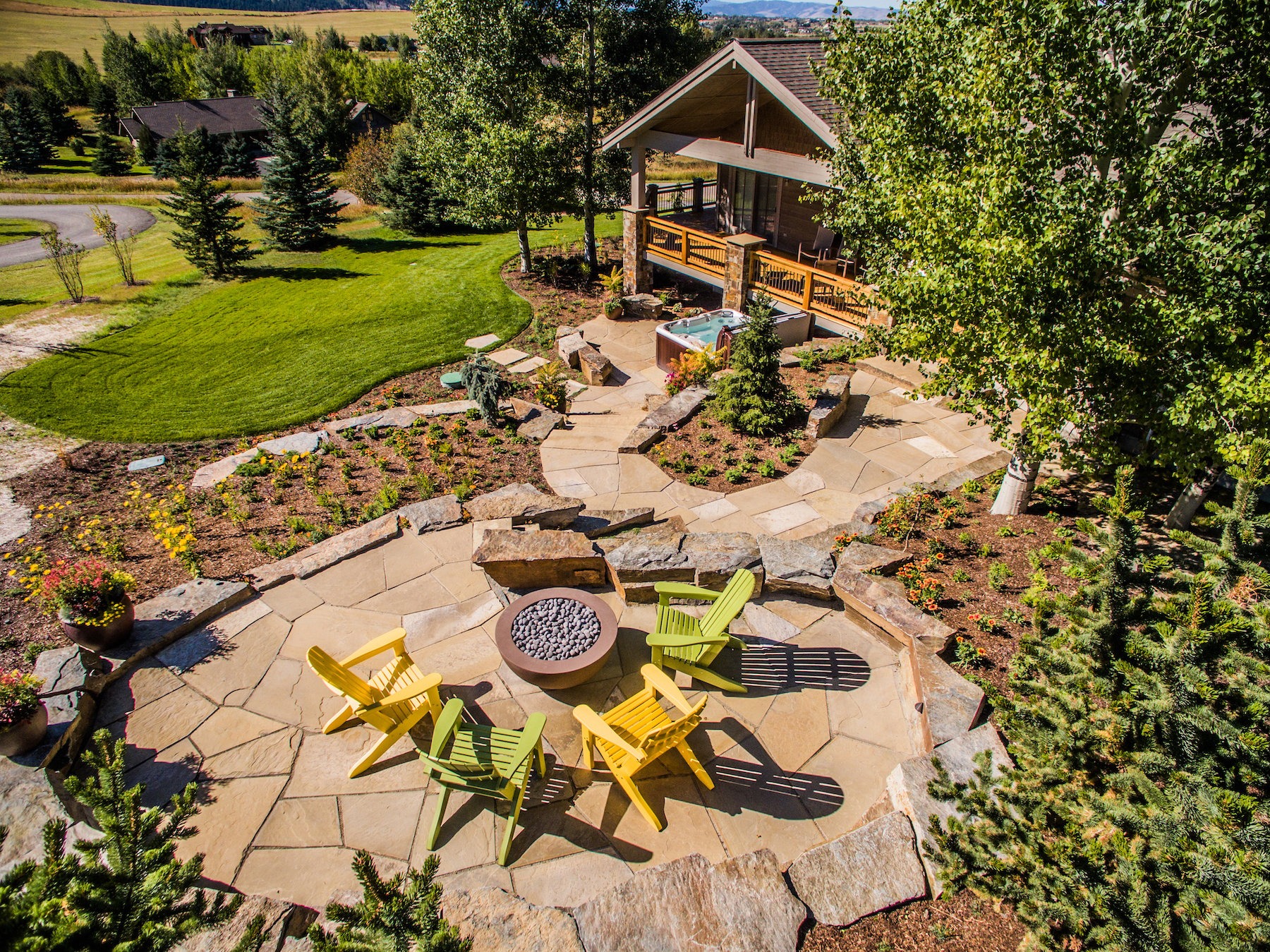 Ideas for Outdoor Rooms
When it comes to planning an outdoor living room design, the process begins with your imagination. The idea phase is the time to think about what elements you'd like to see in an outdoor living area.

To get you started, here are some ways that you can expand your living spaces to the great outdoors!
1. A Patio is Where the Fun Starts
As you get started with your outdoor living room design, a patio is likely to be at the heart of it all. Depending how you plan to use your outdoor living area, a patio can be a spot for lounging, dining, entertaining, and so much more.

There is a lot to consider as you think about adding a patio, but it all starts with how you plan to use the space. Oftentimes, many Bozeman and Big Sky, MT homeowners have multiple "areas" of their patio which are used for different purposes. As you think about your outdoor room ideas, you and your landscape designer can determine how a patio will best meet those needs.
2. Make Sure You Think About Privacy for Your Outdoor Living Room Design
If you live in an area where neighboring properties can see into your outdoor living space, then you'll want to think about ways you can create some privacy. Often this can be done with landscaping plants that do double-duty as privacy screens or even strategic placement of structures to help block out a view.

One thing that isn't always thought about in regard to privacy is blocking out sound. If you live close to neighbors (or even close to a road or recreational area, such as this Bozeman, MT townhome, located near a golf course), then the sound of a water feature can be a gamechanger in terms of blocking out noise.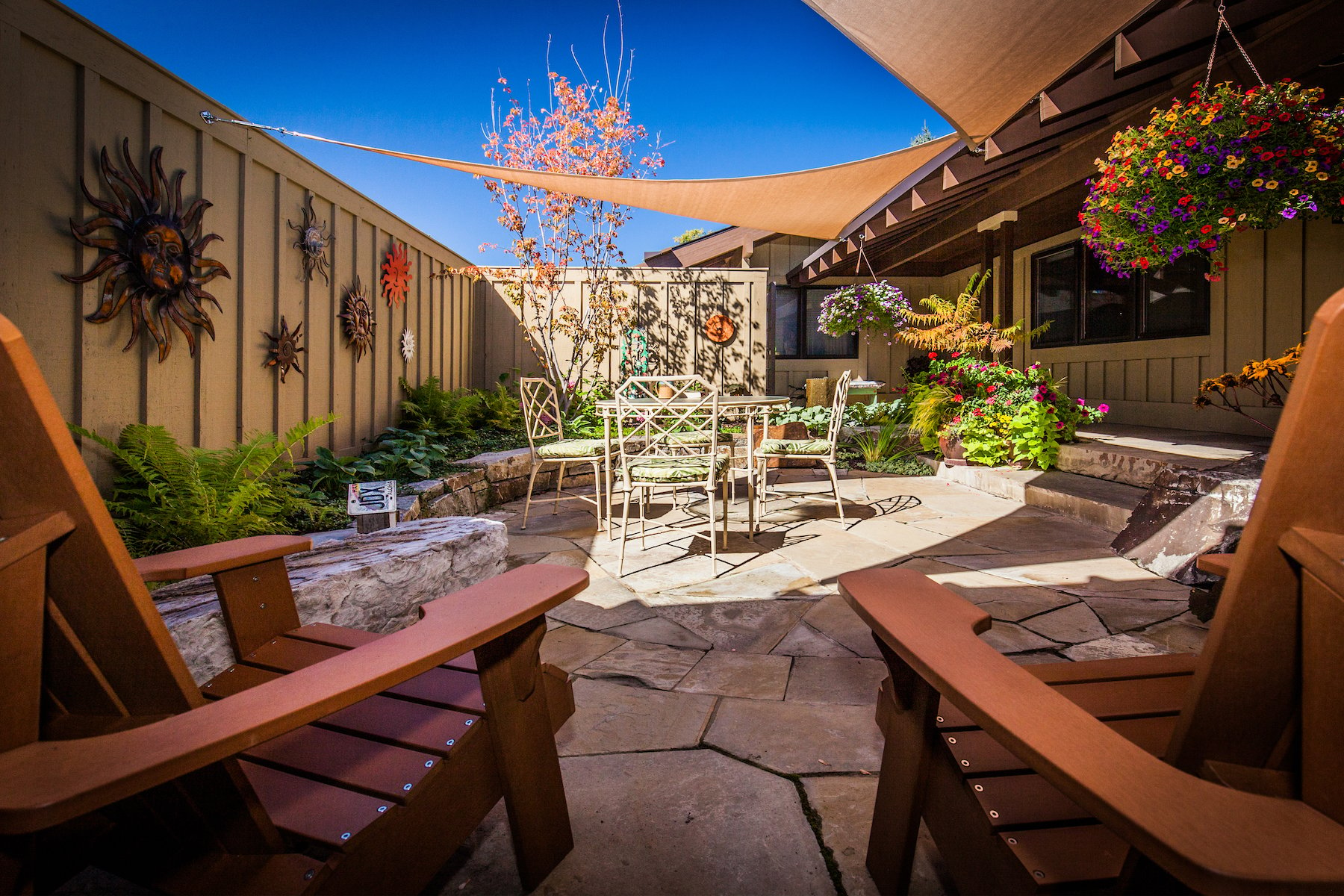 3. Consider Adding a Structure to Your Outdoor Living Space
A structure like a pergola or a pavilion can also be an addition that helps you to get more use out of your outdoor living space.

A pavilion is a structure with a fully covered roof that allows you to truly bring indoor elements outside. It provides cover from weather like rain or snow, giving you a sheltered area to spend time while still being outdoors. It's an area where homeowners like to add outdoor furniture, kitchens, or even an outdoor television.

Pergolas are another great addition.

They can be incredibly charming in terms of their architectural detail and they add a lot of interest to an outdoor space purely for the aesthetic appeal. Pergolas also serve the functional value of creating shade. Instead of the sun beating down on you, you'll have filtered light casting through. But these feel much more "open" to the outdoors than a full-blown pavilion.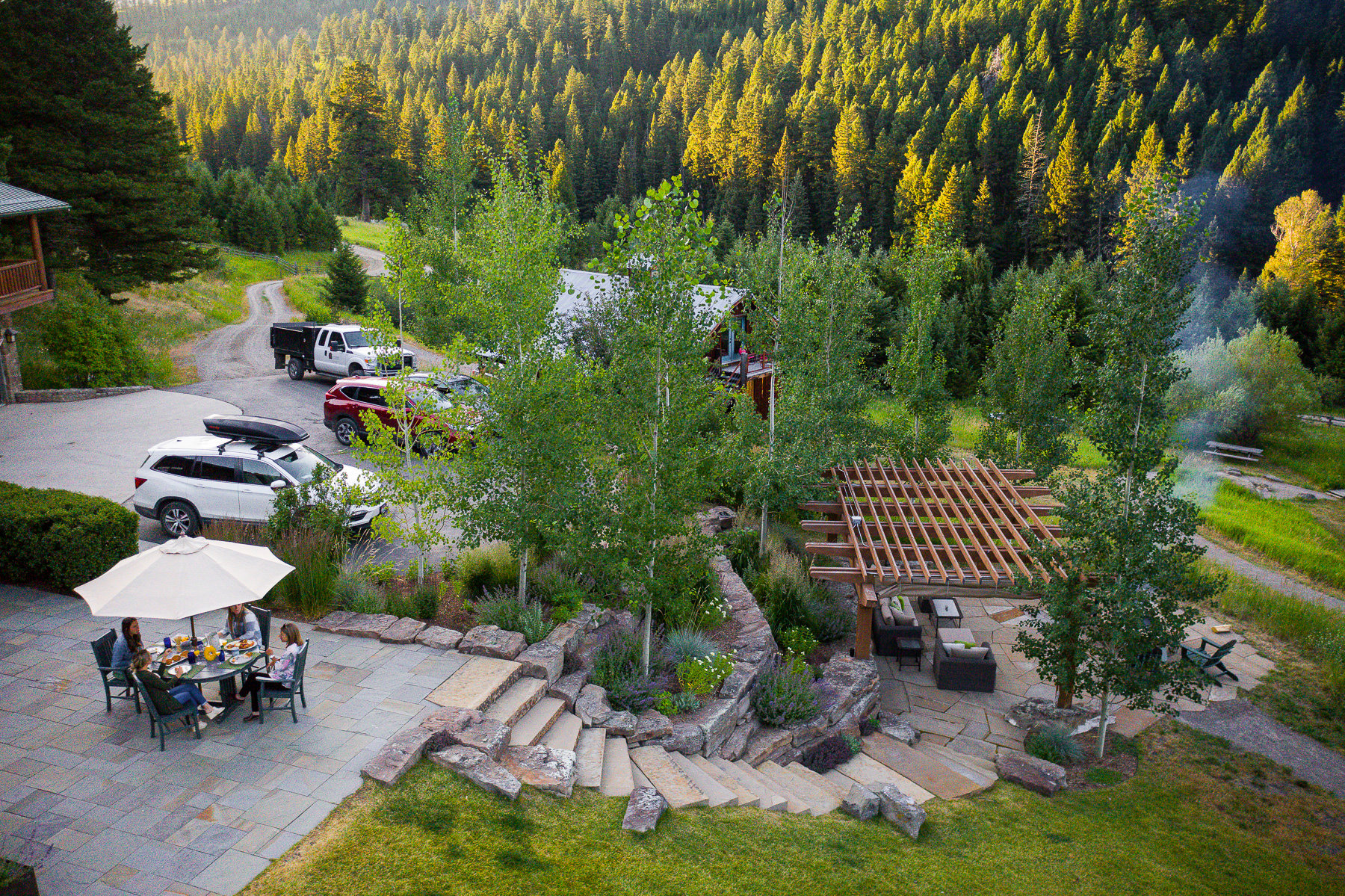 4. Incorporate Water or Fire Features into an Outdoor Living Room Design
Adding a water or fire feature to your outdoor living space can increase the appeal and make it more enjoyable to spend time outdoors.

The sound of running water from a water feature is tranquil and relaxing. In fact, various studies have shown this can have a stress-reducing effect. As we mentioned earlier. A water feature can also add an element of privacy by blocking out sounds and helping to make your outdoor living area feel more secluded. The sound of splashing water can help it to feel like your own little oasis.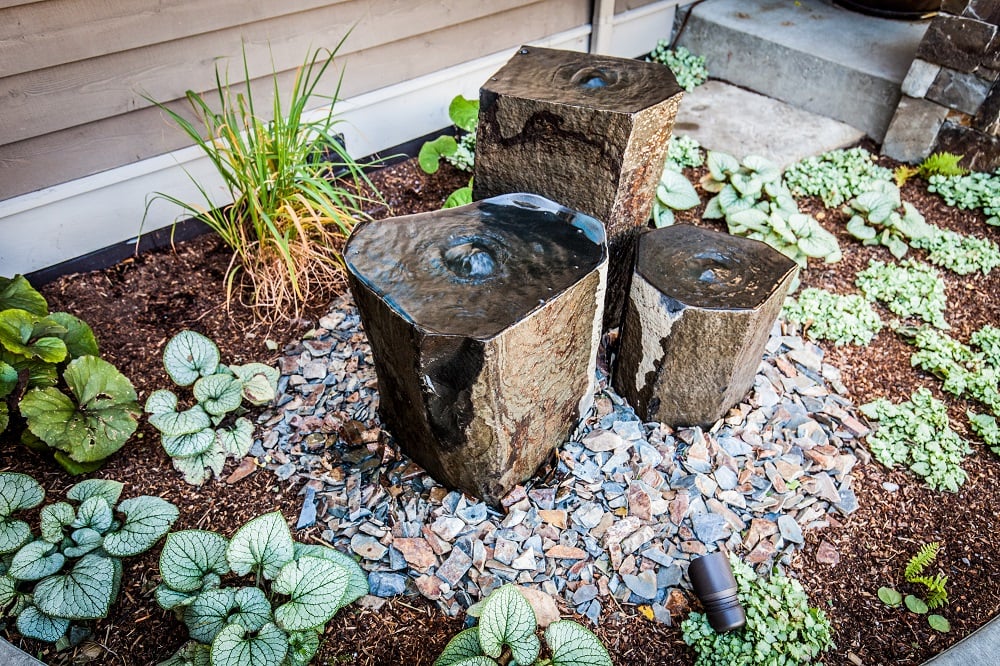 Fire features are also appealing. People are always naturally drawn to fire both for the light and the heat that the flames give off. This can make a fire feature a desirable addition to your outdoor living room design.

The key is to figure out which fire feature is best for your outdoor living space. There are fire pits, fire bowls, fire tables, and outdoor fireplaces, and each has its own pros and cons. In the article linked above, we walk you through the considerations that you should take as you choose the fire feature that is best for you.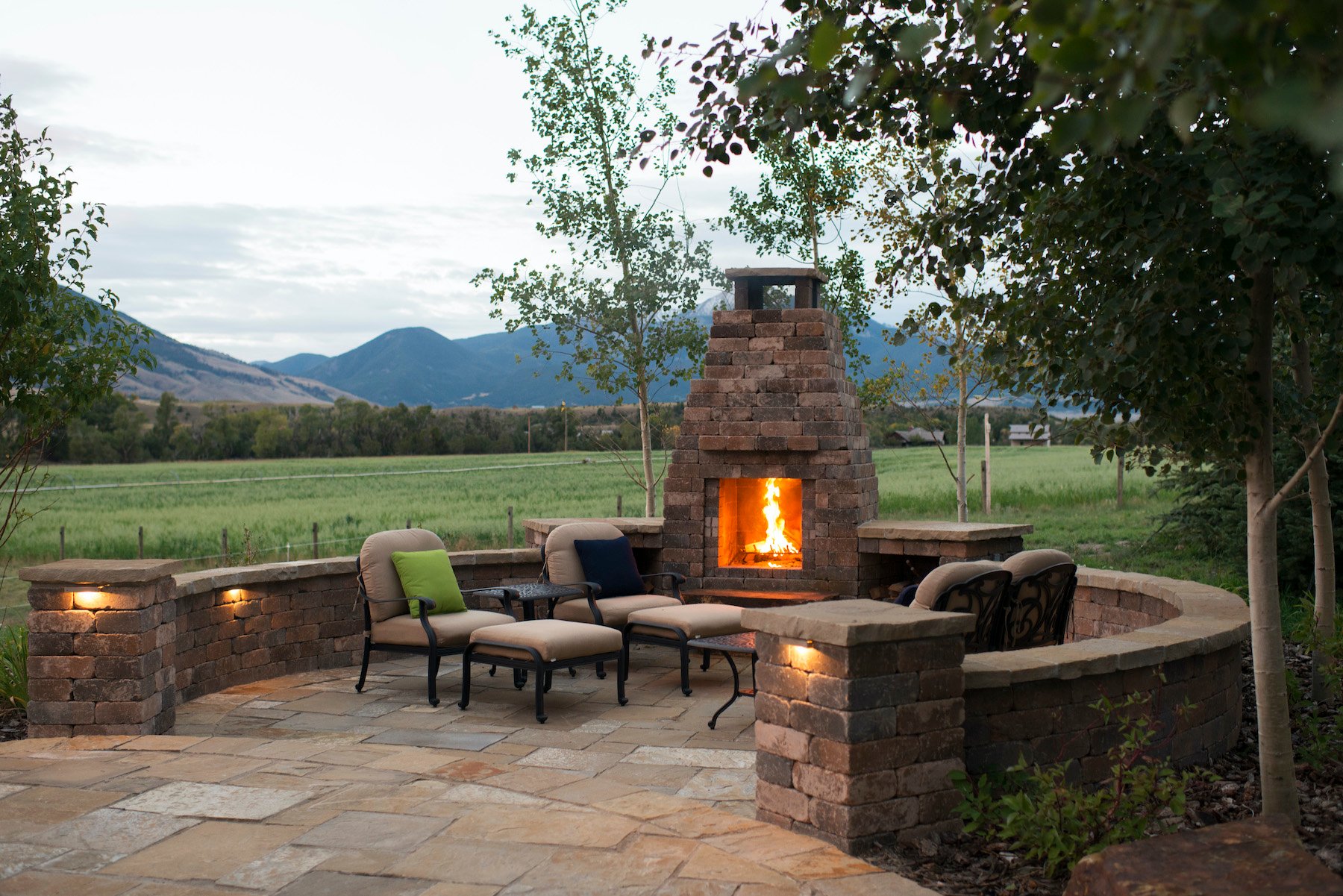 5. Add a Hot Tub for the Ultimate Relaxation Zone
A hot tub can be another welcomed addition in your outdoor living space. It becomes a feature that you use to unwind and relax, while enjoying the view of your Southwest Montana landscape.

Of course, the key with adding a hot tub is proper placement.

If you aren't careful to put a hot tub in just the right location, it could impact your overall enjoyment in terms of your view as well as the logistics surrounding using your hot tub. As we discuss in the article linked above, there are logistical considerations such as filling the hot tub or even walking to and from it that need to be taken into account when deciding where it is best located.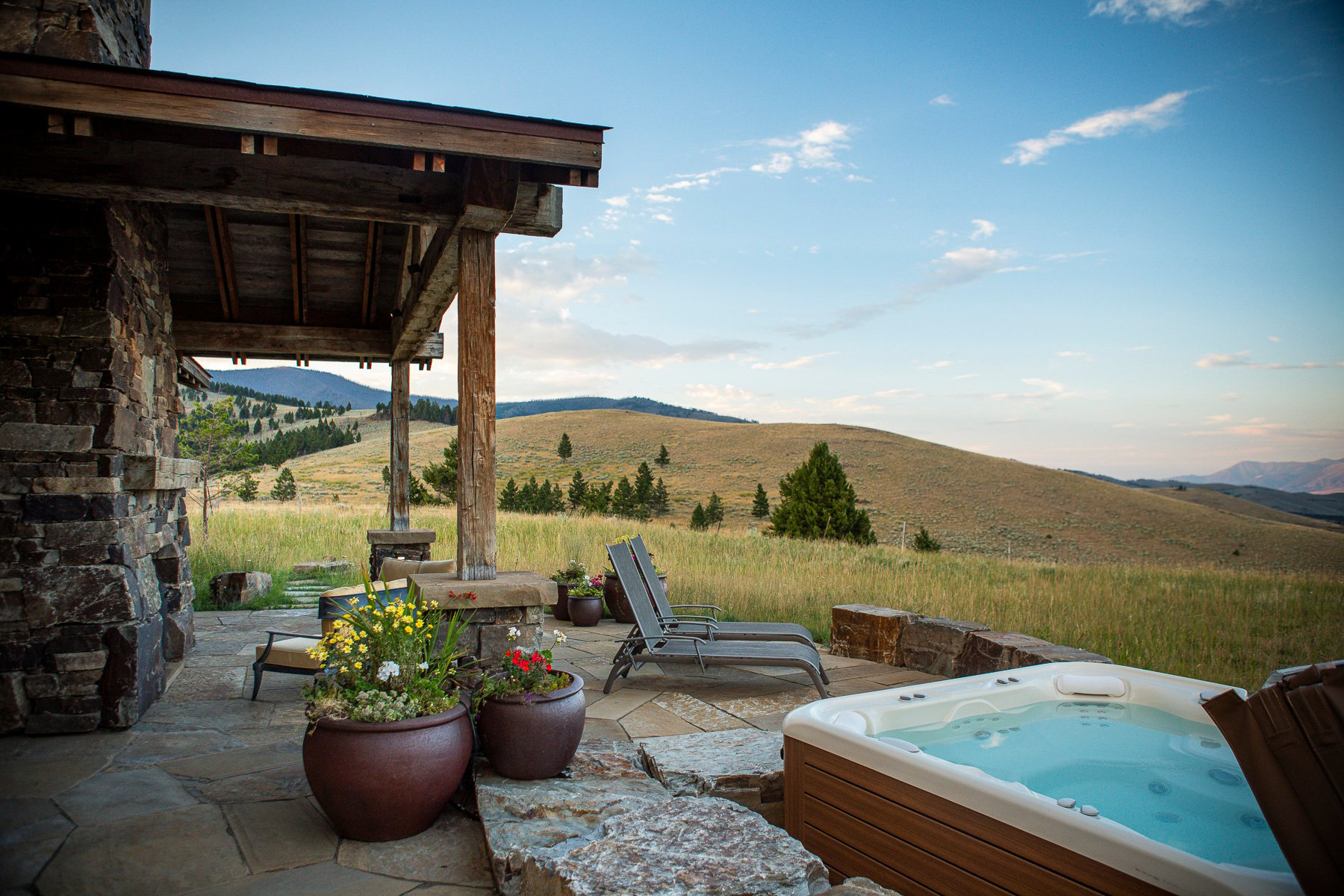 6. Cook Outside with an Outdoor Kitchen
You have probably already thought about dining al fresco. There's really nothing quite like enjoying your meals outside while soaking in the beauty of your surroundings. But with an outdoor kitchen, you can prepare those meals outdoors, too.

If you're thinking about adding a kitchen to your outdoor space, it's important to think about what kitchen features would prevent you from having to go back inside the house. If you incorporate elements such as cabinets for storage, a built-in grill with granite countertops, a refrigerator so that there are always cold beverages and other amenities, you can have everything that you need right in that space!

That means no longer running in and out of the house.
7. Incorporate Landscape Lighting into Your Outdoor Living Room Design
If you're adding an outdoor living space to your Bozeman or Big Sky, MT home, chances are, you want to be able to enjoy it as much as possible. Landscape lighting is one of the best things you can add when it comes to extending your time in the space. Lighting has both an aesthetic and a functional benefit. It looks beautiful. But it also allows you to use and enjoy your space safely after the sun has gone down.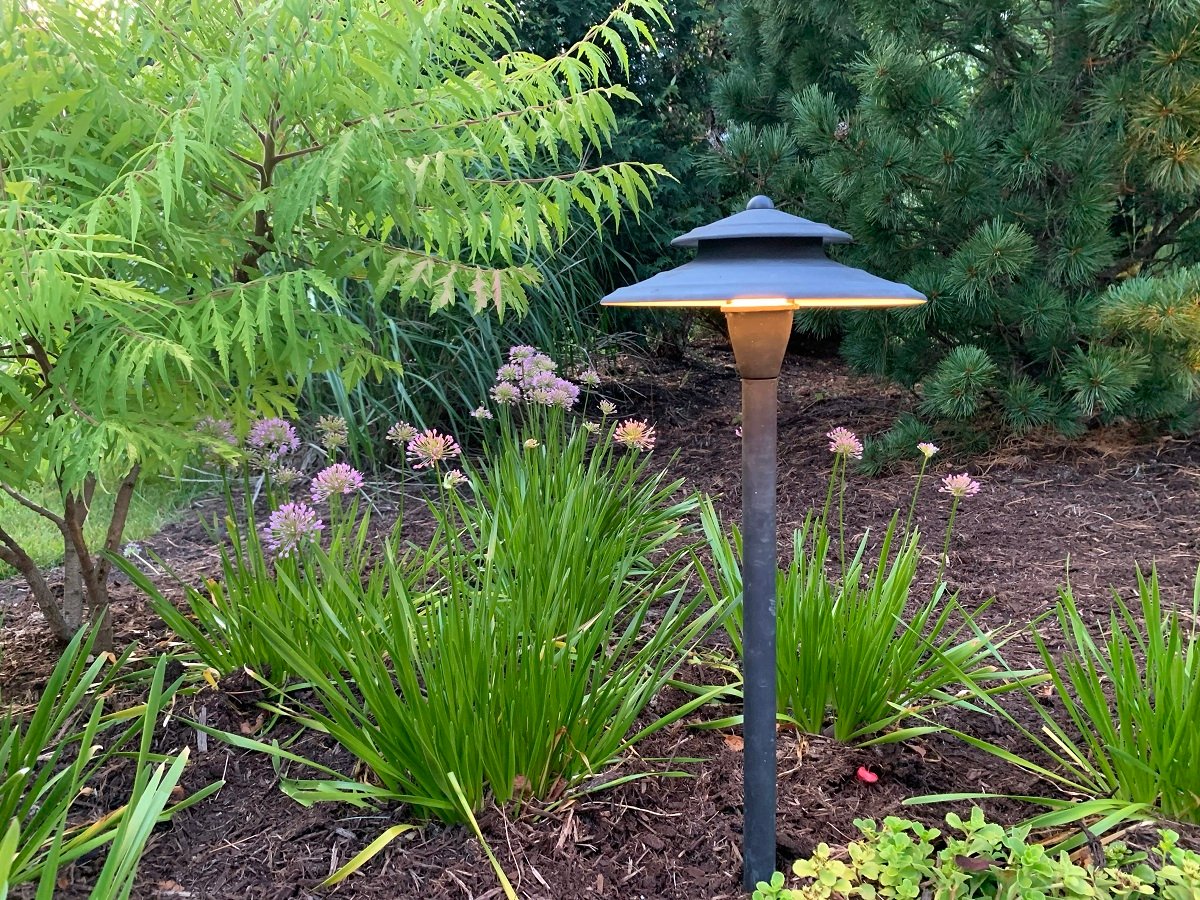 It's important that landscape lighting is installed well. When creating an outdoor lighting design in Bozeman and Big Sky, MT, we like to say that less is more. You obviously need to be able to get around your space safely but light pollution can impact your view of the nighttime sky—something that we strongly cherish here in beautiful Montana. We know that people love looking at the stars and it's important that lighting does not impact that experience in a negative way.
Finding a Landscape Designer to Help With Outdoor Room Ideas
These are some of many different ideas for outdoor rooms that can help you expand your living space from the inside to the great outdoors! Chances are, you might have other ideas in mind, too.

At Blanchford Landscape Group, we spend a lot of time talking to our clients about how they'll use the finished product and what features will help them get the most out of it. We'll talk through all of our clients' ideas and add some of our own, too. The best outdoor living room designs come from a mesh of client ideas and our landscape design expertise.

Of course, not all landscape designers are going to take the time to get this detailed. That could mean that not all of your wants and needs are fully met. When you're investing in something as important as an outdoor living space, that's a big deal.

At Blanchford Landscape Group, we want you to end up with outdoor living areas that you love. That means creating a space that will help inspire you while also giving you more reason to spend time outside.

We know that outdoor room ideas can sometimes feel overwhelming as there are a lot of different decisions to make. But we are here to be your trusted guide. You can count on us to help answer your questions and guide you through the process every step of the way.

Are you ready to get the process of designing your outdoor living area started at your Bozeman or Big Sky, MT home? Let's connect and talk about your project. Then we can meet and begin talking about your ideas! We can't wait for you to be able to enjoy your amazing space.