A hot tub can be a welcomed and relaxing addition to your Southwest Montana property. However, in order to truly maximize its use and also get the most out of your outdoor experience as possible, there will be some key considerations that you should take into account.

We've rounded up some of our best outdoor hot tub landscaping ideas including advice on where to put a hot tub and what to put around it.
Getting Started with Hot Tub Landscaping Ideas
There are so many factors that come into play when adding a hot tub to your landscape and you want to make sure that you are working with a landscape designer who is considering all of them.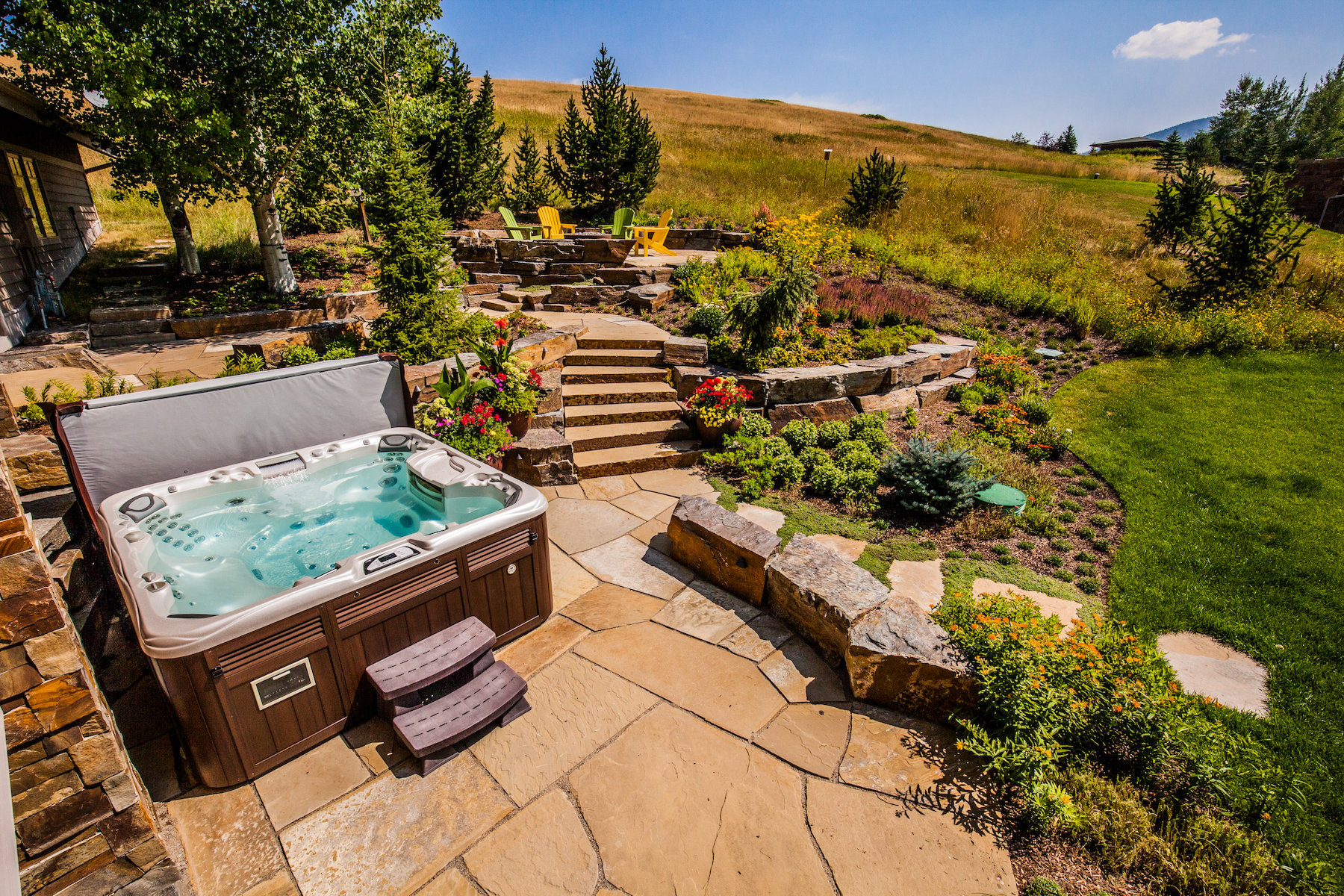 First and foremost, you want to think about whether you want a hot tub that is in-ground or one that is on the surface. There are pros and cons to each. An in-ground hot tub is more permanent and many would argue more attractive. But it's also more expensive. An above-ground hot tub can be moved but some would say it's not as attractive. Still, it's a lot less expensive.

Another consideration is whether this is a private hot tub just for the homeowners or if it's for the "public," as in for guests and entertaining. This matters for hot tub placement. If it's private, it would make sense to locate the hot tub in a totally separate area from the main outdoor area. But if it's for entertaining, it would be located closer to the main outdoor living spaces.

As you get started with your planning, make sure that these considerations are taken into account. There are other important logistics to cover as well.
Make Sure the Logistics are Considered When Deciding Where to Put a Hot Tub
When it comes to hot tub placement, there are some logistics that absolutely have to be taken into account. For one, you'll obviously need a power source for your hot tub. Whether you're going to be running electric somewhere or you already have it available, that has to be a consideration in terms of placement.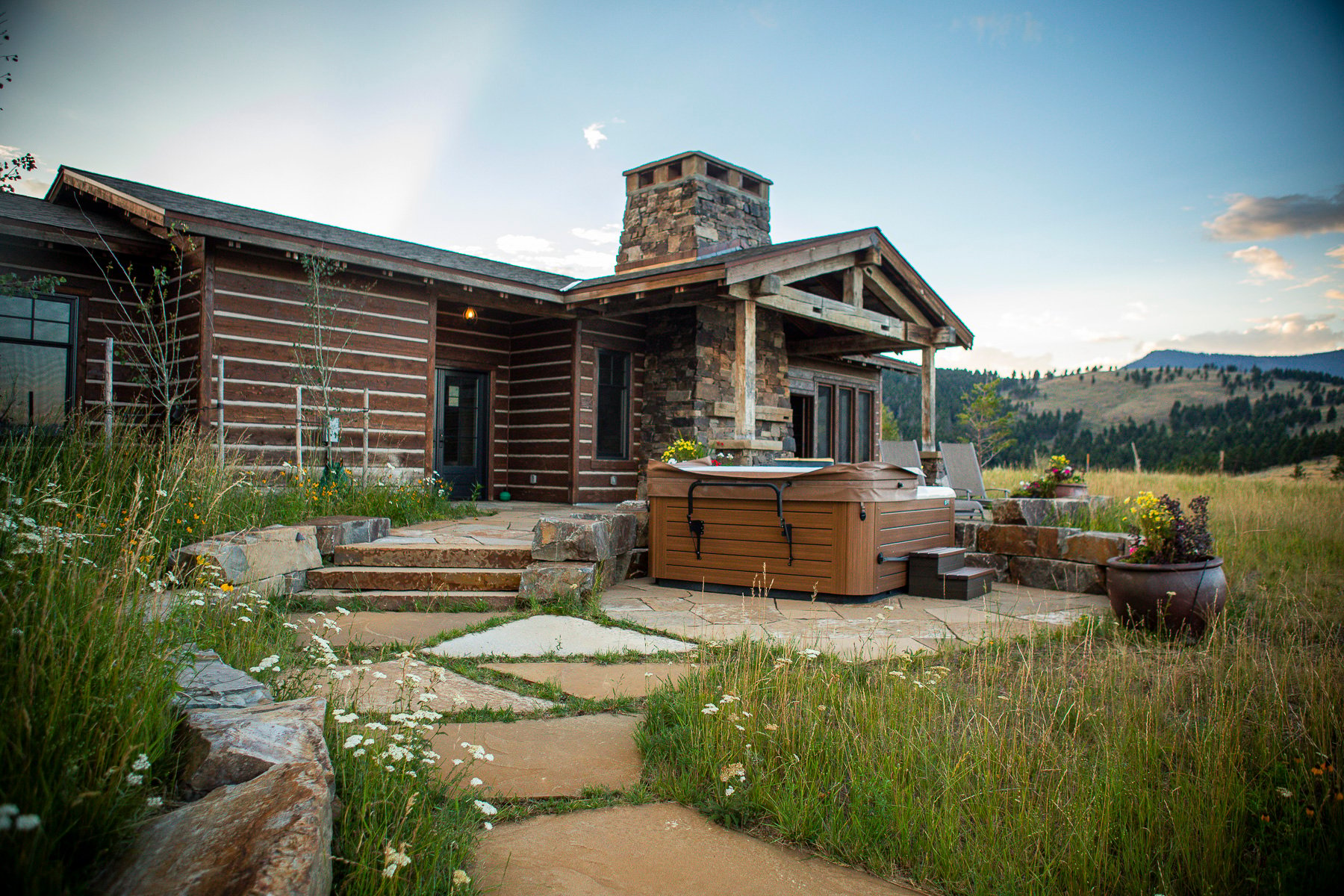 Best practice for a hot tub installation would also be to have a hose bib or a hydrant close by for filling and draining purposes. Unfortunately, we have seen erosion issues in newly installed landscapes when the property managers just drained the hot tub into the landscape.

Along with that, other seemingly "small details" can become a nuisance when not thought about ahead of time. Here are just some of many questions that need to be considered.
What way does your hot tub lid open? Is there enough room or is it going to be hitting something? Does it come off completely and need room to be stored while the hot tub is in use?
How will you get to and from the hot tub? Do you need a walkway added so you're not walking through grass or mulch?
Is there a place to leave towels and personal items nearby? You and your guests certainly aren't going to want to have to throw the towels on the ground.
Can the hot tub be placed close to the home so that you can get in and out of the house quickly in the winter? Most people want to be near a door so that they can pop in and out, even in the coldest weather. There's something pretty special about enjoying the steamy hot tub during a snowfall!
Would you be interested in adding some sort of roof over their hot tub area to protect yourself from the weather? If you're in an area of heavy snow, covering your hot tub space will help to minimize regular show shoveling. It may become a pain to have to repeatedly shovel out the hot tub patio area just to be able to access and use it. Adding some cover can also protect you from the sun on spring and summer days and may allow you to use your hot tub during a rainshower.
As you can see, there are lots of little details that all need to be taken into account for the optimal experience.

Failing to think about one of these details can end up having a negative impact. As we tell clients, there really are no "small details" when it comes to an outdoor living space. The trouble is, even many landscape professionals fail to think about everything that goes into making the experience the best it can be.
Take the View (From All Angles) Into Account with Hot Tub Placement
One of the best things about being outside in Montana is the views. Many people tell us that the scenic Montana landscape is soothing to the soul. A hot tub, of course, is soothing to the body. Now you can have the best of both worlds! If you're adding a hot tub to your property, you surely want to add it in a location where you can maximize that view and help you get the most out of it.

Of course, it's not just what you can see from the hot tub that should be taken into account. When it comes to where to put a hot tub, you also want to consider any views that you might be obstructing. A hot tub is a large addition to your property and you want to make sure that it's not going to block your view from a window or another outdoor space.

Say, for instance, that you have an eating area where you also love to sit and enjoy the view while you eat. If you install your hot tub right in the line of sight from your dining area, it will become a source of frustration when you're not in it. That's why we say the view needs to be taken into account "from all angles" (and both inside and outside of the home!).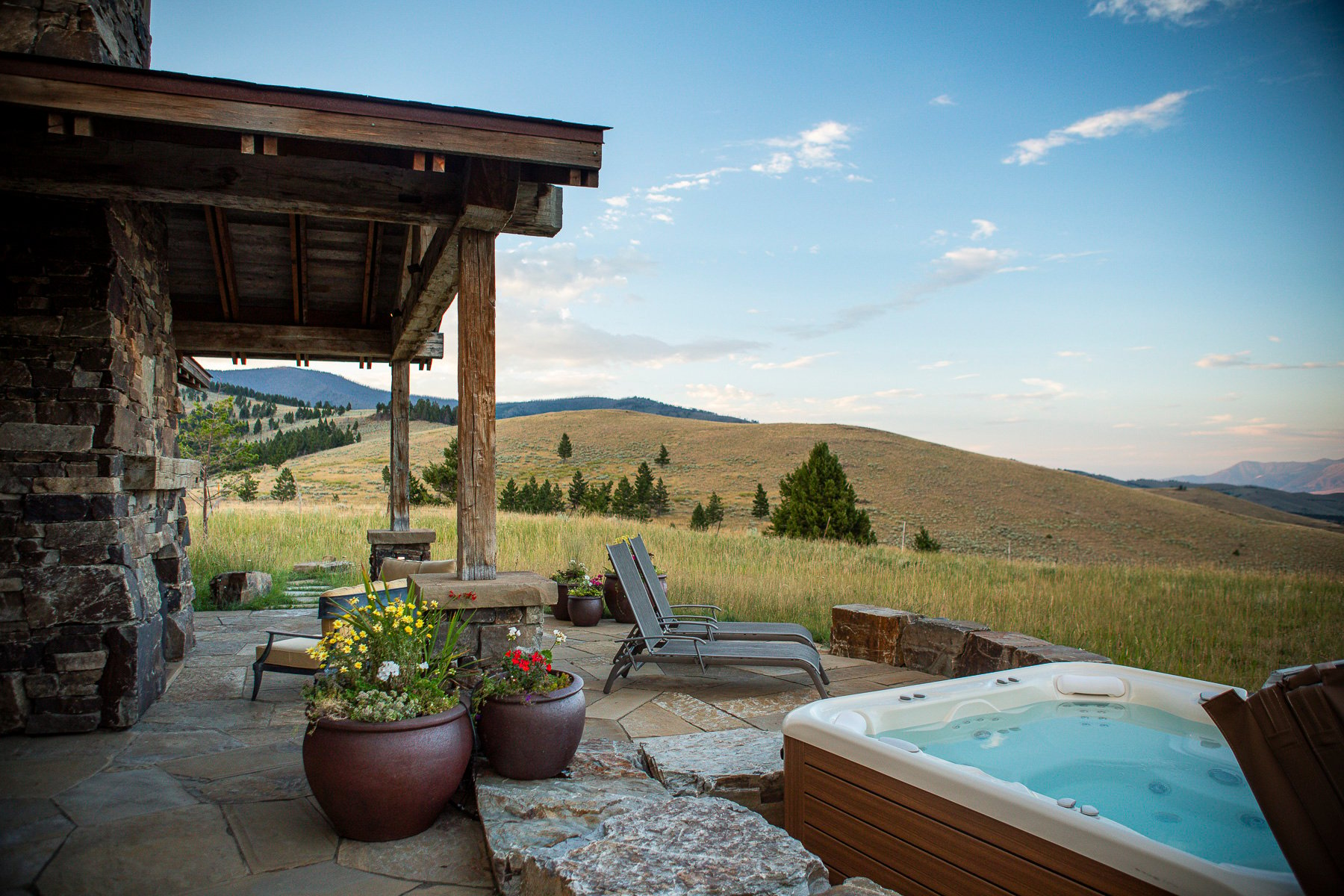 Be Sure to Think About Privacy
Privacy is another consideration when it comes to hot tub placement. You don't want to be on display for the neighbors every time that you want to use your hot tub. Many of the properties here in Bozeman and Big Sky, MT are already secluded and don't have neighbors around. But for those that do, privacy should be a consideration.

There are various ways to address privacy. You might already have a perfect spot on the property where the hot tub will be out of sight from neighbors or passerby. But if that's not the case, privacy can be created with the landscaping around the hot tub. There are many different types of plants that can serve as natural privacy screens and help add the seclusion you might have been lacking.

If you're having other structures added to your outdoor living area, sometimes these can also help with privacy screening. Big physical structures such as an outdoor fireplace or a pergola or pavilion can block a view and give you privacy.


It all comes down to a thoughtful landscape design. With some forethought given to the layout, you can help ensure that your hot tub area is private.
Landscaping Around a Hot Tub Adds Appeal, Too
Beyond the functional benefits of possibly adding some privacy screening (or maybe also adding a wind and sound barrier), landscaping has a very important aesthetic value, too. The landscaping around your hot tub is going to make the space more appealing. The greenery and the colors from various plants give lots of "wow factor" and are something to visually enjoy while relaxing in your hot tub.

While you probably are already thinking about your hot tub in terms of being a stress reliever and a place to relax, what you might not be considering is that landscaping can relieve stress, too.

Just having a space to be outside and enjoy nature is really good for your stress level (and your overall health). When you have a space that truly comes together harmoniously and allows you to enjoy it to the fullest, it has a positive impact on your quality of life.

When it comes to the best outdoor hot tub landscaping ideas and specifically what to plant, there are a few important considerations to keep in mind. For one, if there are functional benefits you're looking to fulfill like the ones we talked about (privacy, wind, and sound screening), then you'll want to be selective in what plants will work best for such purposes.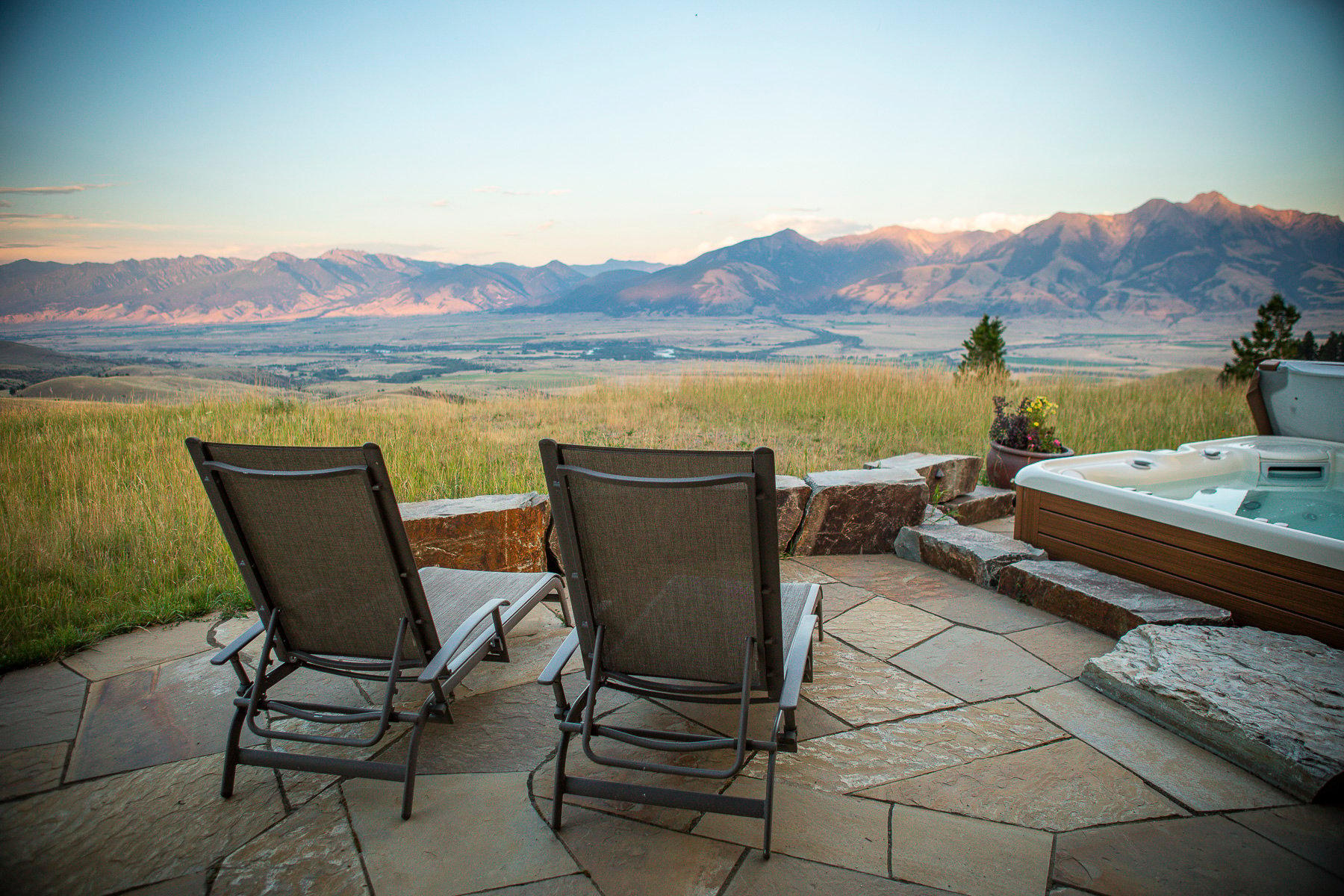 For instance, plants that are thick and dense tend to work best for privacy screening.

If your main objective is aesthetics, then you'll want to think about what you can see and enjoy from inside of the hot tub. Perhaps you want some container gardens with seasonal flowers added to the hot tub patio. If they're up high on a table or stand, you'll be able to enjoy them while in the hot tub.

While you'd be able to appreciate a wildflower meadow or other landscaping that's a bit further away from the hot tub, keep in mind that anything right next to you wouldn't be in your line of sight. You'd have to lean over and look at it. But that's not to say you shouldn't add landscaping around the hot tub (as in immediately around it) if it makes the area look more groomed and beautiful so that it can be enjoyed from other areas of your outdoor living space.
Choosing a Landscaper that Offers Lots of Outdoor Hot Tub Landscaping Ideas
As with any outdoor living project, getting the most out of your new hot tub and landscape design comes down to choosing a landscape designer who can truly offer those customized ideas that are best suited to your specific property. The truth is, no two properties are alike, and a hot tub can't just be plunked anywhere. There is so much thought and consideration that should go into the placement and the landscaping if you're going to truly get the most out of it.

At the end of the day, it boils down to making a smart choice in landscape design companies in Bozeman and Big Sky, MT. Your hot tub is ultimately just one piece of an overall outdoor living design and you want to maximize it to the fullest!

At Blanchford Landscape Group, it is our goal to create the unique solutions that you've been looking for at your Southwest Montana home. We want to help you spend more time outside and get the most out of that outdoor experience.

Are you ready to learn more? Let's connect and talk about your project. Then, we can meet to discuss your property in more detail and come up with a detailed plan of action. We can't wait for you to unwind in that beautiful space you've been dreaming about!