Seasonal container gardens can be a beautiful and easy way to add color and interest to outdoor living spaces. Not only do the selected plants serve as an aesthetic addition, but so does the container itself. Plus, they can be changed at different times of the year to highlight seasonal interest.
Of course, at the end of the day, seasonal container gardens are only as good as the care provided for them. In order to keep these elements looking and performing their best, it's absolutely essential that regular upkeep is provided.

If you're interested in adding these types of elements, you might be wondering what container garden maintenance will be necessary. The last thing that you'd want is to lose your investment because of a plant maintenance error that could have been avoided.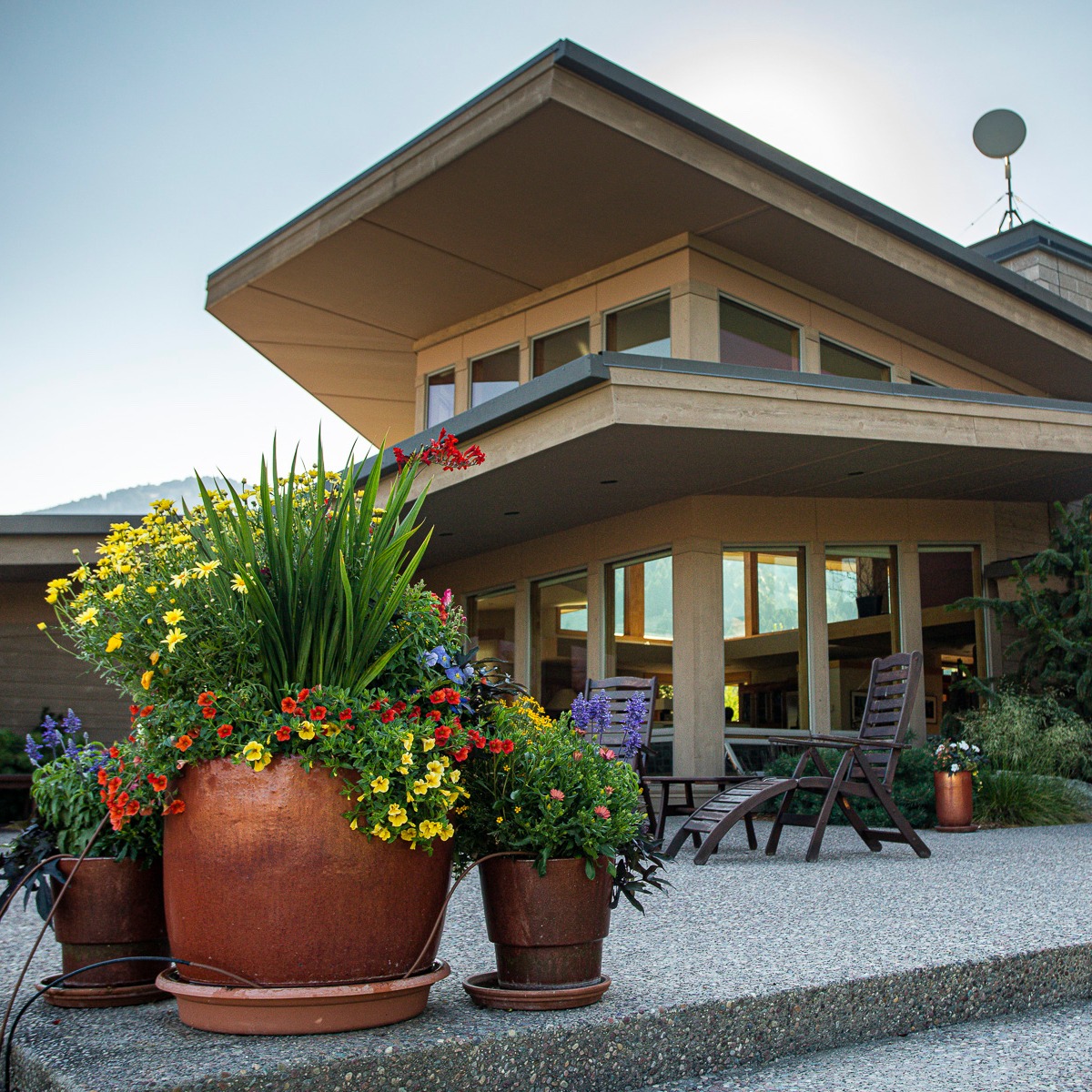 Container Garden Maintenance Tips
Caring for container gardens certainly isn't rocket science, but we've still found that simple mistakes can be made. It really boils down to understanding what your containers need to thrive.

We've rounded up some of our best container garden tips so that you can have a better sense of what will be involved.
1. Proper Watering is the Most Important Thing You Can Do For Container Gardens
If we had to pick one area where container garden maintenance most often goes awry, it would definitely be watering. Forgetting to water your containers can be easy to do when you get busy, but proper watering will be essential to your container gardens' health.

For many of our clients here in Bozeman and Big Sky, MT, their properties are second homes, so keeping up with watering can be a problem. That's why we often recommend tying container gardens into the property's drip irrigation system whenever possible. Then you can completely remove the guesswork out of keeping up with a regular watering schedule.

But we can also create self-watering garden containers that will only need additional watering about once a week. We do this using pond liner material (or something that the water doesn't cut through) and we create a water reservoir where the water can collect. Then we use rope material and an irrigation tube so that the water can be sucked up as needed. They're incredibly clever and they are a more cost-effective way to remove quite a bit of the watering burden.
2. With Container Garden Maintenance, Fertilization Matters, Too
Another thing that your container plants can use on a regular basis is fertilization. At Blanchford Landscape Group, when we are handling the maintenance for our clients, we fertilize their container gardens weekly. This just helps to give the plants the boost that they need to continue to perform their best.
3. Keeping the Wildlife and Pests Away
While we're visiting weekly, we also spray a deer repellent product on the container gardens to help keep grazing deer away. If deer are a real problem on your property, a lot of thought will also be given to using deer-resistant plants that naturally keep these animals away as much as possible.

However, since nothing is fully "deer-proof," we'll take extra measures to keep your plants from being the deer's next meal as much as possible.

Pests can also be a problem with seasonal container gardens. Certain pests are a problem at different times of the year. We often find that homeowners know their plants are struggling for some reason but don't realize that it's a pest problem.

When Blanchford Landscape Group is handling container garden maintenance, we are also incorporating insect control when needed.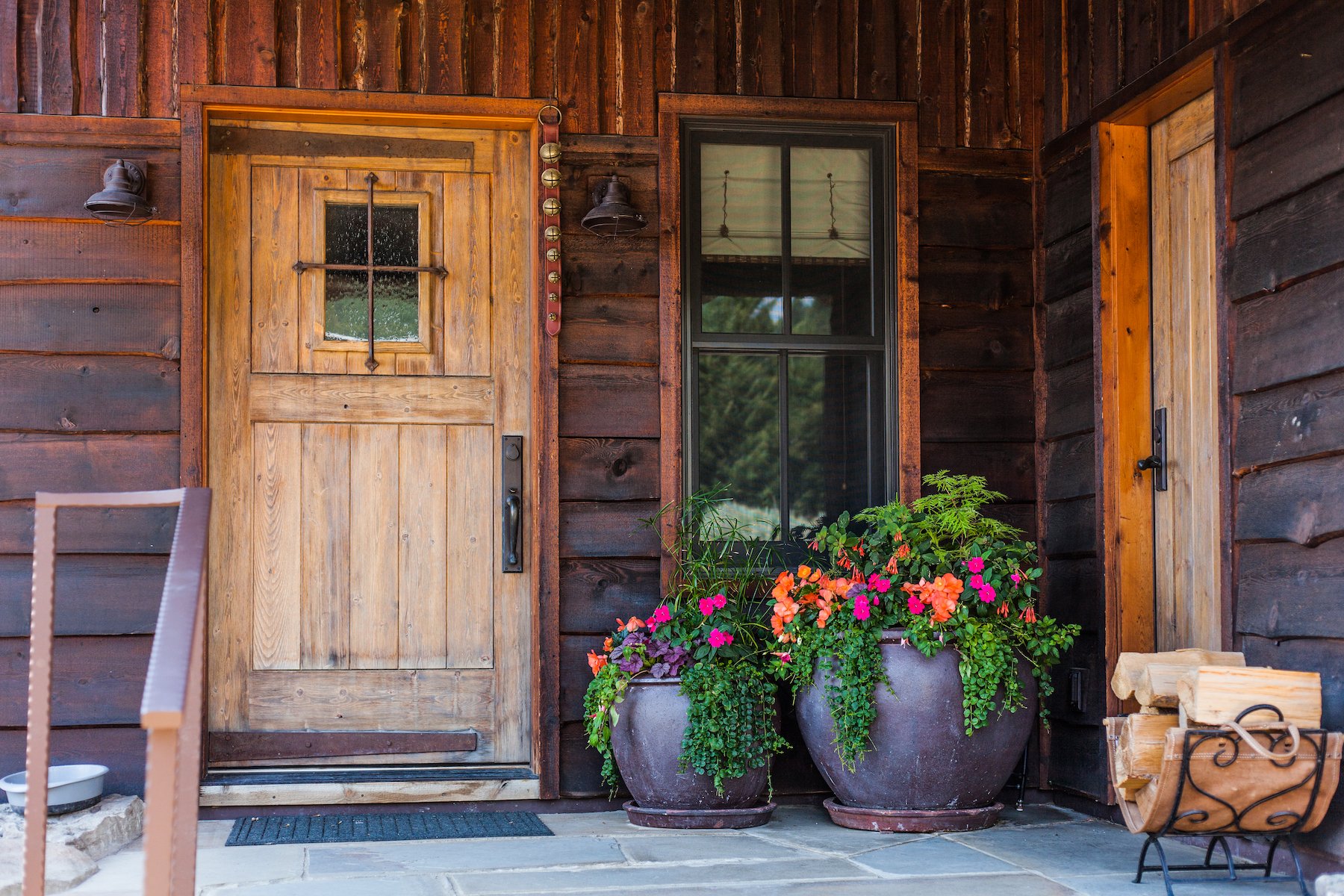 4. Deadheading as Part of Container Garden Maintenance
Another regular maintenance task is deadheading, which just means cutting back the dead parts of the plants to encourage additional blooming. With proper deadheading, you'll see a fuller bloom and possible re-bloom of some buds

When performed properly, your deadheaded plants ultimately look better. It all comes down to making smart cuts that help the overall health of the plants.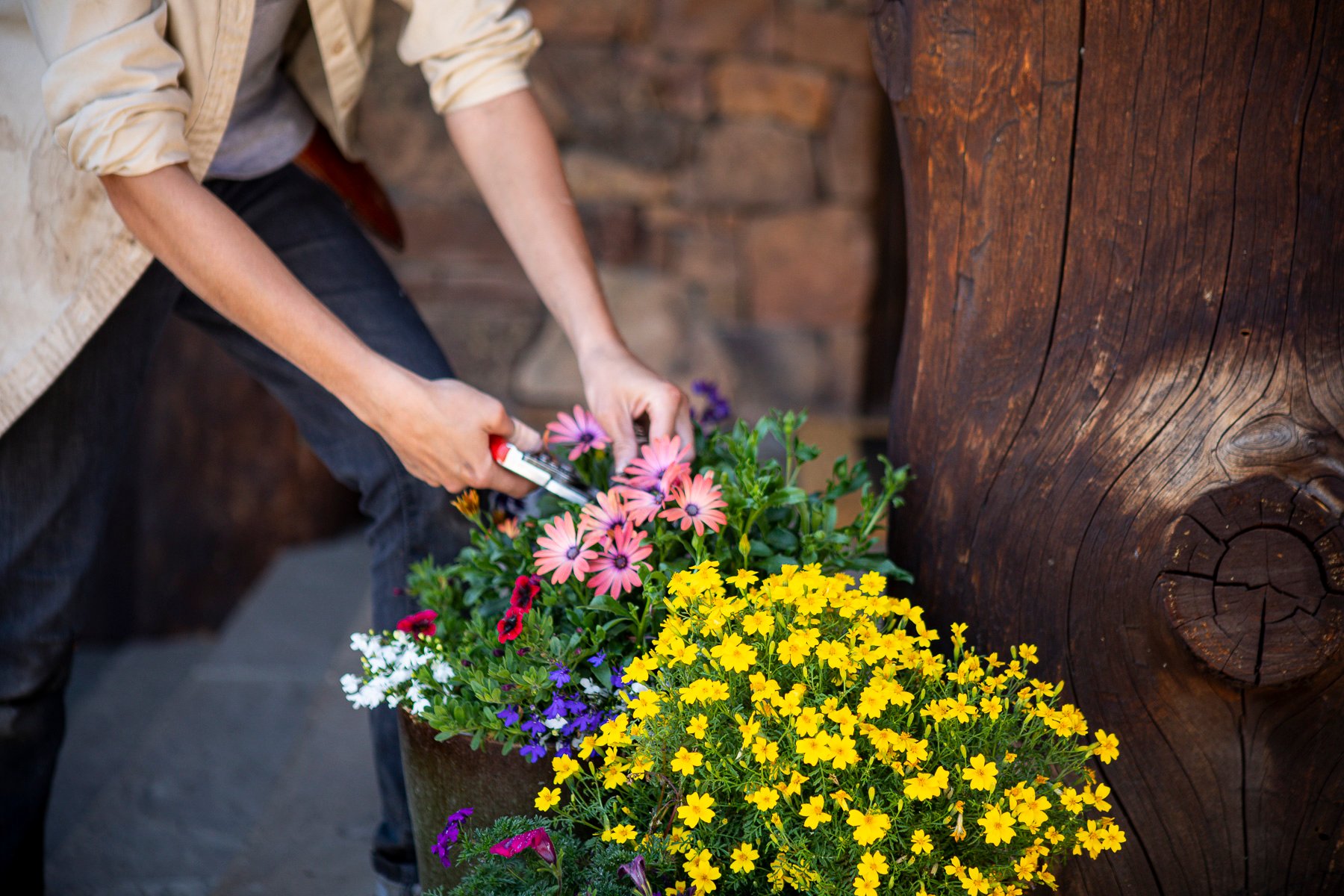 5. Some Light Clean-Up
Finally, another really important task is just keeping everything looking neat, tidy, and clean. Garden containers can drop some petals or other debris and that can make your patio or front porch messy. Some light, regular clean-up is important.

At Blanchford Landscape Group, when we are going out and caring for containers, we are also cleaning out the saucers that any pots are sitting on and tidying up any dirt that's built up that is on the pots. Simply being outside can make these elements messy. Any lingering water in the pot saucers can get slimy and also become a breeding ground for mosquitoes that might lay their eggs there. So, part of our container garden maintenance routine definitely includes these clean-up tasks.
Working with Blanchford Landscape Group for Container Garden Maintenance
While there's no question that you can handle these container gardening tasks on your own, most Bozeman and Big Sky, MT homeowners hire us because they don't want the hassle involved with it. They don't want to have to remember to water or to go out and clean up the pots when they're getting messy. They just want to know that everything is going to continue looking and performing beautifully.

Another benefit when you hand your container gardening maintenance over to Blanchford Landscape Group is that we can also handle replacing plants. We have a greenhouse with lots of different plants that are always in bloom and in optimal condition. If one of your plants starts to perform poorly and ultimately dies, and you're maintaining your containers yourself, you're either stuck with that hole in the arrangement or you have to go out and buy more plants. That's another hassle on your plate.


But if Blanford Landscape is handling your containers, we'll just make sure that's taken care of. We'll replace dying, fading, and aging plants so that your containers continue to look bright, full, and beautiful throughout the entire season. The fact is, even with great care, some plants do start struggling over time. Some annuals just have a short lifespan. But when you work with us, you don't have to worry about pulling up the flowers and disposing of them (which can be a messy and annoying job).

We're taking care of all the details for you.

That can even include container storage. While we can help you have seasonal container garden displays all year-round, including even pots with winter interest like evergreen branches or pinecones, we know that some homeowners prefer to put their pots away during the winter or in a season when they're not in use. If you're a Montana vacation homeowner and you want us to take care of storing your pots in the garage or shed over the winter, we can take care of all of that.
Getting the Most out of Your Seasonal Container Gardens
At the end of the day, getting the most out of your seasonal container gardens comes down to their proper care. You could have the most beautifully arranged container in the world, but if it's not cared for properly, it's going to start looking messy and lose its aesthetic appeal.

At Blanchford Landscape Group, we believe not only in designing and installing gorgeous landscapes (including container gardens) but maintaining them, too. We know that by doing so, we are helping our clients to get the most value and enjoyment out of their property. We're also removing the burden off of their plates. Instead of ever having to worry about your containers, you'll be able to feel confident that they're looking and performing optimally.

Ultimately, we know that you want to feel confident that your landscape is being cared for so that you can gain peace of mind. At Blanchford Landscape Group, that's exactly what we have to offer.

Are you ready to begin the process of creating a landscape with seasonal container gardens that you'll adore at your Bozeman or Big Sky, MT home? Let's connect and talk about your project. Then, we can meet and begin talking about your ideas. We can't wait for you to enjoy your beautiful outdoor space!