Your landscape is a living, growing, and changing thing. In order to keep your landscape healthy—and continually looking and performing its best—you must continue to care for it with regular landscape maintenance.
The truth is, landscape maintenance doesn't always get the credit it deserves. It may not be exciting in the way that a brand-new design/build project can be. But a beautiful outdoor space doesn't just remain beautiful—unless it is dutifully tended to and maintained. There must be ongoing care happening regularly to protect your investment in your landscape.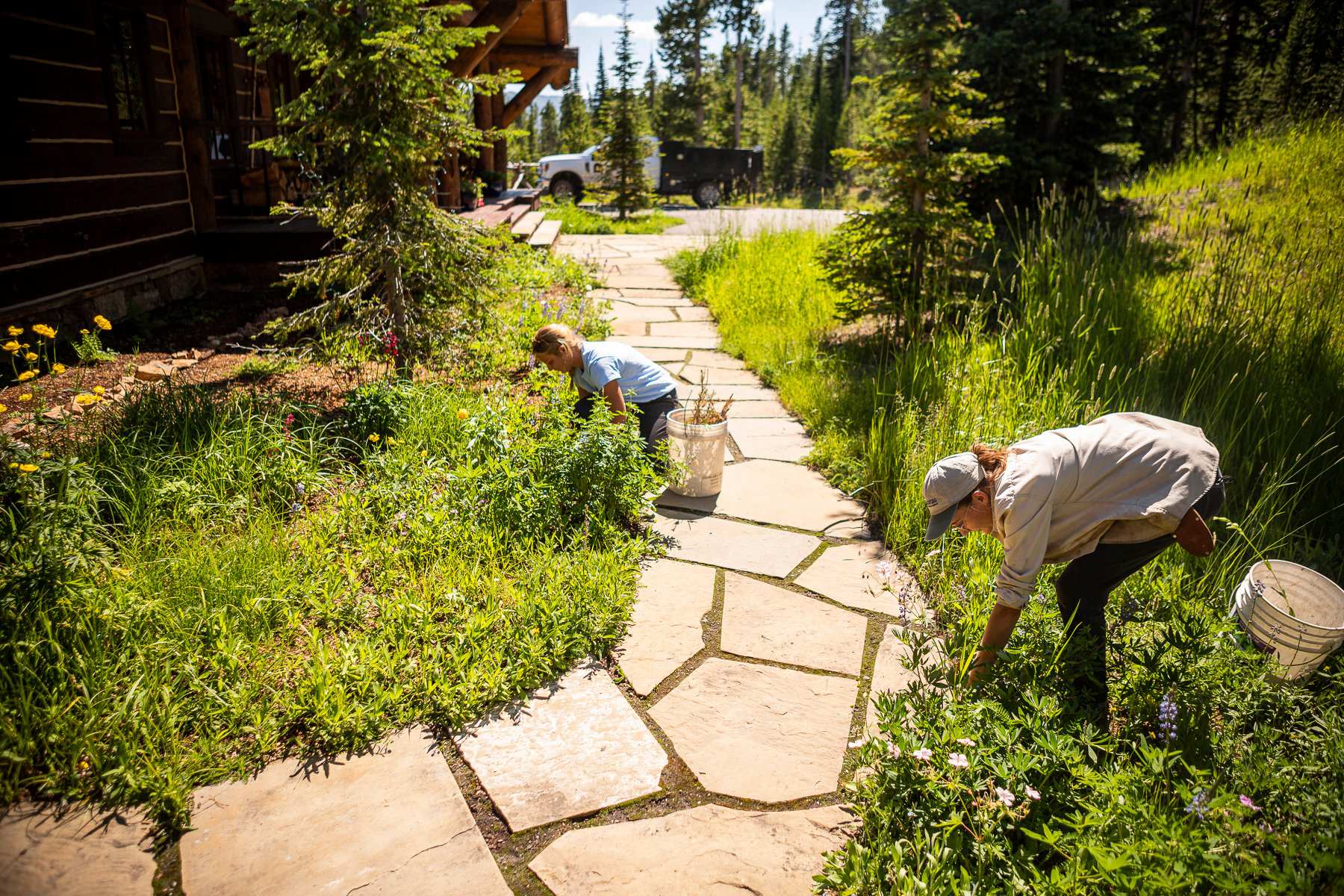 When it comes to choosing landscape maintenance in Bozeman or Big Sky, MT, you might not have any idea where to start. What services will you need and what professional landscape company can best perform them? We understand the process can be a bit overwhelming.
That's why we've put together this handy landscape maintenance guide for Southwest Montana.
We'll talk about some of the most important landscape maintenance services needed and why they're so critical. We'll also discuss best practices and how to ensure you're getting the most out of your investment in professional landscape maintenance. While you might be inclined to believe that all landscape companies offer the same types of maintenance services, this isn't actually the case. That's why we'll also provide tips that will help you make a wise choice in hiring a professional.
When it comes time to make important decisions, we want to help set you up for success.
Table of Contents
Seasonal Landscape Clean-Up
One of the aspects of landscaping that can be challenging is the fact that each season brings with it different landscape maintenance needs.

In the spring, clean-ups might include removing leaves and debris that fell over the winter. Certain plants might be best pruned in the spring. Mulching is also commonly performed in the springtime at the time that new plants are installed. This is a time when weed control is also likely to be ramped up and if you have turf areas, you'll be in need of regular mowing.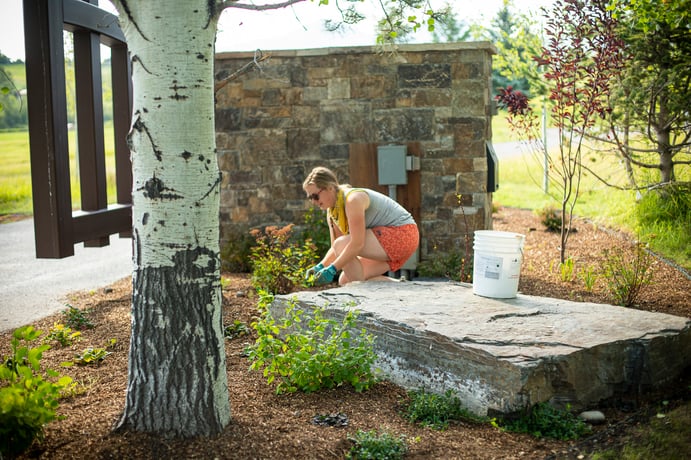 In the summer, springtime tasks are likely to continue. The hot weather will also mean it will be important to keep up with proper watering and the ongoing care of your plants. This should include deep root fertilization for trees and fertilization for the lawn and plants.
In the fall, your property can quickly go from neat and tidy to messy as leaves begin to drop. Fall clean-up services will include leaf pick-up. It will also likely include plant bed clean-up with selective cutbacks. Attention should be given to gearing your landscape up for the coming winter. In the fall, we also cage trees to prevent wildlife from eating or rubbing their antlers on them.
Landscape Edging and Mulching
Landscaping edging and mulching are two important services that sometimes get filed into the "aesthetics" category when in reality, they both serve functional benefits as well. There's no question that a fresh coat of mulch will help your plant beds look great. But mulching also brings several valuable benefits to your plants.
For one, it helps to insulate your plants' delicate roots from extreme temperatures. In the summer (and on hot days), this means helping to protect them from the scorching sun. In the winter, it helps to protect them from the wind and the extreme cold. On that same token, mulching also assists with water retention.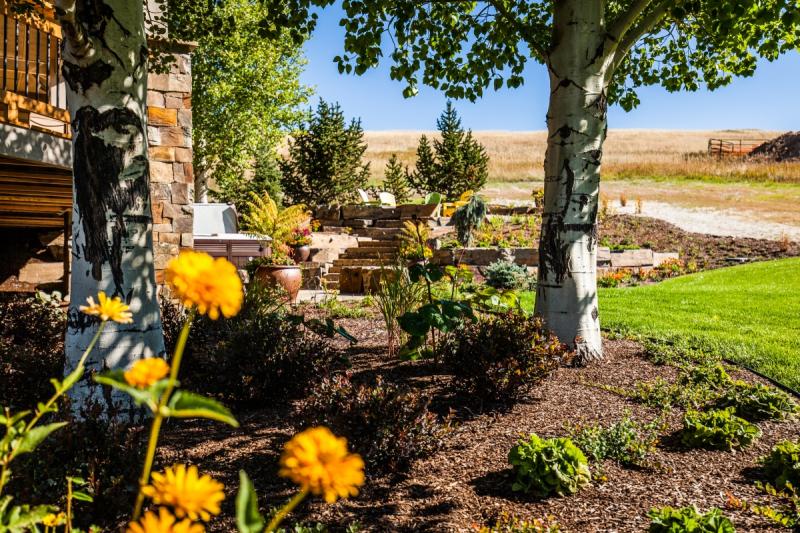 Mulch also serves the valuable purpose of weed suppression. It is effective at blocking weeds' access to sunlight and makes it difficult for them to breakthrough.
A freshly mulched bed also looks great with a fresh edge cut into it. But like mulching, edging can also serve functional purposes. As a clear delineation between your turf or groundcover areas, an edge can make trimming easier. It can also serve as a physical barrier that may help separate any creeping lawn weeds from the plant beds and vice versa.
We recommend annual mulching in the spring, at which time edging can also be completed. Some clients really love the look of new mulch and want a fresh coat in the fall, too.
Pruning Trees and Shrubs
The trees and shrubs on your Montana property are important to you. Because of that, you want to do what you can to keep them looking and performing their best.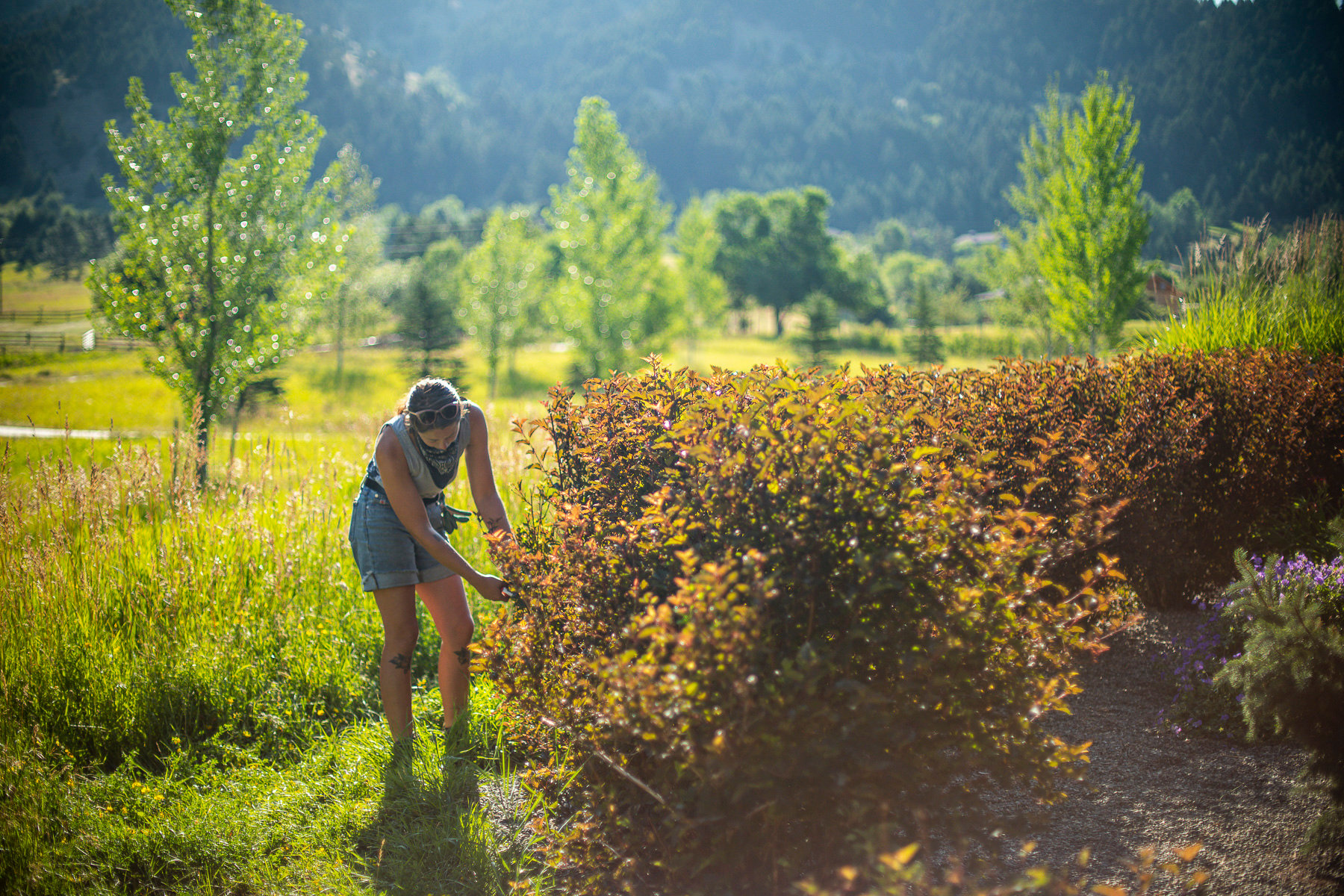 Pruning trees and shrubs is another vital landscape maintenance task that not only keeps your Montana property looking great, but also preserves the health of these plants. Pruning is beneficial to plants because it removes the sick, struggling, or even dying parts of the plant which enhances its overall health. That's because the plant will no longer have to direct energy to try and restore health.
There's no question that there is an aesthetic purpose, too. Regular pruning ensures that your property will continue to look neat and tidy.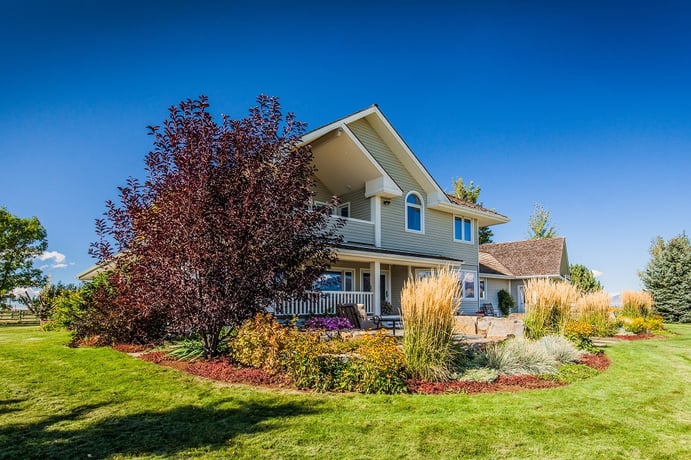 Unfortunately, this is a task that sometimes gets simplified more than it should. That's because there is no one-size-fits-all approach to pruning. Everything from the timing to the tools used to even how many cuts can be made will really differ from plant to plant. While some can handle aggressive pruning, others need highly strategic cuts. When pruning is not performed correctly, it can actually damage the plant.
We feel that there is both an art and a science to proper pruning. An eye for design must be taken into account as strategic cuts are made to keep the plant looking great. After all, you don't want your plant to look like it got a hack job after pruning.
The science comes into play in terms of knowing which branches or limbs need to be pruned. Making the wrong cuts can put a lot of stress on your plant and potentially ruin its bloom time that season. Even worse, improper pruning can leave a plant vulnerable to disease and pest problems.
All of this emphasizes the importance of choosing a professional who will know how to properly prune trees and shrubs. While you might assume any "pro" would be able to perform this task, there are many nuances and a need for horticultural expertise that not all companies possess.
Weed Control
When it comes to a landscape that you're proud of, weeds can be a major nuisance. The appearance of weeds can detract from the overall look of your landscape. But because those unwanted weeds will also compete with your healthy turf and plants for things like sunlight, oxygen, and water, they can also begin to impact the overall health of your desired plant material.
This is why effective weed control is so important.
The first step in addressing weed control is identification.
You have to know what you're dealing with to begin tackling the problem. Although some landscape companies may take a blanket approach to weed control, the most effective programs are those that are customized to the specific weeds that you're dealing with.
At Blanchford Landscape Group, we take a natural approach to landscape maintenance, including weed control. That's why we often start with hand-pulling. This will allow us to selectively get rid of unwanted weeds while not spraying anything on desired plant material.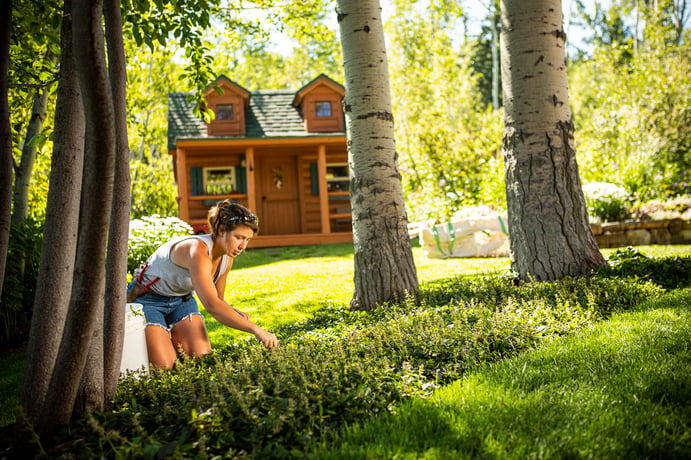 Of course, certain weeds cannot be effectively managed with hand-pulling. In Bozeman and Big Sky, MT, thistle is one of the most noxious and frustrating weeds that we deal with. It is a perennial weed that keeps coming back and spreads by seed as well as through an underground system of vertical and horizontal roots. The invasive nature of thistle as well as its ability to spread by its root system makes it a top contender for spraying.
As we mentioned above in our section on mulching, applying a layer of mulch can also help to suppress weed growth in plant beds.
At the end of the day, it's really about a big picture look at your landscape as an ecosystem. We view weeds as an unwanted element that creeps into a disturbed ecosystem. But if your ecosystem is healthy and thriving, it's going to begin to keep weeds away naturally. That's why at Blanchford Landscape Group, our effort to promote and maintain a healthy ecosystem also plays a role in ultimately keeping weeds at bay.
Annual Plants and Flowers, Wildflowers, Flower Bulbs, and Container Gardens
Adding color to your landscape is always a welcomed addition. It will brighten up the surroundings and provide that "wow factor" that will make you love spending time outside. There are several different ways that you can add color and ensure that you have plants of interest all year round.
Annual Plants and Flowers
If you have plant beds on your Bozeman or Big Sky, MT property, then you might be interested in annual plant installations. Annuals will introduce seasonal interest into your landscape with beautiful blooms and dazzling colors.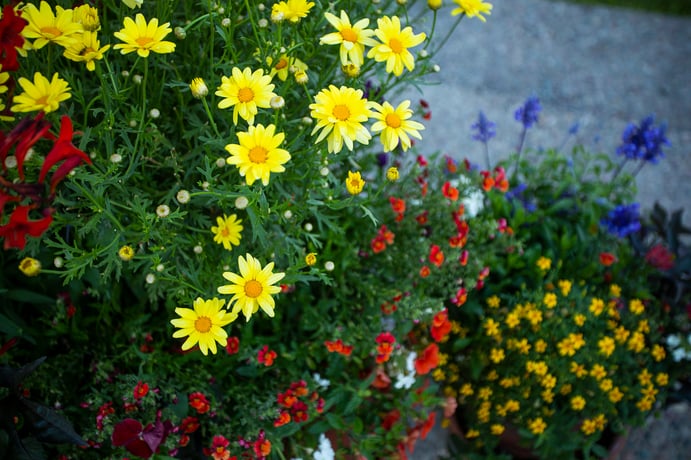 One trend we've been seeing with plant installations is a movement toward edible landscaping. More homeowners are interested in incorporating edible plants (like vegetables and fruit, edible flowers, and herbs).
Wildflowers
A wildflower meadow can also be a lovely and natural addition to your Montana home. Wildflower fields are known for their beautiful blooms as well as their ability to attract gorgeous birds and butterflies. These additions often help to bridge the gap between the natural landscape and your property's landscape in a seamless way.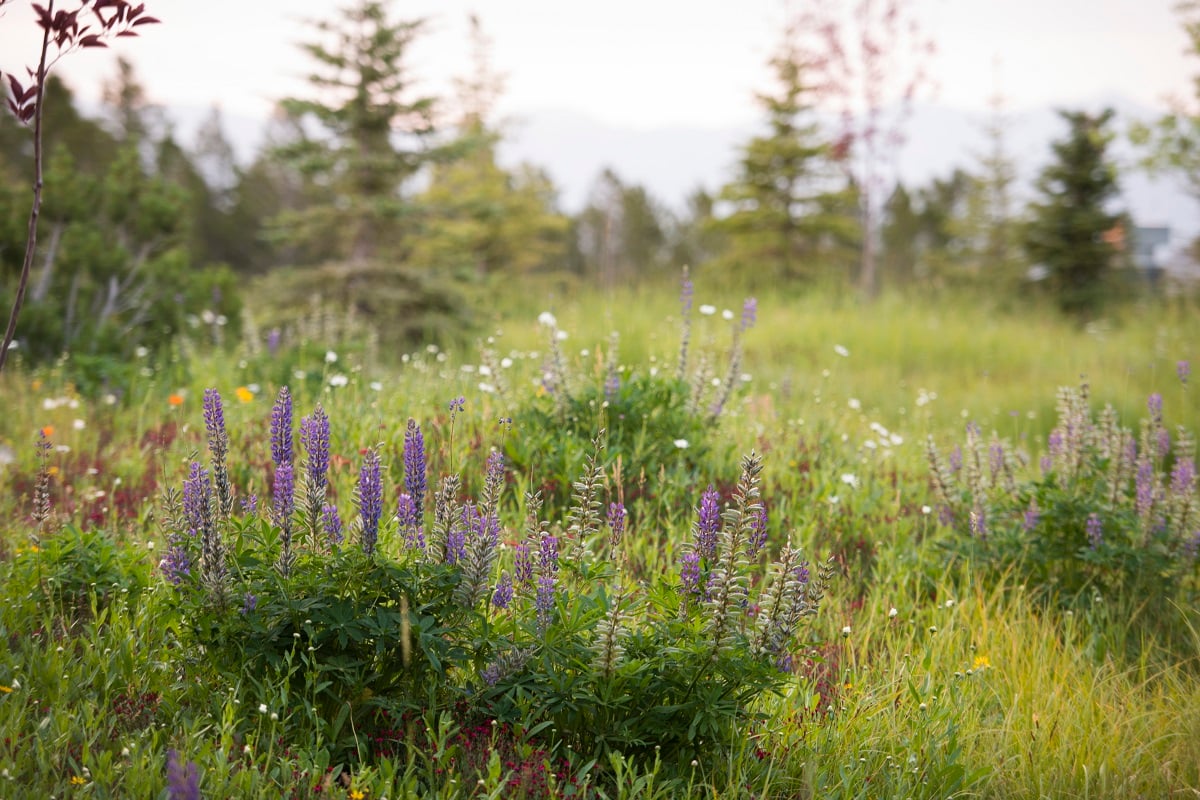 Flower Bulbs
Flower bulbs need some forethought and planting as they are planted in the fall with the payoff coming in the spring. Typically, flower bulbs should be installed no sooner than six weeks before frost (though the exact timing will depend on what type of bulb you're planting). Some of the popular flower bulbs in Southwest Montana include daffodils, lilies, and tulips.
Container Gardens
Container gardens are another popular way to get color onto your property. With a container garden, it's not only the arrangement of flowers and plants that adds interest, but often the container itself. You can have containers arranged that are appropriate for different seasons. In the winter, this can include elements like evergreen branches and pinecones. A nice thing about a container garden is that it can add color to hardscaping by being placed on and around patio areas or a front porch.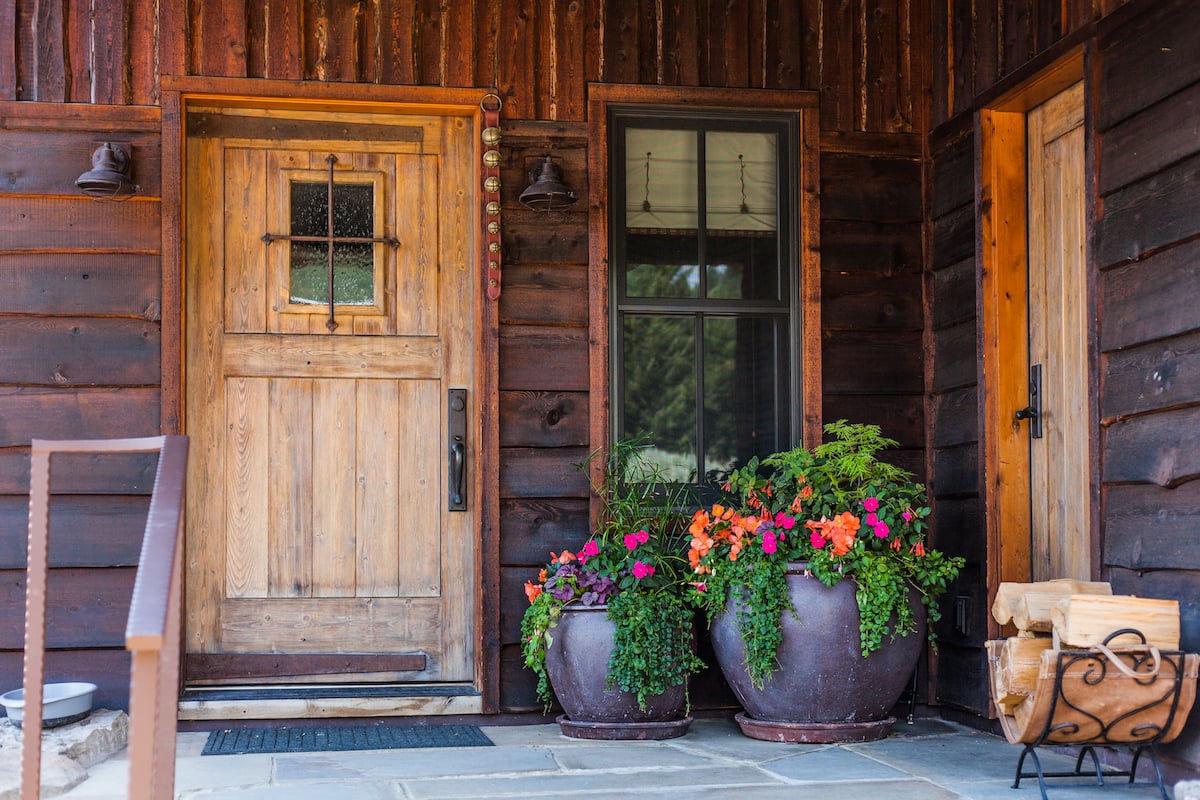 Prevent Animals from Damaging Your Landscape
Wildlife control is another important consideration or else you could risk losing your plants to one of the many different creatures that roam our area. One of the biggest problems is that many of these animals will consume the plants that are meant to be part of your property's landscape. This is particularly a problem in the winter, when food sources are scarce for these animals.
But it's not just "munching" that is an issue. When animals like deer rub their antlers on your trees, they can strip away the bark.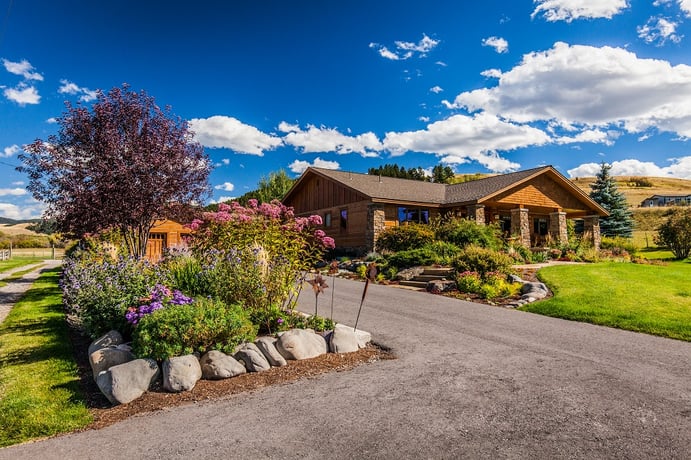 This is why it's important that wildlife control solutions are considered along with landscape maintenance. The solutions that will work best can differ from property to property. One simple solution is to choose deer resistant plant material. However, there is no plant that is truly 100-percent "deer proof," so this alone will not be enough.
At Blanchford Landscape Group, we do a lot of brainstorming on creating the best wildlife control solutions for each property. This is another area that does not have a one-size-fits-all solution. It's vital that a well-thought out plan is being devised so that your plant material is as protected as possible.
Choosing Landscape Maintenance in Bozeman and Big Sky, MT
When it comes to making sure that all of these landscape maintenance tasks are performed properly so that you get the most out of them, it's essential that you make the best choice in landscape maintenance in Bozeman and Big Sky, MT. The truth is, there are plenty of landscape companies that will do a nice job installing a landscape but when it comes to maintaining it at a high level of care, this isn't always taken nearly as seriously.
One question that you might have as you consider hiring a landscape maintenance service is how much it is going to cost. Having a better understanding of what goes into the cost of these services is important in making your wise choice. There are very clear reasons why one company might cost more than another and it's important that you understand what you're getting for your investment.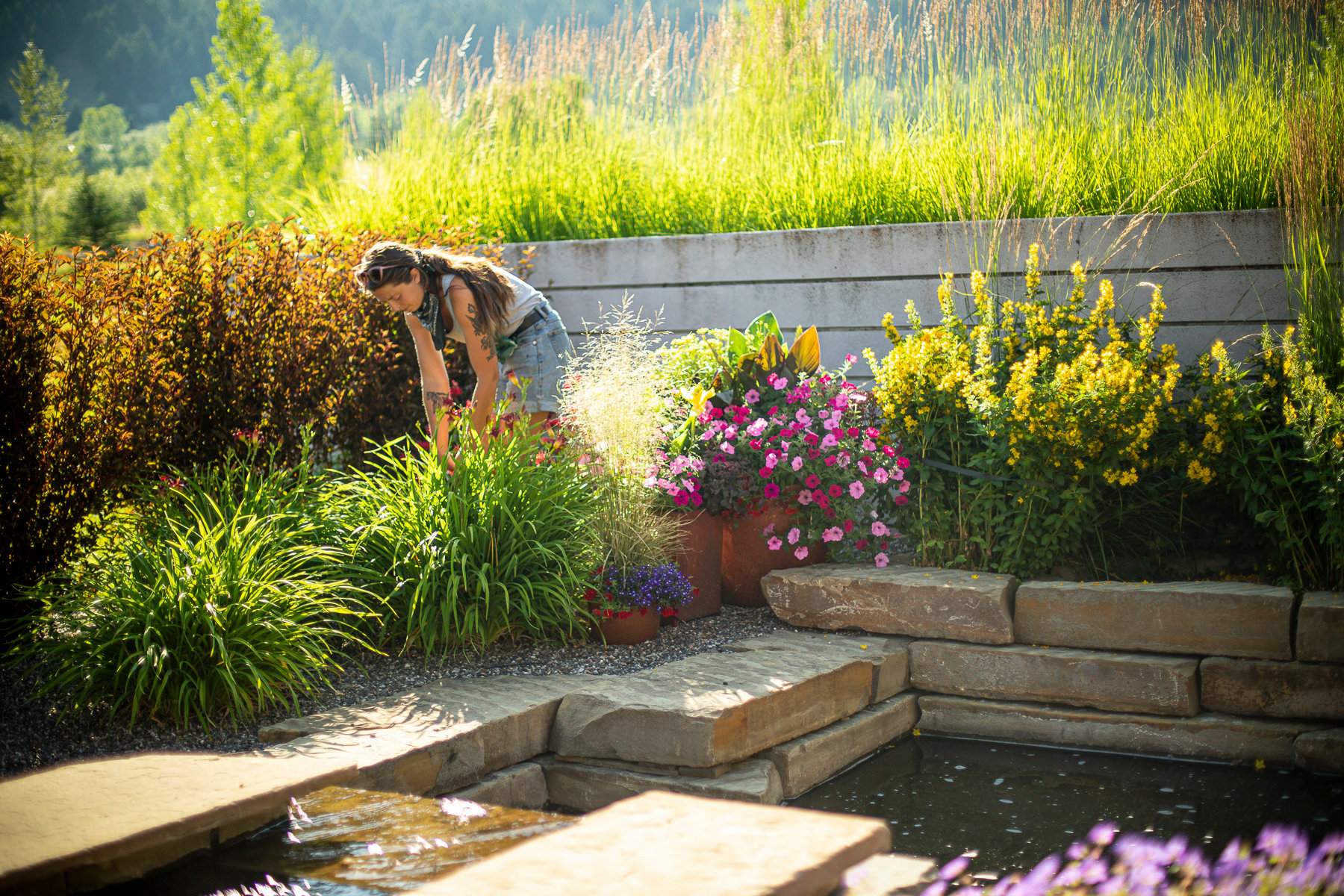 Although you might be inclined to believe that all companies would approach landscape maintenance the same way, this is not the case at all. At Blanchford Landscape Group, we call our landscape maintenance services Garden Services. Our specialized Garden Services Division is dedicated solely to the very tasks that we're talking about in this guide.
We understand that there is no simple, one-size-fits-all approach to landscape maintenance (even though plenty of companies treat it that way). Different properties are going to warrant different practices and approaches. That's why it's so important to choose a company that values customization and innovative thinking.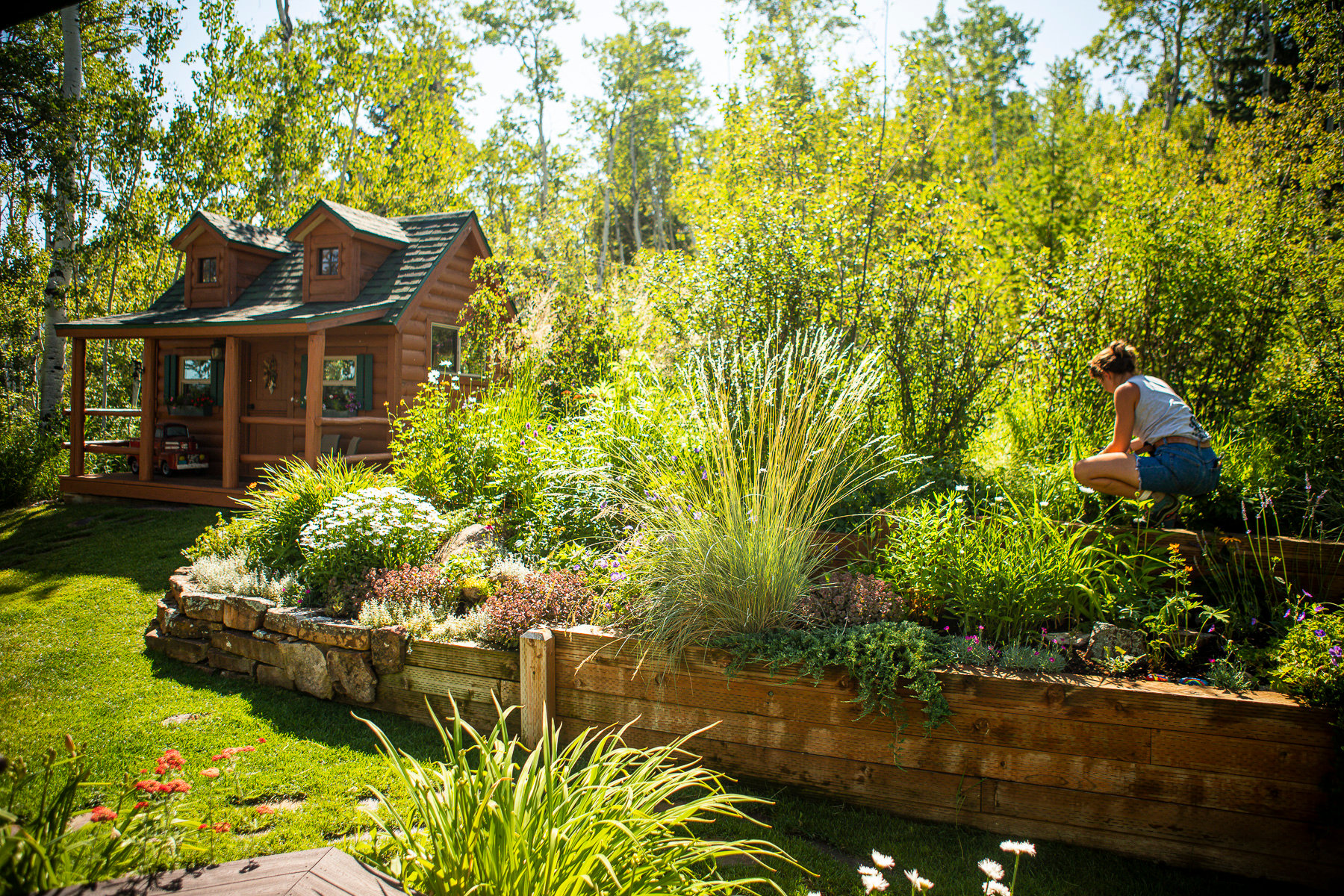 It's also important that you choose a company that has the horticultural knowledge and expertise to truly give your plant material the care that it needs. Too often, landscapers come in and treat all plants the same way. But in order to get the best results and to cultivate a landscape that you will continue to love, each plant needs to be treated with individual and specialized care.
It all boils down to protecting your investment and creating and maintaining a landscape you can love for years to come.
In the end, you can help ensure that your plants continue to look and perform their best at your Southwest Montana home by investing in their health now. When it comes to protecting your investment, you deserve to know that your landscape is in good hands.
Are you ready to hand your landscape maintenance needs at your Bozeman or Big Sky, MT home to a professional you can count on? Let's connect and talk about your landscape. We can't wait for you to enjoy a beautiful outdoor living space.