The beautiful plants and flowers that make up your Bozeman or Big Sky, MT landscape are so important when it comes to enjoying the beauty of your property. These plants help add wow factor to the front of homes and aesthetic appeal around the property.

But when it comes to keeping everything looking its best during the hot days of summer, you'll need to consider summer flower bed maintenance.

Caring for a summer flower garden can pose some challenges and the last thing that you want is to lose your plants because they weren't properly cared for. That's why we're talking about some of our best summer gardening tips to help set you up for success.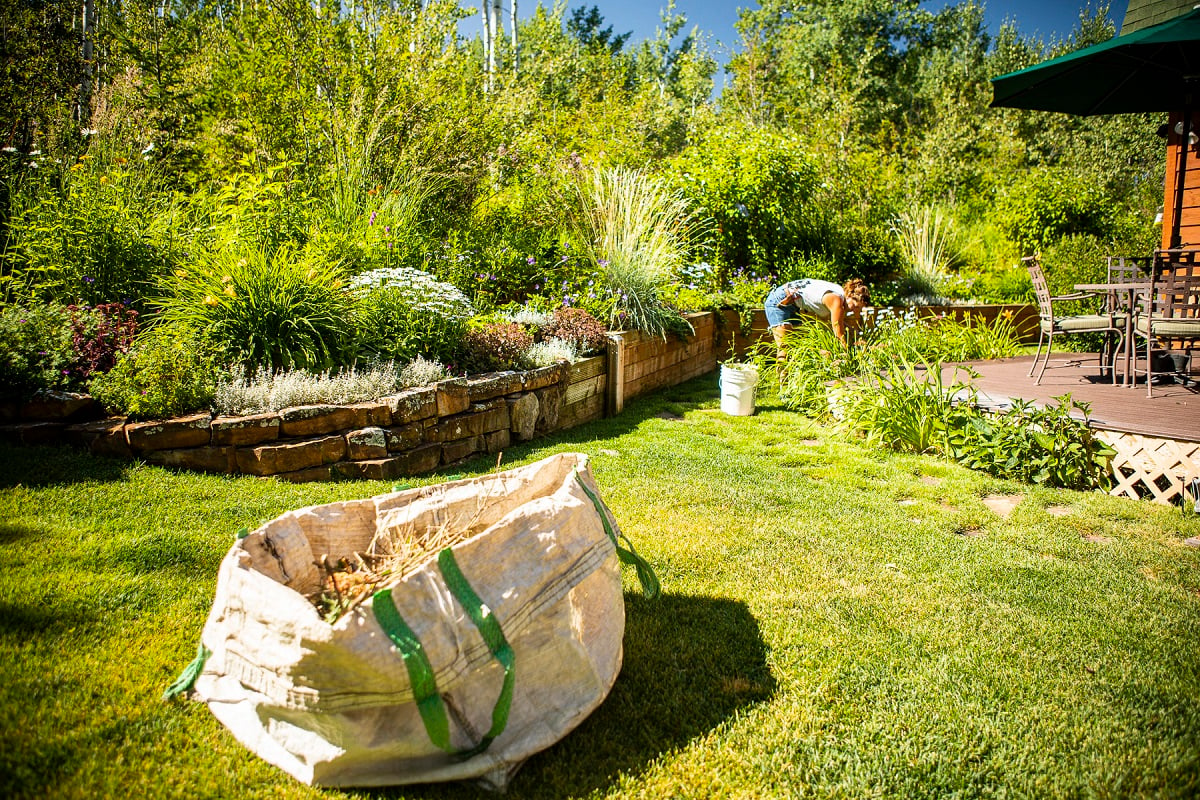 Proper Watering is the Key to Flower Garden Maintenance in Summer
As you might have suspected, proper watering is incredibly important in the summer. Actually, it's always important. But when the sun is beating down and periods of drought are more likely, it becomes imperative.

Many of our clients in Bozeman and Big Sky, MT have drip irrigation, which handles their watering.

But that doesn't mean adjustments may not need to be made in summer. Occasionally, during periods of drought, it's just not enough. It could mean adding more tubing or even a spray head. Or, it could mean some supplemental watering by hand in those areas.
Deadheading Will Keep Flowers Looking Their Best
Deadheading flowers, which means cutting back the dead parts of the plant, is another important summer flower bed maintenance service. When we cut back perennials, it can sometimes encourage a re-bloom. We perform this service on a number of different species.


With proper deadheading, we can often get two blooms (or what we call, "flower flushes") out of a plant, which is something that clients appreciate.


Sometimes plant pruning is also necessary just to keep plant beds neat and tidy. There are certain perennials that can get excessively tall or bushy, and keeping them cut back may be a necessity for the overall aesthetics of the plant bed.

There are also certain plants that have messy seed heads after blooming in the spring, so those look much better cut back and cleaned up. In general, many of the spring bloomers are messy come summer.

In general, proper pruning timing is key. You typically want to prune right after blooming so that you don't prune back any of next year's growth. This will help keep your spring or summer blooming plants on track for next season.
Performing Regular Weeding as Part of Summer Gardening
Caring for a summer garden will also include getting rid of the weeds.

Weeding is an ongoing, repetitive seasonal issue that never really goes away (and the summer is no exception). Different weeds are prevalent at different times of the year and the summer has its fair share of them.

There is no single answer in terms of how to address weeds in landscape beds. It all depends on exactly the type of weed that you're dealing with. We often take a mechanical approach, such as hand-pulling weeds in order to prevent harming any nearby desired plant material. But there are often certain weeds that should not be hand-pulled as it actually stimulates more growth.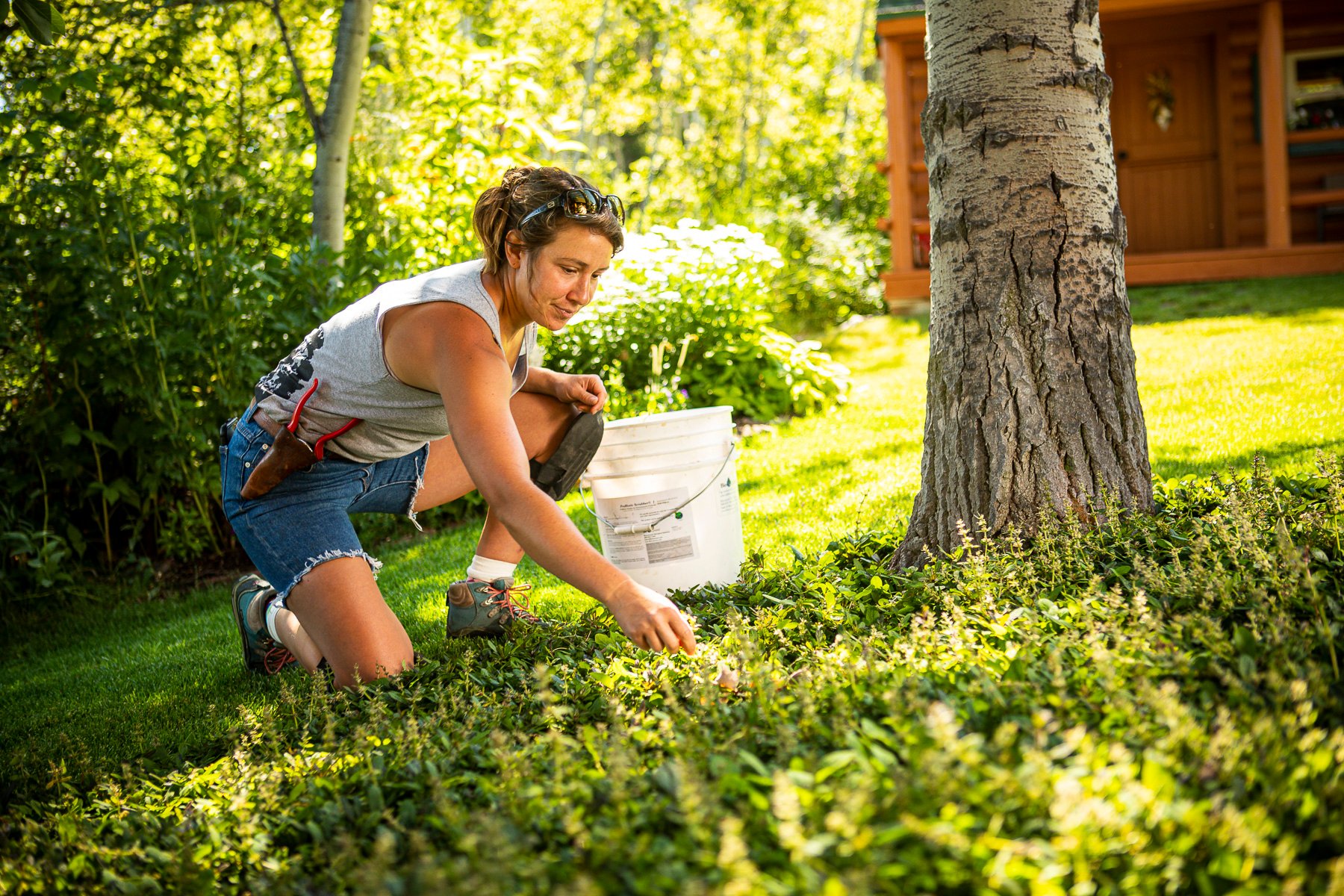 A lot of our weed control approach involves a horticultural understanding of what plants and weeds thrive under what conditions. When we first install native plant areas we initially irrigate. This can encourage clovers that love those moist conditions.

However, as we back off on the watering schedule, then the native plants will thrive and the clover will die off because it's not receiving the water it needs.

Generally, our approach to controlling weeds in landscape beds comes down to avoiding chemical weed control products if we can. That's not to say that we'll never use them, but we're not just spraying everything as some landscaping companies might. We're taking a very strategic and customized approach all depending upon specifically what's growing on your property.
Additional Summer Gardening Services as Needed
When it comes to summer flower bed maintenance, there are other needs that may also arise. For one, there are certain plants that might need to be staked. Tall perennials typically need stakes so that they have support to avoid flopping onto neighboring plants.

Certain plants can also be divided in the summer. Dividing is a great way to address a plant that has gotten too big for an area. It's also a way to extend a bed with some additional plant material. We can often take existing perennials and divide them, then add them to other areas.

This is something that we often do in the late summer, when it's not as hot.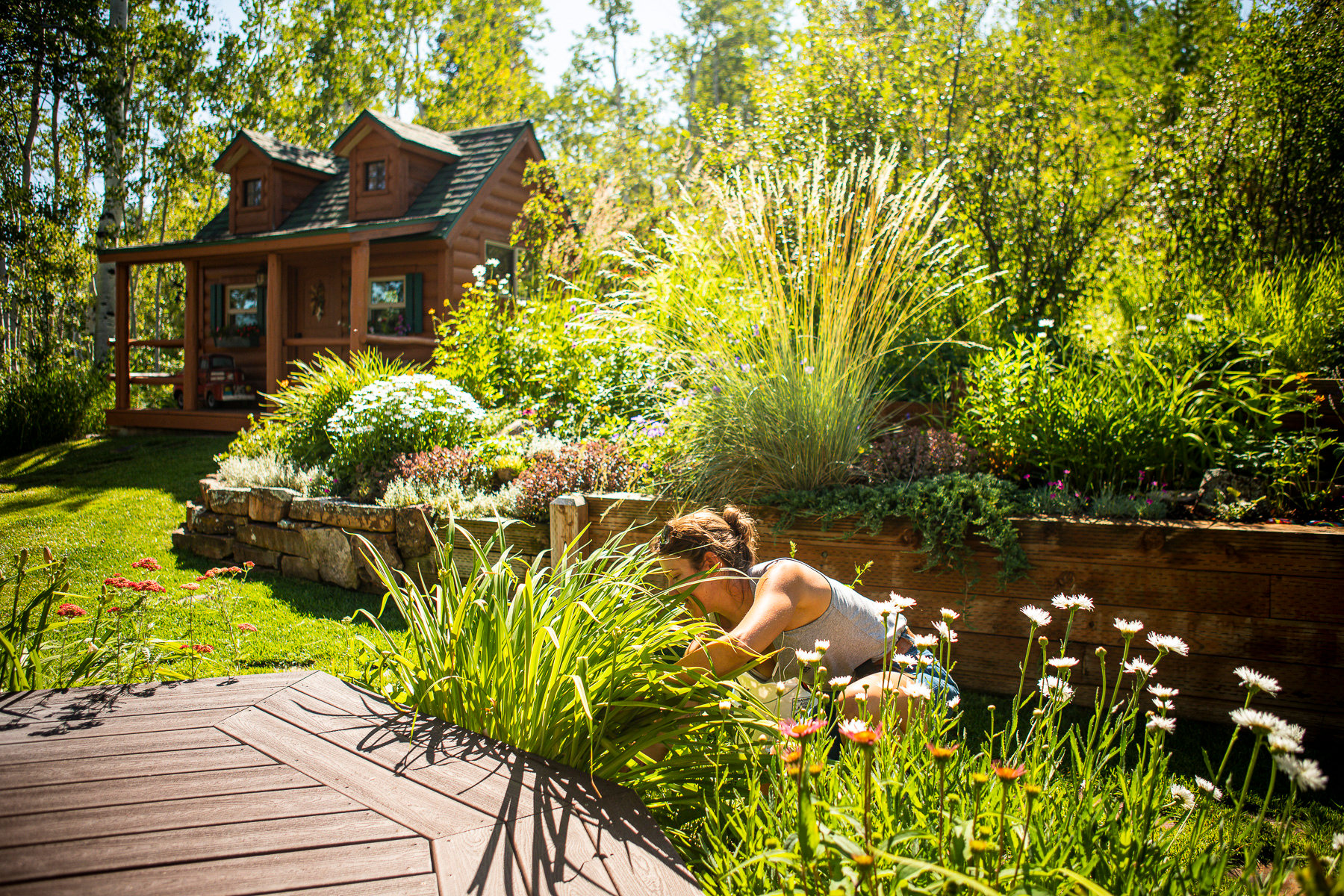 While fertilization services typically back off during the summer (it's something that is needed more in the spring), if there are plants that are struggling, we might also add a fertilization boost to help them perform better.

In general, it comes down to acting on certain needs as they arise and making sure that plants continue to be well-cared for throughout the hot summer months so that homeowners can get the most enjoyment out of them.
Summer Flower Bed Maintenance as a Professional Service
With so many of our clients being second homeowners in Montana, summer flower bed maintenance is often a task that we handle for them. When they come to visit their Montana home they do not want to be worrying about caring for their plant beds. They usually just want to be able to enjoy them.

Of course, we do have many homeowners who love summer gardening. They might specifically want an herb garden or an area that they tend to themselves, and that's fine, too. We can customize a landscape maintenance plan that works best for you.

This even includes container garden maintenance.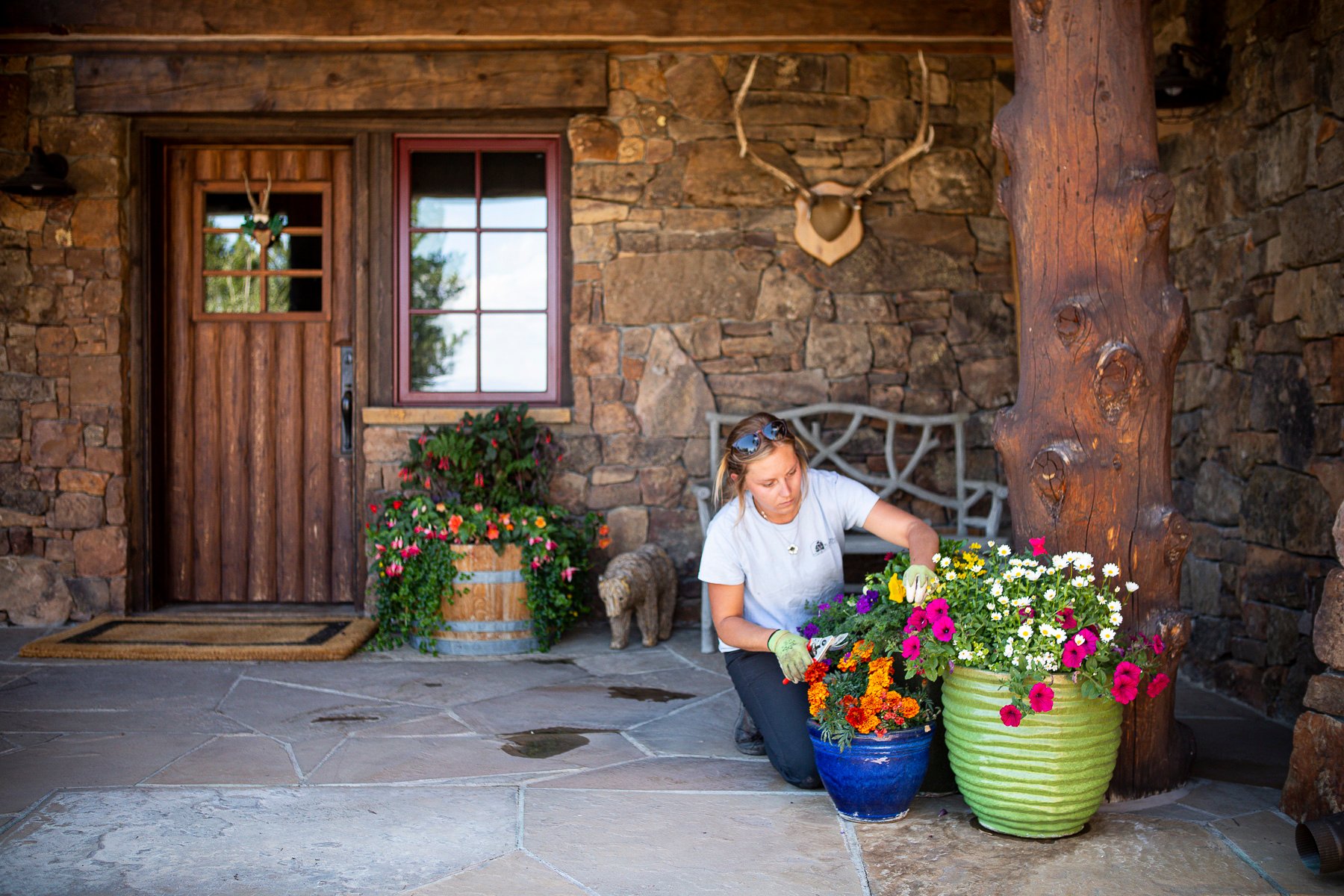 One of the major benefits of hiring a professional to handle caring for a summer flower garden, is not just the fact that it removes the burden on your end—but also the fact that it takes away the guesswork. A lot of times when plants aren't performing well, homeowners cannot figure out why.
Could the plants benefit from some fertilization?
Is there a disease or pest problem in the plant bed?
Are the plants just in need of more water?
What is the best way to address the specific weeds that are coming up in the plant beds?
Oftentimes there is an abundance of questions and a sense of being overwhelmed when it comes to what steps to take next.

But that's where a professional can really help. We're looking for signs of insects, diseases, or other problems all of the time. We're spotting issues early and getting them under control before they're serious.

In that way, we tend to be more proactive than most homeowners simply because we have the horticultural expertise to do so. When most people see a plant is yellowing, they have no idea why. But oftentimes their "solution" could end up making the problem worse.

Plus, in addition to performing all necessary summer flower bed maintenance tasks, we can also replace plants if need be. That means that we can help ensure that the plant beds continue to look and perform their best when clients are in Montana, enjoying their home.

So much of it boils down to peace of mind. You just want to know that your plants are getting what they need, when they need it. That's exactly what we can offer.

Are you ready to get the process of designing your landscape started or are you looking for gardening services at your Bozeman or Big Sky, MT home? Let's connect and talk about your project. Then we can meet and begin talking about your ideas! We can't wait for you to be able to enjoy your amazing space.