The trend toward planting food is on the rise. According to the National Gardening Association, edible landscaping is more on peoples' minds today than it has been in the last decade. Locally, it's not uncommon for us to get asked how we can incorporate edible plants into our Bozeman and Big Sky, MT designs.
This is a trend that we're excited about and we're incorporating more edible landscape design as time goes on. I (Andy Blanchford, owner of Blanchford Landscape Group) wanted to share a bit more about this trend.

I also spoke with one of our account managers in the Garden Services division, Carrie Rule, who assists with a lot of our hands-on planting and who I knew could share some helpful tips. With the right edible landscape design, you can truly have delicious and beautiful surroundings to your Montana home.
What Edible Plants in Montana Will Work for My Landscape?
Edible landscaping is obviously going to be contingent on weather and as you know, the weather can be quite complicated here.

In Big Sky, it's just high enough that we can have a freeze almost every month of the year, making vegetables and fruit difficult to pull off. However, there are hardier herbs and even edible flowers that can be planted in this area. In Bozeman, which is at a lower elevation, we have more options for fruits and vegetables.

Carrie tells me that many of her clients have specifically requested herbs, particularly if they'll be in their Montana home during the summer months.

"We love to scatter herbs throughout our clients' perennial plantings," Carrie shares. "Some of the ones we use most often include chives, basil, oregano, and sage. We can also do a lot of container planting with annuals and add edible herbs and even edible flowers. Some of the varieties that we use most often include Nasturtium, Calendula, Marigolds, Pansies, Violet, and Lavender."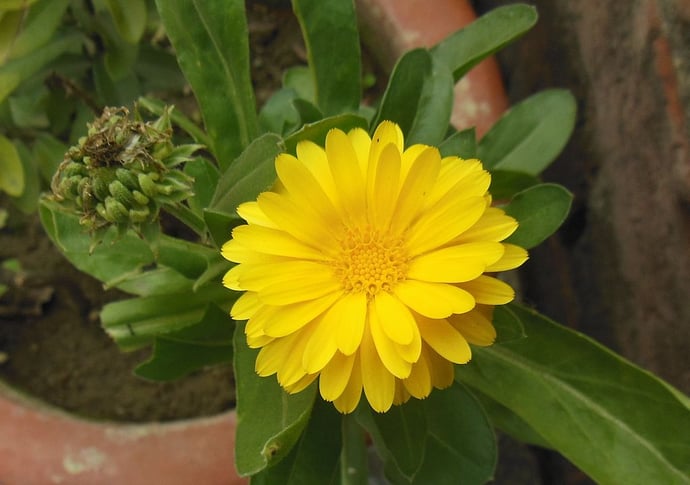 In the Fall, Carrie shares that she might create container gardens that feature cold weather crops like Swiss Chard or some hardier herbs like Oregano and Chives. This might be incorporated along with some ornamental cabbage for fall color and maybe even some mums, of which you can eat the petals.
Although all chrysanthemum flowers are edible, it's been said that the flavor can widely vary from plant to plant. Some give a sweet and tangy taste while others are peppery or even bitter. It may not be of interest to everyone to taste these flowers, though you might like to know they've been used for medicinal purposes for many years. Tea brewed from the dried flowers has been compared to chamomile.

Carrie shares an important reminder that any edible landscaping plants you are considering incorporating should be organic so that you can feel confident the nursery did not treat them with pesticides or other chemicals.
How Does Edible Landscaping Work with Local Wildlife?
Wildlife is obviously something to think about here in Montana. We've written articles about using deer-resistant plants in our landscaping designs so you might be wondering how edible landscaping could ever work here.

The reality is that wildlife is an issue with many plants, not just edible ones. To deer, elk, and moose, most plants look delicious, not just the ones that we humans like to eat. Fortunately, wildlife solutions are already part of the landscape design work that we do.

We cage many trees and shrubs, whether edibles or ornamentals, with fencing to prevent browsing and trunk rub. In the Fall, the male deer, elk, and moose rub trees to rub the velvet off their antlers and this can cause damage so that's something we're always thinking about.
We also do get birds eating ripe fruit such as strawberries and cherries. The best way to beat the birds to the fruit is to harvest daily so there's not too much ripe fruit out there attracting them in the first place.
Carrie also shares that creating the container gardens goes a really long way in keeping wildlife from munching on the plants that you plan to eat.
"I really do like using containers because then we can put them up on a deck or a porch where the wildlife cannot easily get to them," she says. "Of course, some of our clients want a full garden. We just recently installed a garden for a client that includes a complete edible area and it just has to be totally fenced in. Those solutions are part of what we're already doing. Our clients understand that wildlife is abundant here so they look to us for solutions."
Incorporating Edible Landscaping Into the Design as a Whole
Although many of our clients envision edible landscaping as a garden with rows of crops (which it certainly can be, like Carrie's example), that's certainly not the only way to incorporate edible plants into your design. These plants can actually be incorporated right alongside other ornamental plants.
One way to incorporate edibles is to leave annual pockets for herbs and edible plants in the ornamental beds. This way the structural plants and ornamental color carry the load aesthetically and the edibles add to the display in season, but you're not left with a big void in the offseason.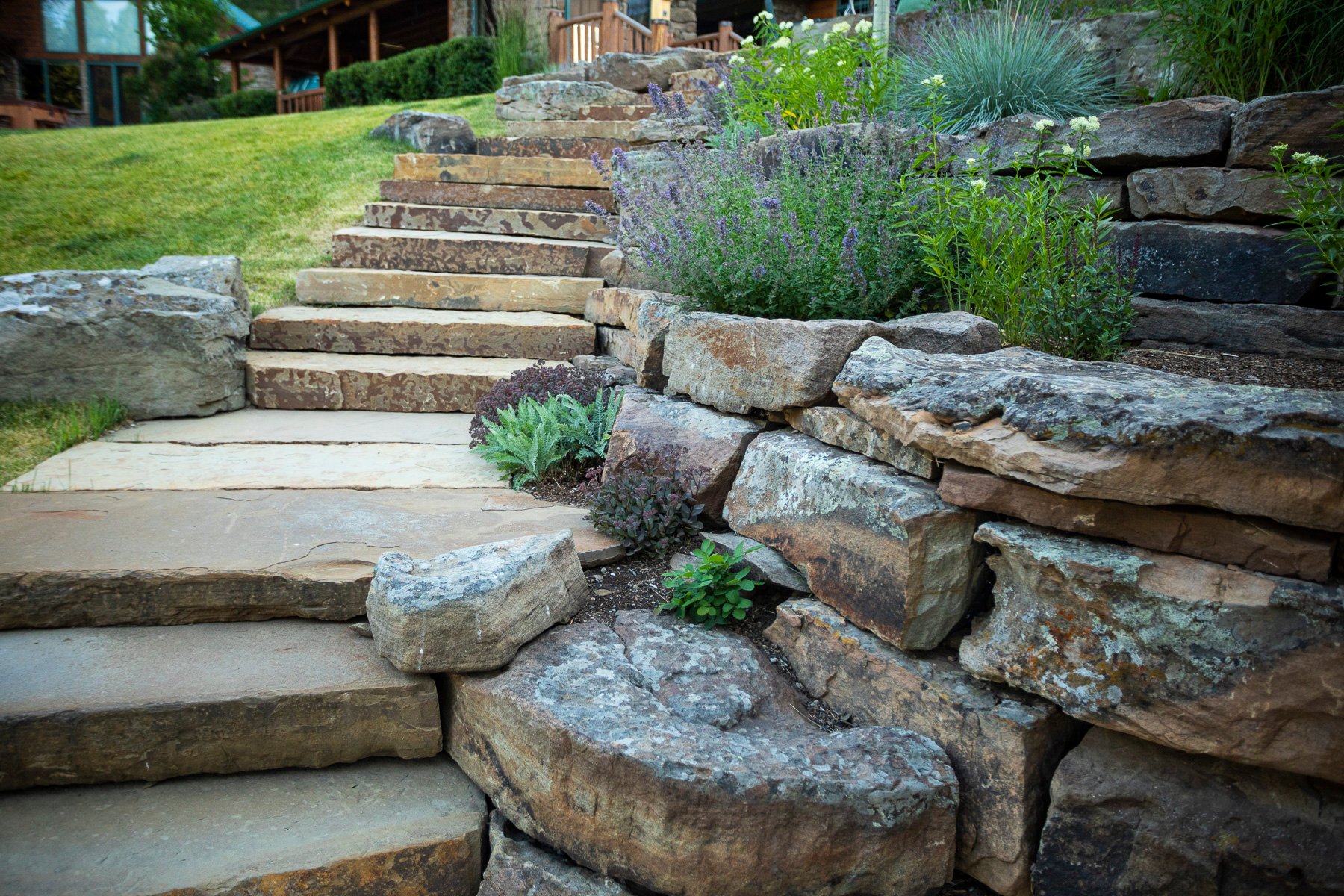 You can also use fruit-bearing trees instead of ornamentals for accents, screening, and shade. Apple and plum trees work best in Montana, but there are varieties of cherries that work in protected locations. We also grow really good red raspberries here. While not exactly ornamental, they are prolific, tasty, and easy to grow.
Carrie shares similar sentiments.

"Tucking herbs in with perennials can be really beautiful and a great way to incorporate some function and edible plants into the landscape," she says. "As we think about mixing herbs in with other perennials, we are looking at the heights and the way in which they work in the space—just as we would with any plants. Oregano can get really tall, for instance, but it has these pretty flowers on them that people don't usually know about. There are great ways to incorporate them into the design."

We do understand that many of our clients would prefer a more decorative or traditional garden, and we can create those as well. Here are a few of my own thoughts that come to mind in creating unique and beautiful gardens for our clients.
Garden boxes in a parterre style
Attractive wood or steel garden boxes that add interest
A nice ornamental fence around the edibles garden so that it's wildlife protected but also aesthetically appealing
The addition of a funky sculpture to give an edible garden some life in the offseason
A small glass greenhouse or garden shed that adds to the aesthetic of the space. The interest provided by the structures and the plants are an added bonus when in season
Working with Blanchford Landscape Group for Your Edible Landscaping Design
As you can probably see, we get pretty excited about the possibilities that exist when we can take an idea that one of our clients has and create something both functional and beautiful. Edible landscaping is a great way that your landscape can serve the purpose of being aesthetically pleasing and helping you to enjoy your outdoor space even more—but it can also be functionally valuable in providing tasty nourishment.

There's something truly special about enjoying fruit, vegetables, herbs, or edible flowers grown on your own land.

We spend a lot of time talking with our clients and finding out exactly what they're looking to achieve with their space. It's not like we're just throwing together ideas. If there are specific edible plants that you want to incorporate around your property, we'll talk about how to make that happen.
You can always count on us to walk you through the entire landscape design process in a way that ensures the finished project fully meets your wants and needs, while also working with nature.

We are available to be your guide and to help you make wise choices.

When you're taking the time to work through the options with a professional guiding the way, you know that you'll be happy when all is said and done. Soon, you'll not only be enjoying your landscape for its beauty but for the delicious bounty it can provide.
Are you ready to get the process of designing your edible landscape started at your Bozeman or Big Sky, MT home? Let's connect and talk about your project. Then we can meet and begin talking about your ideas! We can't wait for you to be able to enjoy your amazing space.
Image source: marigold