If you're looking to add more functional outdoor space at your Bozeman, MT home, then you might be looking at a deck vs patio decision. Both can be enjoyable additions but you want to make the selection that's best for your space.

Let's dive into the patio vs. deck difference and some points of consideration that should be on your mind as you make that decision.
Backyard Decks and Backyard Patios: Which is Best?
First and foremost, we want to be upfront that Blanchford Landscape Group is heavily focused on backyard patios, so we are coming at this topic with some bias.

The vast majority of outdoor living spaces that we design and build include a patio.
However, there's a reason that we prefer hardscaping over decks in many situations and that's because of the way in which natural stone blends with the Montana surroundings.

Natural stone has a sense of elegance that can't simply be replicated.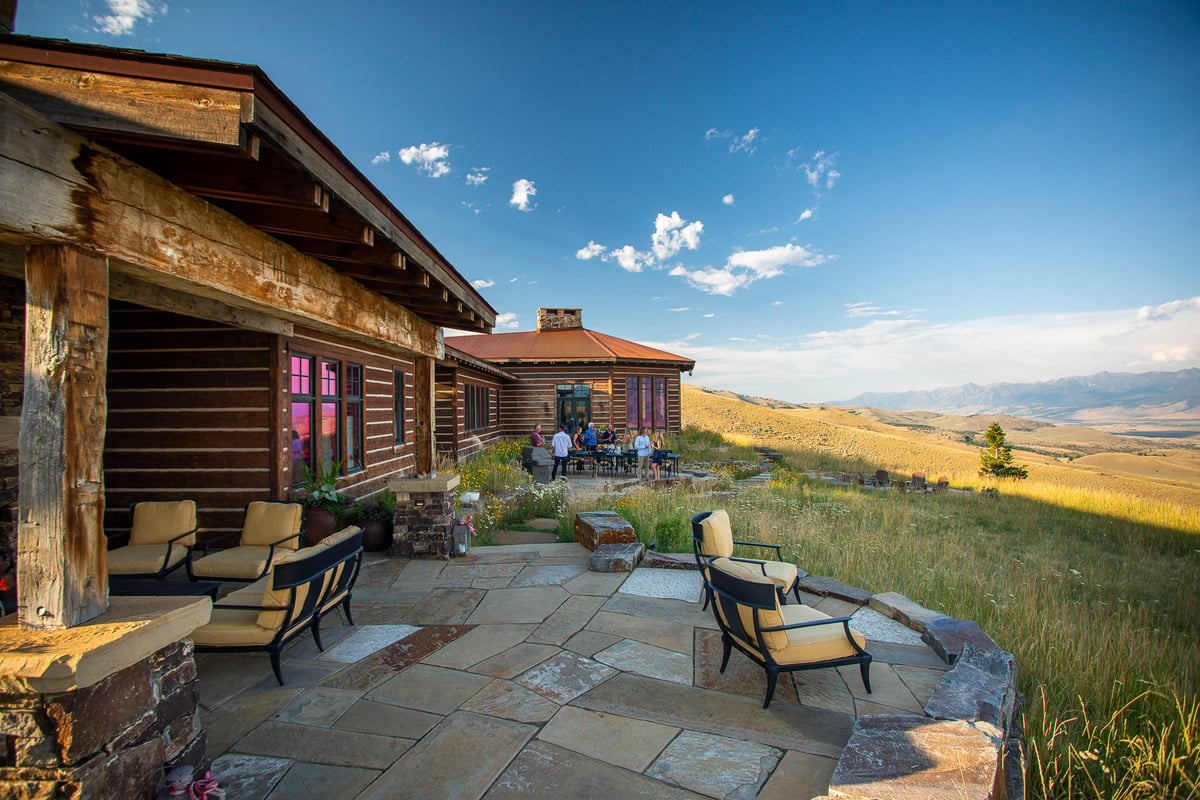 Perhaps the biggest benefit of using natural stone is its authenticity. It just looks like it was meant to be part of the space and it definitely blends best with the natural surroundings. Since boulders and other rocks are found naturally in the landscape, adding a natural stone patio with some boulders really makes it look like it was always meant to be there. It's a seamless addition.

That being said, we recognize that there are situations that warrant a backyard deck.

The primary one that comes to mind would be the desire for a second-story structure. In fact, yards like these actually lend themselves to BOTH options. You might have a deck on an upper level for the views, but that can lead down to a lower-level backyard patio, where you get all the benefits of having a patio, too.
Points to Consider with a Deck vs Patio
If you're talking about ground-level outdoor living space, then we really see patios winning out the vast majority of the time.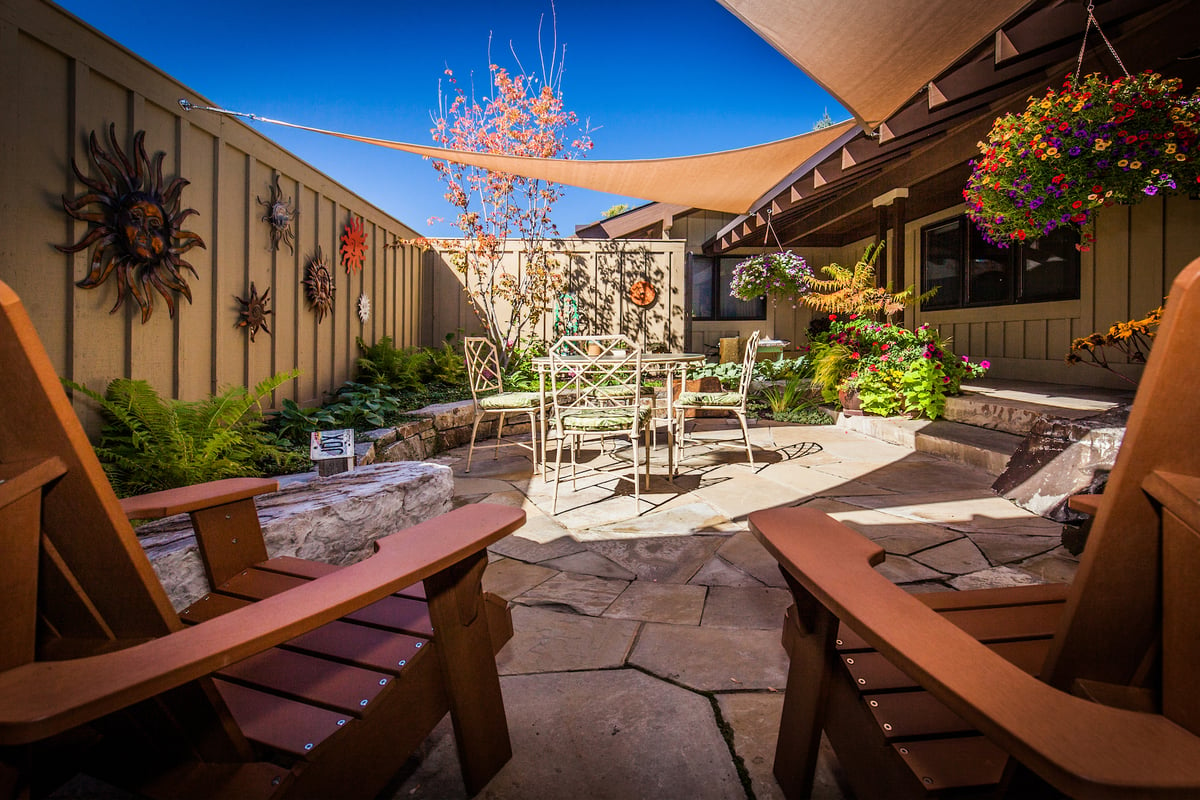 There are a few reasons we feel that way.
A Natural Addition
One of the biggest reasons for patios being our preference is the point that we made above, which is that a backyard patio just fits the space better from an aesthetic point of view.

The use of stone is going to make it a natural addition that blends more seamlessly with the surroundings.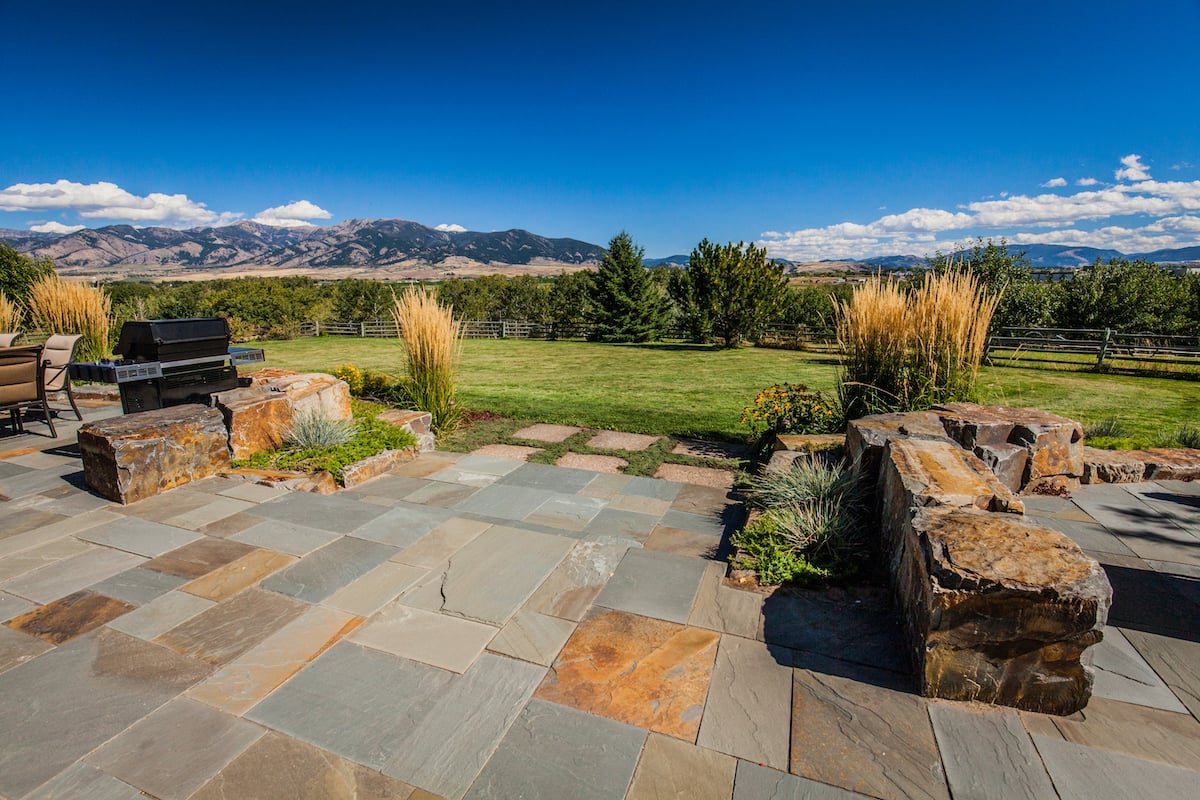 There's simply nothing like natural stone.
The Versatility of a Patio
Patios can also be a lot more versatile. You can incorporate fire features into a patio space much easier than a deck space. In fact, there could be some fire hazard concerns with adding fire features to a deck and you'll only be able to use portable options like small fire pits or tables.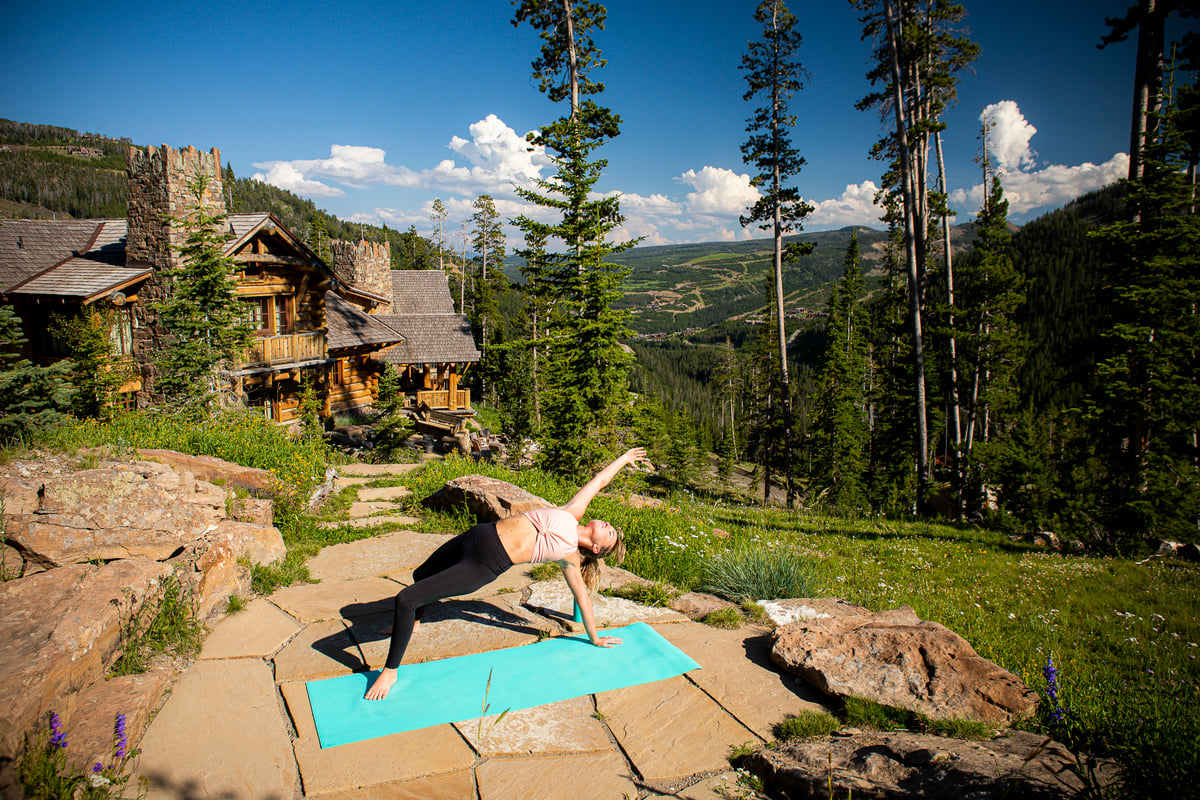 It's not quite the same as having a built-in fire pit or fireplace that is ultimately part of your backyard patio.

We also know that many of our clients have very specific uses for their patio in mind, such as their yoga space, their dining space, their hot tub space, and so much more. We have generally found that patios best allow for that versatility.
The Openness of a Patio
There's also more of a sense of "openness" to a patio than a deck, which sometimes homeowners say makes them feel boxed-in (particularly if there is railing).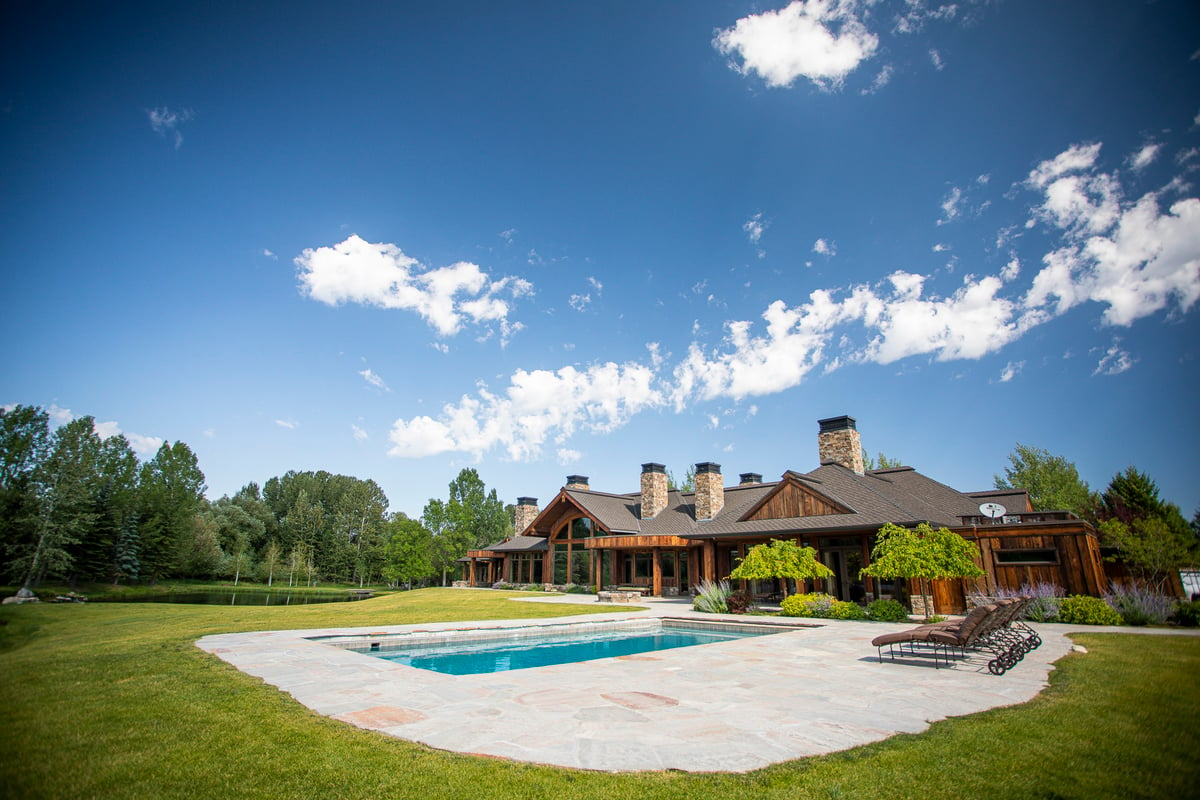 Even with a stone retaining wall as part of your patio, there is a more open feel to it. This, again, blends more seamlessly with the natural surroundings.

To that same point, you're a lot more immersed in nature with a backyard patio being on the same level as the natural surroundings. You'll be able to enjoy your landscaping more fully and even wildlife passing through.

It's overall a more connected experience with nature.
Weight Restriction Considerations
In addition, you also don't have weight restrictions with a backyard patio that you would with a backyard deck. If you are thinking about adding a hot tub, it might not even be possible with a deck….or it could be a lot more complicated (as extra structural support will be needed).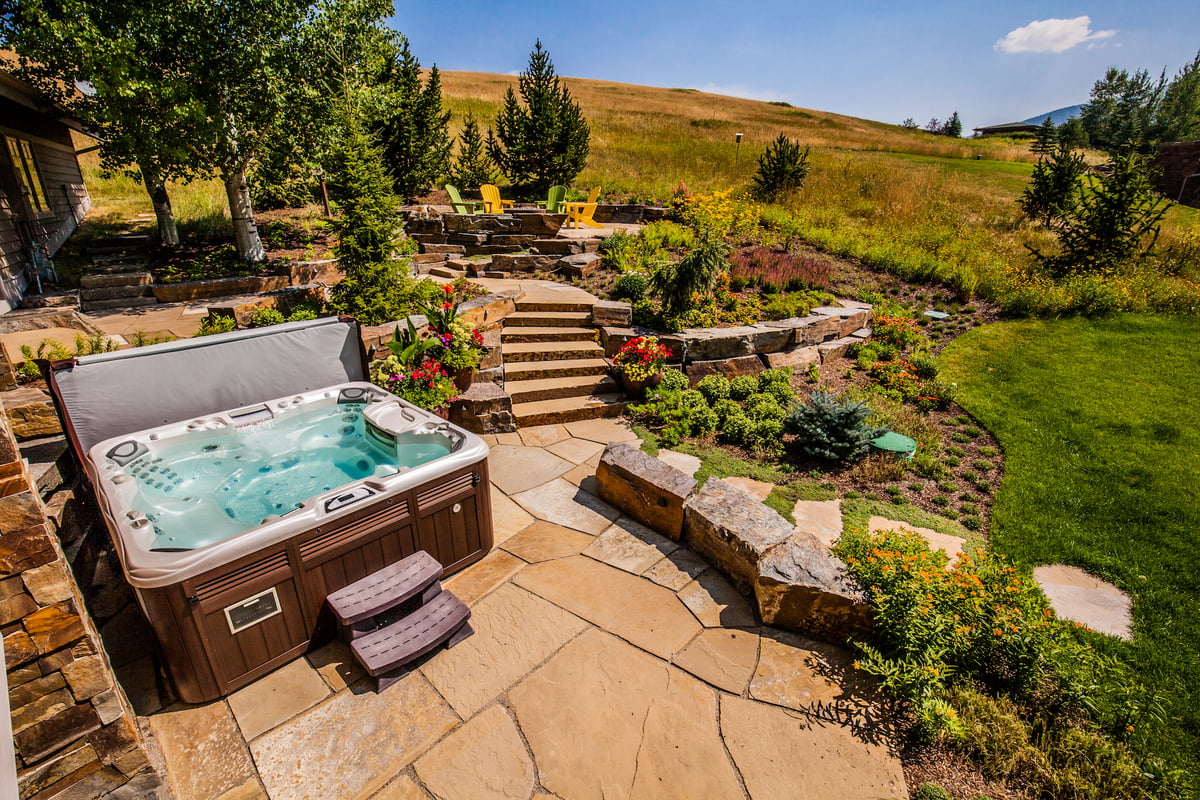 Customization
Overall, we just feel that there are a lot more design possibilities with patios, including much more room for customization. You're a bit more limited with deck design. As a company that cares about creating highly customized designs, we're able to do a lot more with patio creations, delivering the best possible results.
Finding a Landscape Designer for Your Dream Outdoor Living Project
At the end of the day, it really boils down to creating the space of YOUR dreams. In some cases, a backyard deck might make sense (particularly if you're trying to capitalize on a view from up above). But in most cases, a patio really is the best way to enjoy the outdoors to the fullest.

No matter what you're having done, you want to make sure that you are working with a company that is committed to creating something custom and truly one-of-a-kind.
Unfortunately, there are plenty of companies out there that create cookie-cutter spaces and won't be committed to considering both the functionality as well as the harmony with nature that you are seeking. They also won't take the time to consider every little detail that should go into making your project unique.

But at Blanchford Landscape Group, we understand that every property (as well as every homeowner) is unique and so are their wants and needs. We'll discuss how you plan to use your space and what activities you would like to be able to spend more time outside doing. We can talk about the patio vs deck difference and then help you make the decision about what's best for you and your Bozeman property.

Then, we'll help you create a space that is everything you dreamed it would be.

This is why your decision in choosing the right landscape designer is a big one and can be the difference between spending more time outside and improving the quality of your life—or not having the right space to be able to get outdoors more. By making a wise choice, you can ensure you're ending up with what's right for you.

Are you ready to get the process of designing your outdoor living area with a yoga space started at your Bozeman or Big Sky, MT home? Let's connect and talk about your project. Then, we can meet and begin talking about your ideas! We can't wait for you to be able to enjoy your amazing space.