When it comes to getting a patio that is uniquely your own, you might be wondering about what type of paver pattern or what shape would work best for your space.

Since we typically design and build patios out of natural stone, it naturally lends itself to a random pattern. But we sometimes play around with the pattern, depending upon what the homeowners prefer.

Here are a few ideas when considering a pattern and a shape for your patio.
A "Random" Patio Pattern
In many cases, the irregular and random shapes of the natural stone lends itself to sort of a free-flowing design. This might be thought of as the opposite of a "pattern" since it's meant to look as natural as possible.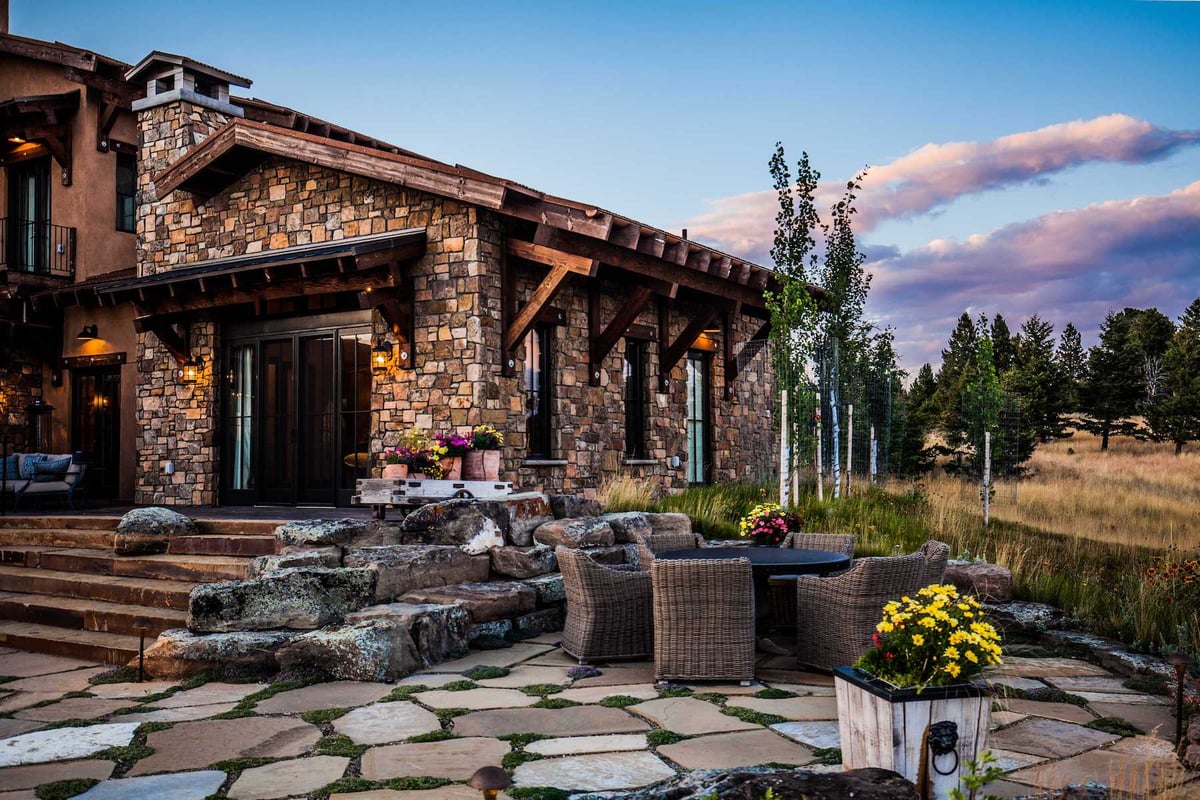 Though it appears random, it takes a real eye for design to make sure that each natural stone paver goes in just the right place so that the finished patio comes together.
A Square or Rectangle Patio Pattern
Though free-flowing, random patterns are popular for natural stone patios, sometimes homeowners do want something more uniform…almost more of a modern look.

As linear patio designs become more popular, we've been playing around with square and rectangle patterns with natural stone.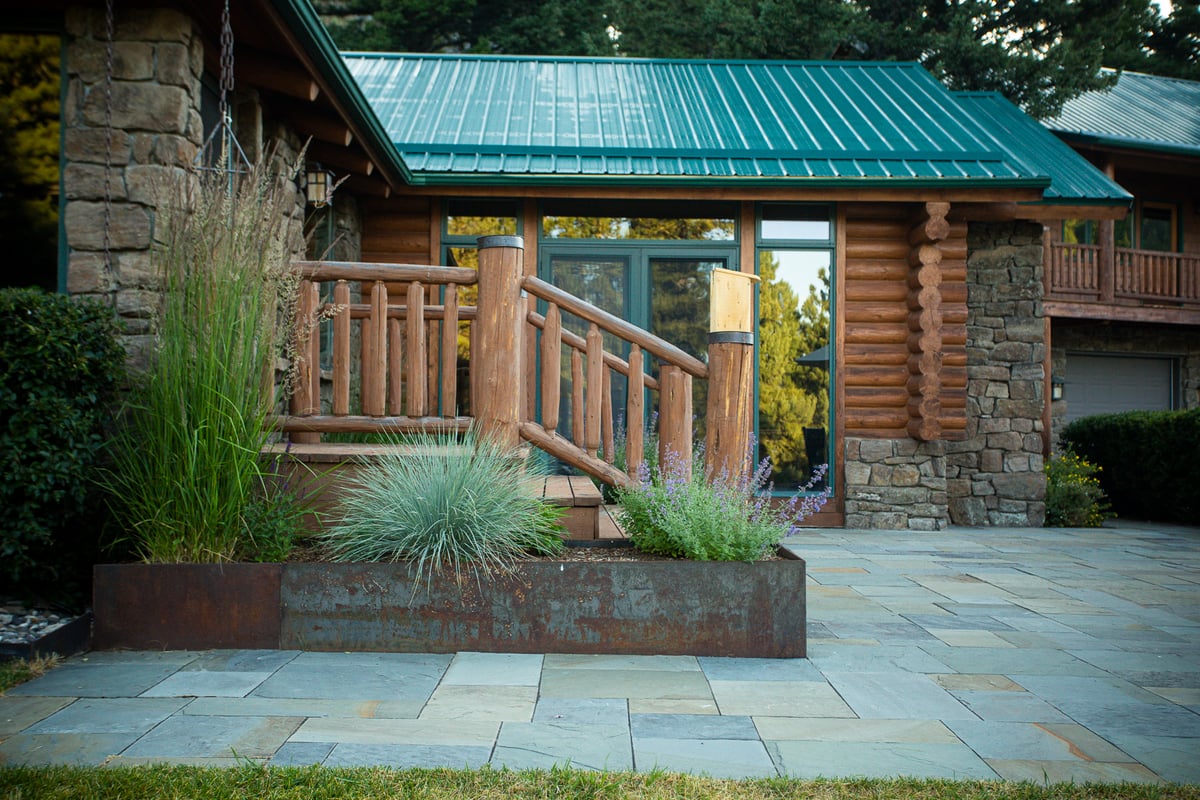 Instead of irregularly shaped pavers, sometimes we'll also use natural stone that is intentionally cut in more of a linear design (like squares and rectangles).
Considering Patio Shape
In addition to thinking about patterns for patios, you might also want to think about the patio shape.

Again, the irregular shape of many pieces of natural stone often lends itself to more of a free-flowing design with curves and circles. But much of this is also contingent upon the wants and needs of the homeowners. The existing landscape and the architecture also play a role in determining what type of shape might look best.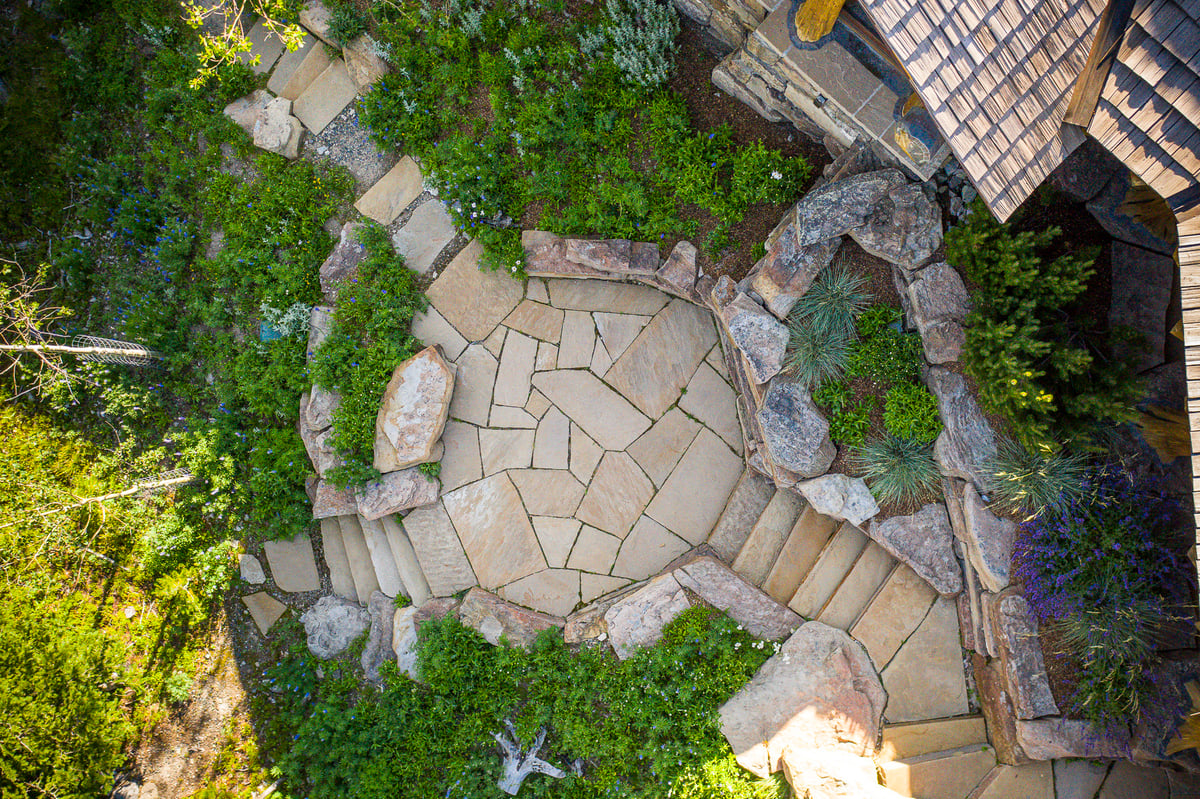 Even though free-flowing and curvy patios do tend to work well in our natural surroundings, many homeowners do want more of that linear look with clean lines. Lately we have been designing and building some squared off patios for homeowners that want something a bit more modern-looking.

Sometimes a linear shape can actually be a more efficient use of space. It might be more difficult to fit patio furniture on a round patio. You're more likely to have dead space on a round patio.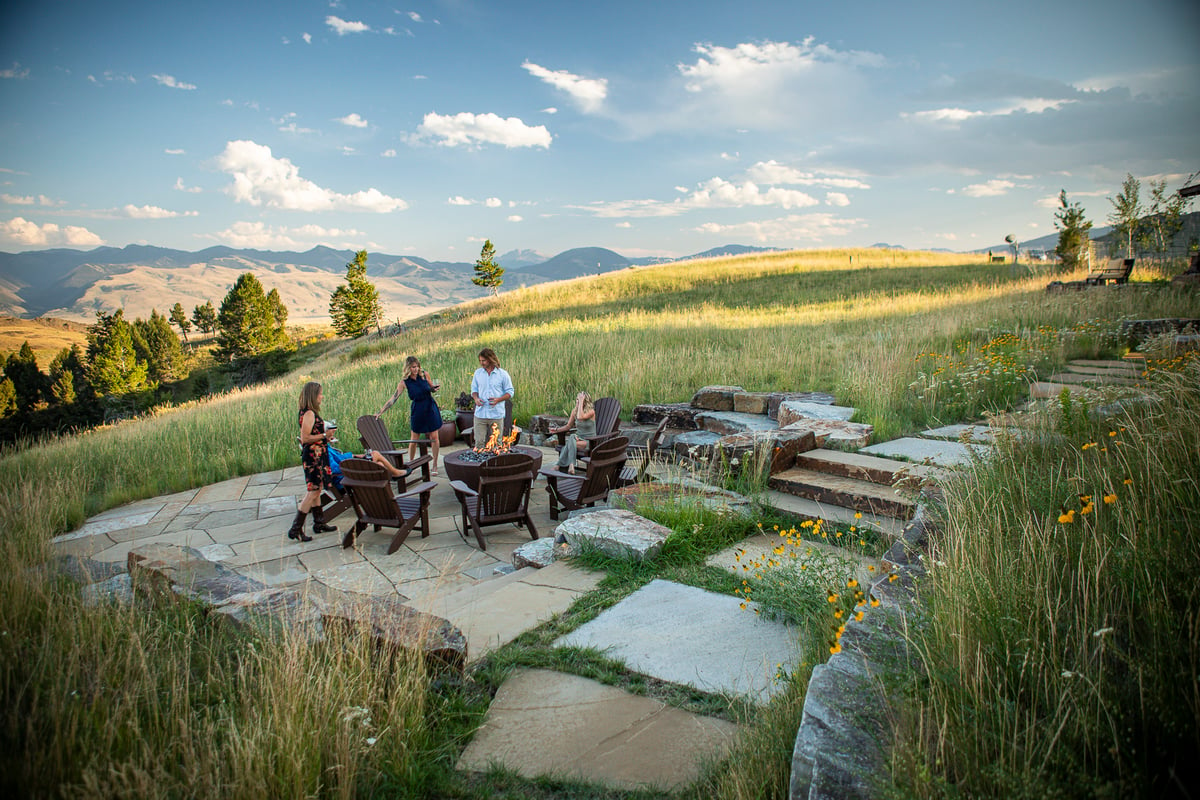 Even so, curvy patios definitely blend better into some natural surroundings and still make the optimal choice for certain properties.

It's important to discuss patio shape with your landscape designer so they can help guide you toward choices that work best for you. How you plan to use your patio will be an important consideration in determining what shape might work best. Whereas patterns for patios is focused on aesthetics, the shape actually does contribute to the functionality.
Making the Best Patio Choices
As with other patio decisions, you want to make sure you are choosing wisely. It's important to consider what is going to look best in your space, what will function best for your needs, and what suits your style.

Style matters for the outside of your home as much as it matters inside.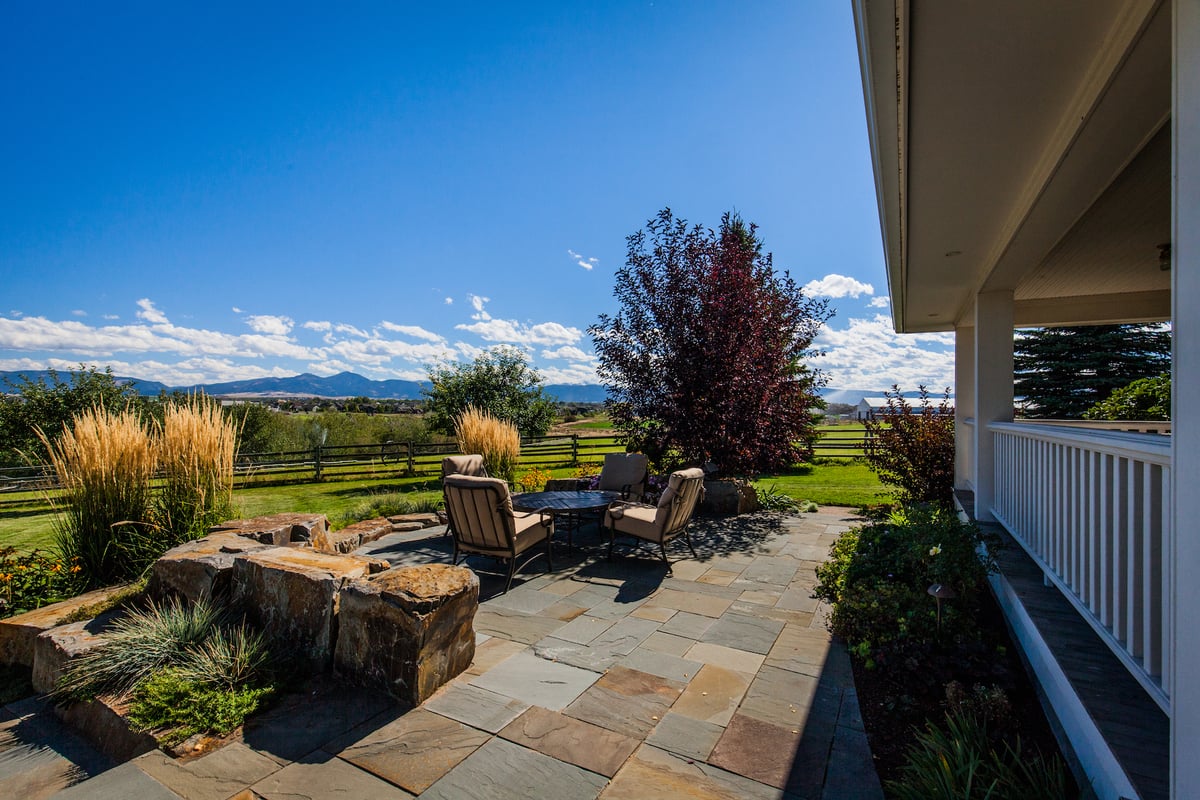 When planning for furniture or other elements for your home's interior, you probably spent some time thinking about what "suits your style." Well, the same should happen as you plan for your exterior.

If you don't already have ideas for patio patterns or shapes, you can start by looking at pictures.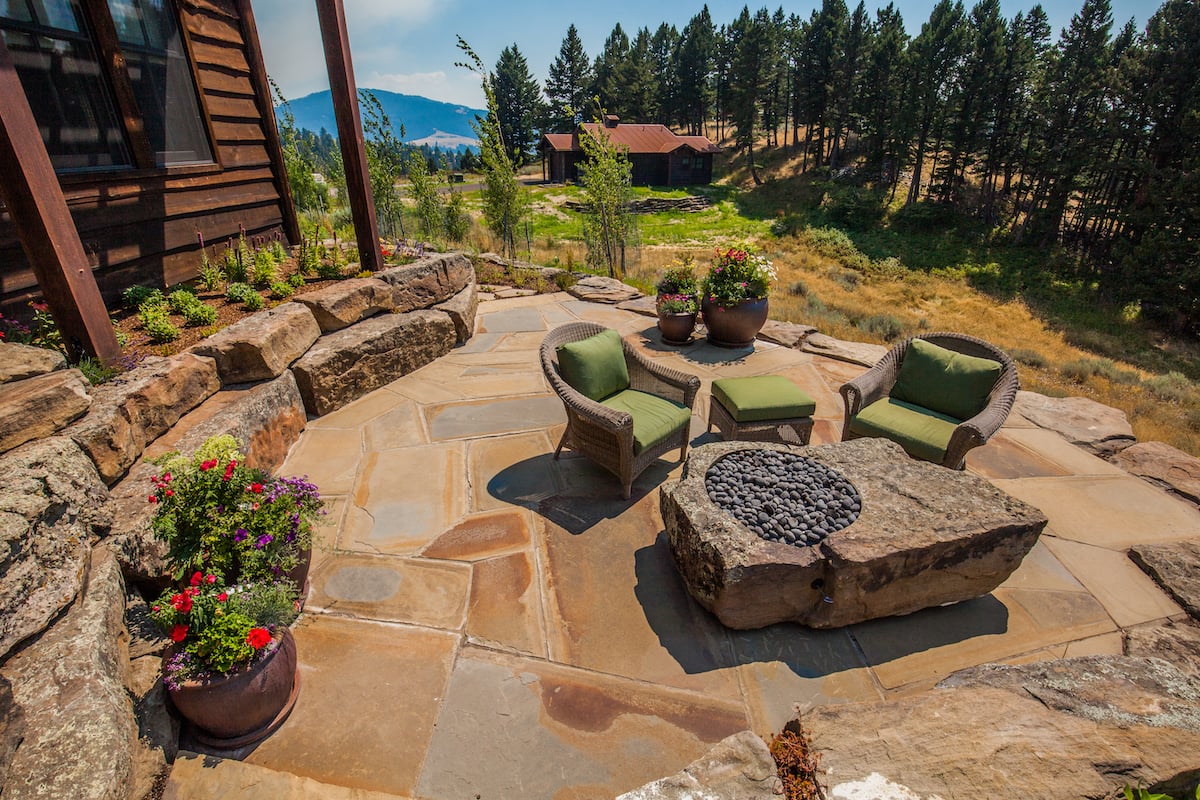 Oftentimes, it can help to browse magazines or look online for ideas. In fact, if we work with a client who likes to use an online "board" like Pinterest to pin ideas, that can be really helpful in beginning to separate out the design features that you like (and, just as important, what you don't like).
Choosing a Patio Designer and Builder in Bozeman and Big Sky MT
When it comes to building your new patio, patterns and shapes are just two decisions out of many. You'll also need to consider the patio size, layout, whether you'll have multiple "areas," and where on the property it will be best situated.

With so many important decisions to make, it helps to have the right professional on your side. That means choosing a landscape designer who takes the design process seriously. Your landscape designer should be able to help guide you toward the best choices so that you know you'll be happy when all is said and done.

At Blanchford Landscape Group, we are committed to offering our clients the best. This includes a comprehensive design process so that ALL details are considered, including patio patterns and shape. By making sure that every single detail is considered on the front-end, you can feel confident that your project will come together exactly as you wish. That means spending more time outside and truly enjoying it to the fullest.

In the end, your decision in choosing the best landscape designer will help put you on the right track to your dreams coming true.

Are you ready to get the process of designing your outdoor living area started at your Bozeman, Big Sky, MT, or surrounding area home? Let's connect and talk about your project. Then, we can meet and begin talking about your ideas! We can't wait for you to be able to enjoy your amazing space.