When it comes to making the most out of your time outside, you might be wondering what some of the top landscape projects are here in Bozeman and Big Sky, MT. As a leading landscape design/build firm in the region, we see many landscape projects come to life under our direction.

In this article, we'll share some of our top landscape requests. While every project is unique once it starts, you might be looking for some general ideas of what could help enhance your own property and add value.
Top Landscape Projects
Here are some of the projects that we most often get requests to design and build.
#1: Patios for the "Heart" of the Outdoor Living Space
You probably aren't surprised that patios are one of our top landscape requests. That's because the patio is generally considered the "heart" of a landscape design.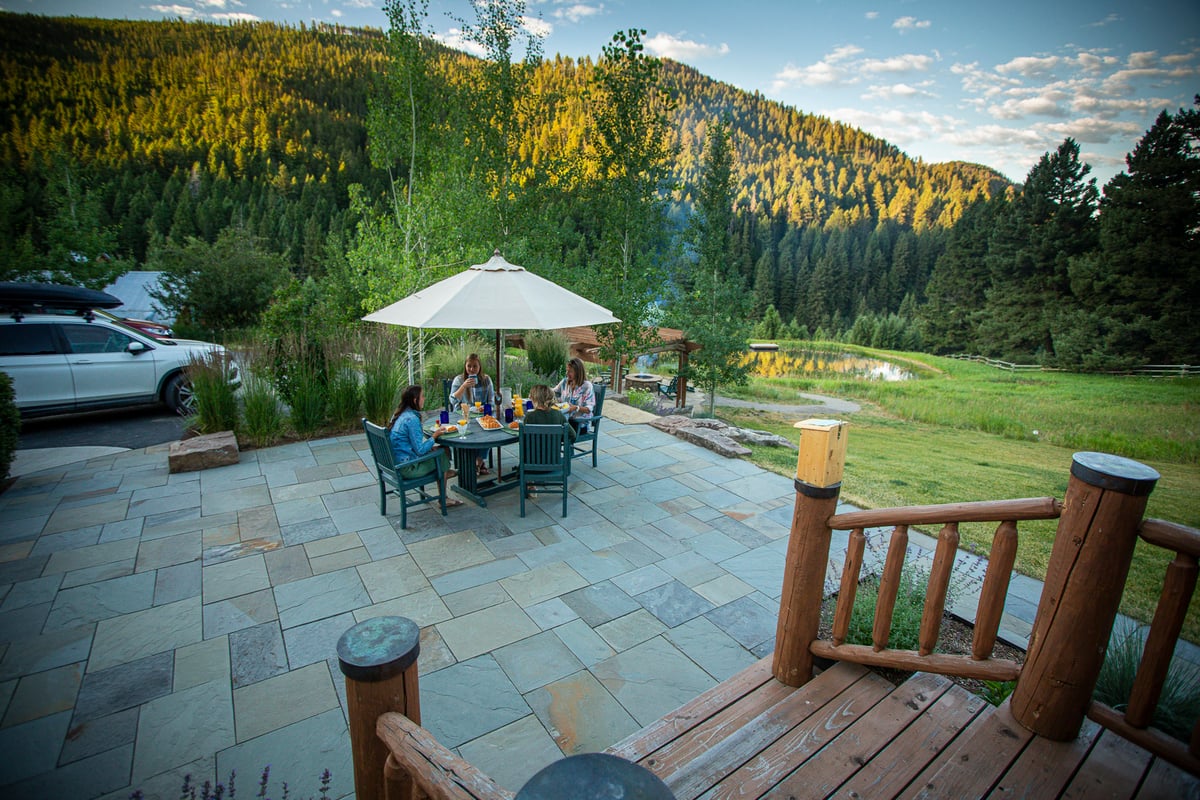 A patio adds tremendous functionality to a property. It becomes a place for you to sit down and enjoy a meal, have a glass of wine, or even enjoy other features of your backyard.

As you think about adding a patio, it makes sense to consider how you plan to use the space. Oftentimes, many Bozeman and Big Sky, MT homeowners have multiple "areas" of their patio which are used for different purposes. As you think about your outdoor room ideas, you and your landscape designer can determine how a patio will best meet those needs.
#2: Fire Features for Light, Warmth, and Ambiance
Another one of our top landscape requests is fire features like fire pits and outdoor fireplaces.

People are always naturally drawn to fire both for the light and the heat that the flames give off. It creates a sort of "ambiance" that really sets a mood for the space. This can make a fire feature a desirable addition to your outdoor living room design.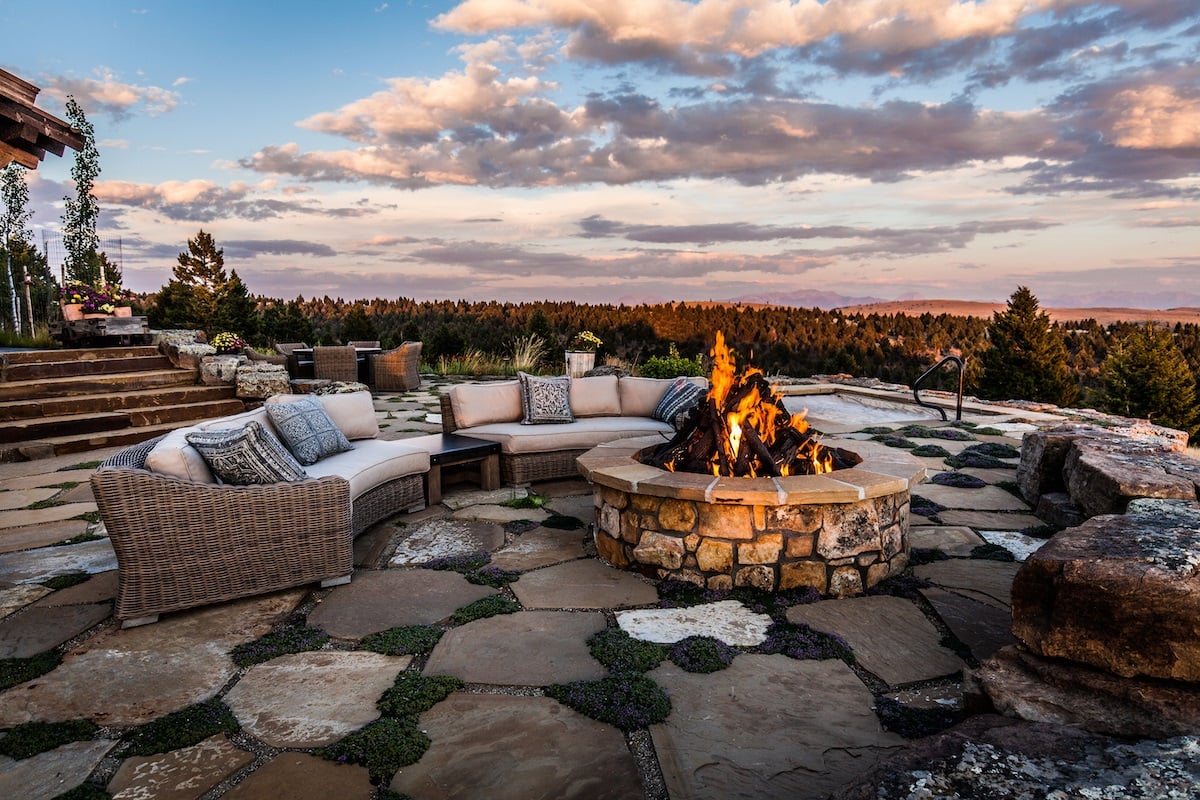 The key is to figure out which fire feature is best for your outdoor living space. There are fire pits, fire bowls, fire tables, and outdoor fireplaces, and each has its own pros and cons. In the article linked above, we walk you through the considerations that you should take as you choose the fire feature that is best for you.

We can also get incredibly unique when we are doing a fire feature design. It does not necessarily even have to be a fire pit or fire bowl but could be something completely original.

For example, we did a fire boulder for a client in which the boulder itself had both a fire feature and a coffee table area carved into it.

This was for a mountain-based property that needed something truly natural in order to "fit" the entire landscape design. The other fire features we had considered were all too modern-looking so we decided to create our own.
#3: Incorporate Outdoor Lighting for Enhanced Functionality and Aesthetic Appeal
Landscape lighting is another top landscape request. Lighting not only makes your property safer to navigate in the evening hours, but it also makes it much more usable.

That being said, here in Montana, we want to do everything that we can to avoid light pollution.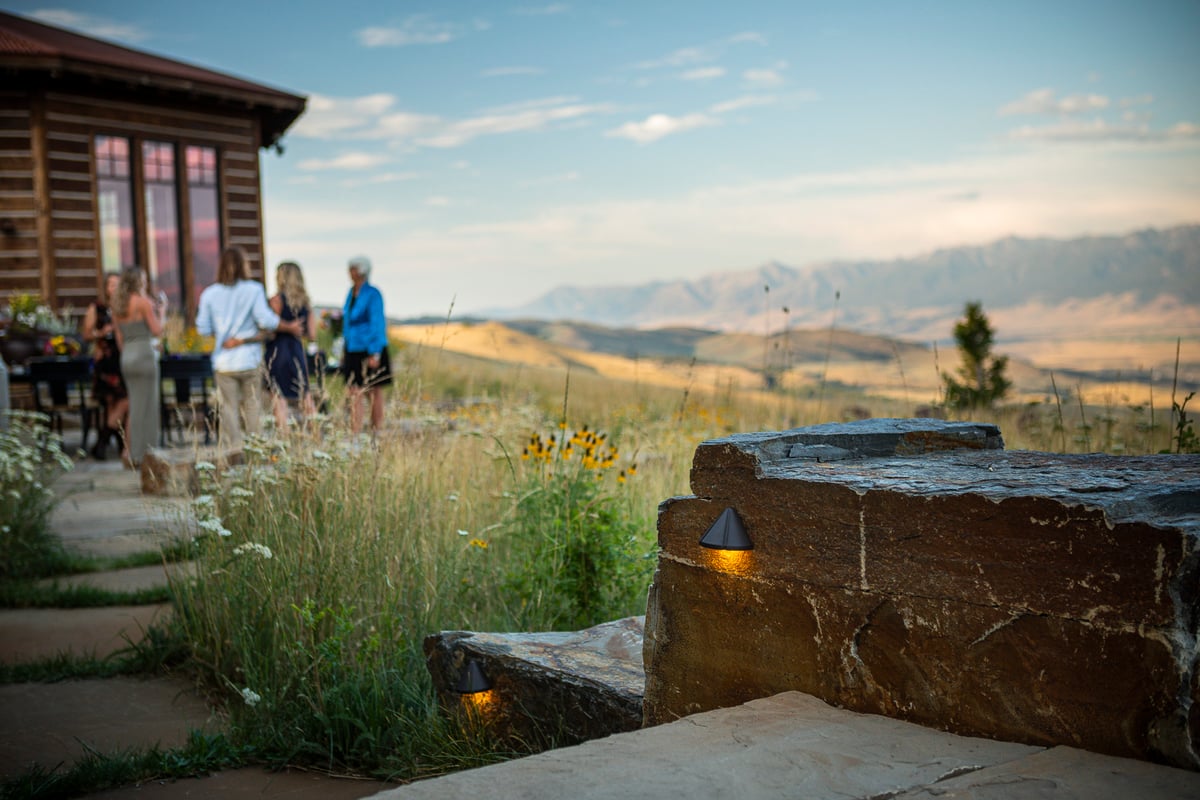 One of the many reasons that people love their homes and vacation homes here in Bozeman and Big Sky, MT is because of the gorgeous night sky. People love looking at the stars and we don't want to do anything to have a negative impact on that experience.

Because adding too much light can deter the enjoyment of your space, it's important that care is taken in the landscape lighting design. Lighting that is over-the-top with spotlights that shine too brightly or an excessive number of fixtures can stand out in a bad way. The goal should be using "just the right amount" of lighting to achieve a very specific goal.
#4: Add a Water Featuring for Soothing Tranquility
Water features are another top request by homeowners. The sound of running water is soothing and calming but it can also drown out unwanted background noises and help you feel as though you've been transported to your own personal oasis.

There are many different types of water features and choosing the right one for you will come down to what will work best with the aesthetics of your space as well as what your goals are for the feature.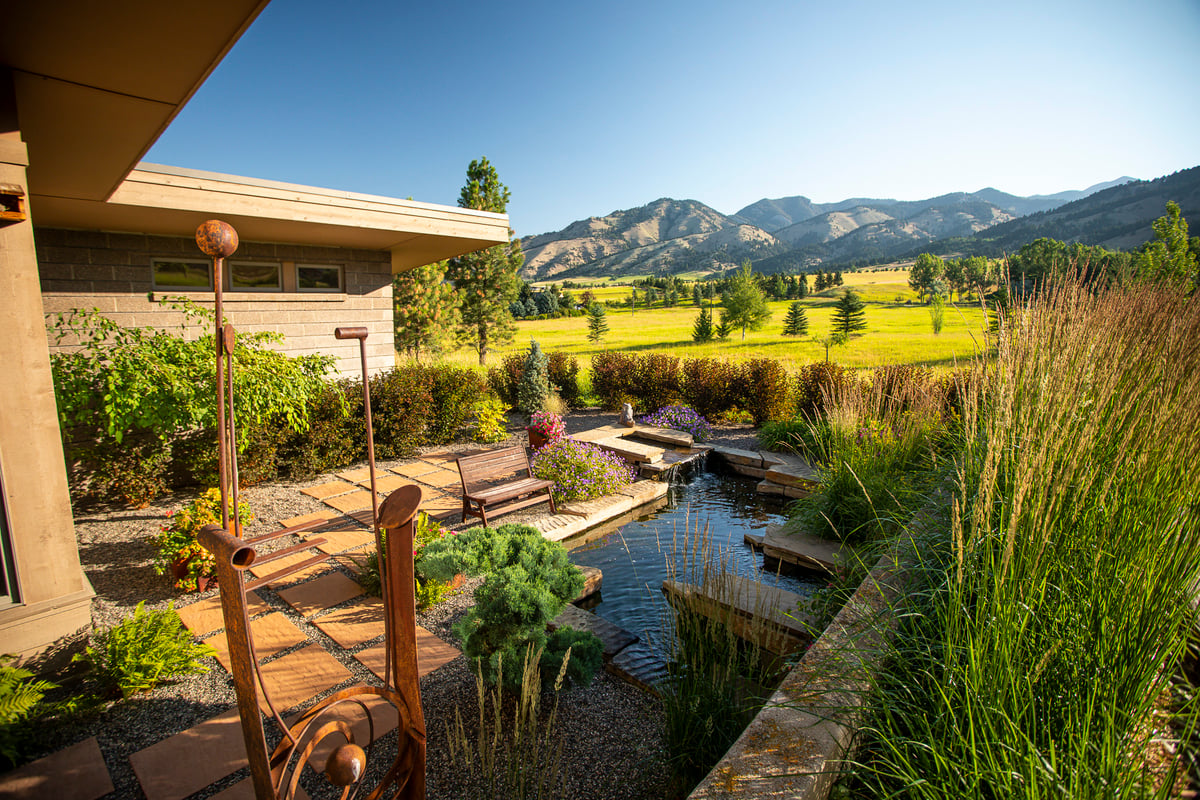 On a larger scale, you might be looking for a waterfall or possibly even a fish pond. However, a smaller addition like a fountain or a bubbling urn can also have a big impact.

When adding a water feature, you'll also want to consider the landscaping around it. You don't want your water feature to just be plunked somewhere in the yard. You want to make sure it is placed somewhere that makes sense both aesthetically and functionally.
#5: An Outdoor Kitchen to Cook Outside
Here in Big Sky and Bozeman, MT where it is gorgeous outside, people love to dine al fresco. There's really nothing quite like enjoying your meals outside while soaking in the beauty of your surroundings. But with an outdoor kitchen, you can prepare those meals outdoors, too.

That's why another favorite landscape project is the outdoor kitchen.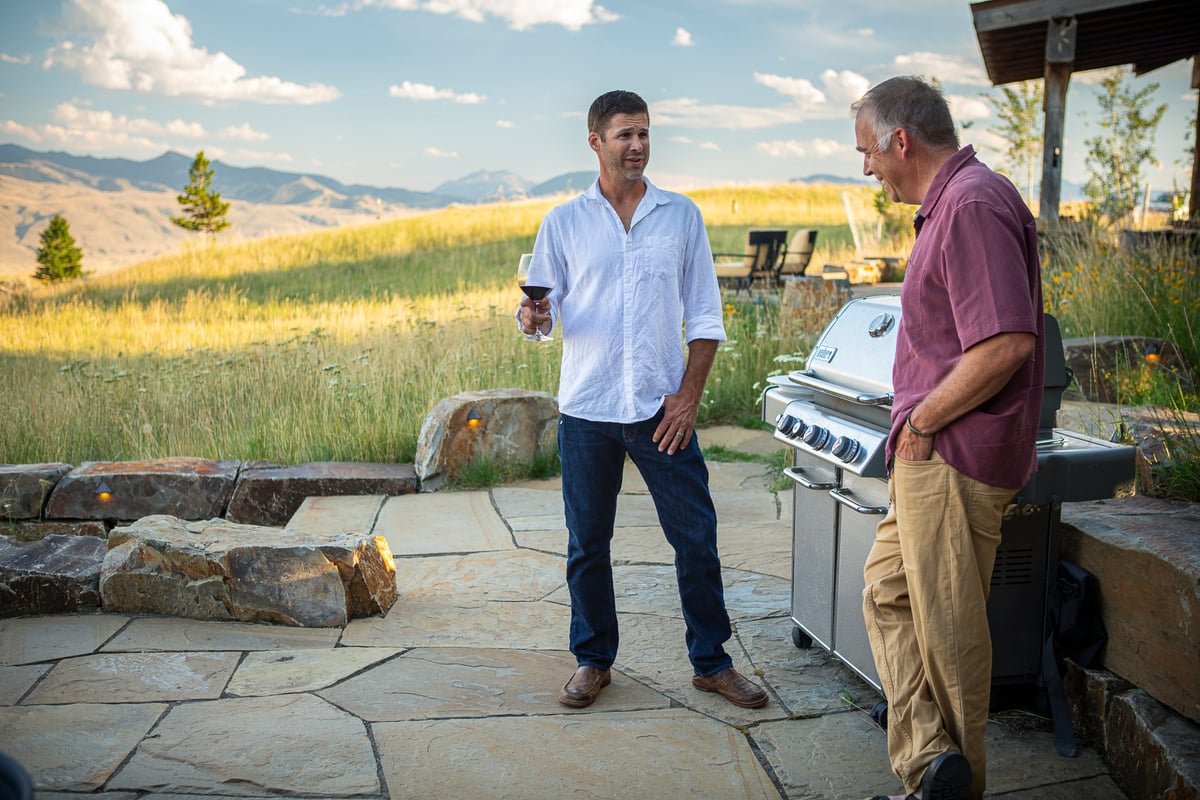 If you're thinking about adding a kitchen to your outdoor space, it's important to think about what kitchen features would prevent you from having to go back inside the house.

If you incorporate elements such as cabinets for storage, a built-in grill with granite countertops, a refrigerator so that there are always cold beverages, and other amenities, you can have everything that you need right in that space! This will mean spending even more enjoyable time outside.
Working with a Pro on Your Landscape Design
Sharing these top landscape requests is simply to get you daydreaming. As we said at the start, every project is unique. That means that even though a patio, fire feature, or kitchen might be a popular request, the way yours comes out in the end will be unlike any other.

With every landscape design, we start from scratch and build something that is truly your own.
At Blanchford Landscape Group, we achieve this by spending a lot of time talking to our clients about how they'll use the finished product and what features will help them get the most out of it.

We'll talk through all of our client's ideas and add some of our own, too. The best outdoor living room designs come from a mesh of client ideas and our landscape design expertise.

It boils down to the fact that we want you to have an outdoor living space that you love. That will mean it becomes a space where you spend more quality time outside.

Are you ready to get the process of designing your outdoor living area started at your Bozeman or Big Sky, MT home? Let's connect and talk about your project. Then we can meet and begin talking about your ideas! We can't wait for you to be able to enjoy your amazing space.