We know that one of the best things about adding outdoor living space to your Bozeman, MT home is the ability to entertain more outdoors. Enjoying outdoor meals, taking in the picturesque scenery, and just gathering with friends in nature can add a whole new level of enjoyment.
Of course, in order to maximize that time outside, you'll need a great backyard design for entertaining. It will be important to think about how you plan to use that space with guests so that you truly get the most out of it.
How to Design Your Backyard in Bozeman, MT
Great landscape design always starts with the "WHY."

In other words, why did you decide to add an outdoor living area in the first place?

It's important to think about how you plan to use the space so that you incorporate the right design elements.




As you get this process underway, there will be a lot to discuss with your landscape designer. You'll want to make sure that every detail is covered so that you aren't looking back disappointed later, wishing there were elements you had incorporated but did not. The more you can think ahead, the better.

Fortunately, even if you don't have a ton of ideas or plans, your landscape designer should be able to make suggestions. Sometimes, the best design comes from merging a client's ideas with a designer's expertise.

To get you dreaming about some ideas, we'll talk about some design features for backyard entertaining that you might want to consider adding to your design.
Design Features for Backyard Entertaining
Here are a bunch of ideas for your backyard design for entertaining.
1. A Patio is at the Heart of a Backyard Entertaining Area
As you get started with your outdoor living room design, a patio is likely to be at the heart of it all. A patio can be used for dining, drinks, lounging, and more.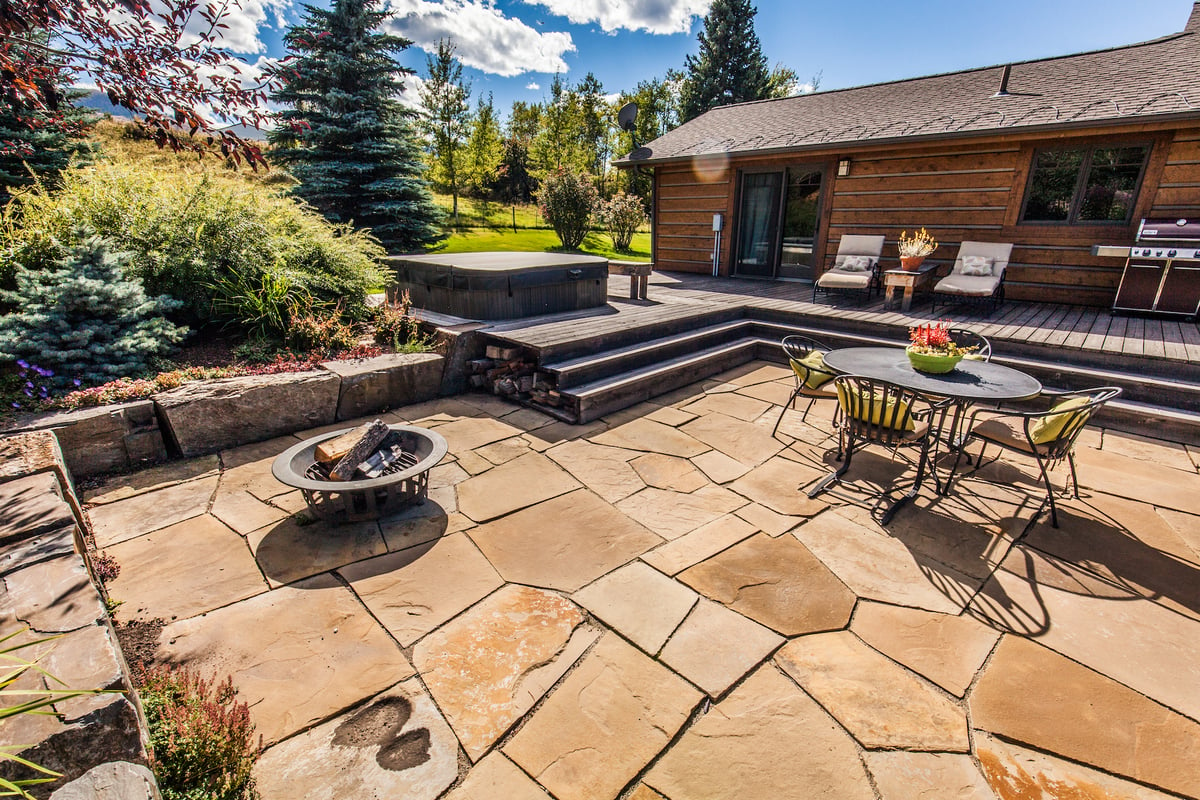 There is a lot to consider as you think about adding a patio, but it all starts with how you plan to use the space. Oftentimes, many Bozeman and Big Sky, MT homeowners have multiple "areas" of their patio which are used for different purposes. As you think about your outdoor room ideas, you and your landscape designer can determine how a patio will best meet those needs.

There are some really important considerations to think about before adding a patio. These include:
How many people will you likely entertain at a time?
What type of patio furniture do you plan to use in the space?
Do you want a fire pit or fireplace included as part of the main patio or as a bump-out?
2. Shade is an Important Consideration for Entertaining
Another consideration is whether you want to add a structure or cover to your outdoor space for shade. Something more substantial like a covered pergola or a pavilion can also allow you to use your space even if it's raining or snowing.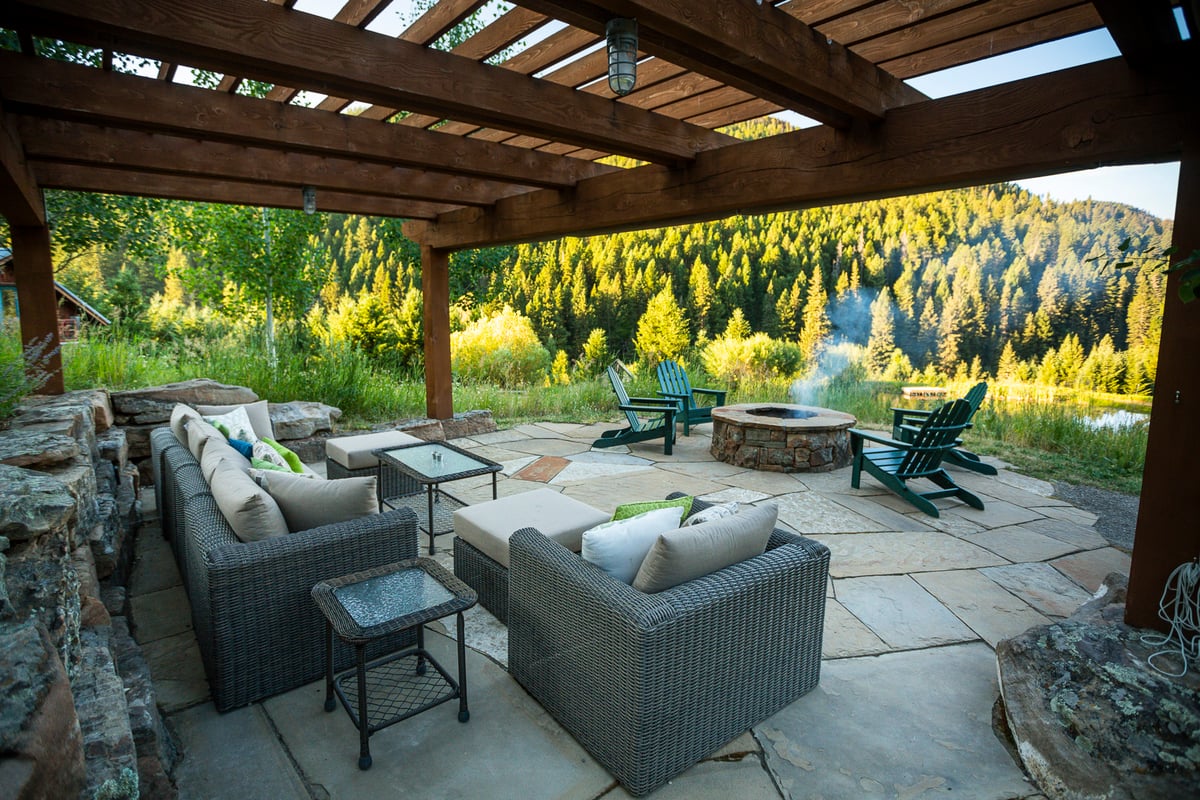 If you're really thinking about how you can maximize entertaining time outside, adding a cover could be an important feature. If you're sitting outside and baking in the sun, it might not be that enjoyable.
3. Fire and Water Features Add a Special Touch
When thinking about a backyard design for entertaining, fire and water features can really enhance your space and encourage you to spend more time there.+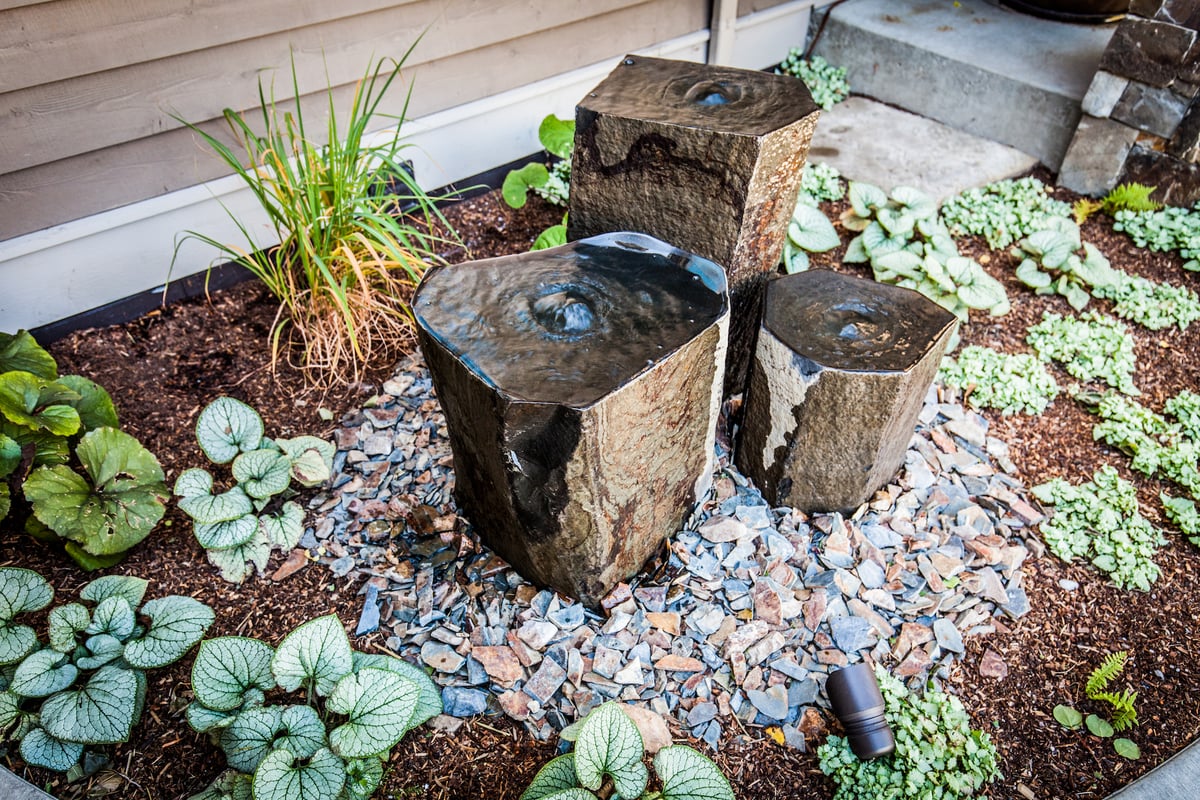 The sound of water is both tranquil and relaxing, and it can add a sense of ambiance to the space. It also has some noise canceling abilities. The sound of splashing water can drown out other sounds and really make you feel like you're in your own oasis.

Fire features have similar benefits. People are always naturally drawn to fire both for the light and the heat that the flames give off. This can make a fire feature a desirable addition to your outdoor living room design.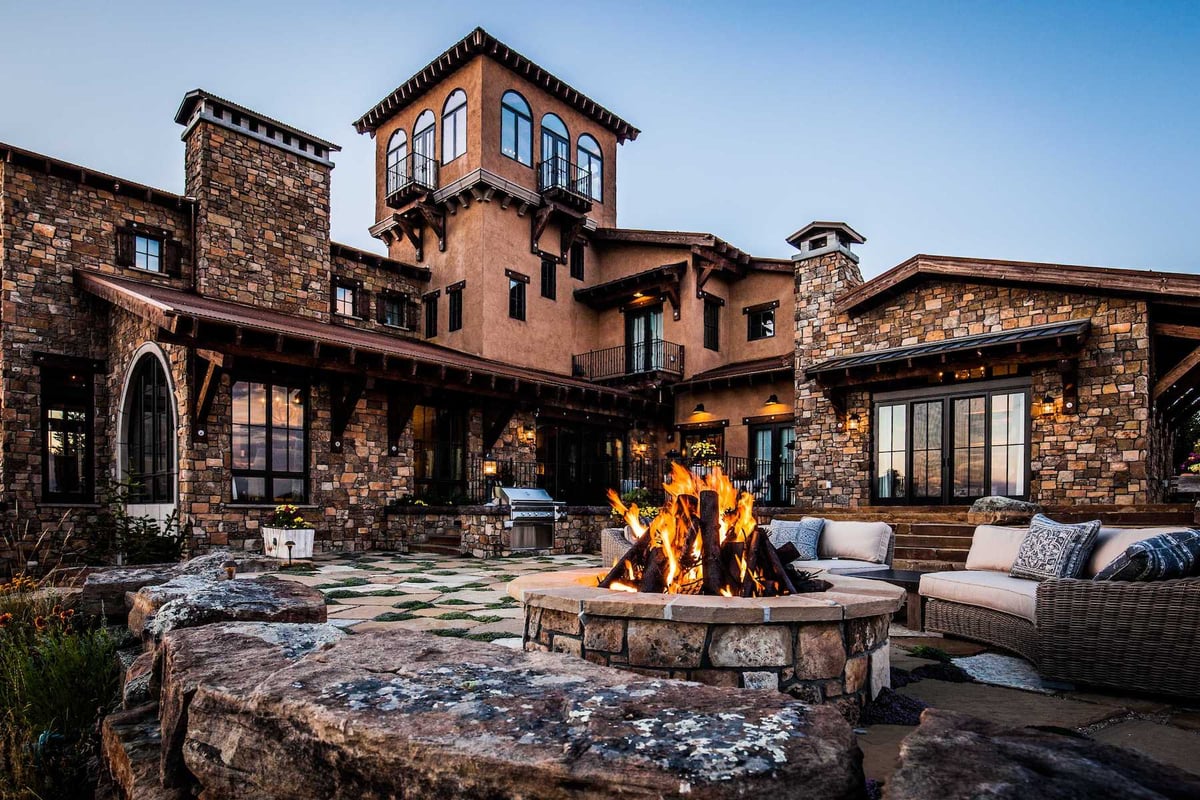 Imagine gathering around the fire pit or fireplace with your guests to enjoy s'mores or to stay cozy on a chilly night. It's one of those features that help inspire people to spend a long time outside.
4. Add a Hot Tub
A hot tub can be another great addition to the ultimate outdoor entertainment area.

You want to think about whether you want a hot tub that is in-ground or one that is on the surface. There are pros and cons to each. An in-ground hot tub is more permanent and many would argue more attractive. But it can be more expensive.

An above-ground hot tub can be moved but some would say it's not as attractive. Still, it's a lot less expensive.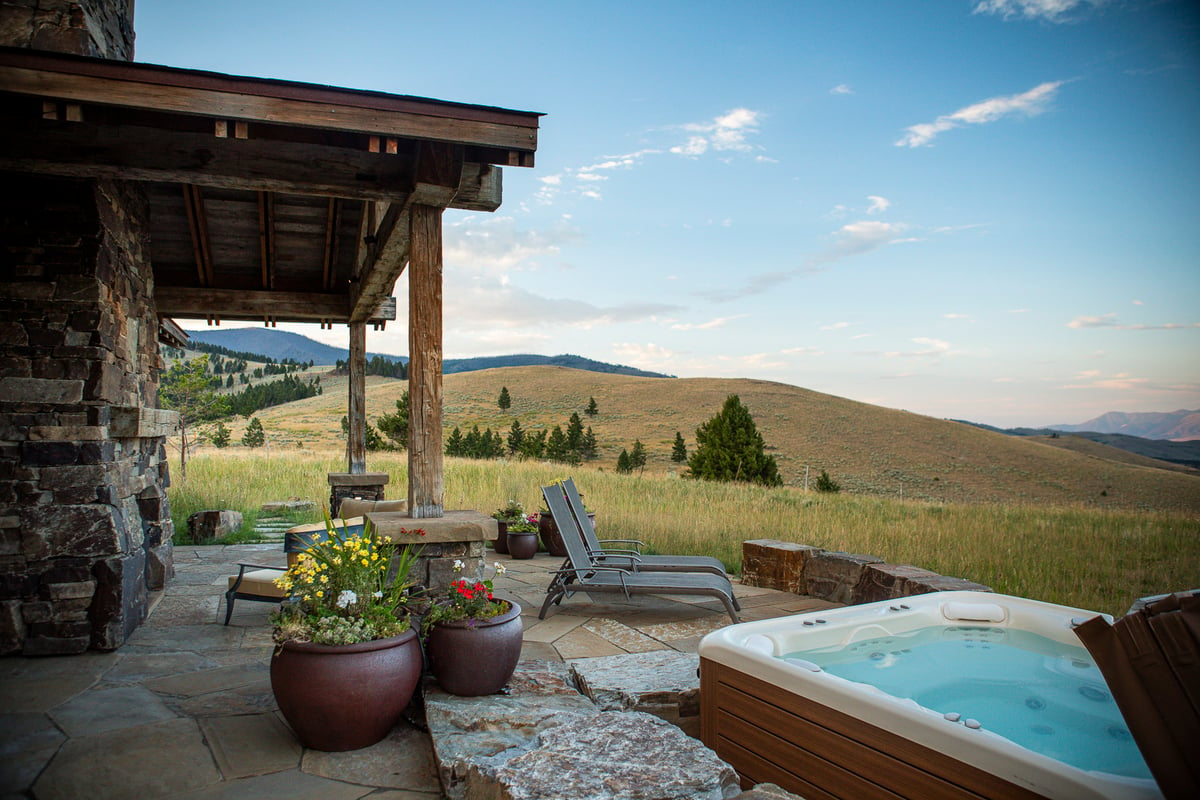 Some Bozeman, MT homeowners like the idea of adding a covered structure over the top of their hot tub.

If you're in an area of heavy snow, covering your hot tub space will help to minimize regular show shoveling. It may become a pain to have to repeatedly shovel out the hot tub patio area just to be able to access and use it. Adding some cover can also protect you from the sun on spring and summer days and may allow you to use your hot tub during a rain shower.
5. Incorporate an Outdoor Kitchen With Amenities
Cooking outside is often part of the entertaining experience. With an outdoor kitchen, you can prepare the meals you'll serve your guests while enjoying their company (and the outdoors) at the same time.

If you're thinking about adding a kitchen to your outdoor space, it's important to think about what kitchen features would prevent you from having to go back inside the house.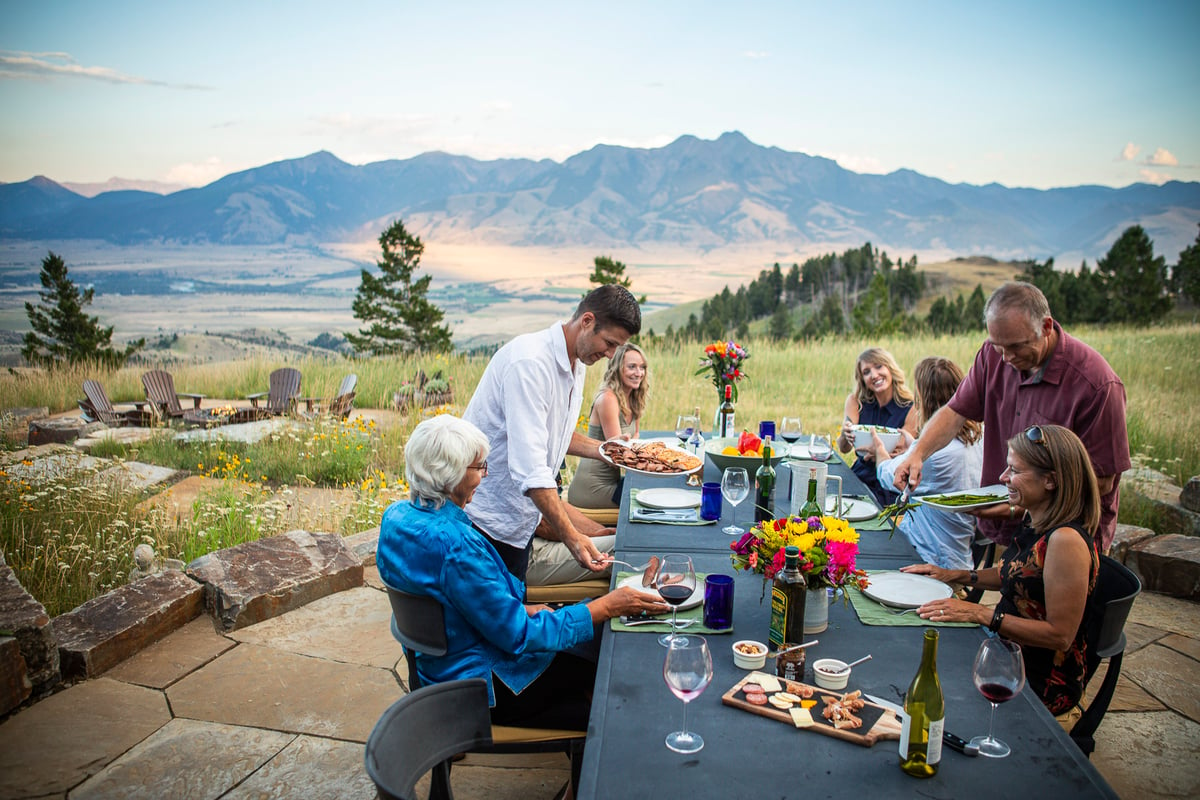 If you incorporate elements such as cabinets for storage, a built-in grill with granite countertops, and a refrigerator so that there are always cold beverages and other amenities, you can have everything that you need right in that space!

This will help to keep you outside enjoying time with your guests rather than constantly running in and out of the house for necessary supplies.

Even the cooking features themselves are ultimately part of a backyard design for entertaining. Do you want a built-in grill? Or, perhaps you are someone who likes to smoke meats and need an area for your smoker.

Some people even like to have a power burner for large pots of boiling water to make corn or maybe boil clams.

Think ahead about how you will cook so that you incorporate the right space and design elements.
Getting Started with Your Backyard Design for Entertaining
As you think about some of these design features for backyard entertaining, you might be feeling excited…and maybe a little bit overwhelmed, too. We get it! It's a big decision. Fortunately, you aren't on your own.

Considering the fact that a landscape design company has built so many outdoor living spaces over the years, there's no question they may have ideas you might not have thought of, and they're here to help.

In the end, your outdoor living space should be a blending of your ideas (including your wants and needs) and the expertise of a professional designer. That might mean taking some of your ideas and also suggesting ways to improve upon them. It could also mean suggesting something you didn't even consider. It's a whole process and it should involve working closely together.

This undertaking is a big endeavor (and should be treated as such).

At Blanchford Landscape Group, our design process is comprehensive because we recognize just how important these outdoor living spaces are that we are creating. There are no "cookie-cutter" spaces in our portfolio because with each and every project we are starting from scratch.

In the end, when your outdoor living area includes all of the right design features for backyard entertaining, you'll find yourself enjoying it to the fullest.

Are you ready to get the process of designing your outdoor entertaining area started at your Bozeman or Big Sky, MT home? Let's connect and talk about your project. Then, we can meet and begin talking about your ideas! We can't wait for you to be able to enjoy your beautiful new space.