A natural stone patio can be a wonderful addition to your outdoor living space. It adds functionality in a way that blends naturally with the existing landscape. But you might be wondering what's involved in keeping it looking and performing its best. More specifically, you might want to know how to clean a natural stone patio.

Whether you already have a natural stone patio or you're thinking of adding one, you want to be sure that you're doing everything to protect your investment. That's why we're talking about natural stone patio care. We want to help you make the best choices for your Bozeman or Big Sky, MT property.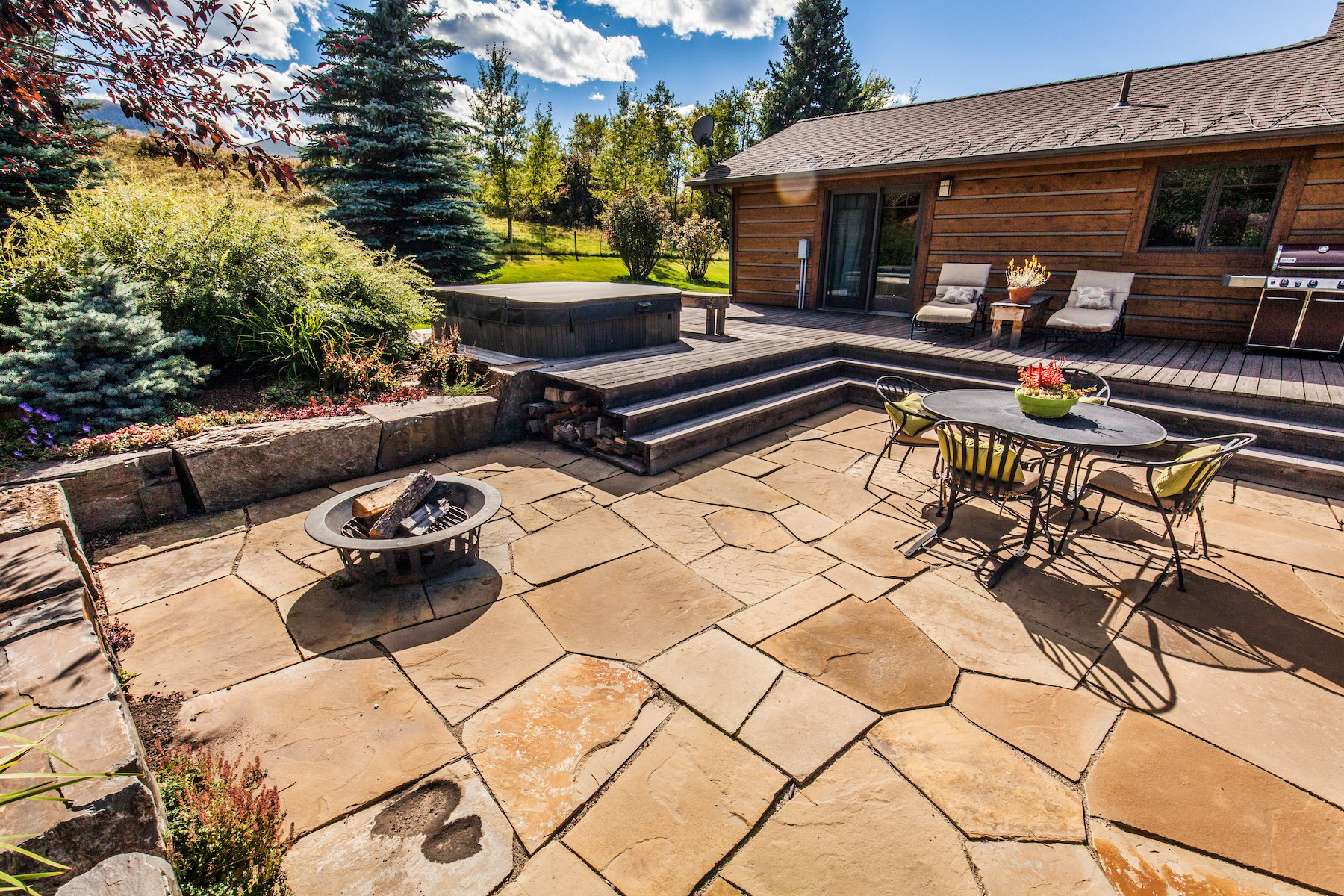 Cleaning a Natural Stone Patio
One of the nice benefits of using natural stone is that it can hold up to wear and tear, making it very low maintenance. But over time, a patio can get dirty or stained and you might be wondering about cleaning.

As with other hardscaping materials, cleaning can be performed with a power washer. Our best advice for utilizing a power washer is that you stand an appropriate distance away from the surface so that you aren't blasting the stone with too much force all at once. On average, we'd recommend standing around 3 feet away (though 3 to 5 feet is a good range to work with).

Another piece of advice is to avoid focusing the water on the joints. You're just trying to clean off the dirt or build-up on the stone.

One of the nice things about natural stone and the naturalistic setting here in Montana is that a little dirt or dust fits right in. But we realize that you don't want too much dirt building up and a good cleaning can help make the patio feel fresh and new again.

Another thing to know about sandstone is that it can flake a bit. Power washing can take any flaky loose pieces off.
Additional Natural Stone Patio Maintenance
In addition to natural stone patio cleaning, there are a couple of other maintenance tasks to consider in order to keep your patio in its best shape.
Re-Sanding the Joints
For one, you might also want to re-sand the joints as part of general natural stone patio maintenance. This can be performed every few years to freshen up the look. Over time, the sand does settle or wash away.

In terms of re-sanding the joints, we tend to steer homeowners away from using a polymeric sand and instead suggest a masonry sand. It's still fine-textured but won't stick to the pavers.

In general, people tend to have different feelings about any growth that might occur in between the paver joints.

The natural look of most Montana landscapes lends itself to large joints and some natural grasses or even wildflowers sprouting up amongst them. Some homeowners love this and feel the grasses or flowers contribute to the overall naturalistic look and feel.

But other homeowners are very particular about not wanting those grasses growing so we can talk about control solutions if that's the case.
Sealing the Natural Stone Pavers
Another task, in addition to re-sanding joints, is sealing. Our take on sealing natural stone pavers is that it's not necessarily imperative. You can just let the stone be what it is.

However, we might recommend it in high-use areas or areas that would be prone to staining, such as around a grill. If you spill something like red wine on the stone paver, it could stain (and that's not exactly something that looks "natural").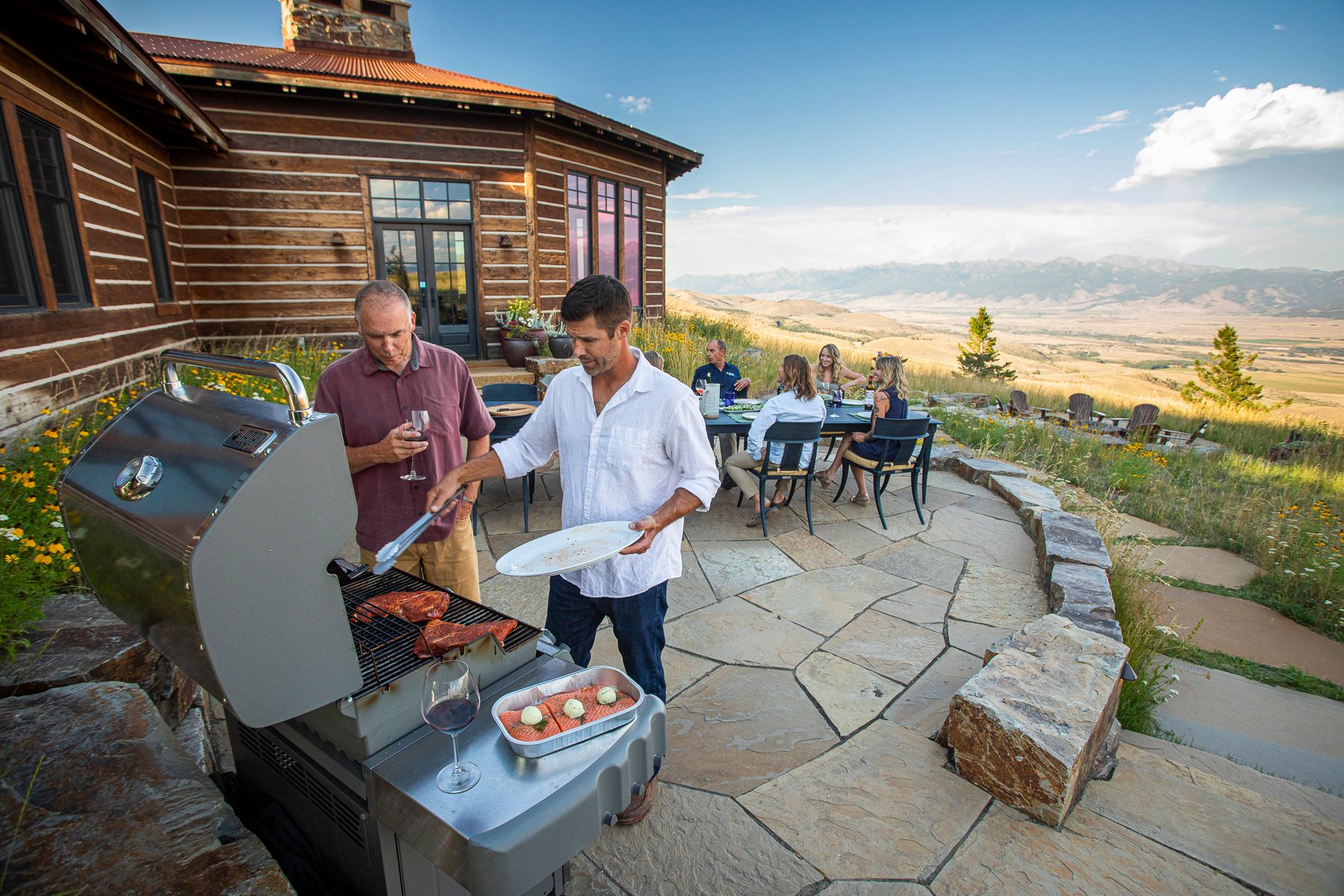 Sealing is a natural stone patio maintenance task that can be performed every few years. The exact timeline will depend on factors such as how much sunlight your patio receives and what the weather conditions have been like.

If you're going to be performing natural stone patio cleaning, it makes sense to do that prior to sealing. Keep in mind that pavers should be dry before they are sealed in order to achieve the best results.
Avoid Applying Salt
A final natural stone patio maintenance task that needs to be mentioned is de-icing in the winter. We always advise that homeowners should never use salt on their pavers. Even though salt is commonly used to melt ice, it can cause your paver stone to disintegrate. This will open the door to necessary paver patio repair work.

Salt also happens to be incredibly harmful to plants that are likely to be found around your patio or walkway areas.

Instead of salt, we recommend using sand. It gives the traction that you want to be able to more safely walk on the hardscaping in the winter. While it doesn't have the same melting power of salt, it does have some heat retention and will help with at l;east some melting.
Hiring a Professional for Natural Stone Patio Care
While you might be looking for information on natural stone patio maintenance because you'd like to perform these tasks on your own, we have lots of clients who would rather leave it up to a pro. When it comes to power washing, sealing, and re-sanding joints, there are mistakes that can be made which will impact the overall results.

On top of that, it's another set of tasks that you have to find the time to complete—and that may be time you simply don't have.

If that's the case, you may just prefer to leave these services up to a professional.

This eliminates the hassle involved while also providing peace of mind that it will be done correctly. Instead of having to waste any time worrying about how to do it, all you have to do is enjoy the results. Many homeowners say they feel as though their patio looks new again after a fresh cleaning and sealing. Plus, they just feel good that their patio is continuing to be cared for.

At Blanchford Landscape Group, we can make these services part of a landscape maintenance plan and perform them as needed.

Ongoing care for your Bozeman or Big Sky, MT property is important to us as we not only design and install beautiful landscaping, but love to help homeowners maintain it, too. We want you to have the peace of mind that you'll continue to get many years of enjoyment out of your natural stone patio. With proper natural stone patio care being performed when it's needed, you can gain that confidence.

Do you have more questions about a natural stone patio at your Bozeman or Big Sky, MT home? Let's connect and talk about your project. Then, we can meet and begin talking about your ideas. We can't wait for you to enjoy your beautiful outdoor space!