At Blanchford Landscape Group, we believe strongly in the marriage of three vital areas: Architecture, nature, and client needs. We feel that when these three elements are working in harmony, then you can achieve the ultimate design.
Of course, people are sometimes surprised to learn that we believe each of these items should be weighted equally. Most likely, the inclination is that client wants and needs should be of the utmost importance. But we know that when the home's architecture or the surrounding natural habitat are not taken into account in the design, that the client ultimately isn't happy in the end, even if they don't realize that will be the case upfront.
This is why we truly do aim to balance those three elements equally.
While you should know that we're considering all three of those factors, in this article we want to talk specifically about matching your home's landscape to its architecture. As one of our three primary design philosophy tenets, this is something that we believe is vitally important. However, it's something that you'd be surprised how many landscapers overlook. Whether you realize it at the onset or not, you want the landscaping to match your architecture in a complementary fashion. Unfortunately, many landscapers won't put the forethought or planning into ensuring this happens.
Matching your Landscape to Your House
When we talk about matching your home's landscape to its architecture, what exactly do we mean?
What we're talking about here is the fact that your landscape should ultimately be an extension of your home both in looks and in the overall experience.
We often talk about how outdoor living spaces should be a way to extend your use of your home to the outdoors. But in doing so, these two elements really do need to blend to both look and function their best.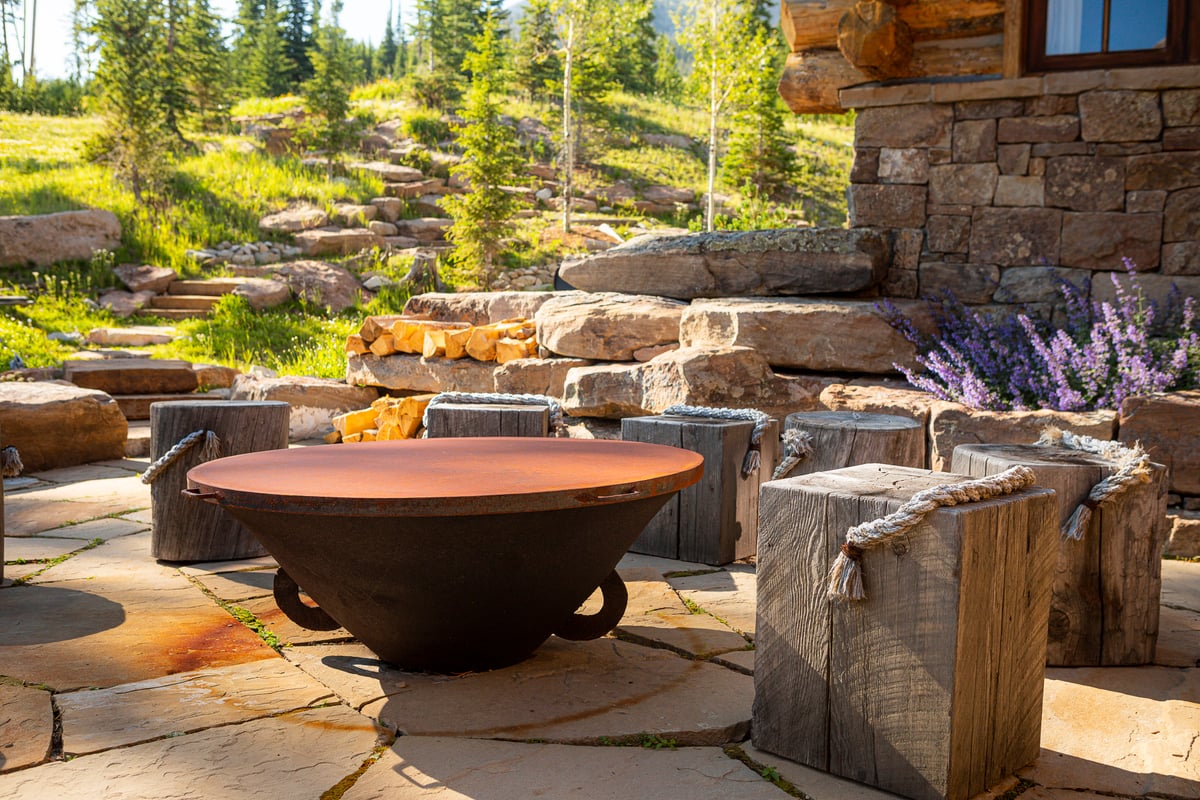 That means that your choices in everything from plant material to hardscape additions should ultimately enhance what's already there. For instance, if your home has a certain architectural style, we want to make efforts to work with that and ensure that the landscape complements it.
That could mean everything from matching the clean lines of modern architecture to incorporating more free-flowing and natural elements into a traditional design. The latter (a more natural setting) might solicit more meandering lines and organic curves as opposed to the straight lines and geometrical cleanliness of a modernly designed home.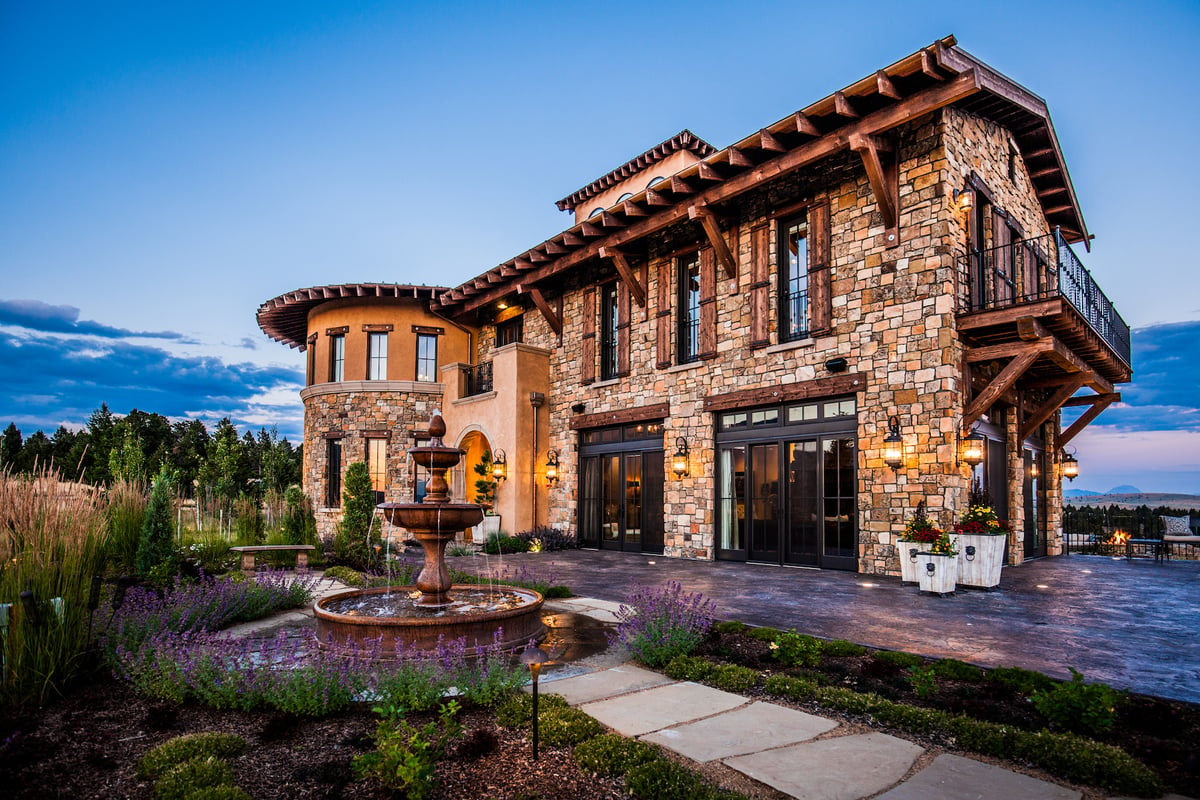 These factors are often so much more important than people realize. They don't recognize just how much a landscape design can detract from a home (rather than add to it) if there hasn't been much forethought or planning.
Matching your Landscape to Your House with Material Choices
When making these decisions, we'll also be looking at the materials on the home.
Oftentimes, the homes in Bozeman and Big Sky, MT incorporate a lot of stone. Natural stone is something that we absolutely love to tie into our landscape designs. Natural stone patios tend to be the superior choice and work really well when designing hardscape spaces that complement the home itself.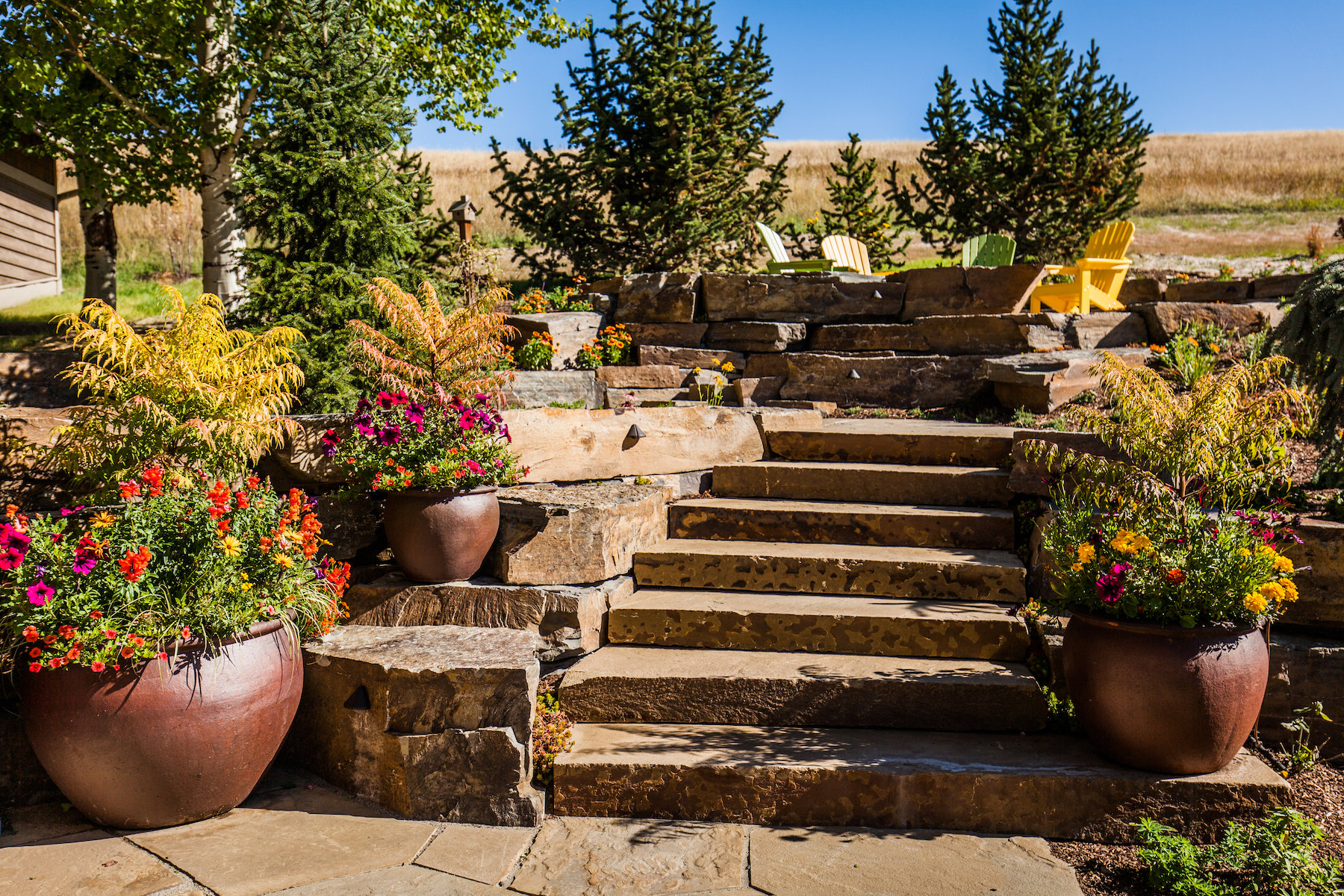 We love the opportunity to use boulders and large rocks in our landscape designs and many times this ties the look of the landscape back to the look of the home. In other words, we are landscaping to match the architecture.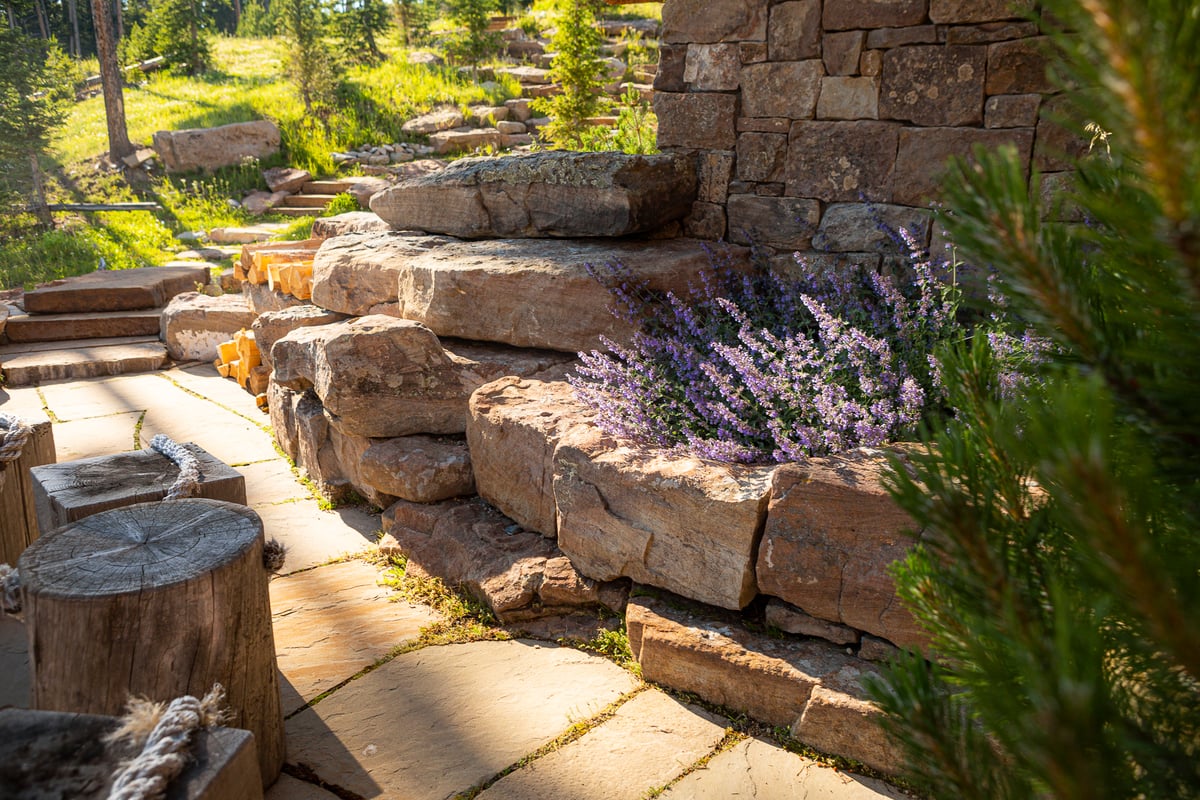 Of course, not all architectural designs use stone and there are times in which pavers make a better choice for this very reason.
A paver patio with a very uniform pattern might actually work better at a modern, clean-line home in a more urban area. But there's no question that material choice needs to be weighed when matching your landscape to your house. You certainly don't need to make an identical match by any means.
But you should have something that is complementary to what's already there.
Thinking about Color when Matching your Home's Landscape to its Architecture
Another element that we think about when landscaping to match the architecture, is color. Again, this is an area in which carefully thought-out choices are key. You don't necessarily need to identically match your hardscaping to your home. Depending on the design, that might not even be the right look.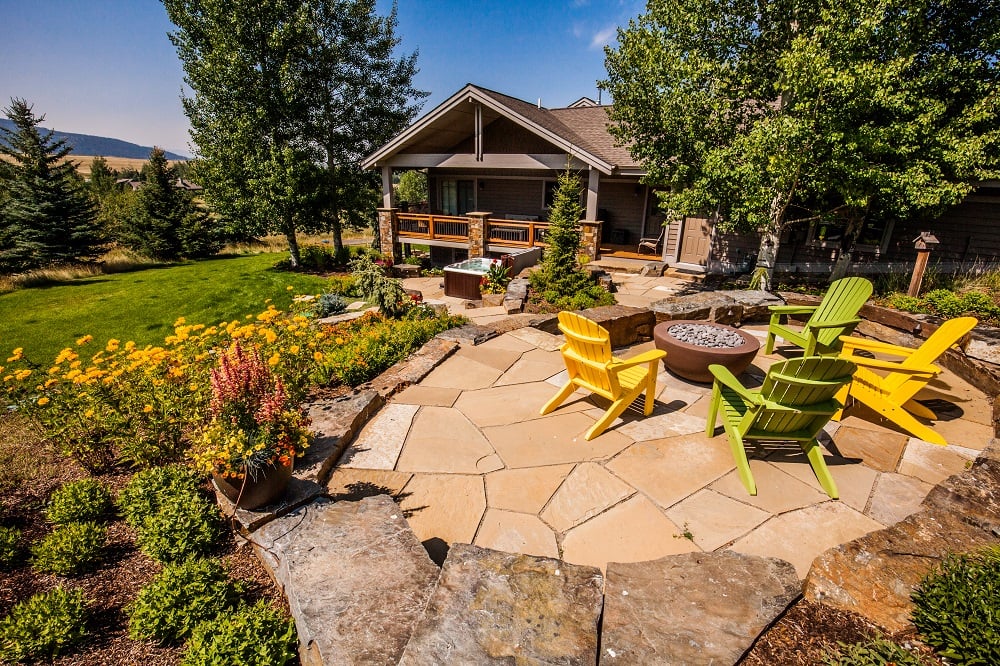 But you do want something that is complementing as opposed to clashing. Certain color choices can clash and be jolting rather than aesthetically appealing.
In some cases, we will use the same stone that has been used in areas of the home within the landscape design. Certain fieldstone boulders might look gorgeous in tying in the look of the fieldstone on the house itself.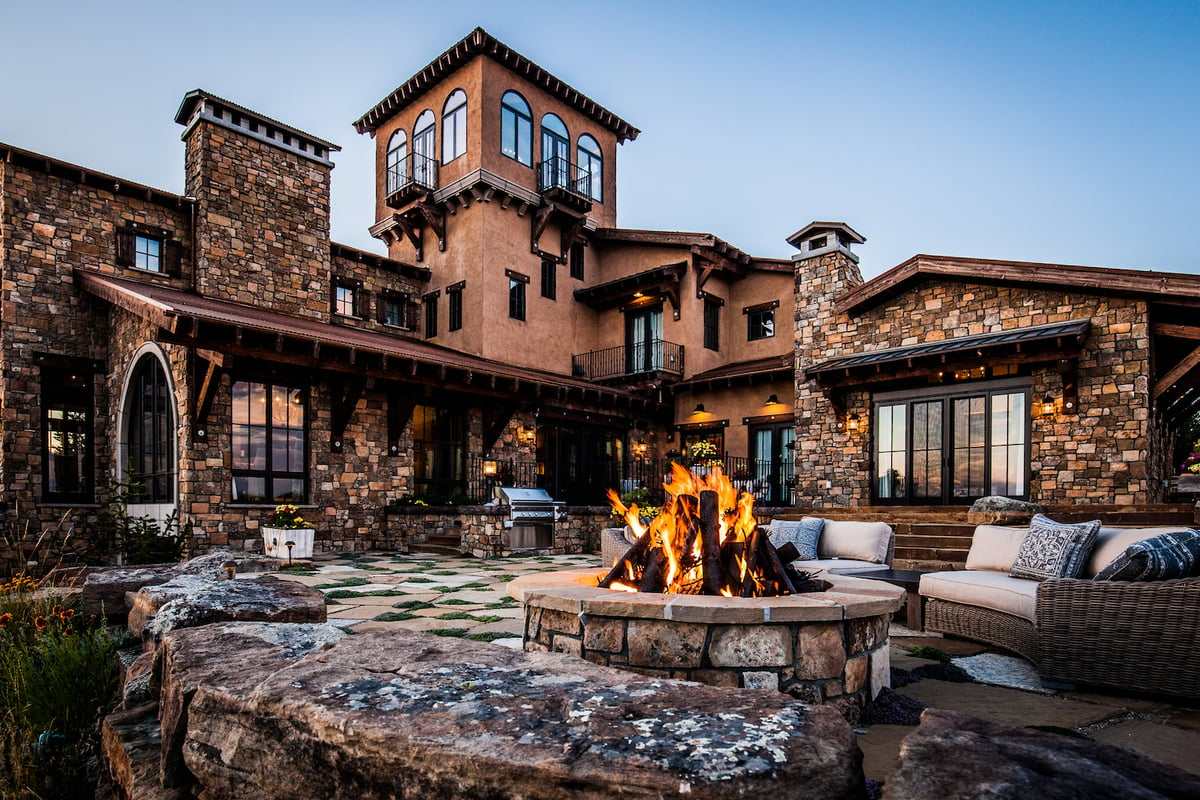 There are many elements of the landscape design that ultimately must tie in with the home's architecture. Retaining walls, fire pits, walkways, and of course patios, should all work with the design (including color) of what is already there.
Choosing a Landscaper Who Will Go the Extra Mile when Matching your Home's Landscape to its Architecture
As we said at the beginning of this article, you might assume that all landscape designers would make the effort to match your home's landscape to its architecture, but that's simply not the case. In fact, many landscapers do not spend time thinking about this.
For one, many landscapers are accustomed to designing and building a landscape a certain way. These are the same landscape contractors that tend to produce cookie-cutter designs. They aren't really altering their process or results to each client. Instead of taking the time to customize, they're just creating designs that they're comfortable with producing (and never thinking outside of the box).
But this is a huge detriment to your finished product.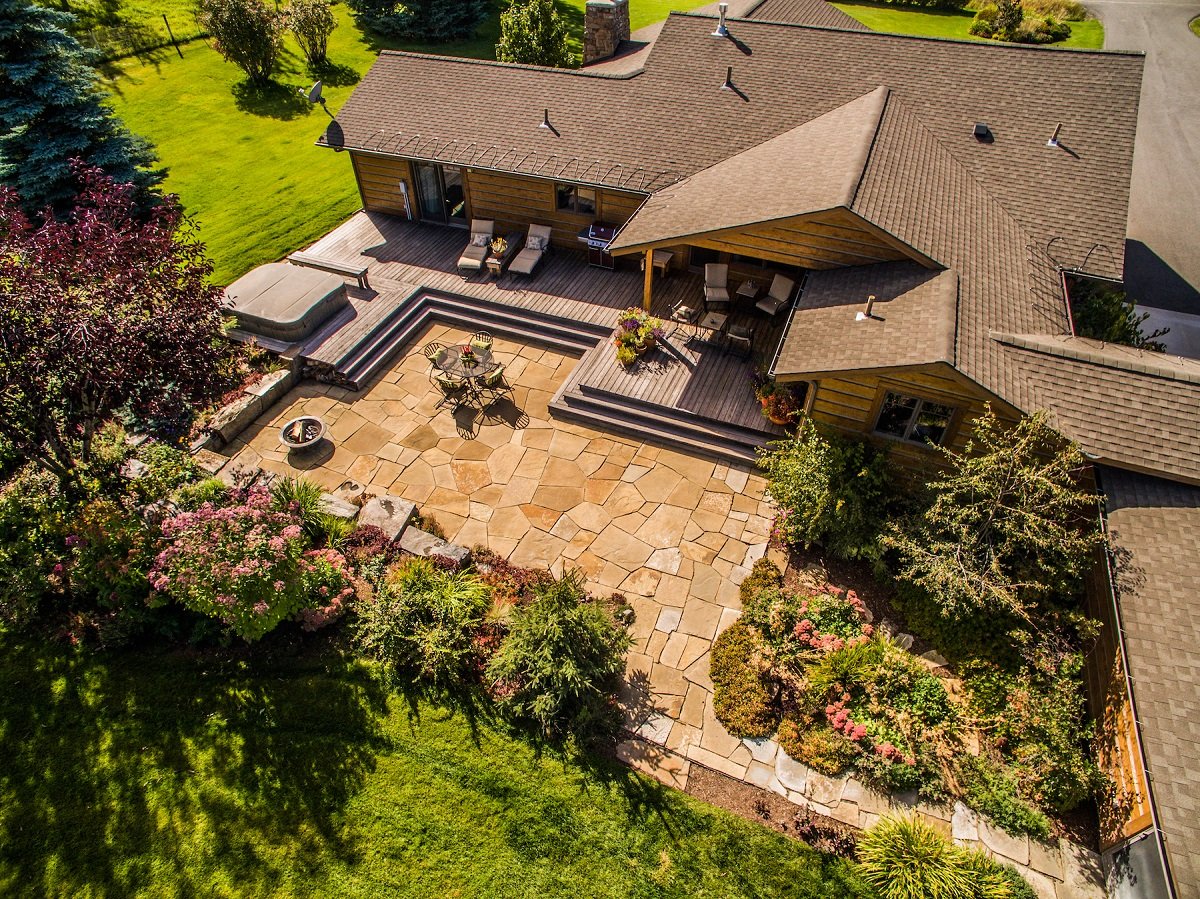 It's so important that you choose to work with a landscaper who will look beyond the cookie-cutter projects they're used to building and be able to complete landscaping to match your architecture (while also meeting your needs and blending with the existing natural habitat). It's certainly a tall order but it's a necessity when it comes to getting everything you've been dreaming of.
Working with Blanchford Landscape Group for a Finished Project that has it All
At Blanchford Landscape Group, we've been clear that we are always thinking about the ways in which your landscape design can be a true extension of the home both in functionality, but also in looks. In regard to the latter, as you can imagine, an outdoor living space looks and even functions better when it seamlessly blends with the home itself.
It should not look like it was just added on without any care for the home's architecture.
Because of our dedication to architecture, we've also partnered with architects over the years and been involved with the landscape design process as early as when the home was being built. This is really the optimal situation as it allows both of us (the architect and the landscaper) to work together to create an amazing home and landscape.
At this early stage, we're able to be involved in the process of choosing materials and color schemes that work for the entire home (inside and out).
However, we're obviously often brought into the process after a home has already been designed and built and we can certainly work within that situation, too. While the home's architectural design elements have already been chosen, we can still find creative and custom ways to achieve landscaping to match the architecture.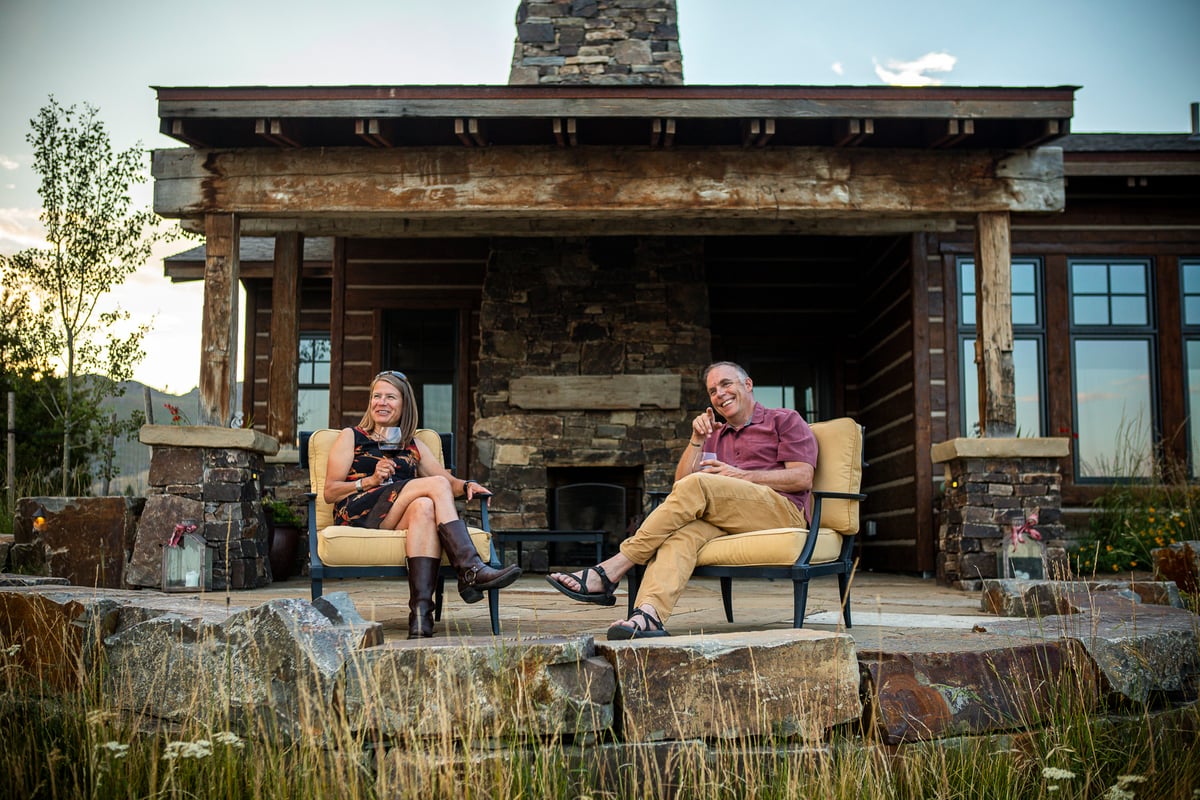 At the end of the day, it's about finding ways to seamlessly blend the indoors and the outdoors in true harmony. We have a five-phase landscape design process that is incredibly in-depth to ensure this happens. And beyond the comprehensive design phase, we also see these projects through to completion as a design/build company, too.
Plus, we can even see them on to the maintenance stage. This is a big value-add for our clients who don't want to go "back to the drawing board" and find a landscape maintenance company to now maintain their finished project.
While excellent design is at the heart of amazing outdoor living areas that have landscaping to match the architecture, ensuring these projects are built in adherence to that design means choosing a company that can do it all.
Are you ready to get the process of bringing your outdoor dreams at your Bozeman or Big Sky, MT home to life? Let's connect and talk about your project. Then, we can meet and begin talking about your ideas. We can't wait for you to enjoy a beautiful outdoor living space.