Container plants can be a beautiful way to add color and interest to your overall landscape design.

There are a lot of benefits to landscaping with pots as you can move them around, easily change out seasonal color, and place them in locations where a plant bed might not make sense or even be possible. We absolutely love the versatility that container gardens offer.
Potted plants can also be a benefit in terms of a wildlife control strategy.

If you have a property that has a lot of roaming wildlife and it's a struggle to add plants, you can create a container plant landscape design that includes pots in places that would be difficult for wildlife to reach.

In this article, we'll talk about container plant landscape design ideas that you can use to enhance your Montana property.
Be Creative in Your Pot Choice (and Placement) when Landscaping with Potted Plants
So much of the emphasis is often put on the plant material itself, but the pots themselves also make a statement and contribute to the design. We love creating container gardens using a variety of different pots, urns, buckets, and other vessels that add interest and appeal.

Even what you place the pots in can become part of the overall "look" when landscaping with potted plants.

You might think about bringing in an antique cart or wagon or some sort of pedestal or table on which you can put your containers. These elements contribute to the overal design in such a unique way.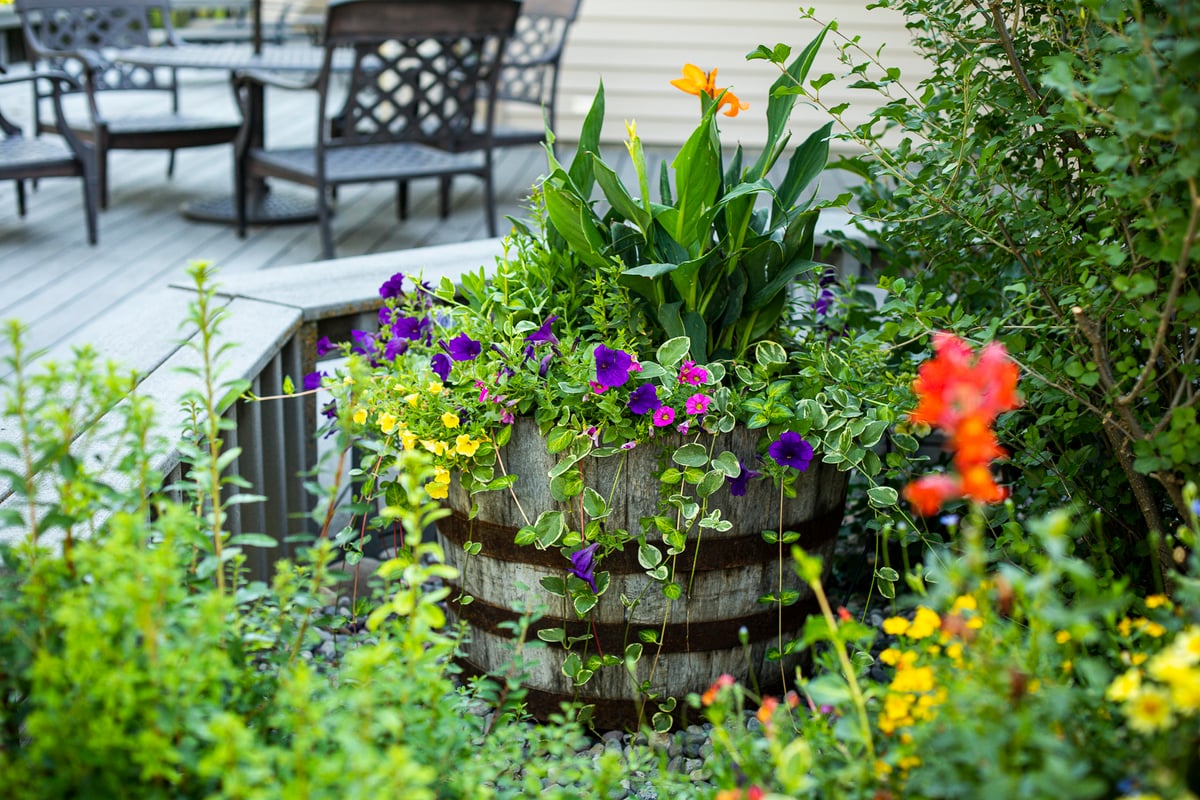 Sometimes the landscape design already lends itself to being the perfect spot for a container.

We often place containers on boulders or retaining walls to add color to the hardscaping and really brighten the overall look of the space.
Change Out Color Seasonally in Your Container Plant Landscape Design
As we mentioned, one of the great benefits of landscaping with potted plants is the ability to change out the plant material easily with each season. Every season has its own flowers and plants that can make great additions to your property and usher in the new time of year.

Obviously the spring and summer allow you to have many different seasonal flower options that will add bright color to your space.

Fall also has some of its own seasonal flower choices that can create a new look during the autumn months.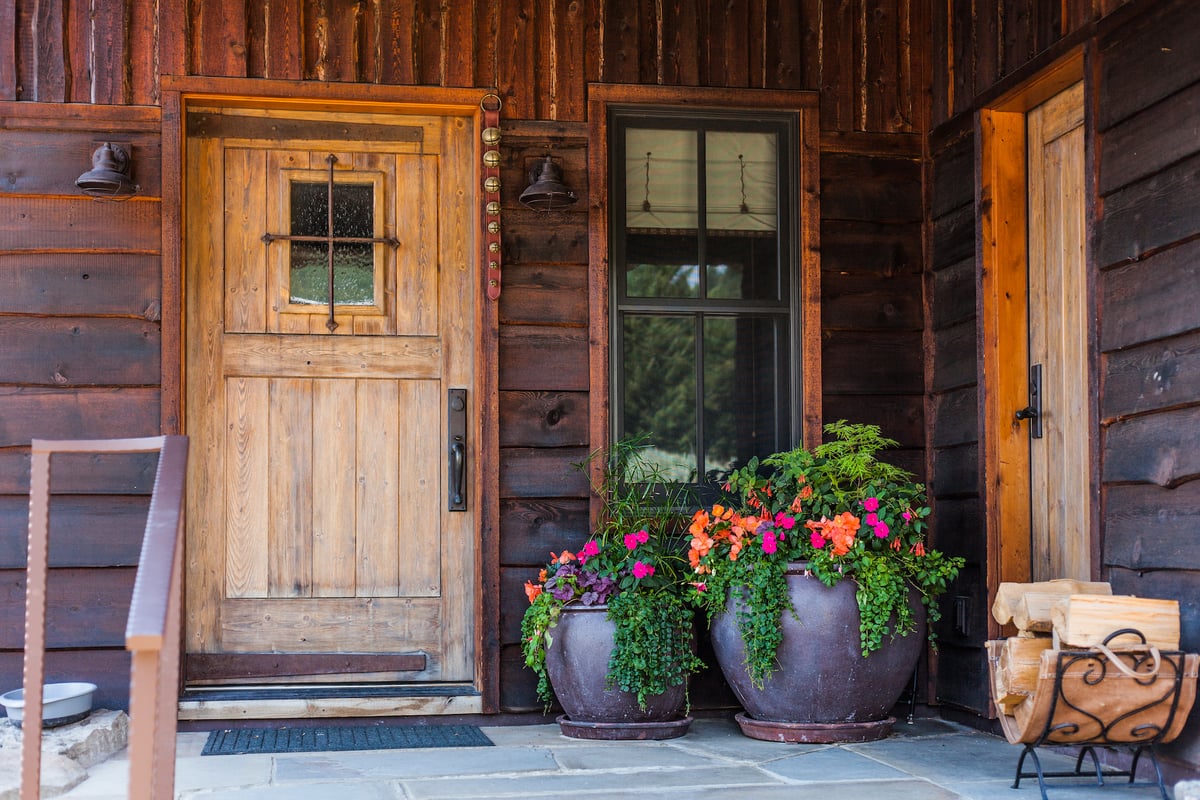 While winter tends to get overlooked, we love bringing color to Montana properties during this time, even as the landscape plants go into dormancy around the home. You can create really interesting containers in the winter with evergreen branches, dried grasses and flowers, Red Dogwood or Willow branches, pine cones, and more.

Some of our clients like us to create interior plant arrangements in the winter as they're spending a lot more time inside during the colder months.

We can use cut fresh greens to create arrangements that help fill a home with fragrance and aesthetic appeal.
Be Sure to Properly Care for Potted Plants to Get Their Maximum Value
There is special care and attention that goes into the upkeep of potted plants.

If you are landscaping with potted plants you want to make sure that you are investing in keeping them looking their best with proper container garden maintenance.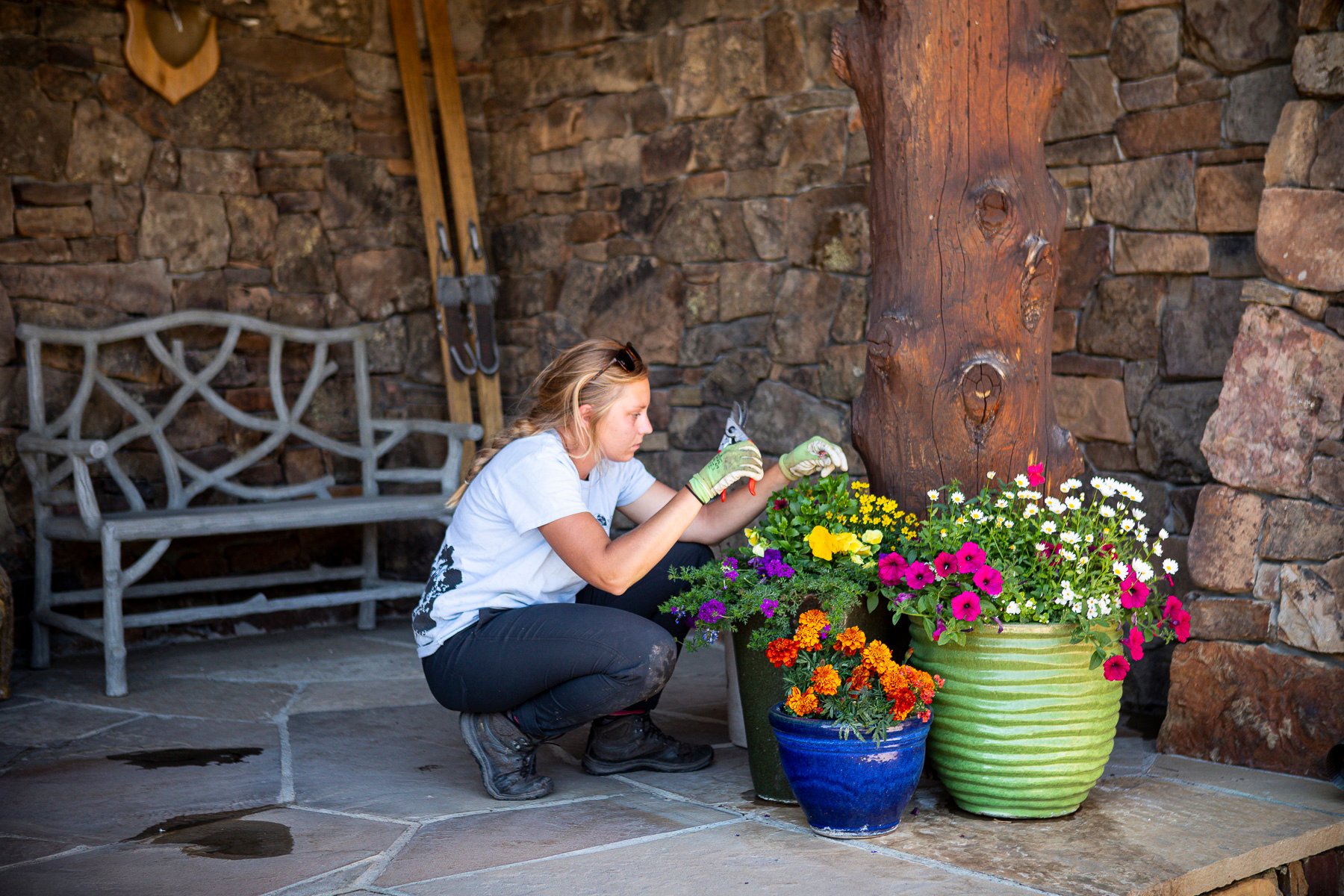 If we had to pick one area where container garden maintenance most often goes awry, it would definitely be watering. Forgetting to water your containers can be easy to do when you get busy, but proper watering will be essential to your container gardens' health.

For many of our clients here in Bozeman and Big Sky, MT, their properties are second homes, so keeping up with watering can be a problem. That's why we often recommend tying container gardens into the property's drip irrigation system whenever possible. Then you can completely remove the guesswork out of keeping up with a regular watering schedule.

We can also create self-watering garden containers that will only require additional water about once a week.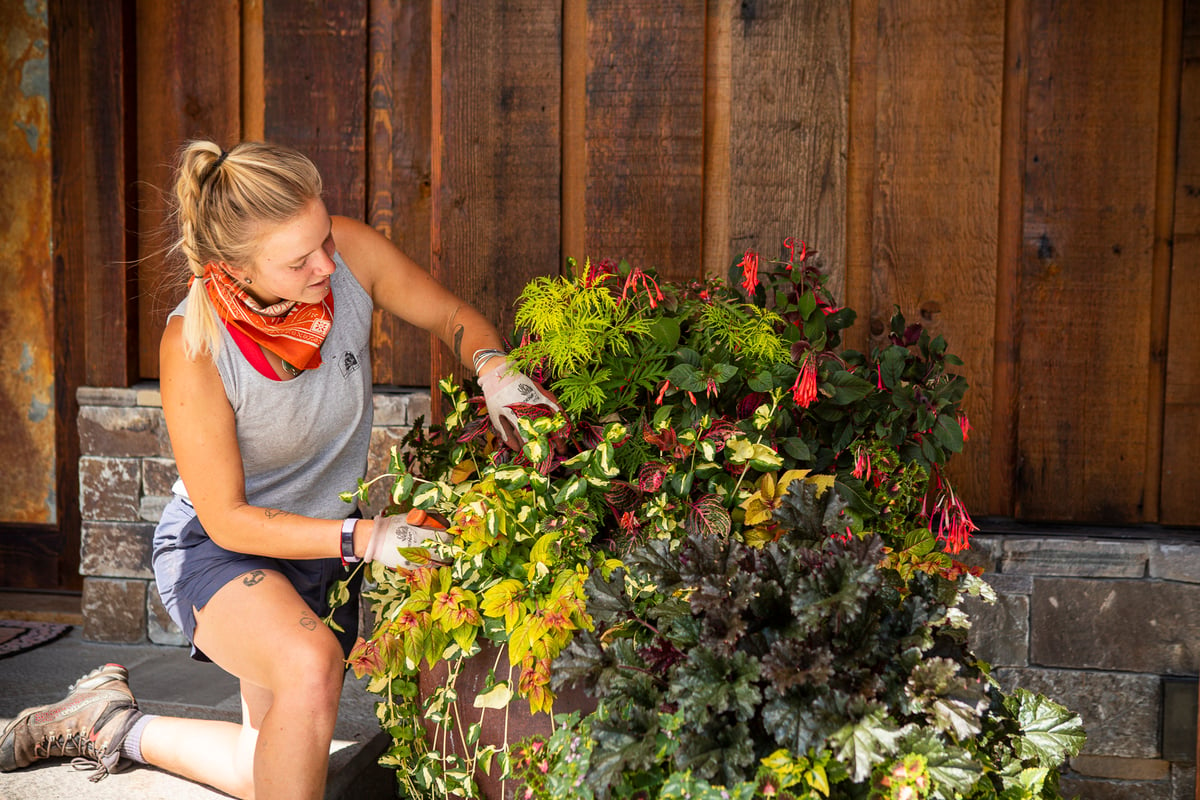 Another important task with container gardens is fertilization. If we are handling your container garden maintenance for you, we'll fertilize your containers weekly to help give the plants a boost. This helps them continue to perform well.

In addition, deadheading (cutting back the dead parts of the flowers) will help container gardens to bloom more fully. When performed properly, deadheading will also positively impact the health of the plants.
Working with Blanchford for Landscaping with Potted Plants
At Blanchford Landscape Group, we can not only create beautiful potted plants for you but we can help care for them, too. That means that all you'll have to do is enjoy them!

One of the key benefits of having us take care of your container gardens is that we'll handle replacing plants, too. We have a greenhouse with lots of different plants that are always in bloom and in optimal condition.

That means if one of your plants starts to perform poorly and ultimately dies, and you're maintaining your containers yourself, you're either stuck with that hole in the arrangement or you have to go out and buy more plants. That's another hassle on your plate.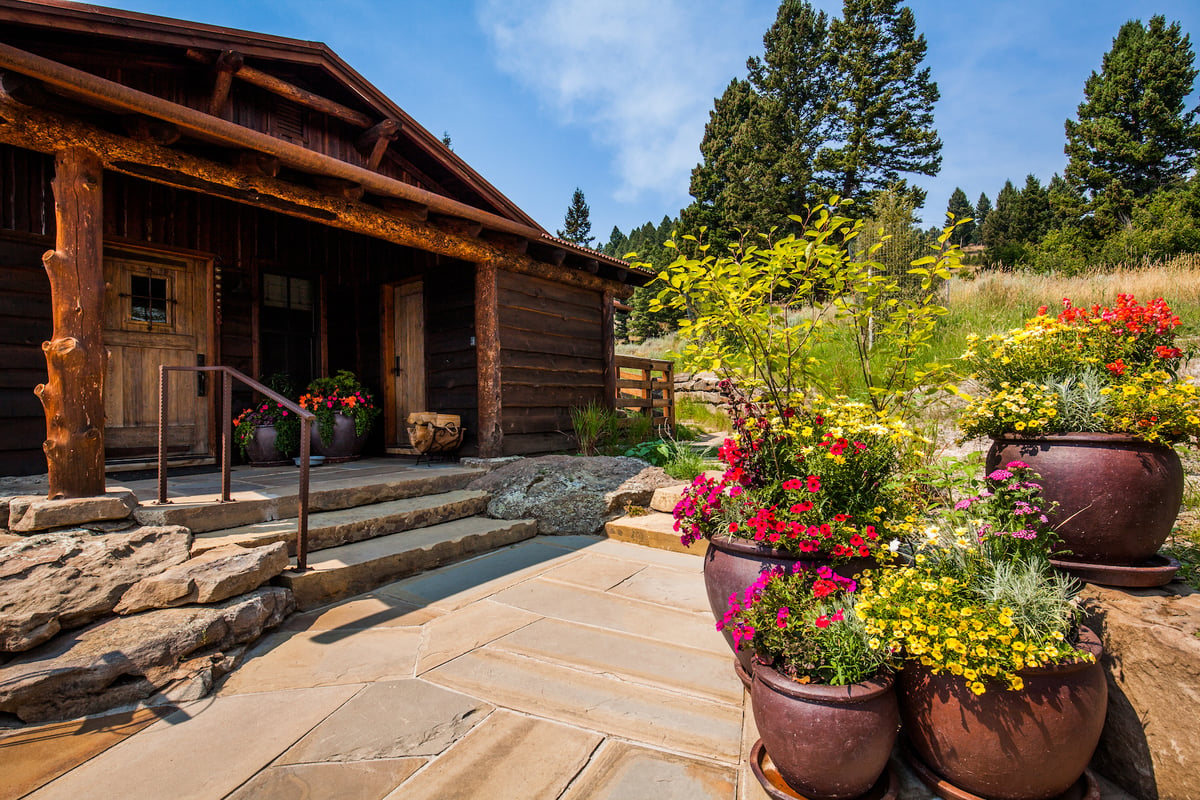 But if Blanford Landscape is handling your containers, we'll just make sure that's taken care of. We'll replace dying, fading, and aging plants so that your containers continue to look bright, full, and beautiful throughout the entire season.

The fact is, even with great care, some plants do start struggling over time. Some annuals just have a short lifespan. But when you work with us, you don't have to worry about pulling up the flowers and disposing of them (which can be a messy and annoying job).

We love to remove the burden from our clients' plates so that the only thing they have to do is enjoy their landscape. At Blanchford Landscape Group, we believe not only in designing and installing gorgeous landscapes (including container gardens) but maintaining them, too.

We know that by doing so, we are helping our clients to get the most value and enjoyment out of their property.

Instead of ever having to worry about your containers, you'll be able to feel confident that they're looking and performing optimally.

Are you ready to begin the process of creating a landscape with seasonal container gardens that you'll adore at your Bozeman or Big Sky, MT home? Let's connect and talk about your project. Then, we can meet and begin talking about your ideas. We can't wait for you to enjoy your beautiful outdoor space!