Water is our most precious resource and it is in finite supply. That's a scary fact and one that has many people wondering what they can do to practice wise water conservation. We can't get away from the fact that our lawns and landscapes need water to survive and thrive, but using water in excess should be avoided whenever it can.
We understand that it's an important conversation to be having and commend you for your interest. Successful water conservation is something that we all have to work together on in order to make a difference. It may sound cliché, but doing your part really does matter.
For that reason, we've rounded up some water conservation ideas that you might want to consider implementing on your property. Many of these potential practices are not only wise for conserving water but they are also an overall better way of taking care of your landscape. Some of these ideas will even save you money in the long run. After all, water isn't cheap and there's no sense of paying for water that's getting wasted rather than actually used by your landscape.
Here are some of those ideas to ponder.
1. Ensure Your Irrigation System is Functioning as it Should
This is probably the simplest thing that you can do and the tips following this one will save even more water. At the very least you should absolutely make sure that your irrigation system is functioning properly. Some of the most significant water waste occurs from leaky systems or irrigation errors.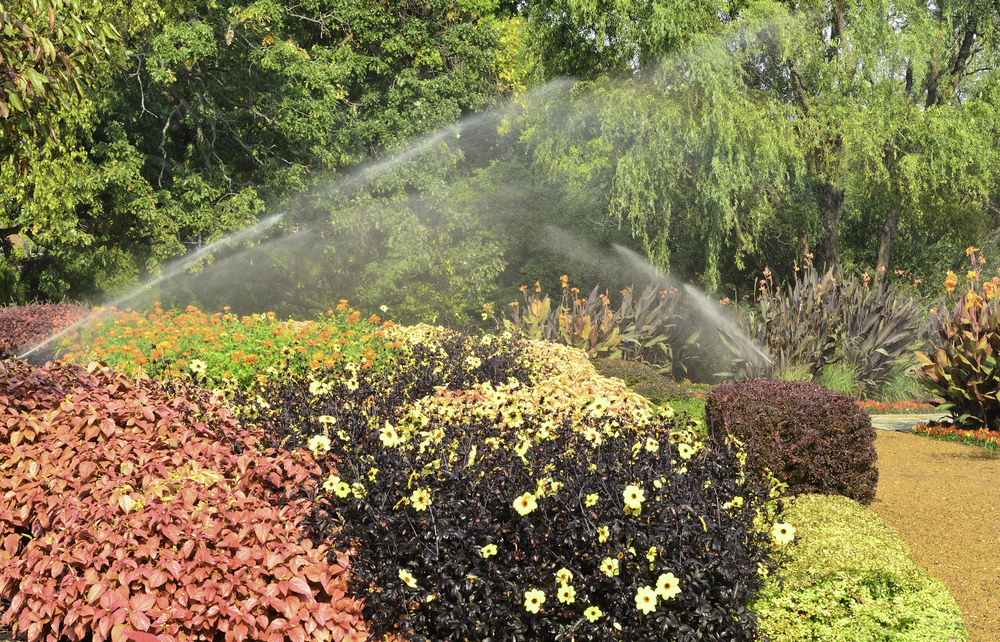 This includes making sure that your irrigation system is set up for your landscape's highly specific needs. Every landscape is different and it's important to ensure that heads are directed where they're providing optimal irrigation and not wasting excess water in the process.
One thing that people often forget is that their landscape is an evolving and changing part of their property. That means that your watering needs may also change. Plants need more water when they're first being established in your landscape. As they grow and mature, their watering needs will naturally decrease. But failing to adjust your irrigation system can mean that you're wasting water.
Similarly, homeowners are often changing their landscape over time but don't always pay attention to the way in which their watering needs may have changed. If you remove or move plant material, did you adjust your watering system to account for that? Those sorts of changes can be some of the most simple ways to practice smart water conservation.
2. Upgrade to a Smart Irrigation System
Irrigation technology has come incredibly far and the newer systems are able to save a lot of water utilizing technology. If you're still operating an older system then you are definitely missing out on important benefits, including save money.
One of the most significant advances has been the introduction of smart controllers which allow the user to make real-time changes.
There are also rain, wind, and humidity sensors which can be incorporated into an irrigation system to adjust the amount of water that goes out based upon the data that they're collecting. Honestly, how frustrating is it when you see your irrigation system running during a rainstorm? That's a serious waste of water (and dollars).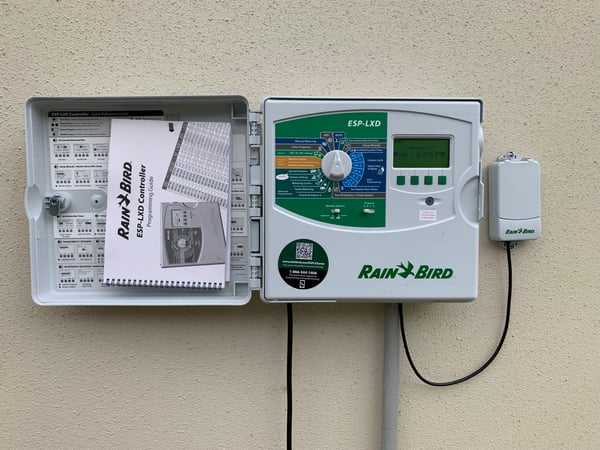 At Blanchford Landscape Group, one system that we've been installing is Rainbird's LNK WiFi module which is an easier and more economic way for homeowners to get the benefits of smart irrigation technology. This system uses the internet to communicate with the local weather station and determine its watering schedule.
For instance, as the temperatures rise and rain decreases, the system will bump up its output. But with cooler temperatures and more rainfall, it will make automatic adjustments to save you water.
3. Use Drip Irrigation for
Water Conservation
When it comes to watering your plants, drip irrigation makes a lot of sense. While the traditional irrigation system utilizes spray heads to spray water on the lawn and landscape, it's quite common for that to lead to "overspraying" the landscape.
For one, water might be getting sprayed on to hardscape areas where it's doing no good at all. But secondly, because the water needs to percolate down to the root system where it's really needed, a spray system may need to spray for a longer time in order to allow for that percolation to occur.
A lot of times a spray system is also wasting time and water wetting the foliage. You're also working against evaporation which may end up "taking" the water before it has enough time to soak into the soil.
A drip irrigation system, on the other hand, allows for the slow and steady release of water at the subsurface level. That's getting the water directly where it needs to go. It's more efficient and there's no waste.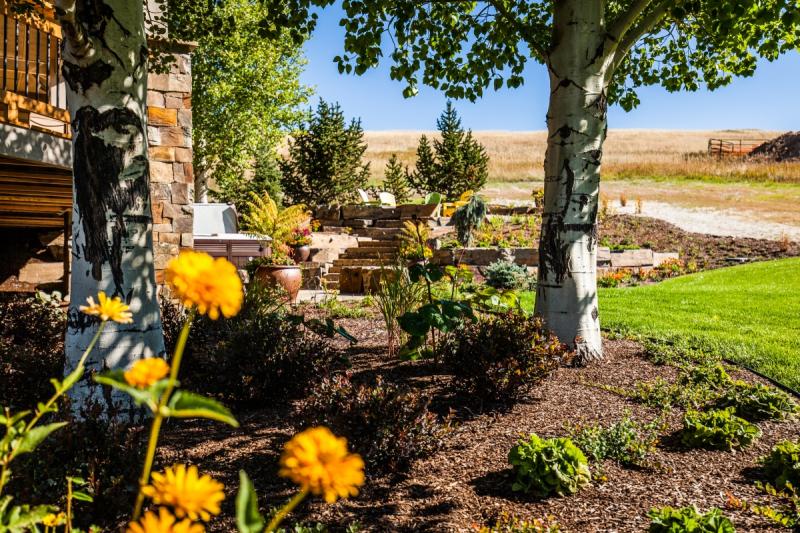 In addition to being a wise water conservation practice, there's a strong argument that it could produce better results. There's no question that plants need water to thrive and this method is helping ensure that they get it.
4. Consider a Rainwater Harvest System to Work with what Nature Provides
Another really exciting way that you can practice water conservation is to consider installing a rainwater harvest system, which involves collecting rainwater runoff to use for watering purposes. We have designed and built these at various sizes and scales, depending on what our client is looking to achieve and what's in line with their budget.
Typically, this involves collecting water from the roofline, downspout, and other impervious surfaces (such as driveways and walkways) and storing that water in a collection tank. There are typically multiple collection points and then it all gets pumped into that larger storage tank and used for irrigation purposes. It can be a fully automated process.
Water can also be collected in the winter months in the form of harvesting snow melt from your property.
These systems are fantastic in terms of using what Mother Nature is already providing in the form of rain and snow. Homeowners who have these systems say that they feel really good about the fact that they're doing their part to put less strain on our precious Montana aquifers.
Work with a Company that Cares about
Water Conservation
Ideas
, Like You Do
Although landscapers ought to be good stewards of the environment simply by nature, that's not always the case. There are plenty of companies who are just looking to make sure your landscape is watered so that the plant material performs well—but they fail to put any thought into water waste that occurs in that process.
At Blanchford Landscape Group, we're different. We obviously know that water is a necessity when it comes to keeping your landscape performing its best. But we care about how that watering is happening and are always thinking about new and innovative ways that we can do better—for you, for your landscape, and for the environment at large.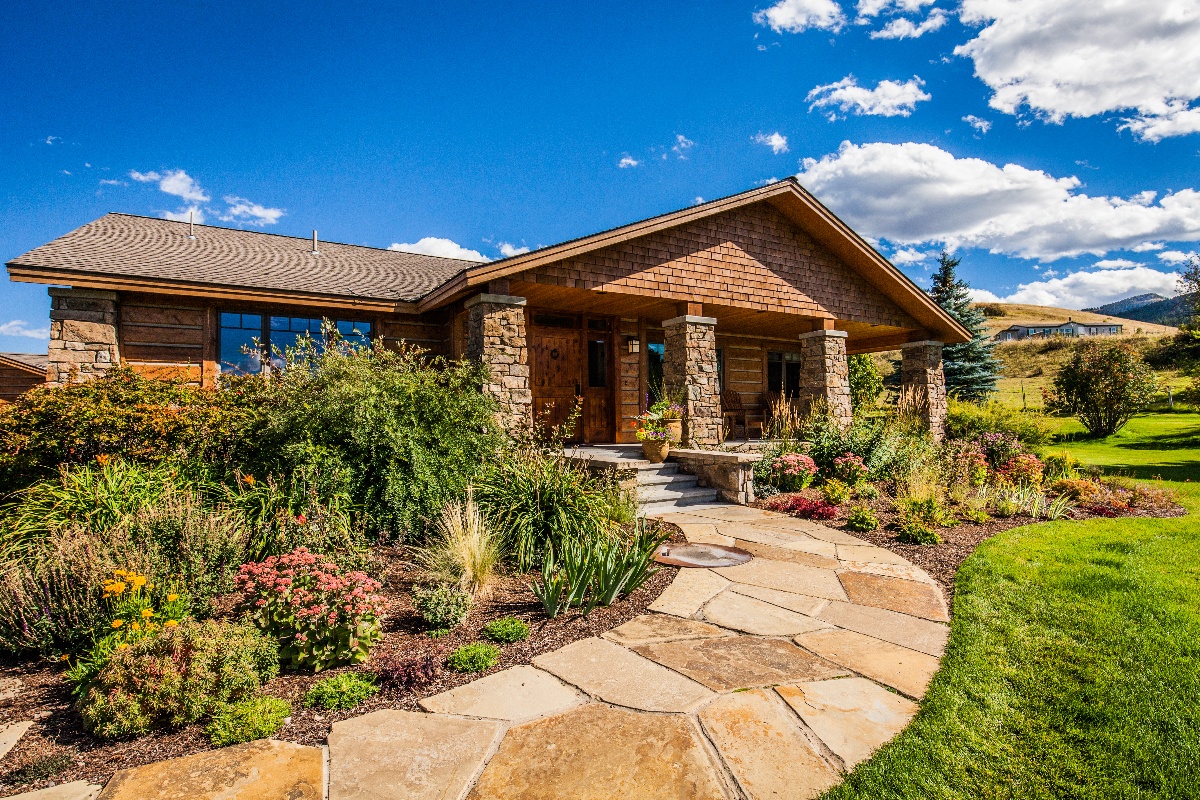 Like you, we care about doing our part to help preserve this precious natural resource and we're always available to make suggestions and share water conservation ideas that might make your property less wasteful.
In turn, that has tangible benefits you'll appreciate. Although some of these ideas can be costly to initiate at the onset, they can absolutely end up saving you money by using just the amount of water that your property needs and working hard to prevent waste. Your landscape will perform its best but you'll be using less water in the process.
Most of our clients see that as a win all around.
Of course, it must also be mentioned that not every company is skilled at offering these types of solutions. There's a reason why you may have never heard of some of these options and why they might not have been offered to you by other companies.
One of the reasons why a company might push an older method of irrigation is because they don't know any other way of doing it. Offering new solutions like smart irrigation, drip irrigation, or even self-sustaining (and automatically functioning) rainwater harvest systems means learning new skills and not all companies are willing to invest in the time and training that requires.
However, at Blanchford you can always count on us to be actively seeking ways that we can be better. We're interested in keeping up with the latest technology and with best practices so that we can better serve our clients while also being good stewards to the environment, which we believe is important.
We're looking at ways that we can be environmentally conscious in all the things that we do, not just in the ways that we water. This isn't just something we're doing for marketing or just something we talk about. It's ingrained in our company and our people. The folks that work here at Blanchford Landscape Group are people who love the outdoors and with that comes a desire to preserve it.
Providing You Peace of Mind
The bottom line? We understand that you don't want to be worrying about your property's watering needs. You want to know that your lawn and landscape are getting everything that they need to perform optimally, but not in a way that wastes water or money.
You want to be able to feel confident that you're getting the best possible watering in the most efficient way. It all comes down to peace of mind, and we get that. It's why we're always looking for ways to improve and offer you the best solutions out there.
Are you ready to learn more about garden services (landscape maintenance) at your Bozeman or Big Sky, MT home? Let's connect and talk about your needs. Then we can meet and review a detailed plan of action. With everything being handled for you, you'll be able to relax and enjoy your landscape.