If you have a deck on your home—or are considering getting one—you might be thinking about ways that you can use the space underneath it. Should you add a covered roof so that you can truly make it a functional space or should you just do something to dress it up and make it aesthetically appealing?
While some homeowners are interested in what to do with the area under the deck, others are fine leaving it be — or perhaps never thought much about it. Some homeowners never even realized they could do anything with that space.

No matter where you currently stand, you might still be looking for some under deck landscape ideas to consider what could be right for you. We've rounded up 4 that might help give you some inspiration.
1. Add Plantings Under a Deck
Plantings are probably the easiest and one of the more popular ways to landscape the space under a deck. Of the under deck landscape ideas, this is one that is all about aesthetics—just taking that bare space and making it look great.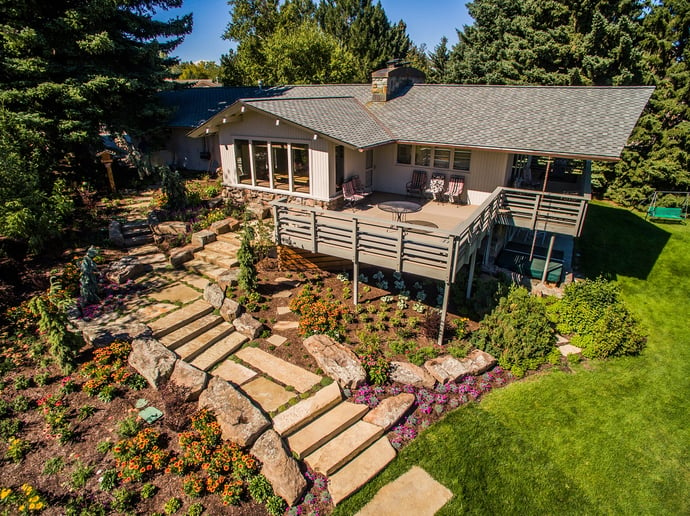 Success with adding plant beds or a garden area under a deck comes down to having some horticultural knowledge. It will be essential to select plants that can perform well in shade (or partial shade) or else you could risk investing in plant material that won't survive. We've used groundcover under deck areas to fill in the space nicely while still adding some greenery. There are also some shade-loving ornamental grasses that can work well.
You could also incorporate boulders into a planting area under your deck for a solution which is obviously not impacted by the weather in any way. The point is, there are definitely ways to make this unused space look like a nice aesthetic addition instead of leaving it completely bare.

Functionality and aesthetics can even be combined in a dual-purpose space.

On one property, we built a small boulder retaining wall bordering the under deck space (with some groundcover under the deck) and actually created an area where the homeowners could toss their shoveled snow when clearing the hardscaping so it wasn't just on display in big piles.
2. Add a Patio Under a Deck
If you have an upper level deck, then you also have the option of adding a patio under it (assuming there is enough headroom). If there's not naturally enough headroom, the space can be excavated lower.

With a patio under the deck, the grade of your backyard is also a consideration that needs to be taken into account during the design phase. If your yard has slopes, then retaining walls might be needed to prevent washouts from sending mud all over your new patio.

One of the main benefits of building underneath a deck is the possibility for creating a covered space with a ceiling. This can be a space that is out of the sun and the elements (like the rain and wind). A covered ceiling also means you can add features like recessed lighting and even ceiling fans. You can get as creative and in-depth with this space as you want—assuming that it's designed and built properly.

Most importantly, when installing a ceiling under the deck, you must account for the water coming through so that the patio (and everything on it) is not getting wet. This can be achieved with ceiling materials for rainproofing along with the installation of piping to allow the water to flow into downspouts and away from the finished space (and away from the home).

All of this can, honestly, get costly and sometimes complicated. For some, that's worth it, for others, it's not.

Since a lot of properties in this region are spread out and expansive, some homeowners just opt to build a patio somewhere else on the property if they're not limited on space. In fact, since "wide open views" and "out in the open" spaces are often heralded, we get some homeowners who prefer their patio not be covered, and that's certainly fine, too.

But for homeowners with smaller properties (or in townhouses), or for those who really love the idea of having a covered space, a patio under a deck could be a good option to consider.

The bottom line is that the patio design process should ultimately be customized to your wants and needs, whether it's under a deck or not.
3. Create Functional Storage Space Under the Deck
Another way to use that under-the-deck area is to turn it into functional storage space. We did this on one property where we enclosed the area under the deck and turned it into a sort-of "shed" where the homeowners stored their yard tools.

For the most part, under-deck storage needs to be items that you don't mind getting wet. Unless you are installing a roof with drainage, you have to expect that some water will run underneath.

A few things to consider as you think about creating under-deck storage.
What items do you want to store under your deck?
What conditions do those items need in order to maintain them?
Do they need to be in a dry area or can they handle some exposure to water?
Do you live in a neighborhood that could have requirements surrounding any changes you make to your deck (such as HOA-governed bylaws)?
4. Incorporating Deck Steps for More Traversability
If you're thinking about making the space under your deck more usable in some way, particularly with a patio under the deck, then you might be thinking more about how to get from one space to another. Perhaps you have a second-story deck that doesn't currently have any steps. But being able to get from your deck to your new patio (or vice versa) will be important.

Adding steps to your deck will help you to achieve this goal.
If you already have an existing deck the steps may already be there, but in an awkward place. This isn't as ideal as building the steps at the same time as the patio as it's now a structure that has to be worked around. It's possible that the design flow may need to be re-worked.
Ultimately, you want both spaces to flow well. You don't want the steps to feel as though they're in the way. Whenever possible, it's always ideal to design an entire outdoor living space at once (including a deck and any hardscape areas you want to incorporate) so that all spaces flow well.
Choosing a Landscape Designer and Builder for Landscaping Under Your Deck
At the end of the day, an under deck area is just one small spot out of your entire backyard. You want to work with a landscape designer and builder who is going to have lots of under deck ideas (if that's something that you're interested in)—but more importantly will have ideas for your entire space, including how those spaces flow together. The last thing that you want is to make a mistake in one area of your property that has a negative impact in some way.

There's no question the key to success will come in choosing a landscape designer who can look at the big picture. Even better, you want to choose one who can then go on to build the project, too.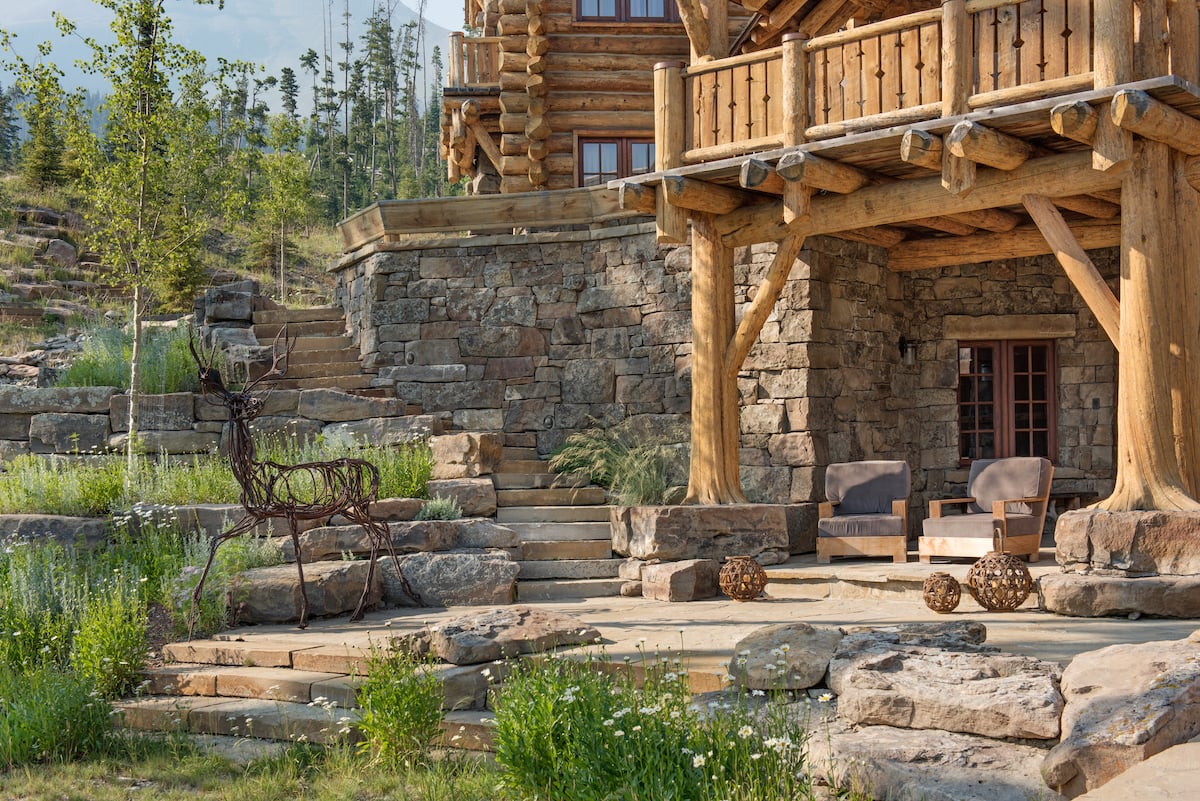 Getting the ball rolling on an outdoor living project by starting to consider landscape design companies in Big Sky and Bozeman, MT is undoubtedly an exciting process. Whether it's something that you've been thinking about for years or it's a relatively new idea, beginning the research process is the first step toward making that dream a reality.
Working with Blanchford Landscape Group on Your Under Deck Area (and More)
At Blanchford Landscape Group, we love helping to come up with creative ideas that will work for our clients' spaces. Whether you are someone who is determined to use every inch of your property to the fullest and maximize the outdoor living space you have (including space under the deck), or you're someone who is just looking to make sure that area looks neat and maintained—maybe with some simple groundcover and a few boulders—we can accommodate all of those needs.

Plus, not only do we perform design work, but we build these projects as well. And, we can see them all the way through to maintenance, which is a big value-add for our clients who don't want to go out and have to find a new company to maintain their new space. They already know and trust us and would rather just keep the relationship going. That means that your outdoor living space can go on looking its best.

We understand that the decision in choosing the right landscape design/build company is a big one. But by choosing wisely now, you can prevent so many problems on the back end.
That means that when your outdoor living space is complete, it will have everything that you were looking for including creative solutions and ideas for areas you perhaps hadn't even thought about. In the end, that's a big win for your enjoyment of the space to the fullest.
Are you ready to get the process of designing your outdoor living area started at your Bozeman or Big Sky, MT home? Let's connect and talk about your project. Then, we can meet and begin talking about your ideas! We can't wait for you to be able to enjoy your amazing space.