A patio can open up the possibilities of your outdoor living area by adding valuable, functional space. If you are thinking about this type of addition, you might be wondering if a concrete patio is the right choice for you. You don't want to overspend but you also might be worried about taking a shortcut with materials that could ultimately cost you more in the long run. You just want to know that you made a good choice so that you get the most return on your investment and are happy for the long term. That's why we're looking closely at concrete as a patio choice to help you decide if it's right for you.
The Pros of Choosing a Concrete Patio
The number one advantage of using concrete for a patio as opposed to pavers or natural stone is the cost savings. If you're looking at concrete patio cost vs. that of pavers or natural stone, then there is no question that concrete is the least expensive option. It can also be installed quickly.
In certain circumstances, this makes sense.
Budget is obviously a really important factor in a backyard renovation project. If you're someone who is looking for a functional patio but isn't looking to spend a lot, concrete can be a viable choice.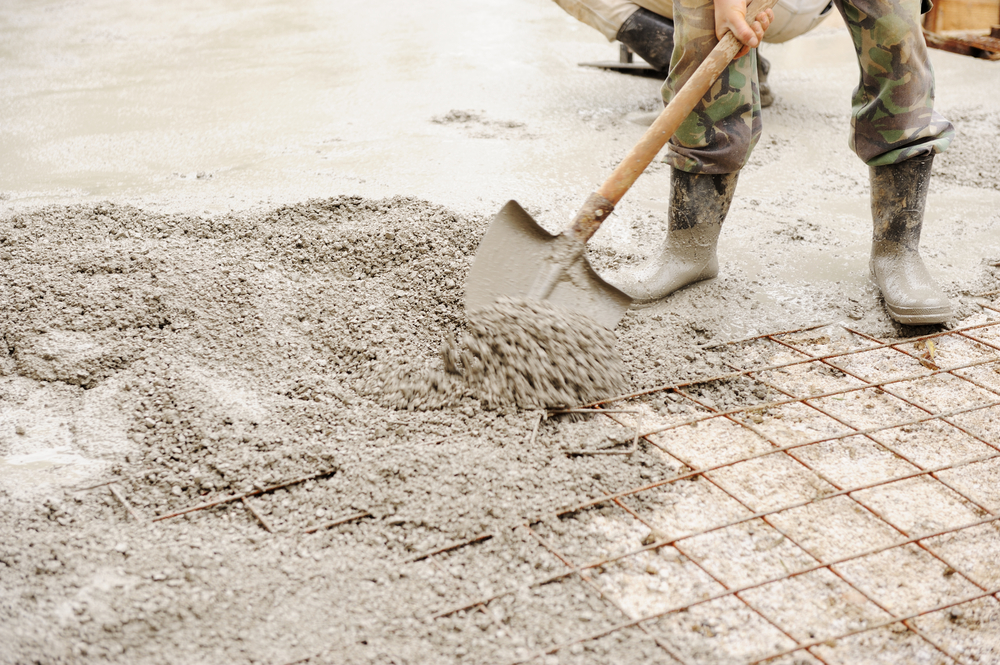 Maybe with your home value it doesn't even make sense to spend a lot. You might already know this is not your "forever home" but you just want to have a usable patio while you're there. If it's a smaller townhome and all of the other properties have concrete patios, it could certainly be a modern and affordable choice.
Some people even like the linear, gray look that concrete offers. It is definitely on par with a modern space. To sum up the key benefits, a concrete patio can add functionality without adding a lot of cost and it can complement an already-modern place where linear form and simplistic style make sense.
WATCH THIS VIDEO TO LEARN MORE ABOUT OUR DESIGN/BUILD SERVICES
The Cons of Choosing a Concrete Patio
Durability is the biggest con to using concrete. Truth be told, it's not a matter of "if" it will crack, it's a matter of when. Concrete is not the ideal material choice due to the Bozeman and Big Sky, MT climate. We have a lot of thawing and refreezing in winter, so it's inevitable that you will get cracks in a concrete patio.
For homeowners who have a project driven by low budget, cracks aren't going to be a dealbreaker. The patio will still be functional. But it's important to recognize that repairs for cracks require patching which is almost impossible to disguise. You're always going to see where the cracks were so that's an important aesthetic consideration.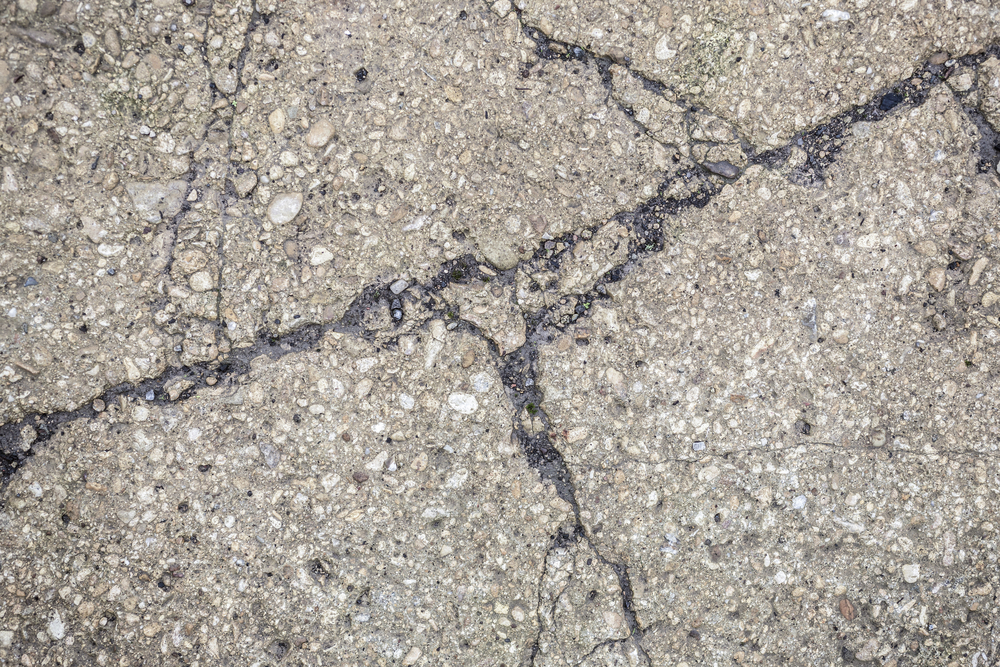 Repairing pavers and natural stone can be done without impacting aesthetic appeal as they can simply be lifted up and replaced. Of course, pavers and natural stone are also more durable than concrete and may not crack in the first place so that's a benefit to using these higher quality materials.
Because it's a lower quality material, the return on investment of concrete will also be lower. If you're thinking about resale value, a paver patio or a natural stone patio is going to stand out and possibly be more valued by home buyers.
But it's (again) a matter of weighing the value of your home and what you're looking to achieve with the investment of the patio.
What about a Stamped Concrete Patio?
When talking about concrete and ways to save money, the conversation often turns to stamped concrete and whether this is a viable option. Stamped concrete is a special product that typically uses colored concrete and patterns to create a unique look.
However, what we always tell homeowners when we start to go down this path is that the cost of a stamped concrete patio is getting quite close to the cost of a paver patio, so it probably does not make sense to go down this route—particularly if cost savings is your objective. You'll still have the downsides of concrete including durability and the probability of cracking and you won't save all that much money from doing a paver patio which is going to give you a better return on investment.
Unless you really prefer the look of a stamped concrete patio for some reason, this is probably not going to be the optimal choice.
The Benefits of Pavers and Natural Stone
We've already alluded to some of the benefits of choosing a material other than concrete, but let's dig a little deeper.
Paver Patios
When choosing a paver patio, variety is a huge advantage. With so many different paver products out there, you can choose the exact look and style to suit your taste.
You have the opportunity to create dozens of patterns, use multiple paver colors, add borders, and so much more. There are many more opportunities for customization than with concrete.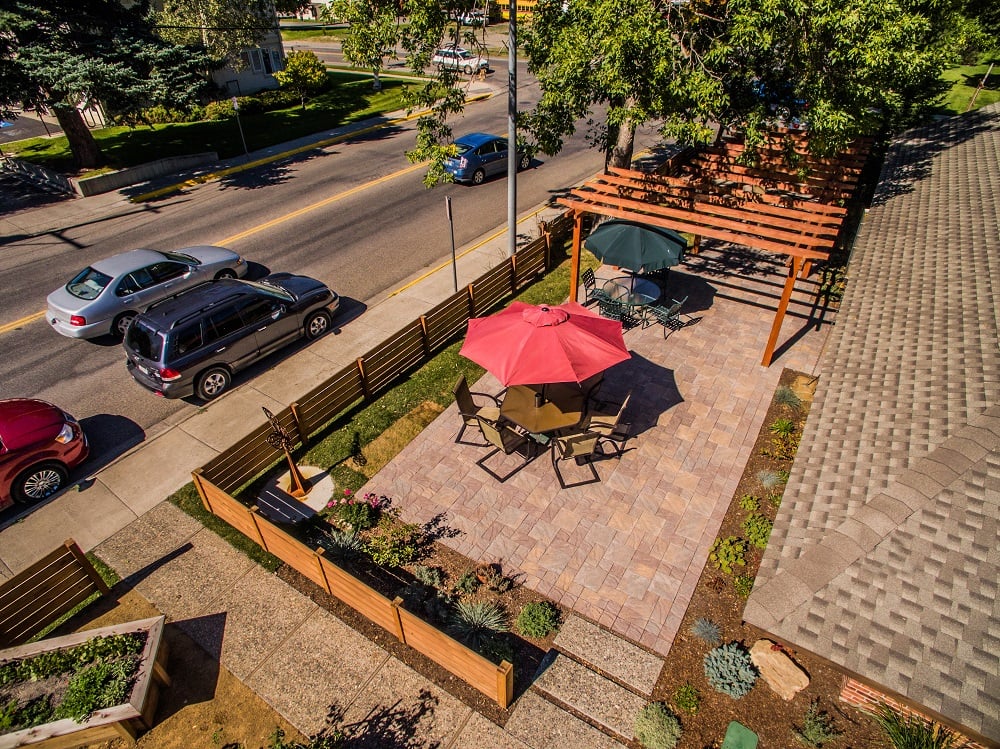 Paver patios are more costly than concrete but less expensive than natural stone patios, so they make a nice mid-price-point option.
Plus, as we mentioned, pavers are easy to fix should one crack or chip. Unlike concrete which has to be "patched" to be repaired, pavers can simply be lifted up and replaced.
Natural Stone Patios
While pavers often make a great choice, particularly for some very specific wants and needs, we believe the optimal choice for Bozeman and Big Sky, MT homes is natural stone. Natural stone just fits with the beautiful natural landscape here in Montana. When designing and building a project, we are always looking at the surrounding landscape and will consider how to work the material into what's already there.
Without a doubt, natural stone is going to allow for the most seamless blend in a lot of cases. It just looks like it belongs.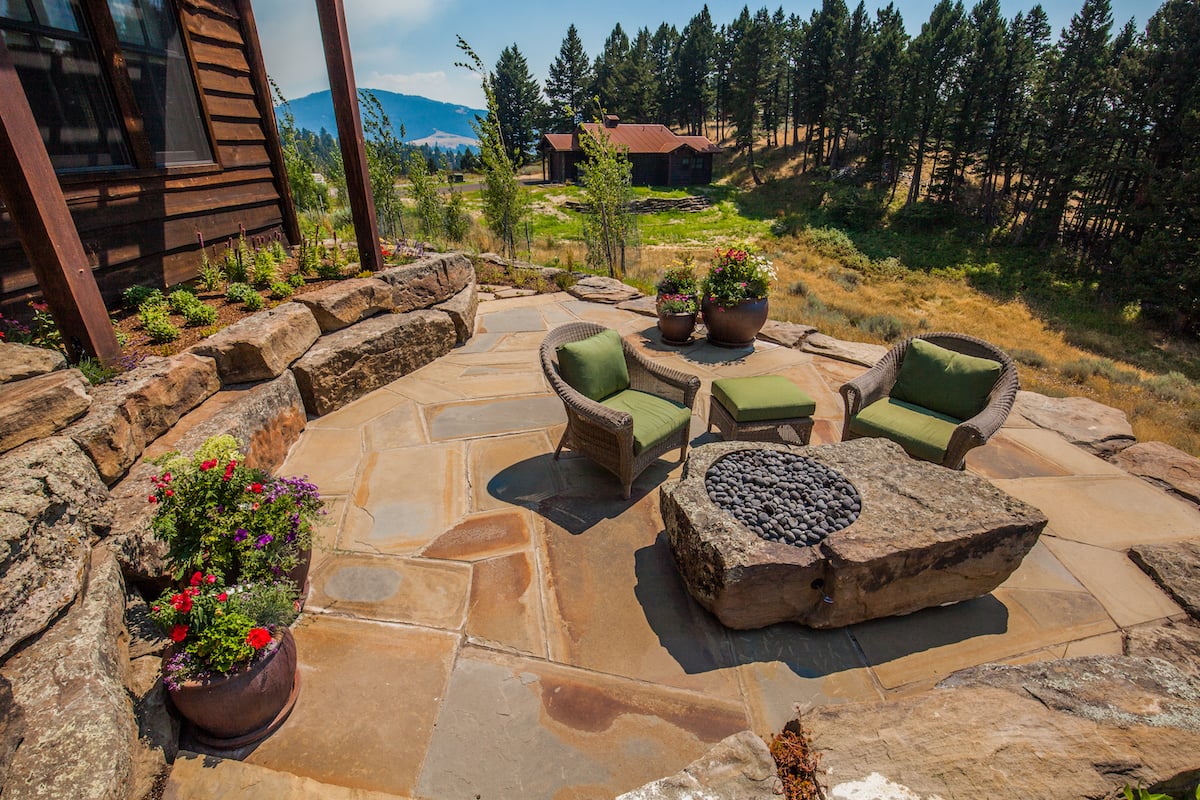 Natural stone is also the more durable choice. It has survived in nature for thousands of years, it's certainly going to hold up well as your patio material choice. While the surface material of pavers can weather over time, and begin to expose the aggregate (tiny rocks and pebbles that comprise the structural filler in the concrete by acting as a binding agent), natural stone will outlast your time in your home (going on indefinitely).
Natural stone is also the most expensive choice (of all 3) so that's an important consideration as well. Natural stone is "authentic" and while you might be able to get pavers that mimic the look, there's nothing quite like the "real thing." But you'll pay more for it.
With all of that in mind, remember we do work with both of these choices (as well as concrete). We know there's a lot involved in making the decision as to what's right for you but we also commend you for putting in the research.
With something as important as your patio, you should not make a hasty decision.
Choosing Amongst Patio Companies in Bozeman and Big Sky, MT
The important point is to remember that there is not a one-size-fits-all choice for patios and you shouldn't let anyone tell you that there is. Obviously there are going to be some materials that make a better fit for your property more than others. But if you hire amongst the concrete patio contractors here in Montana, you're only going to get the option of concrete.
That's why you want to choose a patio company that can work with all of the materials but who will also help guide you toward what might be best for your property, your wants and needs, and of course, your budget. It's not a simple choice but instead one that should weigh all of the considerations.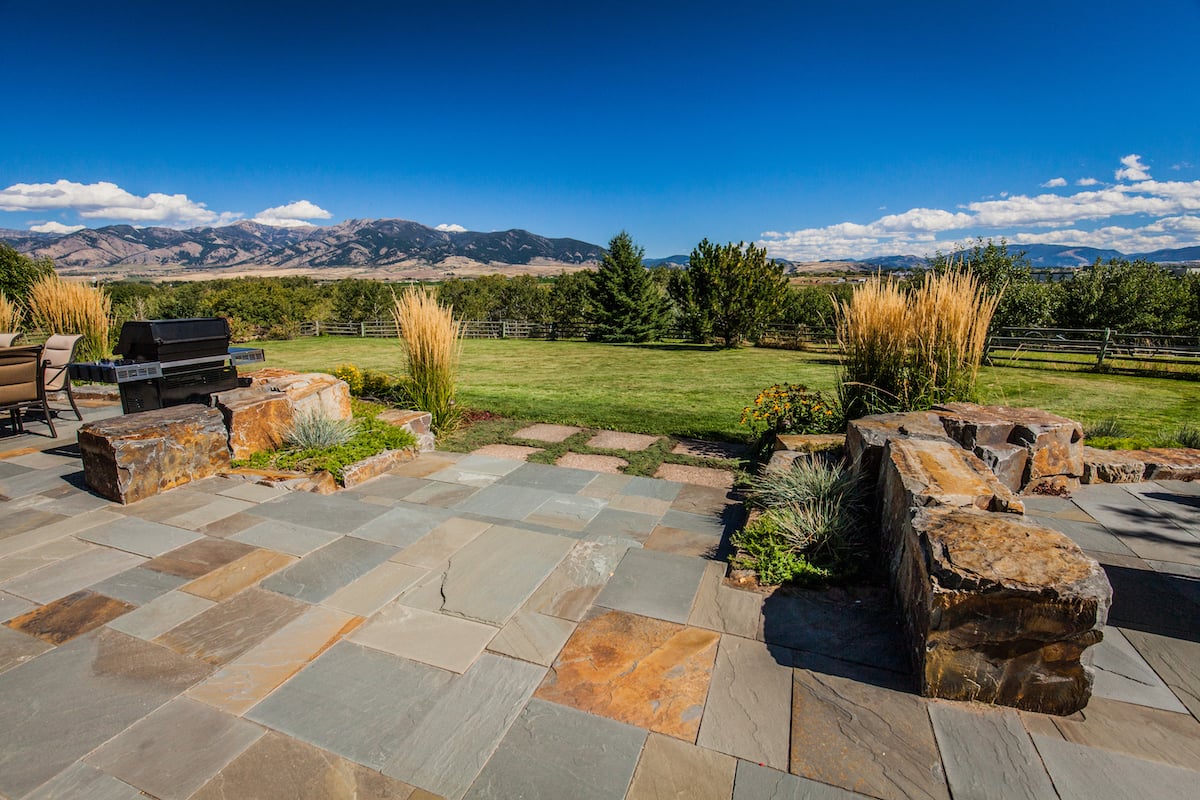 Your patio will ultimately be a space where you spend a large amount of your time outdoors. That's why you want to be sure to choose a material that is going to be right for you. At Blanchford Landscape Group, we are available to help you weigh all of the options and ultimately come to the decision that is right for you.

No matter what you choose, it comes down to the fact that we want you to be happy with your choice. We genuinely care about our clients and our projects and we do believe your material selection is one of those big decisions that will have a significant impact on your overall satisfaction with the end result. You can count on us to guide you through the process with as much help as you need. We'll always give you our honest professional opinion but leave it to you to choose what's best.

Are you ready to begin the process of designing and building your ideal outdoor living space at your Bozeman or Big Sky, MT home? Let's connect and talk about your project. Then, we can meet and begin talking about your ideas.