The naturally hilly terrain of Montana makes it common for a lot of properties to be dealing with slopes. At first glance, landscaping slopes might seem like an impossible task. How can any landscaping be added to a property that has so many hills, slopes, and possibly even cliffs?
In reality, landscaping slopes is not only a possible task, but it's also a welcomed one. In fact, there are many different ways that we can address slopes and create beautiful spaces. At Blanchford Landscape Group, we view slopes as an opportunity to use our creativity to the fullest.
Oftentimes, sloped landscapes become some of the most unique and interesting projects—assuming they are designed well.
To give you some idea as to how we implement creativity, here are 5 great ideas for landscaping slopes.
1. Consider Terracing
Landscaping slopes is a great opportunity for terracing. To terrace a slope, a series of retaining walls are built into the hillside and each area is leveled off. This creates a sort of "step down" effect, with several individual gardens.
Terraced plant beds with multiple levels of plantings can create a lot of visual interest. The walls "break up" and soften the slope and the flowers add gorgeous color. We might do terracing with meadow plantings or perennial gardens, all of which are much more diverse and creative than one big hillside of groundcover.
The possibilities are really endless in terms of plantings. It's like having several mini gardens.
But it's not just about aesthetics. In addition to being beautiful, terraces do an important job of also helping to prevent erosion by shortening the long slopes into a series of "step-like" areas. This will help eliminate runoff.
In terms of functionality, this is important as one of the biggest challenges that landscape slopes present is erosion. That means the solution must often be both aesthetically appealing as well as functionally meaningful.
2. Incorporate Retaining Walls
Another landscape idea for slopes is adding a retaining wall. As we mentioned, slopes do pose challenges with erosion. A retaining wall is another solution that could perform the functional duty of holding back erosion while also enhancing the look of the space.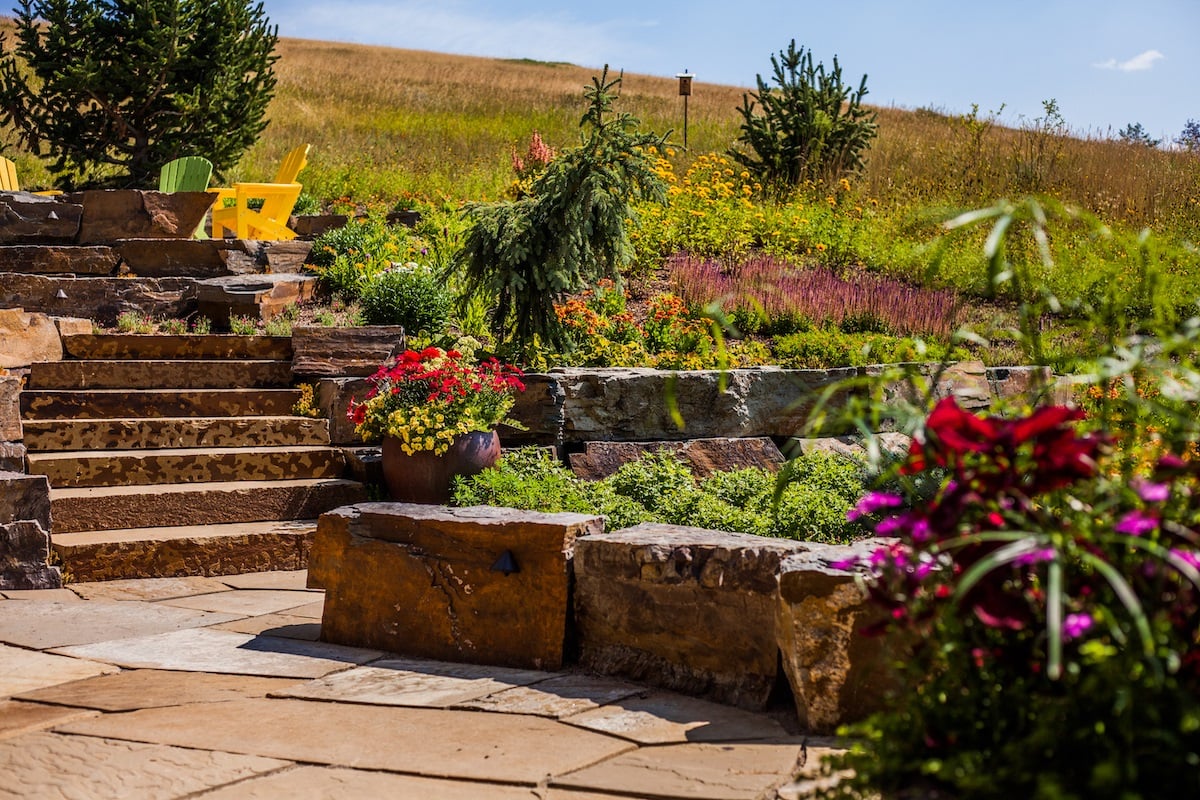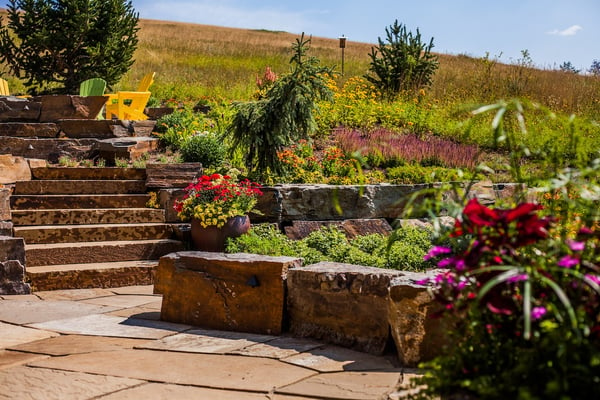 Of course, it's important that the retaining wall blends with the surroundings. Here in Bozeman and Big Sky, MT, a concrete or block wall could potentially stand out like a sore thumb in the natural environment. This might serve a functional purpose, but it's going to damage the aesthetics.
That's why we often use boulders and rock slabs to build retaining walls that end up looking as though they were always meant to be there. These walls, though certainly functional, oftentimes become a visual showpiece of the property.
3. Add Steps for Comfortable Traversing
Steps are another functional addition that is often needed on sloped landscapes. Steps make the space easily traversable as you move from one level to another. But just like retaining walls, steps should not look like an awkward addition that fails to blend with the space. For this reason, we often use boulder materials or rock slabs for steps, as well.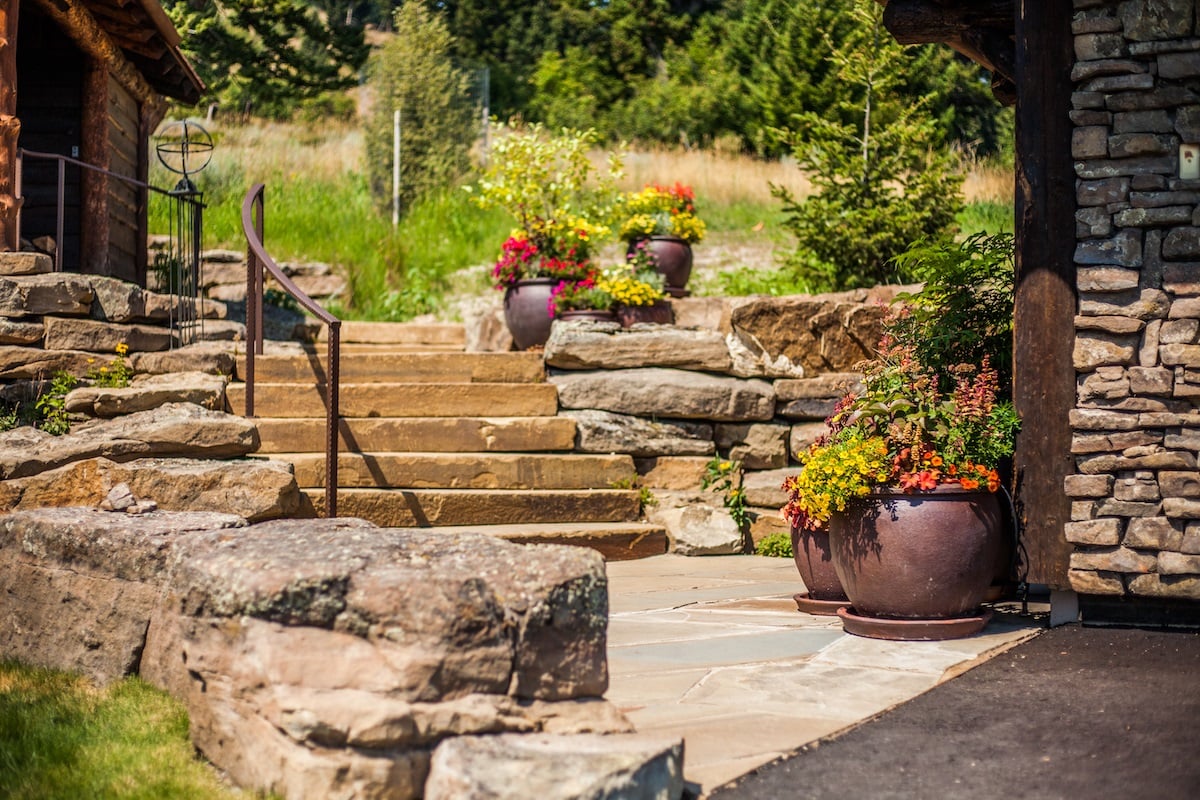 Once again, it's about considering both functionality and aesthetic appeal. With the right landscape design, it is possible for these two factors to co-exist.
When adding steps and planning to navigate the various levels of your property, you will likely also want to think about landscape lighting. A sloped property naturally poses more risk for trip-and-fall accidents, particularly in the evening hours. Strategically placed landscape lighting can help prevent accidents from happening.
At Blanchford Landscape Group, we take special care to incorporate lighting in a subtle way so that it serves its functional purpose in an attractive manner.
4. Choose the Best Plantings for Slopes
Landscaping slopes with plant material is definitely possible, even without terracing. Plants with deep roots that have the proper structure for grabbing onto the soil and staying in place can work without leveling the area.
If you have some terraced areas on the property, you don't have to leave the remaining slopes or hillsides barren. You can choose from a variety of groundcovers, ornamental grasses, or even evergreen shrubs that can fill in those spaces.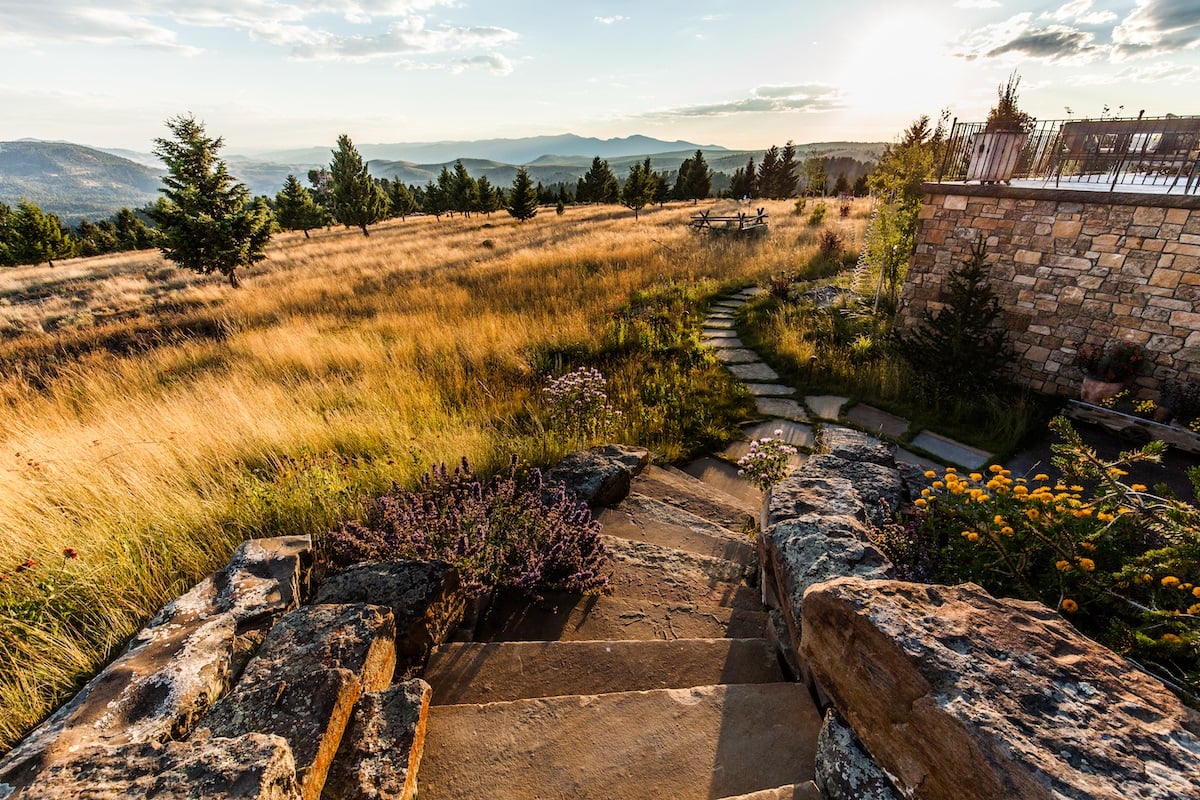 Native plants, including native meadow flowers, will best adapt to these areas. In fact, we sometimes create complete meadows out of hillside areas. At Blanchford Landscape Group, we have the horticultural expertise to help make the best possible plant selections for your hilly property.
It's also worth mentioning that rock gardens are also a viable solution in place of plantings. Boulders can be incorporated into the hillside to create visual interest near or around plantings.
5. Use Slopes to Create "Rooms"
Another way that we like to make use of slopes and the landscape's natural topography is by using it to create "rooms without walls." With the right landscape design, slopes and banks become natural dividers that help delineate different spaces, as though they were "rooms."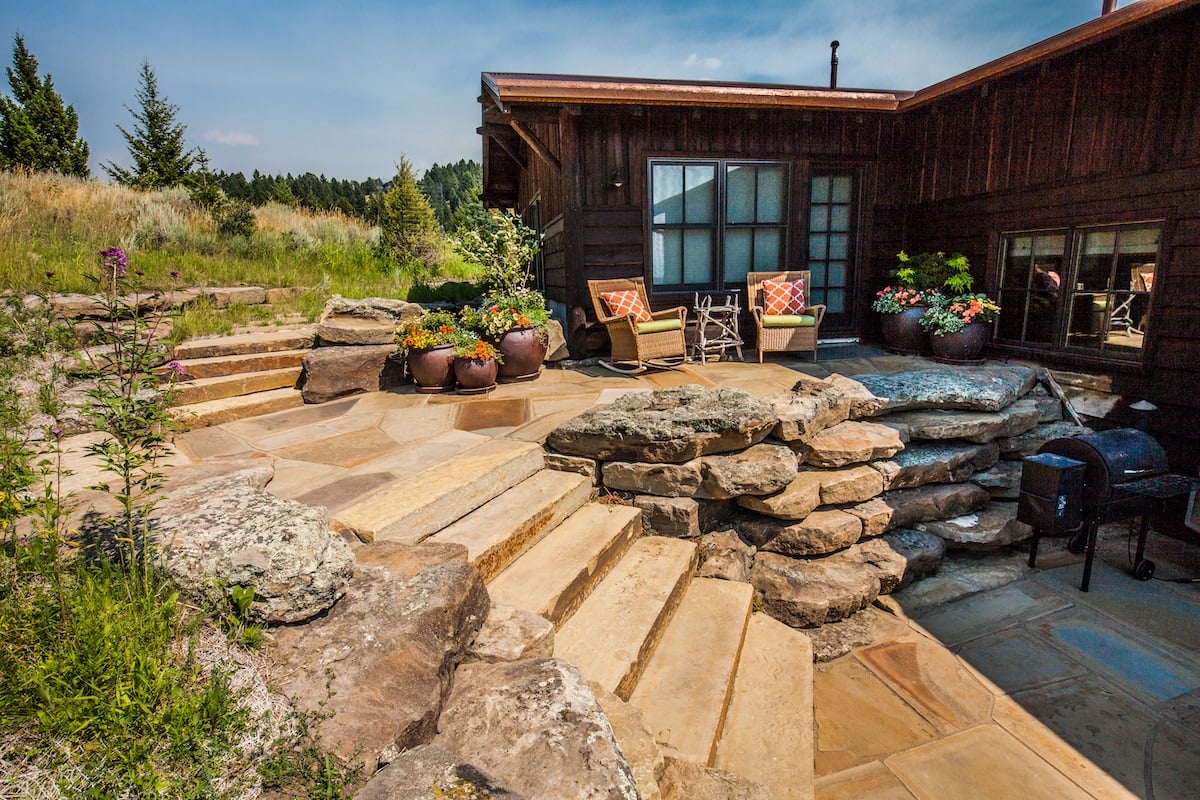 In making functional use of the slope, we might also find ways that it can be used for seating. Sometimes this means adding strategically placed boulders that become natural "seats" that look as though they were always part of the hillside.
Oftentimes, we design outdoor living rooms near the edge of a slope as these are typically areas that have the best possible views.
Landscaping Slopes are an Opportunity
Slopes tend to get a bad rap but if we could get any one point across in this article it would be this: Properties with slopes and interesting topography are an opportunity more than they are a problem.
In fact, we often prefer to work with these types of properties because there are so many ways to implement creativity. Slopes provide variability and interesting views. And the slopes themselves become a really important part of the landscape design.
Choosing Wisely for Landscaping Slopes
It's important that you choose the right landscape design and build company for this type of work. Slopes do present some challenges that need to be addressed. There are essential site considerations, such as the direction and orientation of the slope, that must be taken into account during the design process in order to get the best possible results.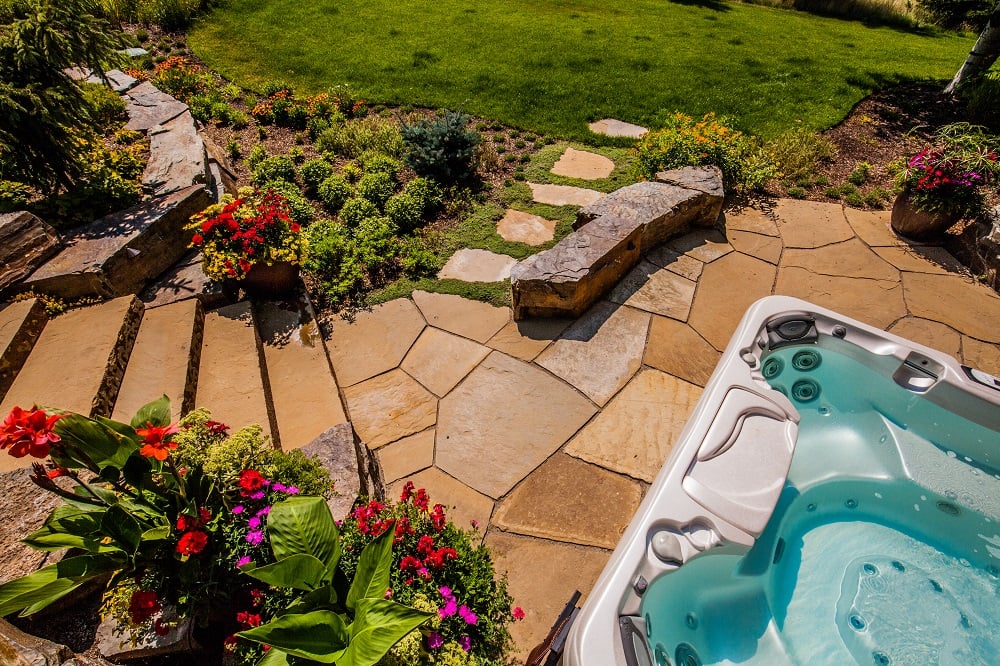 The slope's existing vegetation must also be considered. Oftentimes, existing plants provide value in their own way and we can work with what's already there. But sometimes, existing vegetation needs to be removed in order to enhance the overall aesthetics.
While we definitely embrace and even welcome the challenges presented by slopes, there are plenty of landscape companies that might be intimidated by them. Unfortunately, many fail to "think outside of the box" and don't consider all of the existing design possibilities that slopes can offer.
If you choose a company like this, you can wind up getting stuck with a boring landscape—or, even worse, a landscape that fails because vital considerations were ignored. You could end up dealing with erosion or stormwater runoff problems that could have been addressed and prevented.
In the end, your wise choice in landscaping companies will help provide you with coveted peace of mind that you're getting the best possible finished project. That means that instead of worrying that landscaping slopes will be a problem, you'll feel confident that they'll be a beautiful incorporation into the space.
Are you ready to get the process of designing your sloped landscape in Bozeman or Big Sky, MT? Let's connect and talk about your project. Then, we can meet and begin talking about ideas! We can't wait for you to be able to enjoy your amazing space.