The Great Outdoors has so much to offer here in Bozeman and Big Sky, MT. We know that people buy homes here with the thought of spending more time outside and appreciating all that nature has to offer. With our gorgeous mountain landscapes and wide open skies, it's good for the soul to be outside soaking in the beauty.
If you want to start spending more time outside, you'll need an outdoor living space that will encourage and support your plans. That's why we've rounded up a variety of landscape design ideas that will help extend your time spent outside. With these ideas you'll get more daytime, nighttime, and even seasonal time in the beautiful outdoors.
Landscape Design Ideas to Maximize Outdoor Living
Here are 9 of our best ideas to get you dreaming:
1. Fantastic Fire Features
Fire features are a great way to start extending your time outdoors. Humans are naturally drawn to fire and if you've ever spent time around an outdoor fire you've probably noticed that it becomes a gathering spot.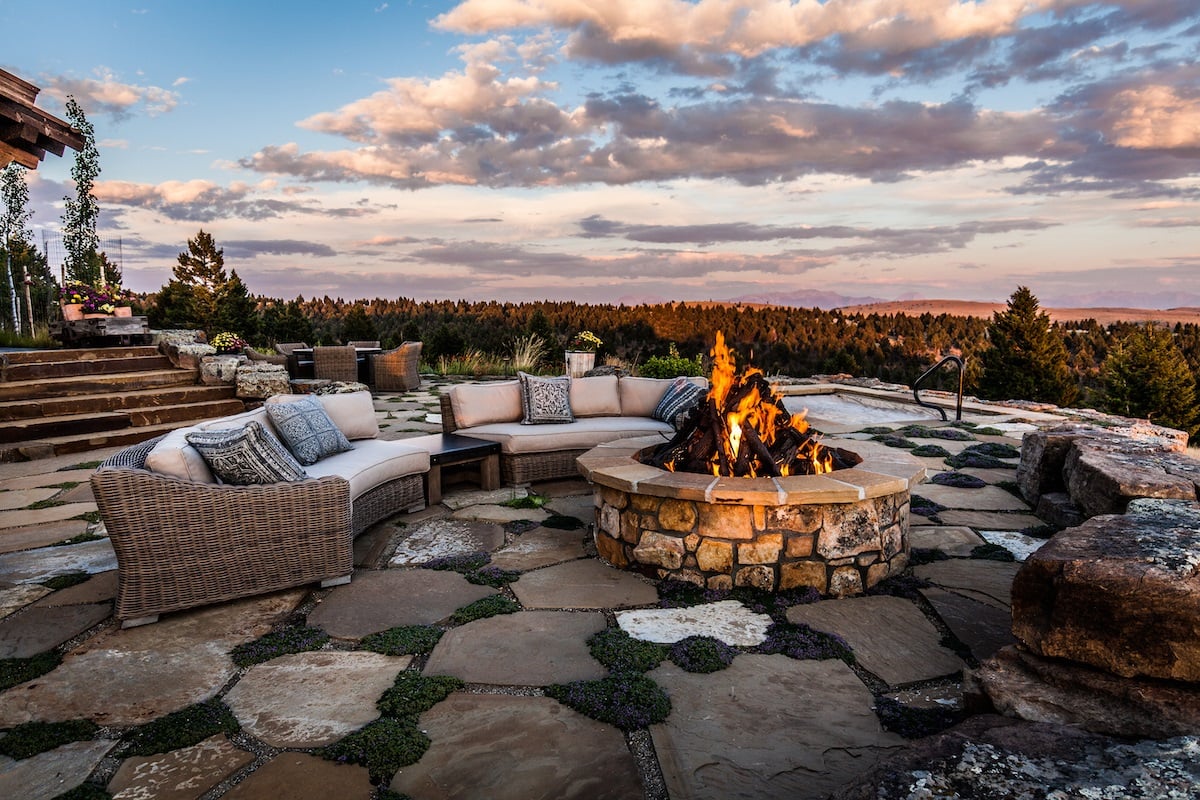 There are a number of potential fire features to consider. A fire pit, bowl, table, or outdoor fireplace can all make a good choice and which is right for you will depend upon your wants and needs.
No matter which specific option you go with, each can help you get more enjoyment out of your space by creating a place to gather, adding a sense of ambiance, and being a nice aesthetic addition.
Of course, fire can also physically help extend your time outdoors thanks to the light and the heat that it creates. As time extends into the evening hours, a fire feature can help keep you and your guests outdoors. Similarly, as the seasons change and the air gets colder, the warmth of the fire will help make your outdoor living area more comfortable and toasty for you and your guests.
2. Illuminating the Night with Landscape Lighting
When it comes to extending time spent outside into the evening hours, landscape lighting is critical. Lighting will allow you to physically navigate the outdoors in a safe and secure way.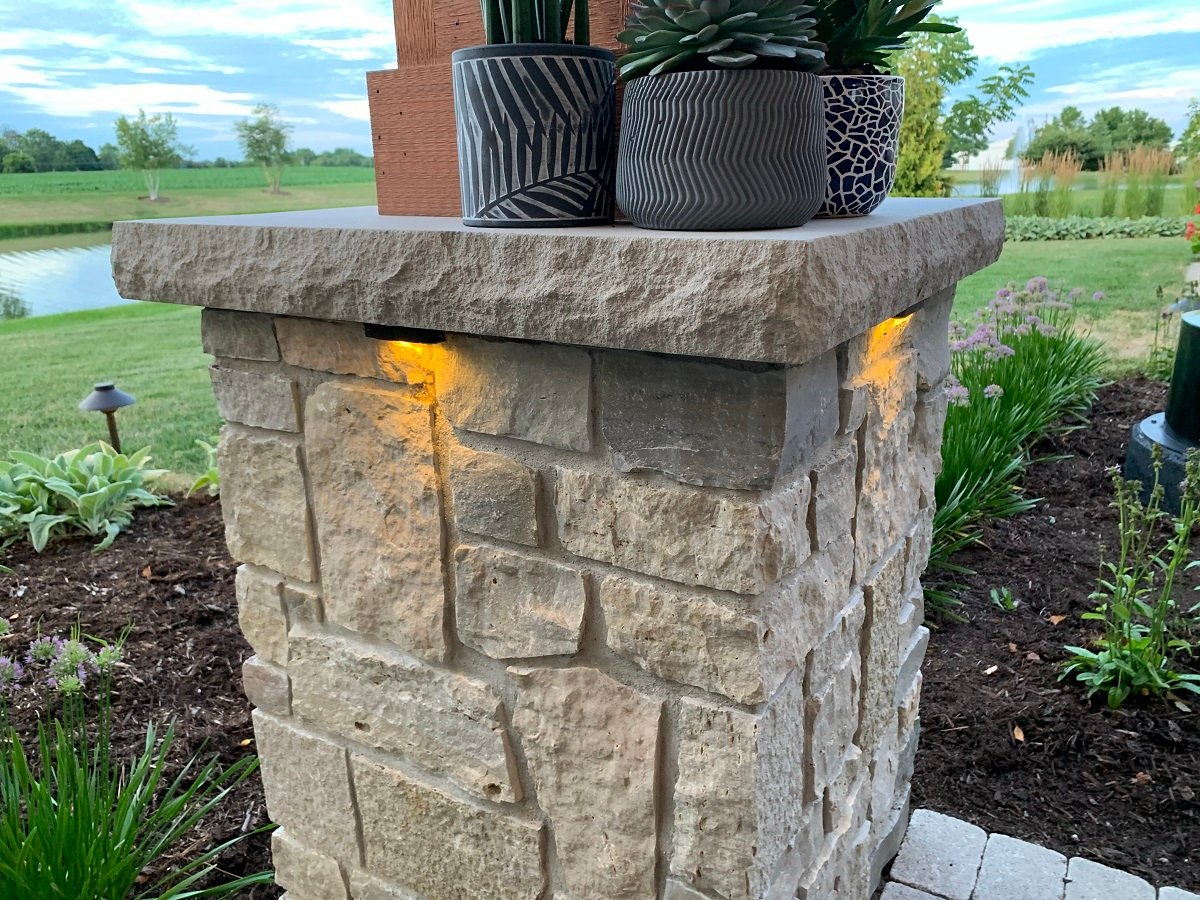 It's important that landscape lighting is installed well. When creating an outdoor lighting design in Bozeman and Big Sky, MT, we like to say that less is more. You obviously need to be able to get around your space safely but light pollution can impact your view of the nighttime sky—something that we strongly cherish here in beautiful Montana. We know that people love looking at the stars and it's important that lighting does not impact that experience in a negative way.
3. Warming up with Outdoor Heaters
Adding outdoor heaters to your patio can be another great way to extend your time outdoors by extending the season. As you know, the Montana cold months can be quite bitter and the weather may keep people indoors. But by simply adding some heaters to your outdoor area, you can really extend the season.
Propane and natural gas heaters are being designed to be sleeker and more modern. They don't have to take up a lot of space but they can safely and effectively throw quite a bit of heat, warming up you and your guests.
4. Adding Fun and Relaxation with a Hot Tub
The activities available in your outdoor living room will also play a role in how long people spend outside. You, your family, and your guest want things to do.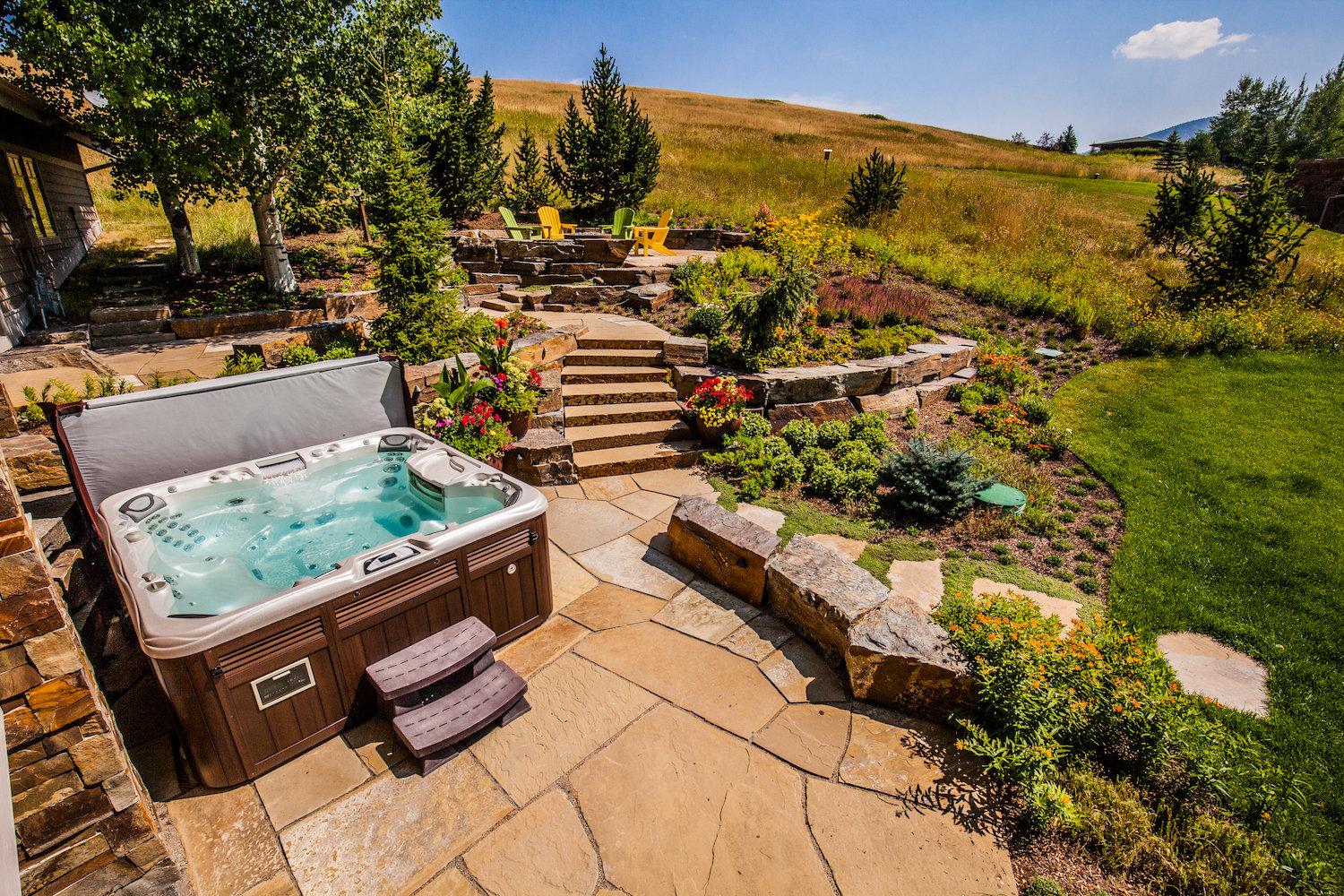 Enjoying a hot tub is undoubtedly a favorite way to spend time outdoors. It provides an opportunity for relaxation and overall enjoyment and you'll find everyone enjoys spending time there.
5. Enjoy Al Fresco Dining
When it comes to landscape design ideas, how about incorporating an area where you can enjoy your meals outdoors? There's nothing quite like dining under the stars on a beautiful Montana night. When you put thought into creating beautiful spaces where you can enjoy a meal, you end up spending more time outside with your friends and family.
6. Cook Your Meals with an Outdoor Kitchen
If you like dining outdoors, you might also think about adding an outdoor kitchen where you can cook your meals, too. Today's outdoor kitchens can have as many bells and whistles as you're looking for.
Maybe you want a built-in grill with granite countertops, a refrigerator so there's always cold beverages, and a sink for washing hands and cleaning up. Anything that you find in your indoor kitchen can be incorporated into an outdoor kitchen if you wish.
7. Lawn Game Areas for Active Fun
Dedicated areas where you can play lawn game favorites like horseshoes or bocce can be another great way to have activities that help keep people outdoors.
As you're thinking about a total landscape design, it might make sense to designate some room for these activity zones if that's something you enjoy doing.
8. Create a Place to Kick Up Your Feet and Relax
If your idea of spending more time outdoors involves relaxing with a glass of wine or lounging and reading a book, then you'll want to make sure that your landscape design ideas include room for these relaxation spots, too. Whether you'll be adding some chairs or maybe some hammocks, you might also want to think about the landscaping around these areas to help create some privacy and add some ambiance.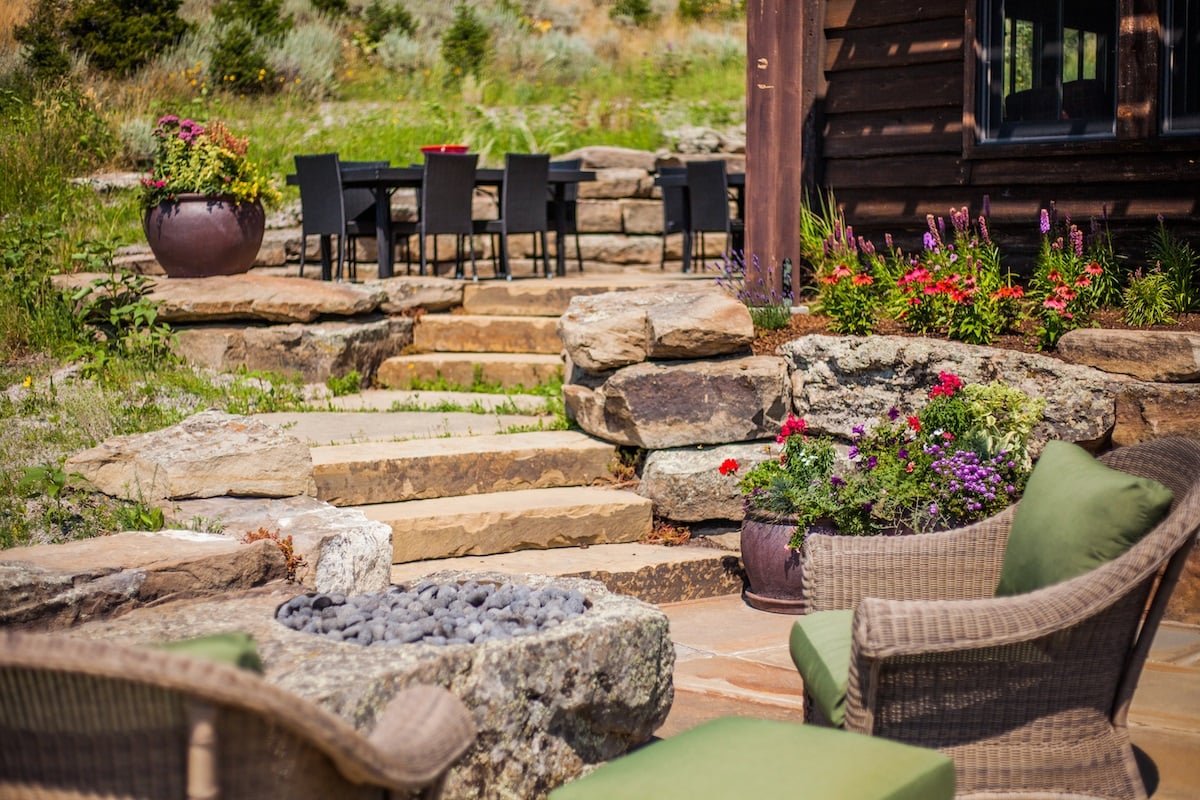 Having a cozy spot to kick up your feet can definitely encourage you to spend more time outdoors.
9. Add Plants that Attract Birds and Butterflies
If you're someone who enjoys bird or butterfly watching, then you might want to ask your landscape designer about plants that can be added which would attract these beauties to your property. Here in Montana, we do have some very interesting birds and many clients who appreciate bird watching.
In general, adding a garden to your outdoor area can really enhance your enjoyment of the space. Lots of research shows that gardens boost our mood and help with our overall well-being. Having the opportunity to sit by your beautiful garden will inspire you to be outdoors more often.
Consider Multiple Outdoor Rooms for Different Times of the Day and Night
As you think about some of these landscape design ideas, you might consider adding more than one so that you have activities and reasons to be outside at different times of the day. Perhaps your reading area might be in a nook in the garden where you'll spend time in the morning. This might be an area that is shaded from peoples' views. But, you might also have a lawn game area where friends and family will gather when you're entertaining.
The idea is to have lots of different types of areas that fulfill different needs that you may have.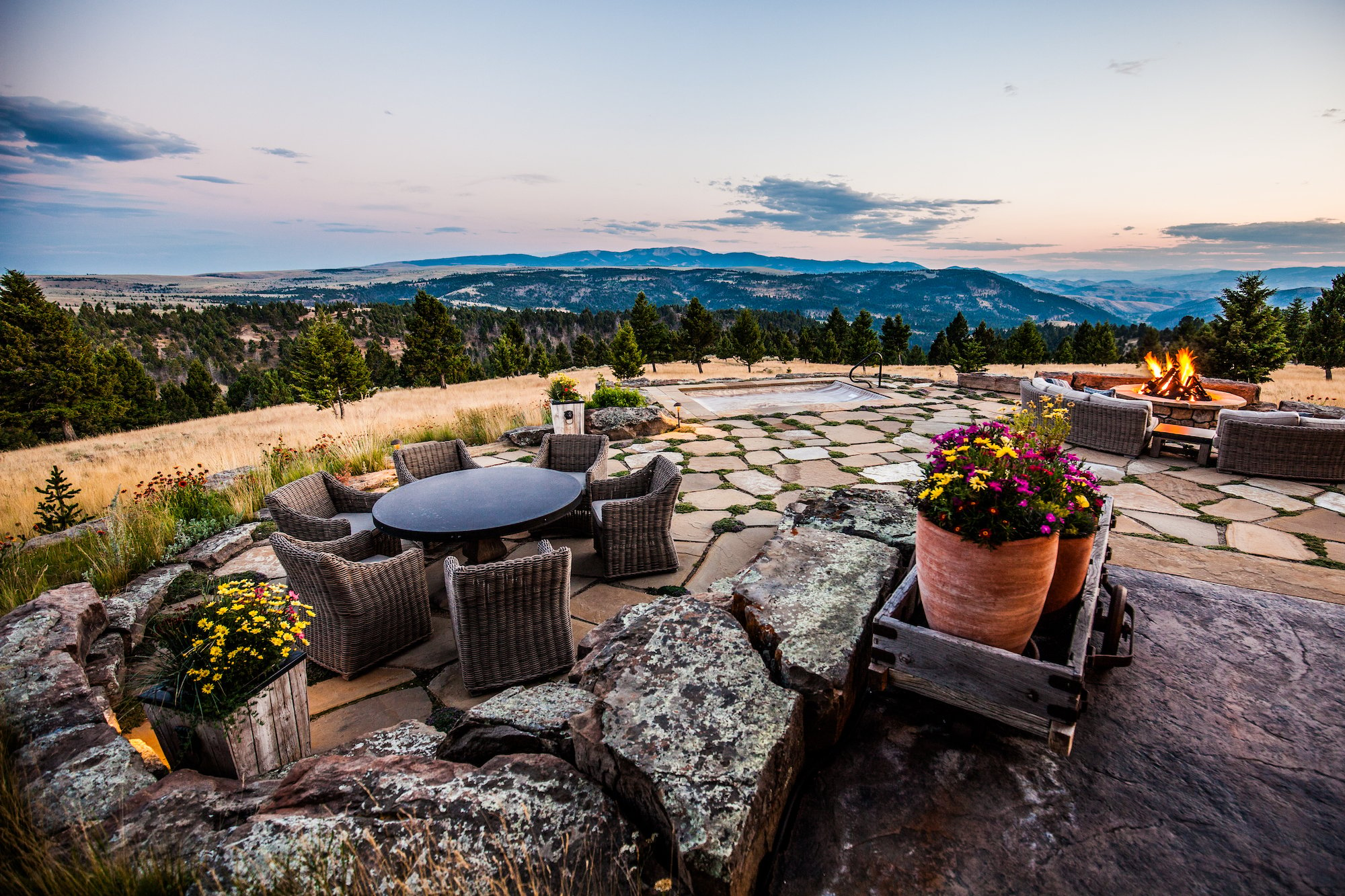 At Blanchford Landscape Group, we've worked on a lot of properties where we've created these various outdoor rooms to have multiple spaces where homeowners can enjoy their time outside. Sometimes these rooms are delineated by landscaping or by boulders or sometimes they're just created on different spots on the property.
Whatever the case may be, you want to think through how you can fully meet all of your different interests and needs throughout an entire day and night so that you can spend much of it outdoors.
Finding a Bozeman or Big Sky Landscape Designer Who Understands Your Interests
We spend a lot of time talking to our clients about how they'll use the finished product and what features will help them get the most out of it. Of course, not all landscape designers are going to take the time to get this detailed.
That could mean that you don't end up spending a lot of time there. Or even worse, you might be disappointed or feel frustrated any time that you do hang out there.
At Blanchford Landscape Group, we want you to end up with outdoor living areas that you love. That means creating a space that will help inspire you and support you in your efforts to spend more time outside.
You can also count on us to always answer your questions as we go through the process. We are available to be your guide and to help you make wise choices. When you're taking the time to work through the options with a professional guiding the way, you know that you'll be happy with the finished project. Soon, you'll be spending more time in the beautiful outdoors and soaking in every minute of it.
Are you ready to get the process of designing your outdoor living area started at your Bozeman or Big Sky, MT home? Let's connect and talk about your project. Then we can meet and begin talking about your ideas! We can't wait for you to be able to enjoy your amazing space.