A patio can be one of the most exciting additions to your Bozeman or Big Sky, MT property. Patios not only create functional hardscaped space but they also add aesthetic appeal. For that latter benefit, the patio material that you choose is an essential consideration. You'll need to make a wise choice in order to reap the most benefits.
One decision you might be weighing is whether you should choose a paver patio or one that is made from natural stone. You might be wondering what the differences are and which material would make the best choice for your home.
We understand that you want to have all the information so that you can make the best possible decision. That's why we're discussing these materials and how to make a choice that is right for you.
Paver Patio vs. Natural Stone Patio
You might be wondering what is the difference between a paver patio and a natural stone patio? Because the word "stone" gets thrown around a lot—even in reference to pavers—you may be confused about the difference.
Though they might be referred to by some as "stone," in reality, pavers are man-made concrete blocks that are shaped and colored in many different ways. It's not uncommon for paver manufacturers to even make pavers that look like natural stone. However, it's still not the real thing.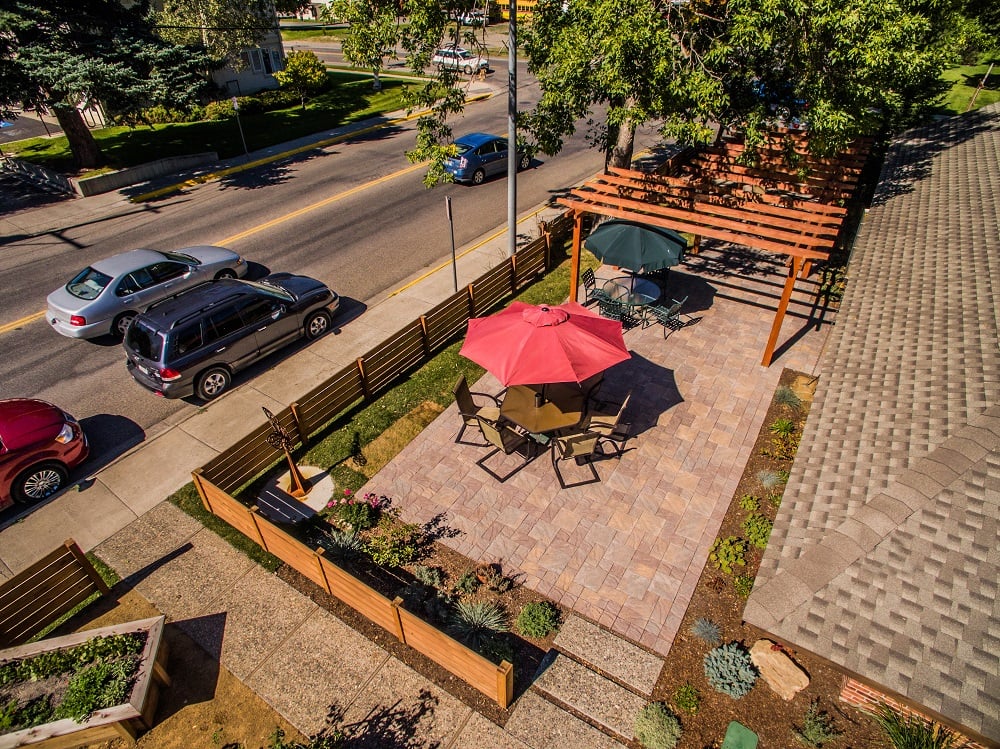 In Bozeman and Big Sky, MT, the natural stone that we are using most often is sandstone. Most native to our specific area is Frontier Sandstone—however, we have ventured into using other colors and types, too.
Sandstone makes an excellent material for patios. As far as natural stone goes, it is "soft" enough to be cut into unique shapes and sizes but still hard enough to be incredibly durable. As a paving material, sandstone is naturally slip-resistant which is another nice benefit. This is a result of the inherently grainy texture of this stone. Sandstone also just looks great here in Montana since it's found here naturally.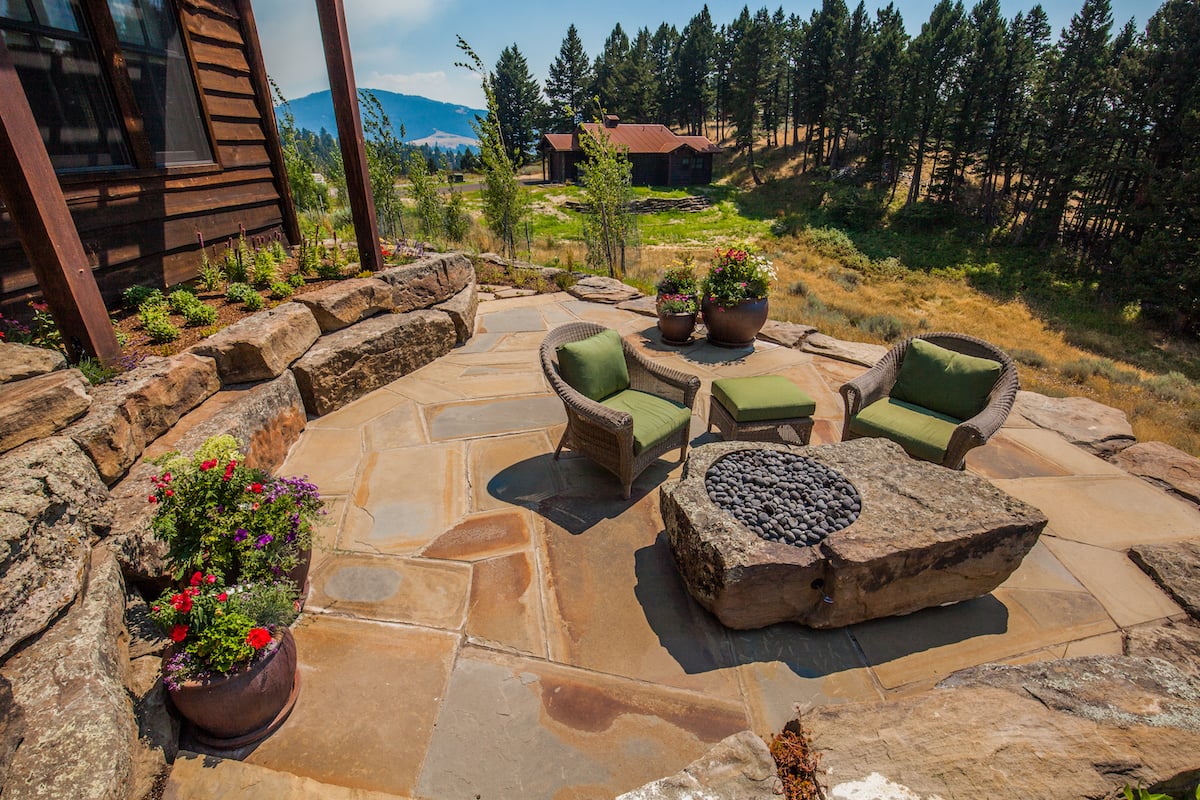 These are some key benefits of sandstone, specifically. But let's dig even deeper into why natural stone, in general, makes a superior choice over man-made pavers.
What Makes Natural Stone Superior?
There are a few reasons why natural stone is ultimately the best choice in a patio material. Let's walk through each of these reasons.
Natural Stone is Timeless
Because natural stone comes directly from nature, it can't go out of style. That means in terms of a design choice, natural stone is going to stand the test of time. There will always be a sense of elegance and timelessness that comes from natural stone.
When you choose a trendy paver, you always run the risk of that trend running its course. That could hurt the value or return on investment (ROI) that you're going to get out of your patio.
Natural Stone is More Durable
Another reason that natural stone is a superior product is that it is incredibly durable. It has already survived in nature for thousands of years so you can feel confident it's going to hold up as a patio material, too. On the flip side, the surface of man-made pavers can weather over time and begin to expose the aggregate (the tiny rocks and pebbles that comprise structural filler in concrete).
Natural Stone Makes Future Changes Easy
We've already talked about the fact that you can count on natural stone being timeless in terms of style and holding up for the long-term in relation to durability. But, you should also know that natural stone allows for future changes that man-made pavers could not accommodate.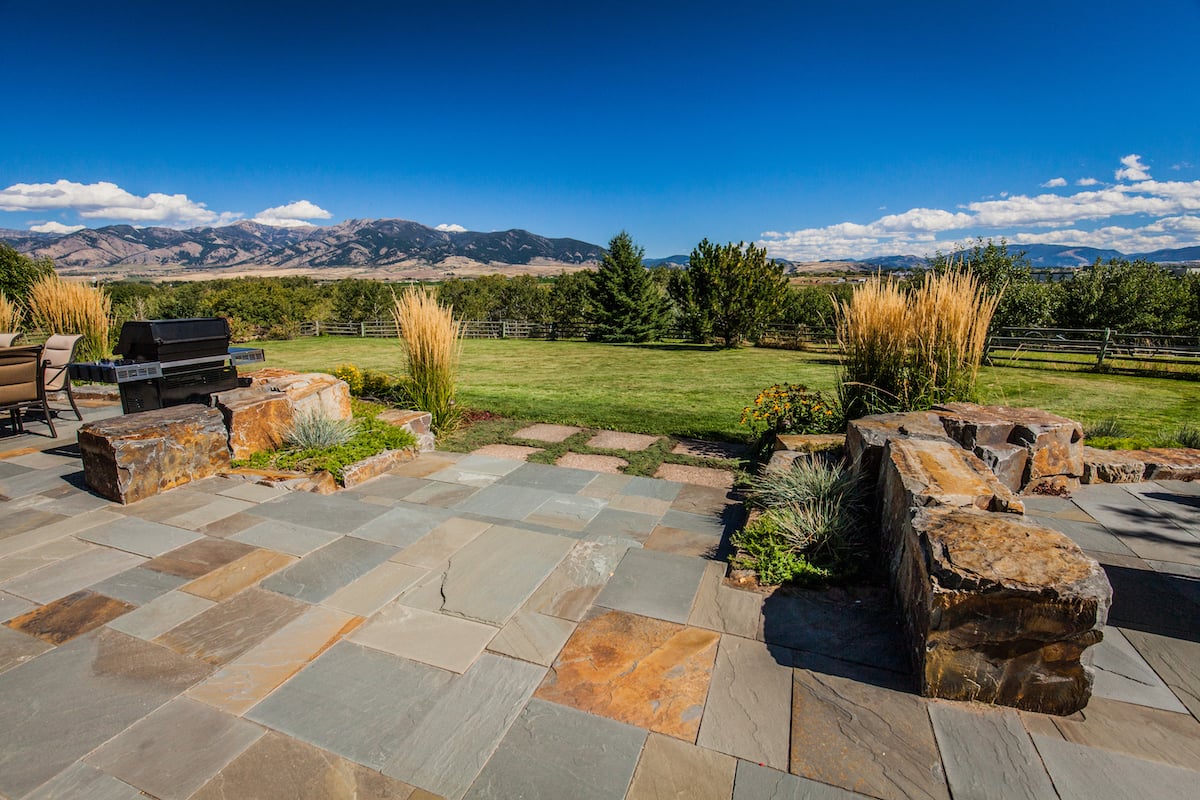 For example, say that 10 years from now you decide you want to add on to your patio. If you used man-made pavers, that line might not be available anymore. But if you chose an indigenous, regionally sourced stone (like Frontier Sandstone), then you know it will always be there. That means you can always add on or renovate and rest assured that you can keep that same material. You won't have to rip out your patio and start completely over.
There's a permanence about it that people really appreciate. After all, longevity directly equates to value.
Natural Stone "Fits" the Montana Landscape
Another key reason that many homeowners in Bozeman and Big Sky, MT opt for natural stone is that it just "fits" the region. We know people feel this way because we get specific requests for natural stone all of the time. Since we are so focused on a natural aesthetic and creating spaces that truly blend with the surroundings, natural stone just makes sense in many of our projects.
Natural Stone "Fits" the Architecture
There are some cases where natural stone is a no-brainer simply because the home itself features natural stone. We've worked on a number of properties where a chimney is built from sandstone or the home's facade features natural stone. In these cases, natural stone is an obvious choice. It would not make sense to use a man-made paver product that is going to clash with the home itself.
In these types of situations, most homeowners already know that natural stone is the clear choice. In fact, these are the cases where natural stone is usually a request from the onset.
Why Go With a Paver Patio?
With so many clear benefits to using natural stone, why do some people choose paver patios? There are a few key reasons.
One obvious reason is budget. Natural stone is about two times more expensive than paver patios. You are not only paying for a superior product but also the fact that installing natural stone is much more labor-intensive. Whereas pavers are made to fit together easily (almost like legos), natural stone installation is both an art and a skill—and it's more time consuming, too. All of those factors mean that you'll end up paying more for labor.
We can make a lot of arguments for why it's worth paying more (the longer-term investment, the durability, the timelessness) but the fact is, some homeowners are confined to a certain budget that makes natural stone unaffordable.
Another reason is that there are some homeowners who do prefer the look of pavers. Pavers can be made in many colors, styles, and shapes and that may be appealing to some for their specific design aesthetic.
In some urban settings where homeowners have more modern homes, pavers might make sense as a design choice. In these cases, homeowners might be looking for a trendy design choice, and pavers are the way to go.
Blanchford Landscape Group's Stance on Pavers
It's important that we are clear that we are not opposed to paver patios and we've even worked on some of these projects. One of the recent paver patios we completed was in an urban setting where the homeowners wanted a modern paver. Of course, we still found a way to blend some Montana boulders into the landscape, to give the client the best of both worlds.
We recognize that pavers can meet homeowners' needs financially and can still give them the functional hardscaped space they desire.
That being said, it's fair to say we prefer natural stone for the reasons we've outlined above. In most cases, we believe it gives our clients the ultimate value for their investment. And in a lot of the projects that we've worked on, natural stone just makes sense. There's really no better way to say it.
As we mentioned, we also get quite a few specific requests for natural stone which leads us to believe that many of our clients feel the same way about this product as we do. Before we even make any suggestions, many of our clients have already specifically brought up natural stone for their properties, even if they're just thinking about it in terms of aesthetics at that point.
Choosing Paver Patio Contractors vs. Natural Stone Contractors
As you think about what material you might be using on your patio, you also need to consider who is doing the installation. Though there are some paver patio contractors who prefer to work with pavers (or maybe only work with pavers), at Blanchford Landscape Group, we can offer both.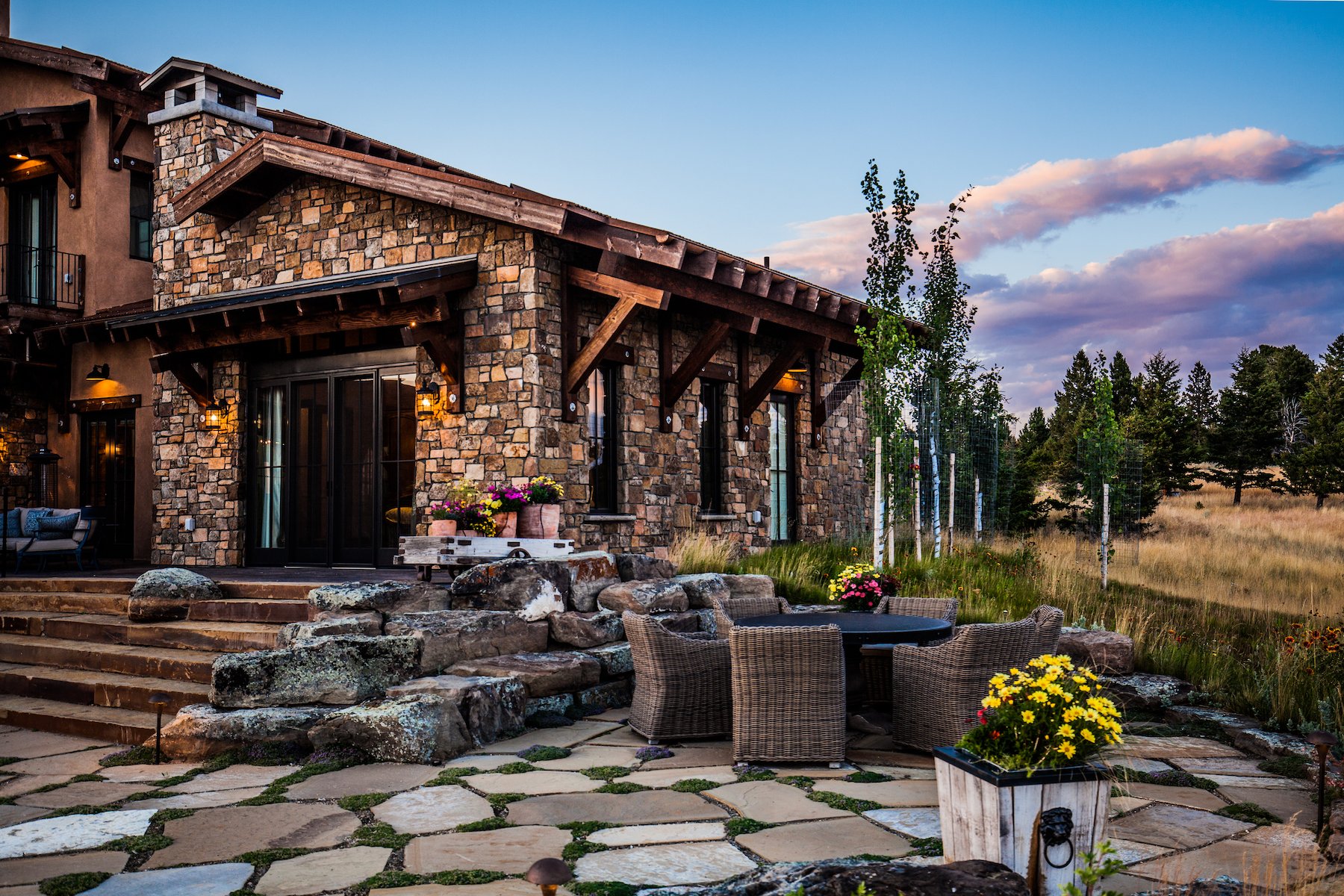 It's important to recognize that not all contractors are skilled in installing natural stone. As we've said, pavers are easier from an installation standpoint in that they are physically made to fit together. But natural stone is obviously a product directly from nature and the contractor who installs it as a patio material must have an eye for design.
As we mentioned previously, natural stone installation is both an art and a skill.
Ultimately, you want the patio to look like it was always made to come together that way even though the installation process likely involved quite a bit of ingenuity and creative thinking.
Choosing Blanchford Landscape Group for Your Patio
The bottom line is that we want our clients to be happy. We genuinely care about you and your project and we do not want you to be disappointed in the long run, wishing you had invested a little bit more in natural stone as opposed to concrete pavers.
Of course, all that being said, we understand when our clients still show a preference toward pavers.
In the end, your choice in patio contractors and patio material is a big one but by choosing wisely now, you can prevent problems on the back end. Here at Blanchford Landscape Group, we are here to support you in your decisions. We are available to answer questions and to help use our expertise to guide you toward choices that make the most sense for you. But ultimately, it's your project. No matter how you choose, you deserve to be happy that you've made the best decisions.
Are you ready to get the process of designing your Bozeman or Big Sky, MT patio started? Let's connect and talk about your project. Then, we can meet and begin talking about your ideas! We can't wait for you to be able to enjoy your amazing space.