It's a scientifically proven fact that plants make people happy. Greenery and nature help us to feel more relaxed and less anxious. Considering that life can get hectic and stressful, that's a pretty welcomed advantage.
But plants do more than just uplift our moods and reduce stress. They also play a role in cleaning indoor air. Research by NASA has revealed that indoor plants can remove up to 87 percent of air toxins. As a result, NASA suggests having at least one plant per 100 square feet of home or office space.
Of course, when it comes to creating an interior plantscape design in Bozeman or Big Sky, MT, you might not know where to begin. Whether you're trying to create an interior plantscape for a home or a commercial space, you might not have any idea what plants to choose, where to place them, or how to care for them.
That's where a professional can help.
A professionally designed interior plantscape can help provide you with the benefits of a beautiful indoor green space that not only looks fantastic but also keeps your air cleaner and your mood lighter.
Here are some things you might be interested to know about this service.
Bringing Nature In
First and foremost, you might be wondering what interior "plantscaping" means. Plantscaping is often used when referring to interior landscape design. It's all about bringing plants indoors and arranging them in a way that enhances the aesthetics of the space while also providing all of the benefits that plants have to offer.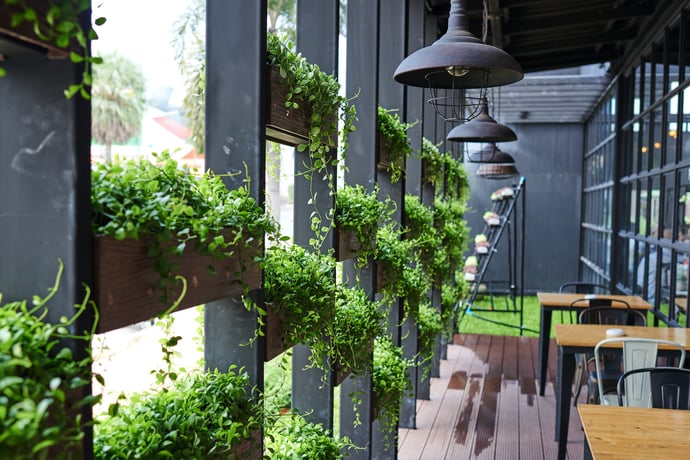 We like to think of interior plantscaping as "bringing nature in." This gives people some of the benefits they can get from spending time in outdoor green spaces, but from the indoors.
An interior plantscape might mean a grouping of potted plants or maybe even a living wall where we can cover an entire wall with plants. Since the latter is a big trend we'll get more into that next.
In terms of what plants might be utilized in interior plant design, the possibilities are vast. While you certainly need to choose plant types that will perform well indoors and with your lighting conditions, there are more opportunities than you may think, particularly when you work with a professional. That is another point we'll cover more in-depth when comparing the DIY route to using a pro.
Just to give you a few examples of indoor plant choices that our clients like, we've incorporated plants such as Bird of Paradise, Ficus trees, and Santa Vera into interior plantscapes.
Around the holidays, Christmas Cactus, Amaryllis, Poinsettias also tend to be popular choices along with living garlands and of course, Christmas trees.
Just like an outdoor landscape, the idea is not only to choose the right plants but to arrange them in a thoughtful way. Whether it's a holiday arrangement or an everyday one, you want to help ensure that the aesthetics work for your space. We usually take the design approach of letting the "space speak to us," in the same way that we'd approach an outdoor design.
Going Vertical with a Living Wall
Living walls have been a growing interior design trend for quite some time and they continue to gain traction—for good reason. It can be difficult to create interest in a vertical fashion but living walls achieve just that. It's a very unique aesthetic to bring to your indoor space.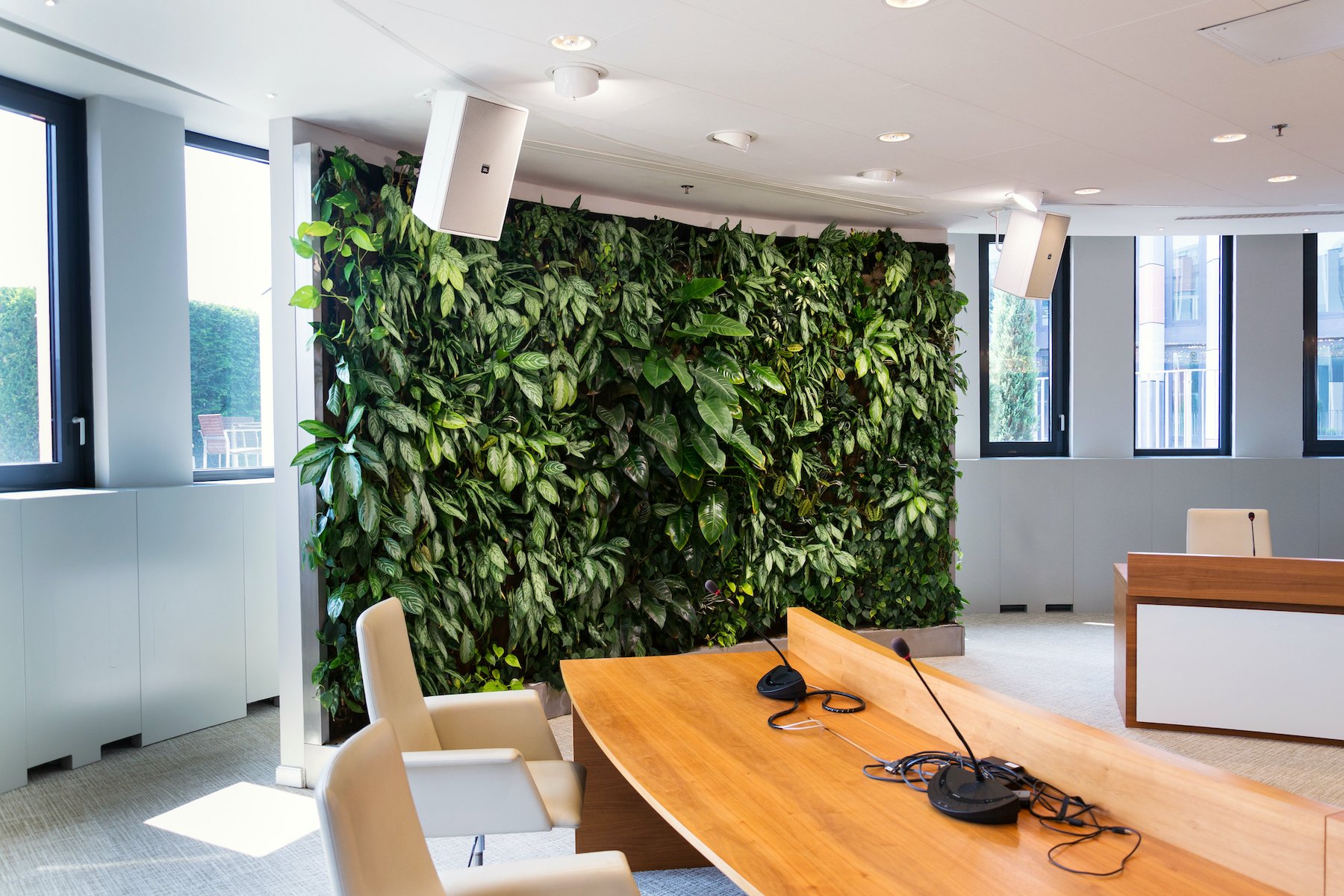 Living walls can also pose some more functional benefits such as creating privacy between spaces (particularly beneficial in an office space or possibly a restaurant) and even filtering sound. Research shows that a living wall can absorb 41 percent more sound than a traditional facade. This makes the indoor environment naturally quieter something that can be beneficial in commercial office spaces, retail spaces, hotels, bars, and restaurants.
Of course, living walls do not just have to be used in commercial spaces.
They can be incorporated into residential dwellings as well. We like to think of living walls as literally "bringing your walls to life." It's a much more interesting way to make a statement in one of your rooms than using a funky wallpaper design!
Caring for an Interior Plantscape
Whether indoors or outside, plants need oxygen, water, and sunlight to perform their best. They also require occasional fertilization. But caring for indoor plants can sometimes be trickier for people who are concerned about amply meeting their needs.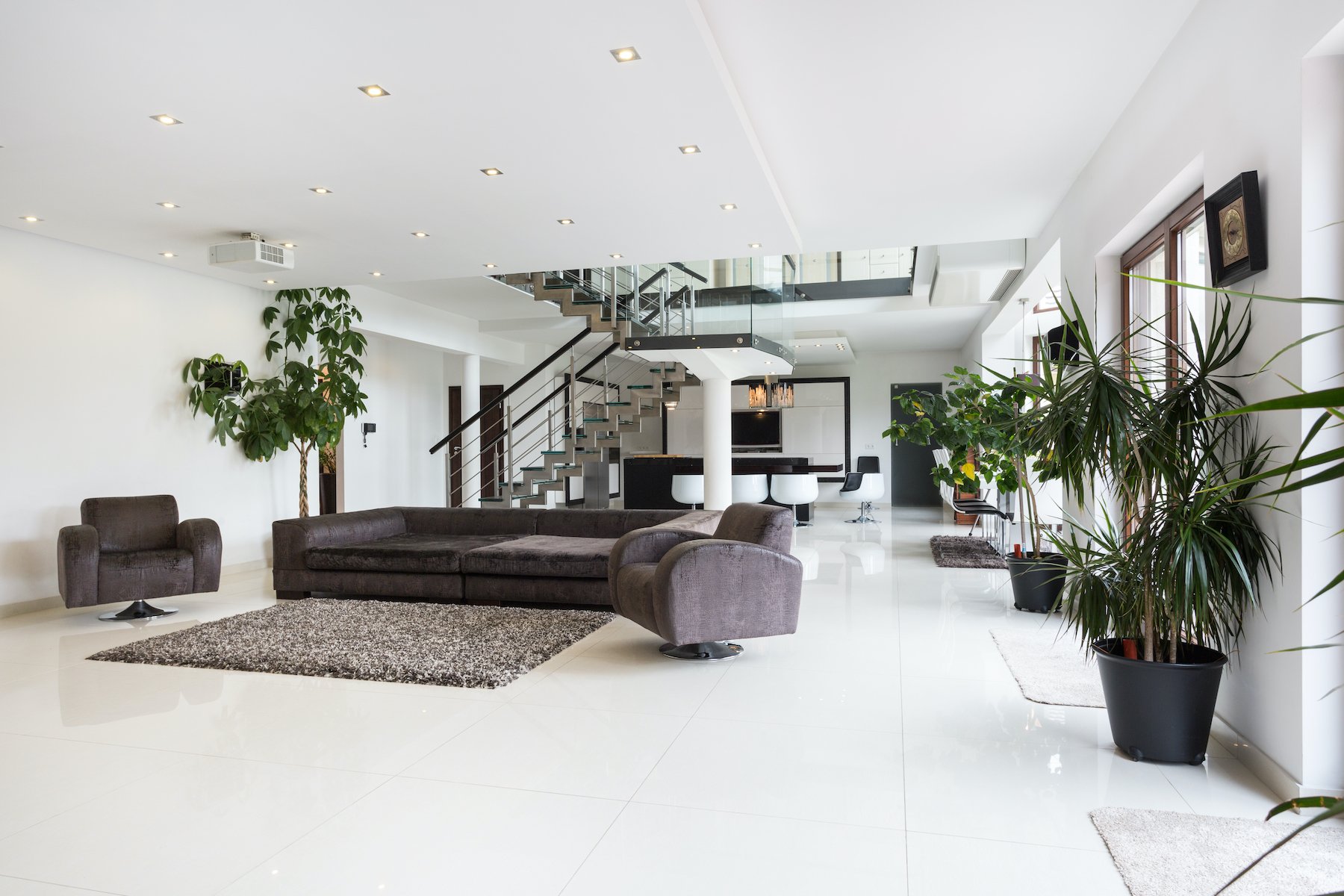 Ensuring that plants are placed in the right area of a residential or commercial space based on their sunlight needs is one major consideration. Being careful to keep plants watered properly is also important. Just like outdoor plant types, some indoor plants require more water than others.
But there's more to their care than sunlight and water.
Indoor plants are prone to disease and insect problems. If you have an indoor plant collection for long enough, it will likely become infected with something (disease or pests) at some point—and you may not know what to do.
This is where having a professional handling your plantscape can really pay off. Not only will a pro know exactly where in your space that plants will perform best (from a sunlight standpoint) but they'll be able to watch for disease and pest problems. Early detection with these concerns is everything.
When a professional is caring for your plantscape and some of your plants become infected, they can remove those plants to be treated and replace it with something that is healthy while it's being nursed back to health. That means you never have to live with a sickly (and unattractive) plant.
A pro also knows how often and how much to water your plants—and can handle that service for you. It removes all of the guesswork on your end. All you have left to do is enjoy your plants.
DIY vs. Professional Interior Plant Design
We've already talked about how working with a professional can help ensure that your interior plant design is properly cared for. And we've alluded to how working with a pro can ensure a better selection.
But let's dive deeper.
A lot of people assume that they can just go pick out some indoor plants (or even order them online) and simply arrange them in their space the way they like. But when it comes to anything more than one or two plants near a window, there's a lot more "eye for design" involved than people realize.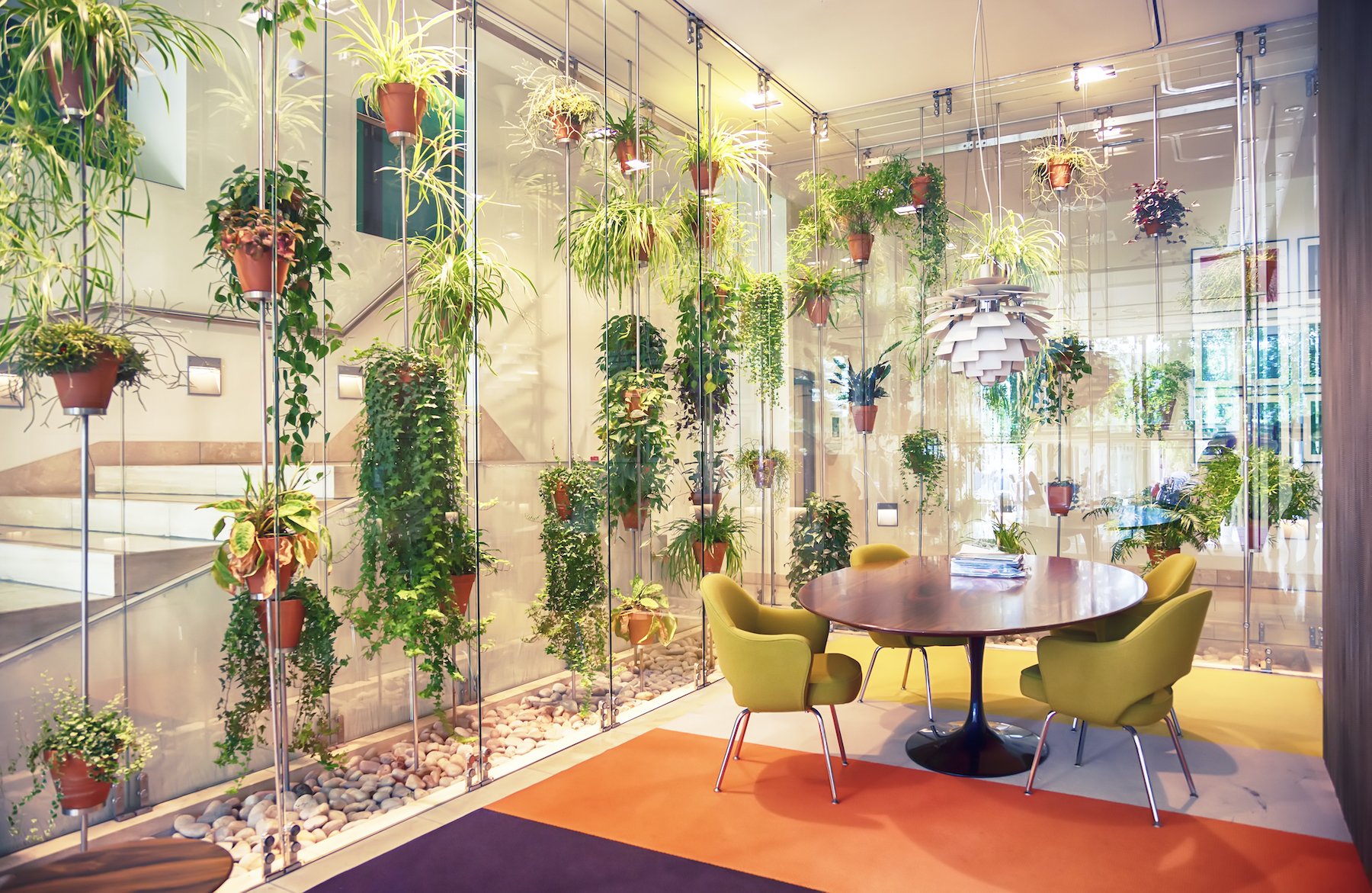 You don't want your interior plantscape to suddenly start looking messy because no thought was given to the design or the future of the design. After all, plants are a living, growing, and changing thing. Though your arrangement might initially look good, over time, as plants grow, it might start to look sloppy. If you're working with a plantscape professional, they can move plants around or even swap them out with what's in the greenhouse that way your design always looks good.
It's also worth mentioning that you can dramatically benefit from professional plant selection.
We have made connections with growers and nurseries in Florida, California, Texas, and other areas so that we can bring in some incredibly unique plants that otherwise might not be available here in Bozeman or Big Sky, MT. As we mentioned earlier, the plants you could pick up at a big box store are never going to compare with some of the beautiful plant material we can bring in from out of state.
Many of these specialty plants do require special care and some knowledge in horticulture—which is yet another benefit to working with a pro.
We can even bring in tropical plants that might need care in our greenhouse over winter but can give you some indoor beach vibes when properly cared for throughout the season. What better way to truly make your space unique?
On top of that, we are also building up our in-house nursery and greenhouse so that we always have plant material in stock for quick swap-outs that might be needed when a plant is suddenly struggling or sickly. That means that your plantscape design can continually look and perform optimally.
Working with Blanchford Landscape Group on Your Interior Plantscape
At Blanchford Landscape Group, our focus on horticultural knowledge and experience has made interior plantscaping a natural fit for us. We're using the same approaches and care to our interior designs as we have used for our exterior ones.
There's no question that interior plantscaping can be transformative to an indoor space while offering some enticing benefits like improved air quality, reduced stress, noise filtration, and more.
Whether you have a commercial space or a residential one that you feel could benefit from interior plantscaping, we invite you to reach out and find out more about the process and how it could best serve you. In the same way that we get excited about transforming our clients' outdoor living spaces, we love creating beautiful indoor spaces, too.
Are you ready to learn more about our interior plantscaping services at your Bozeman or Big Sky, MT home or business? Let's connect and talk about your needs. Then we can meet and review a detailed plan of action. With everything being handled for you, you'll be able to relax and enjoy your indoor plants to the fullest.