Whether you are a self-proclaimed plant lover or not, most people really enjoy having plants around their homes. While we often think of plants as being outdoor elements, there are many noteworthy benefits of decorating with plants inside of your home or office.

In this guide, we'll talk about how to make the most of an interior design with plants.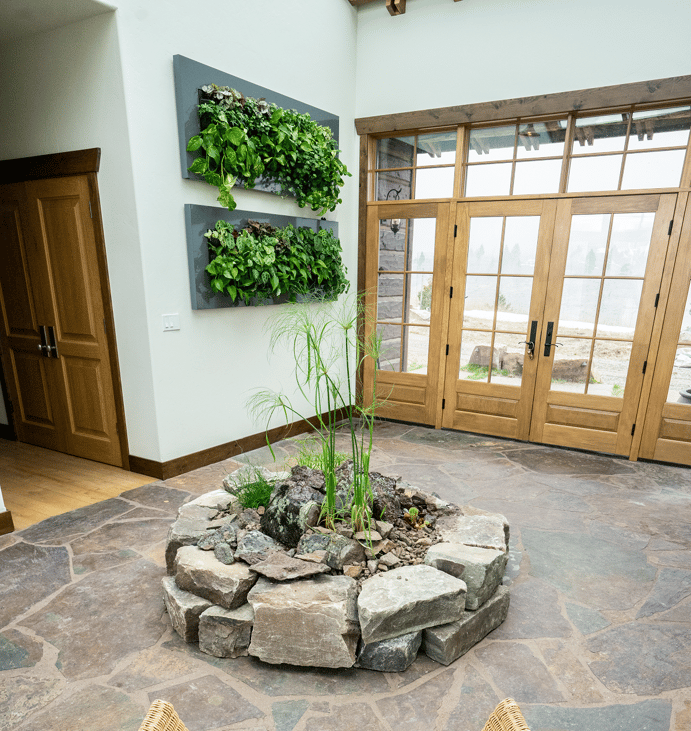 Table of Contents
What is Interior Plantscaping?
The Benefits of Decorating With Plants
Using Indoor Plant Design in the Workplace
Decorating Your Home With Plants
Using Indoor Plants for Holiday Decor
Choosing the Best Indoor Plants for Your Design
Maintaining an Interior Plantscape
Hiring an Interior Plantscaping Company

What is Interior Plantscaping?

The easiest way to think of interior plantscaping is to think of an "interior landscape." It's essentially just using plants inside, instead of outside. We have said before that we think of an interior plantscape as a way to bring nature inside.

Of course, it's a bit more complex than just bringing a bunch of plants inside and setting them around the home. An interior plantscape design involves strategic care to place plants in areas where they not only look the best but perform the best, too. There are obviously going to be some indoor plants that need more light than others.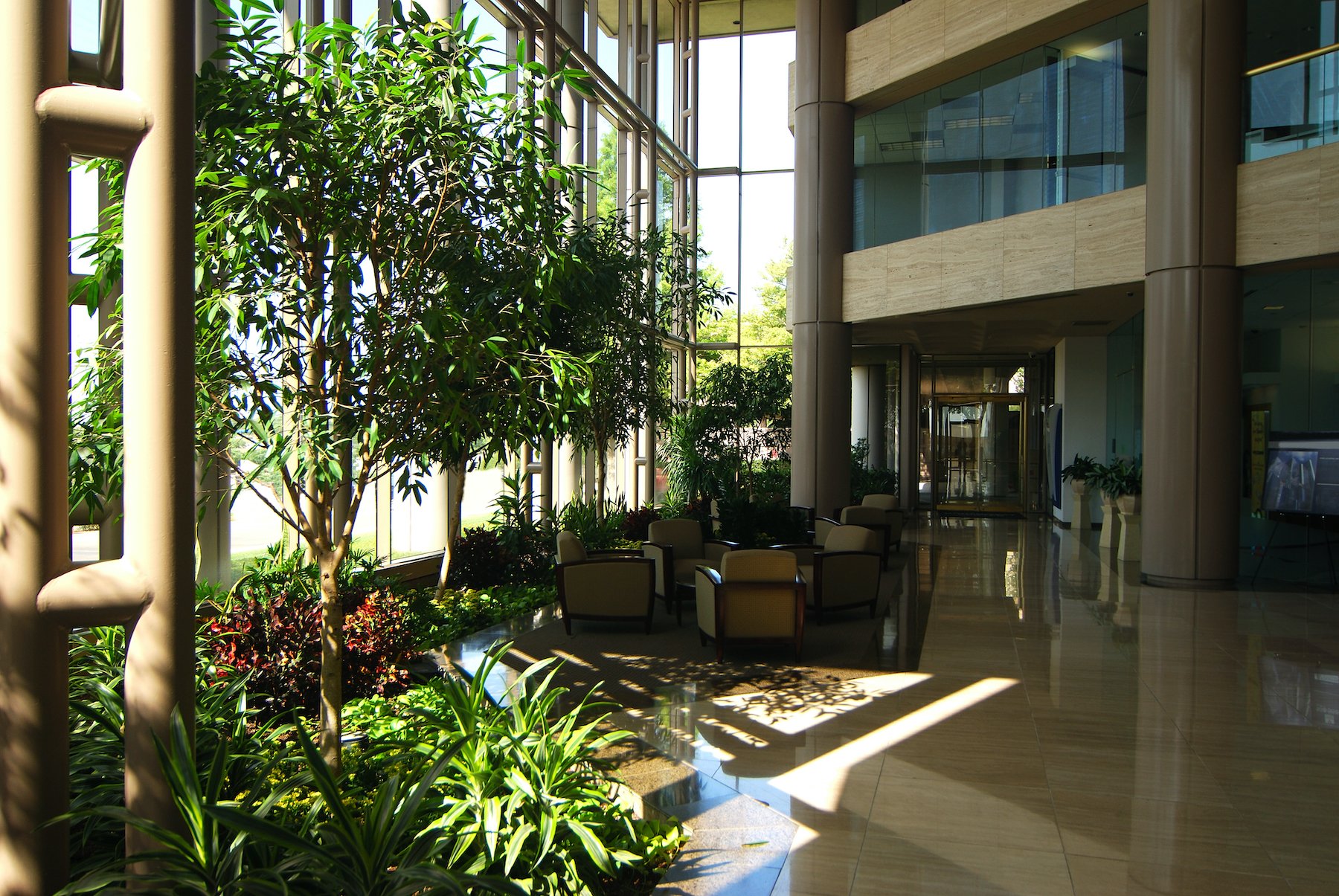 The number of plants and size of the plantscaping can also vary. An interior plantscape could be as simple as some groupings of potted plants, laid out with spatial and functional considerations in mind. Or it can be as complex as an entire living wall that is completely covered with plants. These "green walls" can add an entirely new look and feel to a space.

Just like an exterior landscape design, interior plantscapes can have many benefits. We'll dive into what you can expect from an interior design with plants.

The Benefits of Decorating With Plants
Whether you are decorating a residential space or a commercial one, indoor plants can contribute a number of benefits.

Aesthetic Appeal
The most obvious benefit of an interior plantscape is the aesthetics.

An interior plantscape design can add beauty to a space in a unique and appealing way. You might have some groupings of potted plants, a succulent container, or even a large potted plant on the floor and this can serve as some attractive decor.

Another aesthetically appealing option is a living wall, which is basically an entire vertical wall made up of plants. Living walls have been a growing interior design trend for quite some time and they continue to be popular with homeowners and business owners alike. It can be difficult to create interest in a vertical fashion but living walls achieve just that. It's a very unique aesthetic to bring to your indoor space.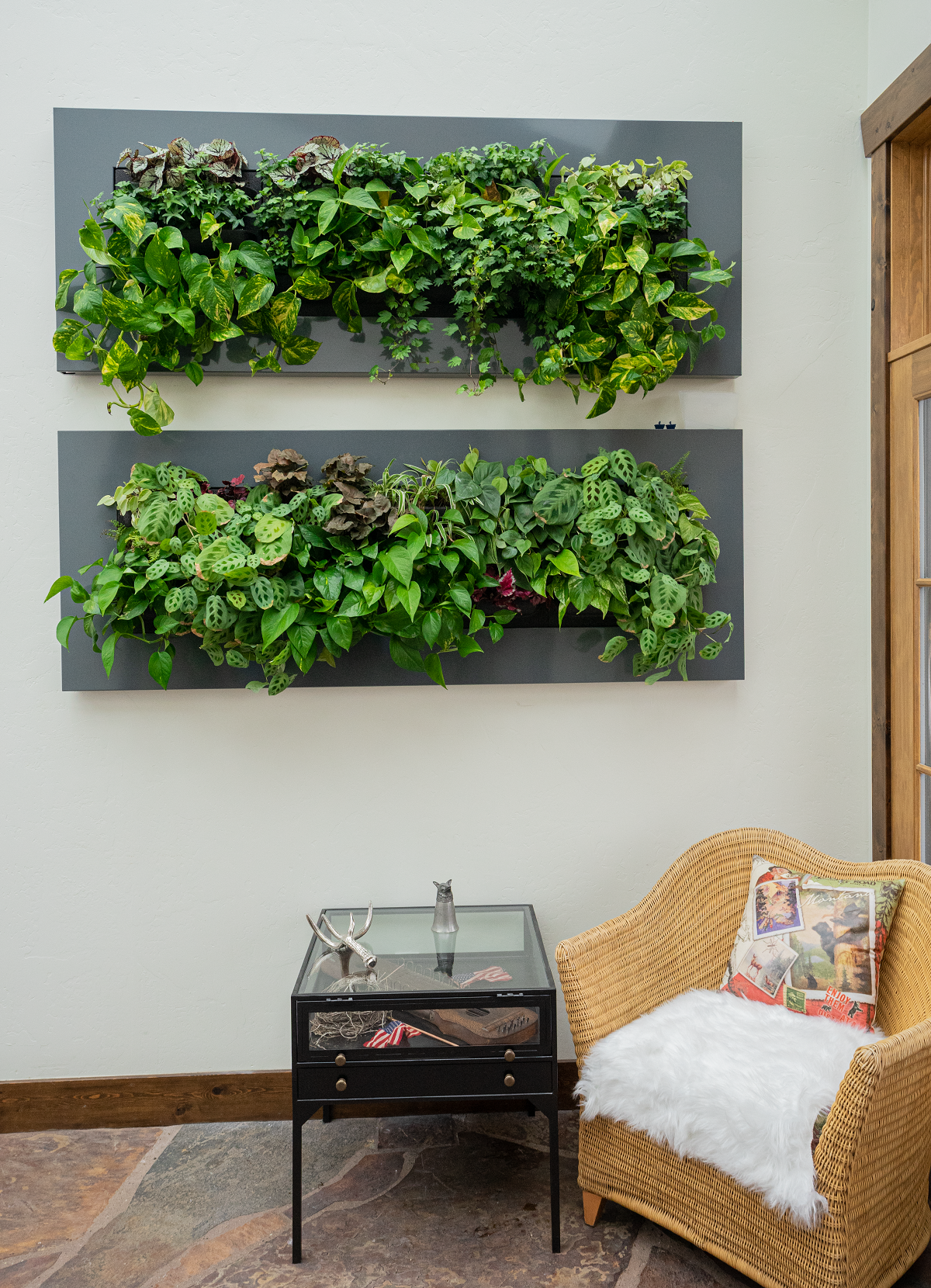 Plants Have Mood-Boosting Power
Decorating with plants can also help to boost your mood. There is research that shows plants can help reduce stress. For example, a Japanese study showed that plants can improve mental health. People who spent their days around plants were less stressed than those who did not.

Other research has pointed to plants' ability to help people concentrate better and improve their memories. It has also indicated that people are less depressed and overall happier around plants.

Privacy and Sound Barriers
Decorating with plants can also help you to create visual and sound barriers in an interior space.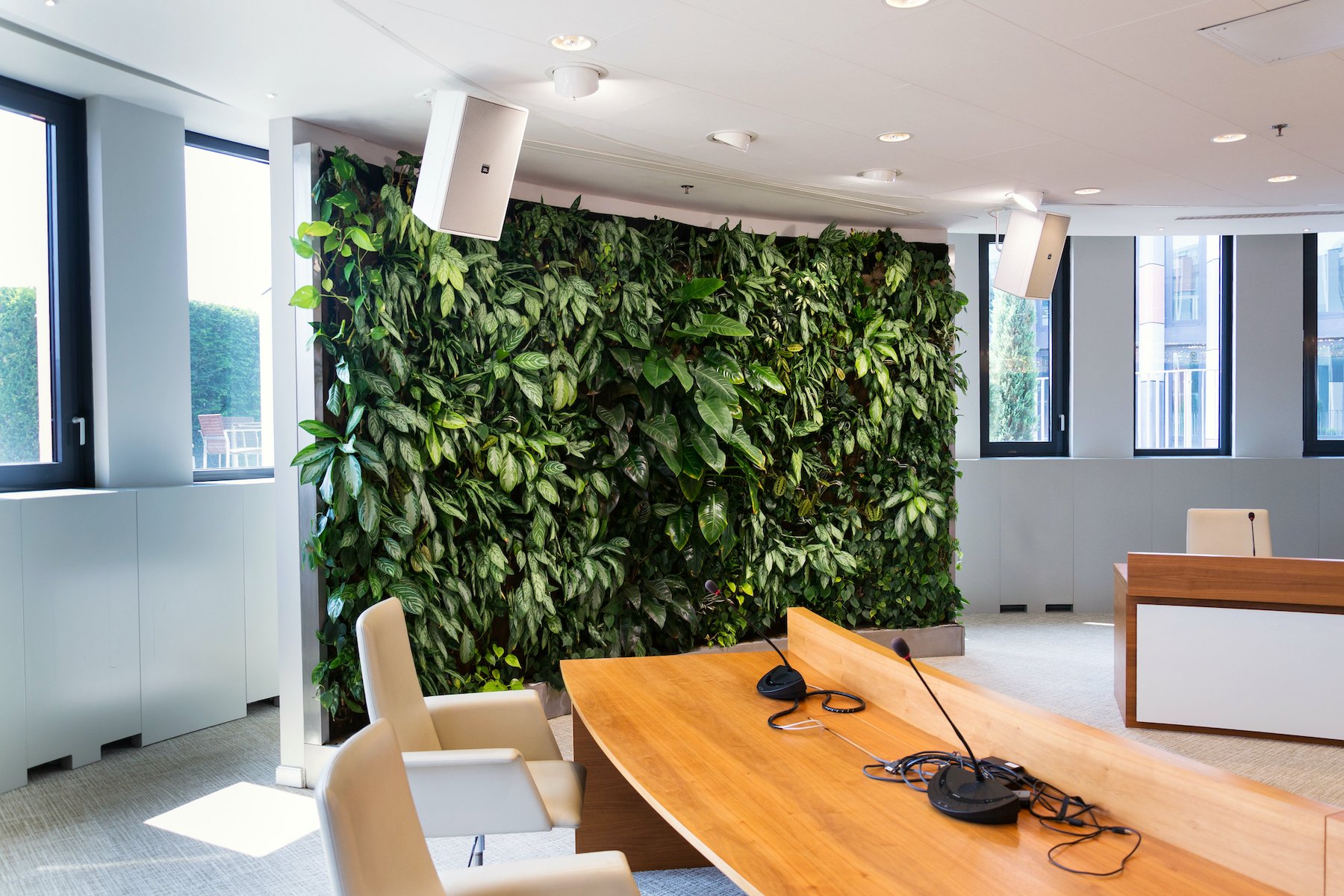 A living wall, for instance, can be a great way to create a barrier between spaces (particularly beneficial in an office space or possibly a restaurant). It can even filter sound. Research shows that a living wall can absorb 41 percent more sound than a traditional facade. This makes the indoor environment naturally quieter, something that can be beneficial in commercial office spaces, retail spaces, hotels, bars, and restaurants.

Of course, a living wall can also be a great addition to a residential home. It can be an attractive way to separate one room from another or even to create some privacy in an area that might be used as a work-from-home space or a reading nook.
Using Indoor Plant Design in the Workplace
Using indoor plant design for the workplace can be a great way to add appeal and also take advantage of some key benefits. Did you know that plants can make your team happier and possibly even more productive?

The research seems to indicate that decorating with plants at the office can make an impact in more ways than one.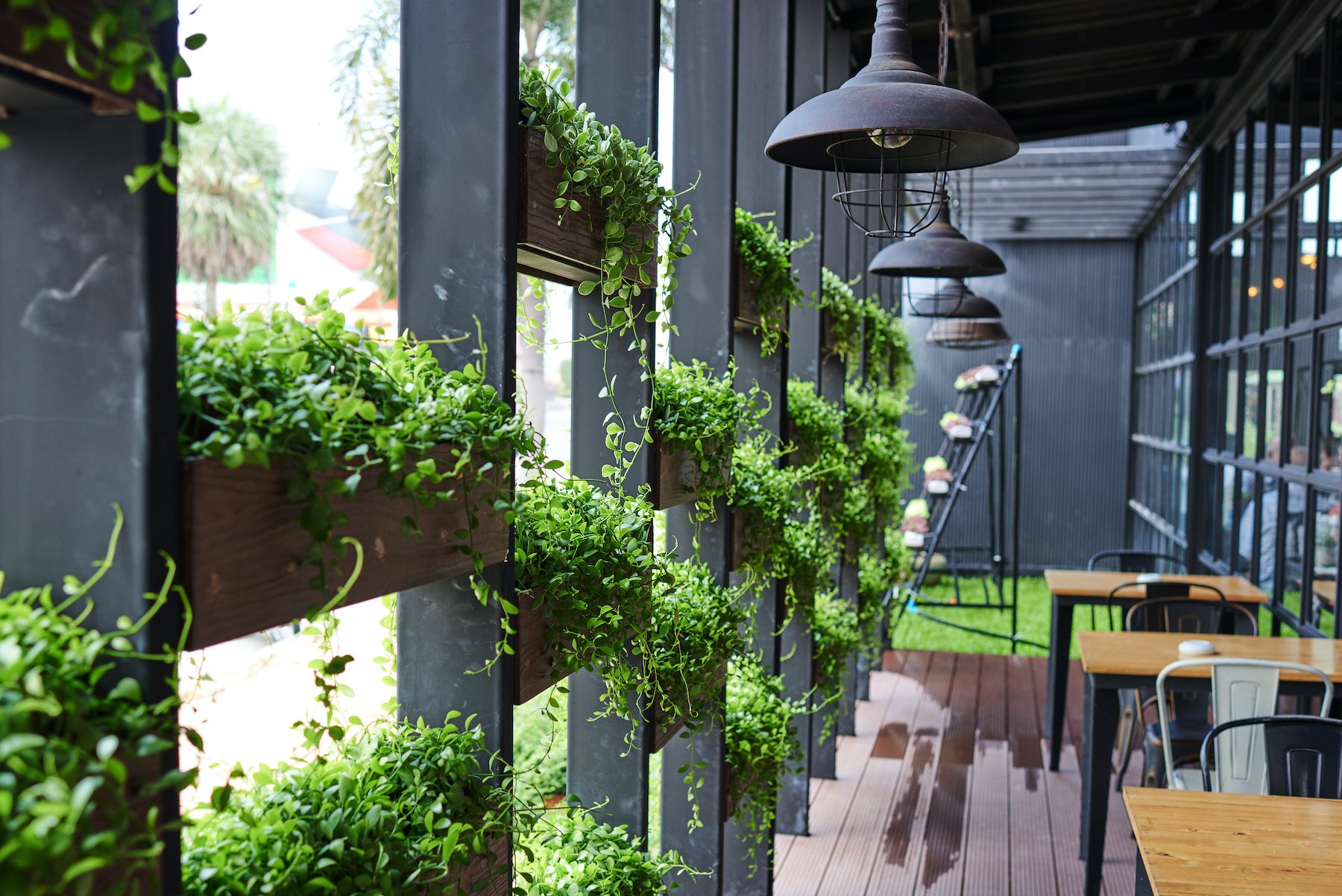 For example, research performed by the University of Exeter found that plants in offices increased happiness and, in turn, the levels of productivity amongst employees. In order to get this full benefit, the study found that it was important that everyone could actually see a plant from their desk. This makes the strategic placement of plant material important.

Another benefit of plants in the workplace is their ability to clean the office air.

Research by NASA has revealed that indoor plants can remove up to 87 percent of air toxins. As a result, NASA suggests having at least one plant per 100 square feet of home or office space.

Plus, research from the University of Technology Sydney found that indoor plants can help reduce carbon dioxide levels by about 10 percent in air-conditioned offices and by about 25 percent in buildings without air conditioning. That research showed that palms were the best for carbon dioxide reduction. But in terms of volatile organics, just about any plant had a benefit.

But the same aesthetic benefits that apply to a home, also apply to an office. An office that is decorated with plants simply looks better. You'll create a more appealing and attractive workspace for yourself or your team. And if you have clients that come into your business, it can make a difference for them, too.

Decorating Your Home With Plants
As you think about an indoor plant design for your home, it's important that you consider visibility. Decorating your home with plants doesn't make a lot of sense if they are in obscure places where they cannot be seen and enjoyed.

This is where strategic design comes into play. Plants need to be placed in locations where they can provide the most possible visual appeal. But they also need to be in locations where their needs are met (access to sunlight is absolutely key).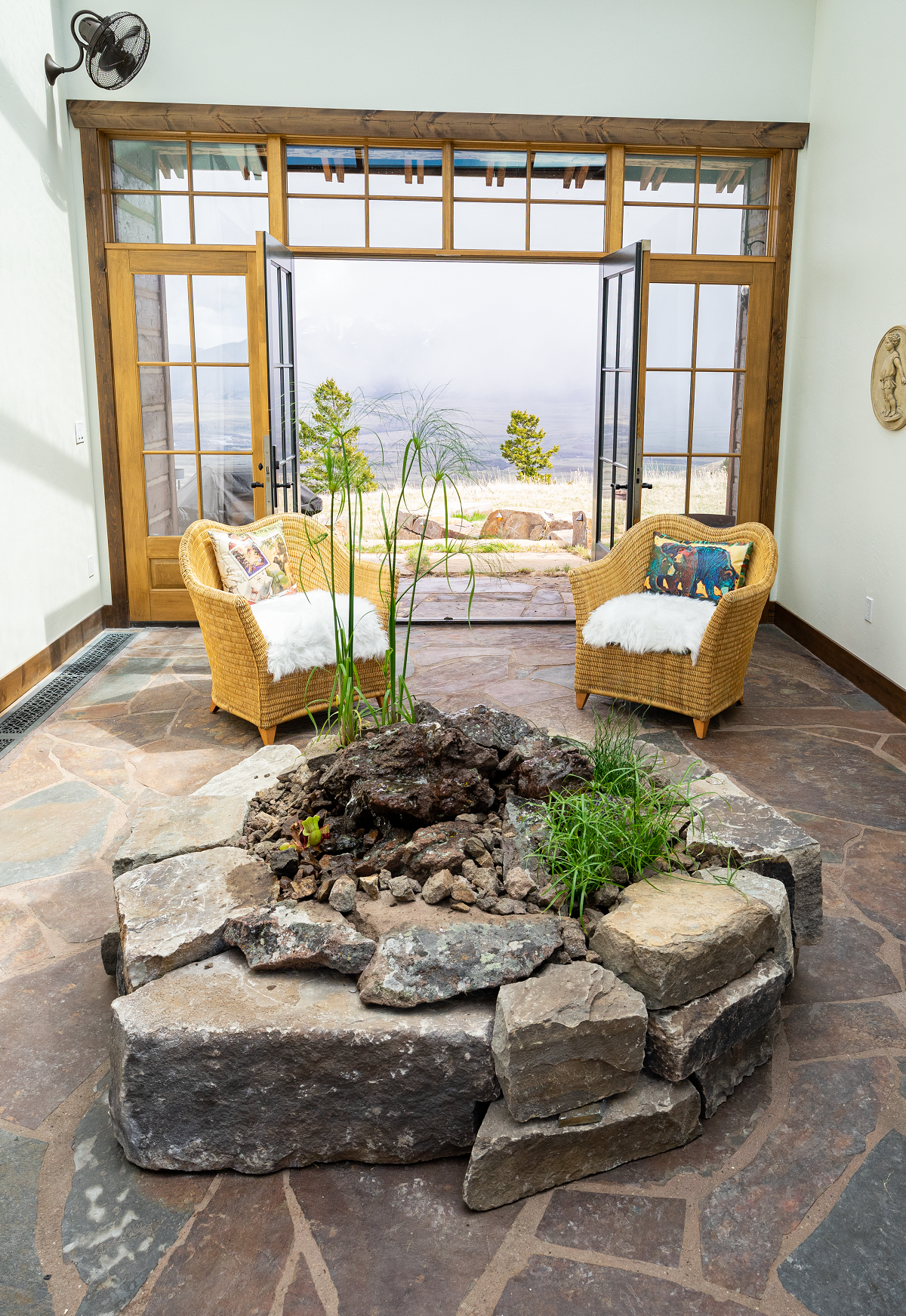 Living rooms, dining rooms, kitchens, and even bathrooms all make great locations for indoor plants. They can be a great way to brighten up a space and add decor. Think about decorating shelves, window sills, or even adding plant stands or large floor plants to your space.

A professional can help you to get the most out of an indoor plant design, with both the strategic placement of plants as well as choosing plant varieties that will perform best in your home.

Using Indoor Plants for Holiday Decor
Live greenery and other plants can also really brighten up a home or office for the holidays. Plants can contribute to a "festive look" in a variety of different ways.

For example, festive arrangements that use greenery and other plant material in vases can add some holiday magic to a home or office. Fresh cut greens and Red Dogwood add some holiday color.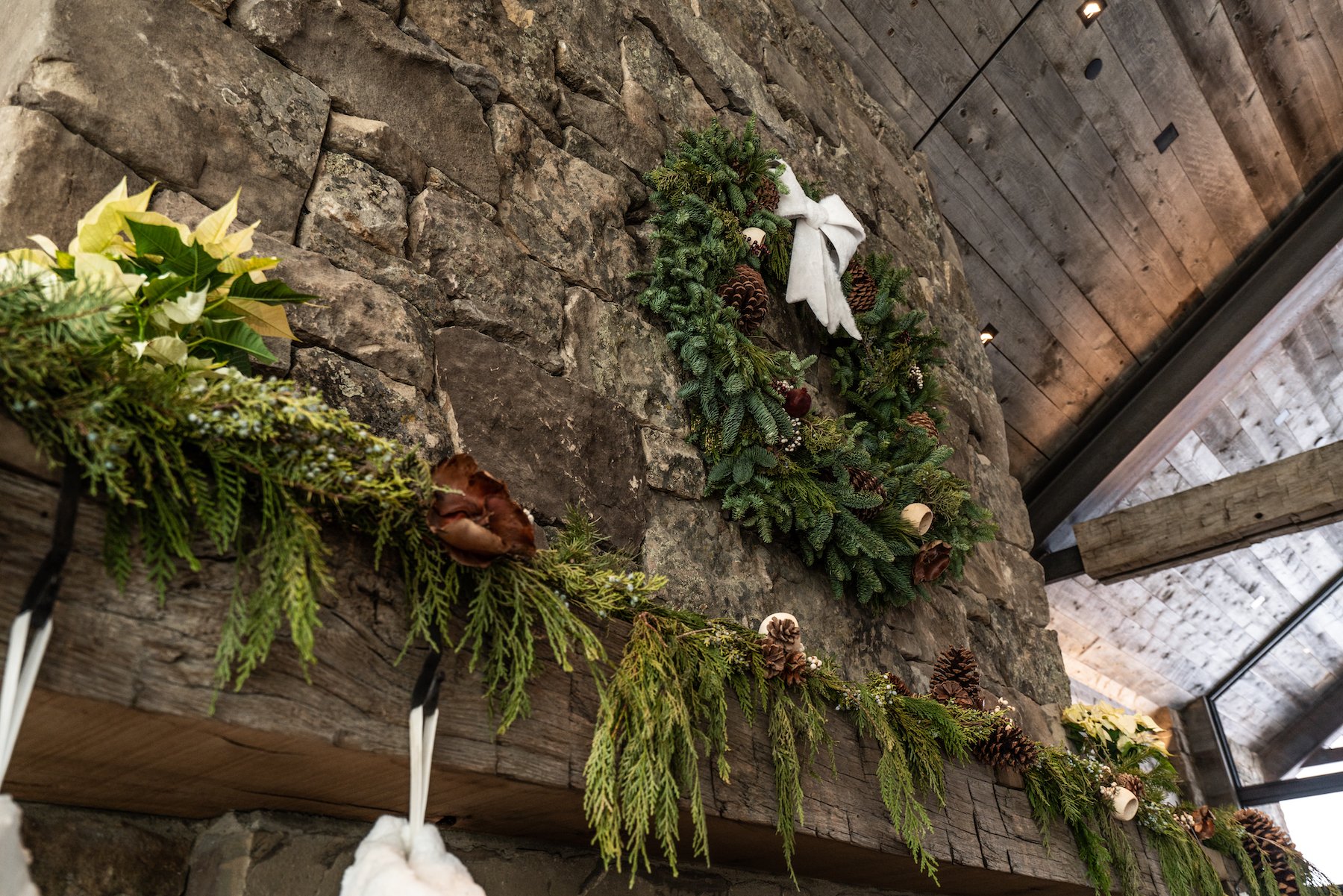 But there are many different plants that can help make your home or business feel holiday ready.

Here are some examples:


Poinsettias
Amaryllis
Paper Whites
Norfolk Island Pine
Rosemary
Christmas Cactus
Olive Tree
Even succulents can be used in a container that is designed to add some festive appeal. The fact is, any addition of greenery can add aesthetic benefits, even if not specifically designed for the holidays. One of the best aspects of incorporating plants into your holiday design is that you can enjoy them long after the holidays have come and gone.

Choosing the Best Indoor Plants for Your Design

As with an exterior landscape design, some plants are going to perform better in an interior design than others. The key is to evaluate your specific space for sunlight. Some plants are going to require more sunlight than others.

Some examples of indoor plants that people tend to like are:


Bird of Paradise
Ficus trees
Santa Vera
Philodendron
Pothos
Dracaena
Succulents.
As we mentioned above, there are also plants that people tend to prefer around the holidays like Poinsettias and Christmas Cactus.

Keep in mind that some plants can be poisonous to pets. If you have pets, it's important to look into whether or not a plant might be poisonous to animals. Certain plant varieties cannot be eaten or even touched by pets.

As we've talked about in other areas of this guide, living walls are also popular.

While not an individual plant, a living wall can also be a lovely green addition that might have a positive impact on your indoor plant design. A living wall can be designed with a water reservoir so that it is self-sustaining.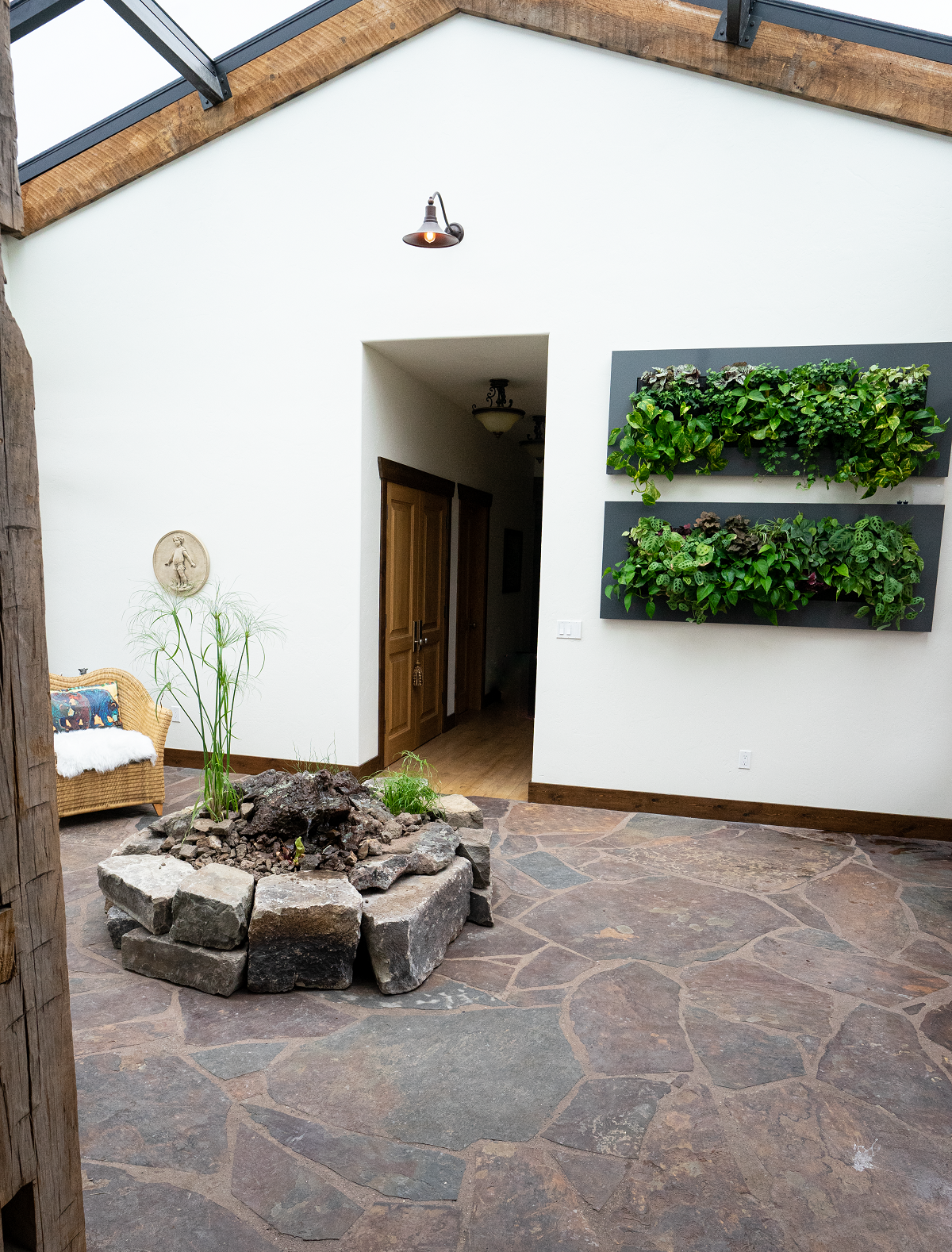 While choosing the right indoor plants might feel like a daunting process, a pro can help. At the end of the day, you want to make sure you choose plants that not only look appealing but will perform well in your space, too.

Maintaining an Interior Plantscape
An imperative part of a successful interior plantscape is maintenance. This is where people sometimes go off track as they forget to water plants or fertilize them as needed. Sometimes, people forget to "check-in" on their indoor plants entirely (either because they went away or got busy).

Indoor plant care isn't rocket science. It's mostly a matter of regular watering and fertilization when it's needed (from time to time). But indoor plants can be prone to disease or pest problems that can lead to their decline. This is why checking on plants regularly is important. Early detection and treatment of problems are key.

This is where working with a pro can make a big difference. If they take over maintaining your interior plantscape, they'll make sure plants are receiving proper care.


One of the other benefits of working with a pro is that when a plant is struggling and sickly, it can be returned to the nursery and nursed back to health while another plant is put in its place. That means you'll never have to live with an unattractive and declining plant.

Changing plants out periodically is also just part of good design. Over time, plants can start to look messy as they grow too large for a space. That's why good plant design is something that should evolve over time. After all, plants are living, growing, and changing things. Though your interior plantscape might look amazing at first, if not cared for, it can start to look sloppy over time.

Hiring an Interior Plantscaping Company in Southwest Montana
Choosing to work with a professional interior plantscaping service in Southwest Montana is a wise choice if you want to get the most out of indoor plants. While it might be tempting to take a DIY route, working with a professional can help ensure that you're not only getting the best plant selection but also the best design and care.

A lot of people assume that they can just go pick out some indoor plants (or even order them online) and simply arrange them in their space the way they like. But when it comes to anything more than one or two plants near a window, there's a lot more "eye for design" involved than people realize.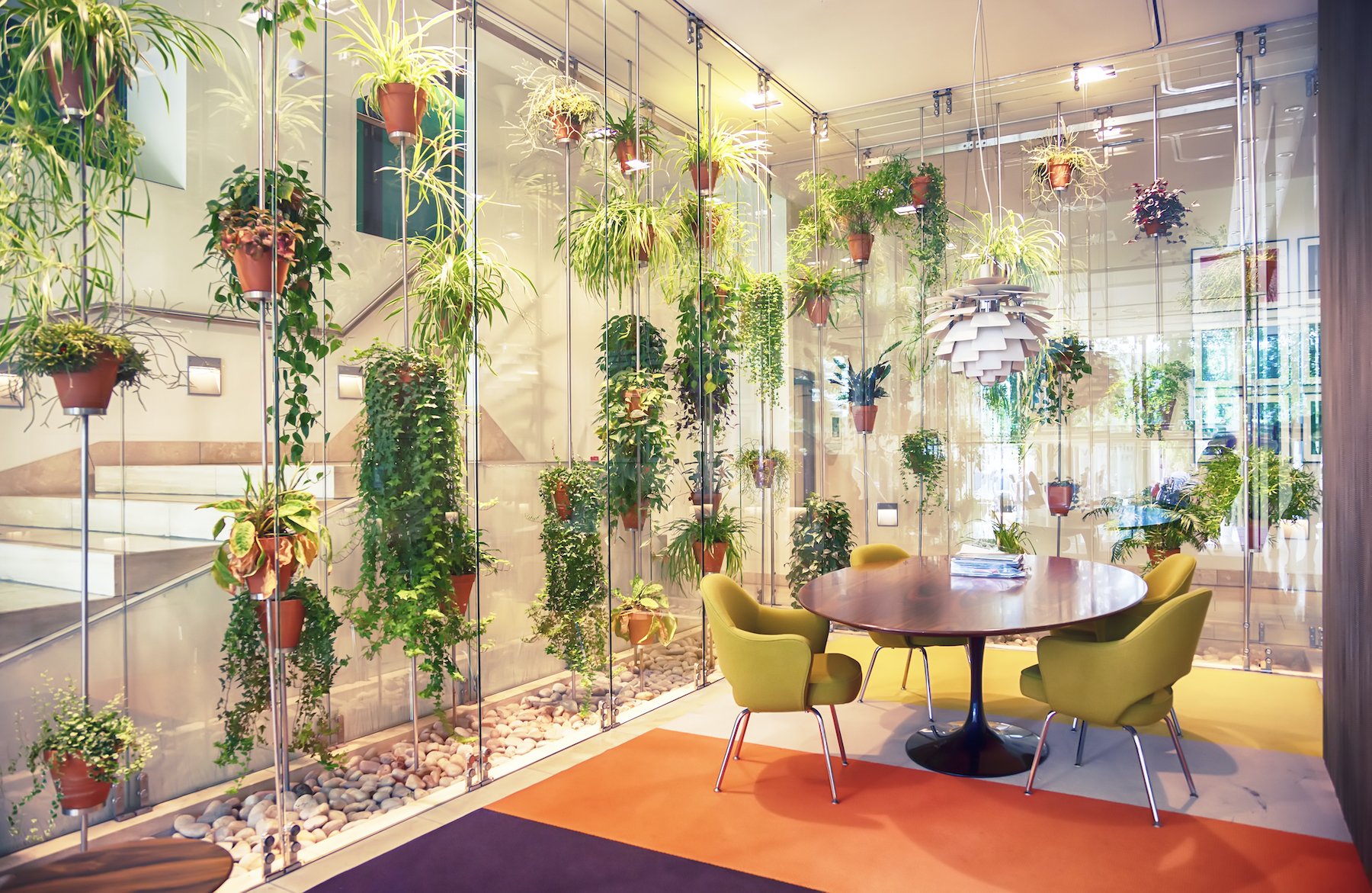 You will also get access to a lot more plant variety than you would on your own.

We have made connections with growers and nurseries in Florida, California, Texas, and other areas so that we can bring in some incredibly unique plants that otherwise might not be available here in Bozeman or Big Sky, MT. These aren't plants that you can just pick up at the local big-box store. We're often bringing in plant material from out of state.

We can even bring in tropical plants that might need care in our greenhouse over winter but can give you some indoor beach vibes when properly cared for throughout the season.

Plus, you get the benefits of professional care. Interior plantscapers will know exactly what your plants need to thrive.

At the end of the day, if you want to know you're getting the most value for your investment, it makes sense to invest in professional plantscaping. A professional interior plantscaping service in Southwest Montana will help ensure that your plantscape is everything you desire.

Are you ready to learn more about our interior plant designs for your Bozeman or Big Sky, MT home or business? Let's connect and talk about your needs. Then we can meet and review a detailed plan of action. With everything being handled for you, you'll be able to relax and enjoy your indoor plants to the fullest.