If you're like a lot of homeowners in Bozeman, MT, you love to make your home feel warm, welcoming, and festive for the holidays. One way to achieve this is with indoor plant décor for the holidays.

There are creative and festive ways that you can use houseplants in holiday decorating in order to help usher in the season.

As the outdoors gets increasingly cold and dreary, anything that you can do to make the interior warm and comforting can go a long way in making things cozy for the holiday season.
How to Use Houseplants in your Holiday Décor
Here are some ways that you can make your house holiday-ready with the use of strategically chosen and placed houseplants (and more).
1. Make Smart Plant Choices When You Use Houseplants in Holiday Decorating
The key to any successful interior plantscape design boils down to your plant choices. You want to choose plants that will succeed well in your indoor location but that will also make a festive addition to your holiday décor.

Some of the most popular plant choices for holiday décor include the following.
Poinsettias:
Poinsettia plants are native to Central America, where they flower in the winter. But the flower became more widely known when a man named Joel Roberts Poinsett (where the name comes from) served as an ambassador from the USA and brought these plants back to South Carolina. They are probably one of the most popular holiday plants out there.


Paper Whites:
The Paper White Narcissus is a bulb commonly used as a potted plant around the winter holidays. They are a very fragrant flower and can brighten up an interior.


Amaryllis:
The Amaryllis is a flowering tropical plant that grows from a bulb. It has been called the "Christmas flower" and has become synonymous with Christmastime because it can be grown indoors and bloom during November and December. The large blooms make them a lovely addition to holiday décor.


Norfolk Island Pine:
The Norfolk Island Pine is commonly used as an indoor houseplant during the holidays as it can actually be decorated with some lights or even small ornaments. But even after the holidays have come and gone, this can be a lovely houseplant to keep around.

Olive Tree:
While perhaps not thought of as often, olive trees can also make lovely holiday houseplants. It is a symbol of peace but also just a very attractive addition.


Rosemary:
Rosemary can actually resemble a mini Christmas tree plus add some lovely scent to your home.


Christmas Cactus:
This is a very popular houseplant that produces beautiful blooms in shades of pink and lilac. It has a long bloom time and can really brighten up a home for the holidays.


Succulents:
For those interested in low-maintenance houseplants that don't require much care, you can't go wrong with succulents. Though maybe not thought of for the holidays, it's a way to add some greenery to your space. We have created some gorgeous large succulent bowls for clients who want a piece they can enjoy for the long haul. Succulents can thrive for decades.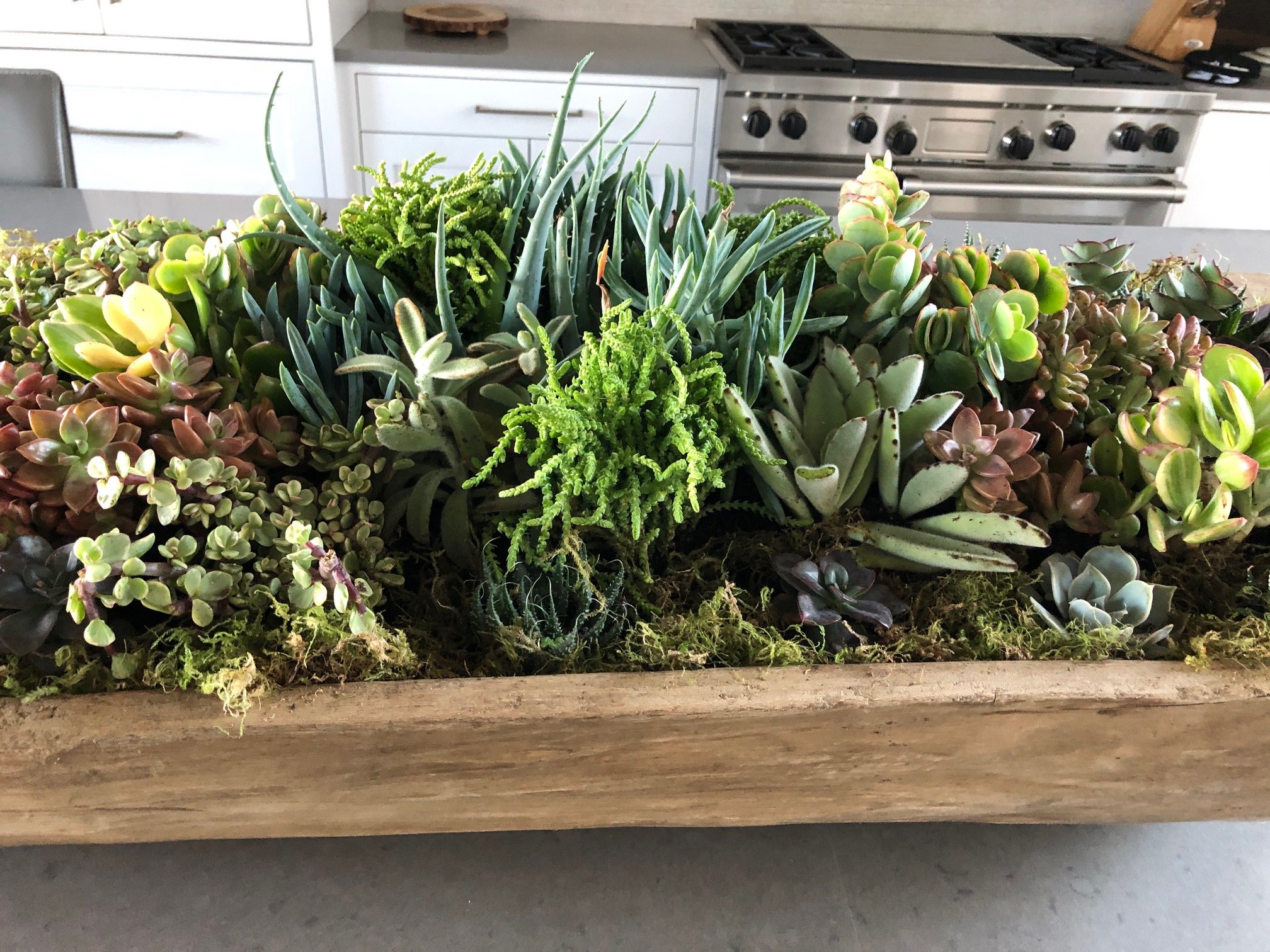 2. Decorating Around Houseplants
Another way that we can make the houseplants even more festive is to add other fun additions like pine cones, berries, and various other decorations.

As we mentioned, some homeowners also want to add lights and we can do that on larger house plants such as the Norfolk Island Pine.

Of course, you might already have some pines outside and we can add lights to those as well if you'd like. There are so many ways to dress up a home for the holidays to make it feel even more warm and welcoming.
3. Consider Live Greenery with Indoor Plant Décor for the Holidays
Another way that we can help make a home festive is with live greenery. Live garland that is decorated with pine cones, red and white berries, and other decorations can brighten up a home. It definitely helps the space to look and smell like it is brimming with holiday cheer.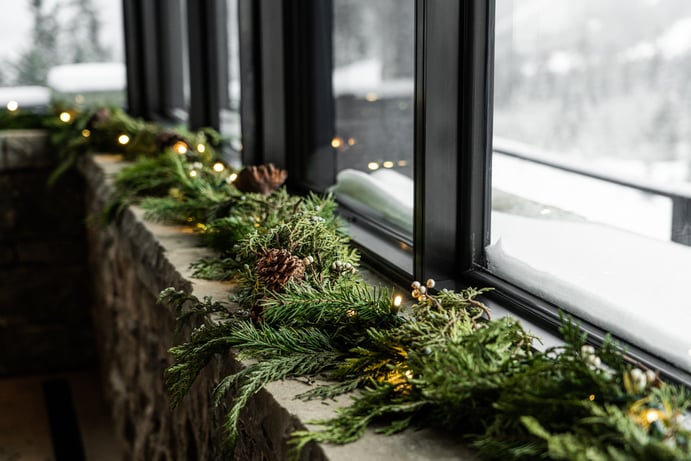 Many homeowners like us to wrap their stairway railings with both live garland and lights, which is something that gives a very warm feel to the home.

There's no question that bringing greenery inside the home can create a seasonal interior that evokes a sense of holiday magic, too. Since many of our residential clients are vacation homeowners here in Montana, they want to be able to just show up and enjoy the holidays to the fullest.
4. Creating Festive Plant Arrangements
In addition to using houseplants in holiday decorating, we can also create festive arrangements that achieve a similar goal. We will use greenery and other live plant material in vases and strategically place these around the home. It can fill the home with fragrance and aesthetic appeal.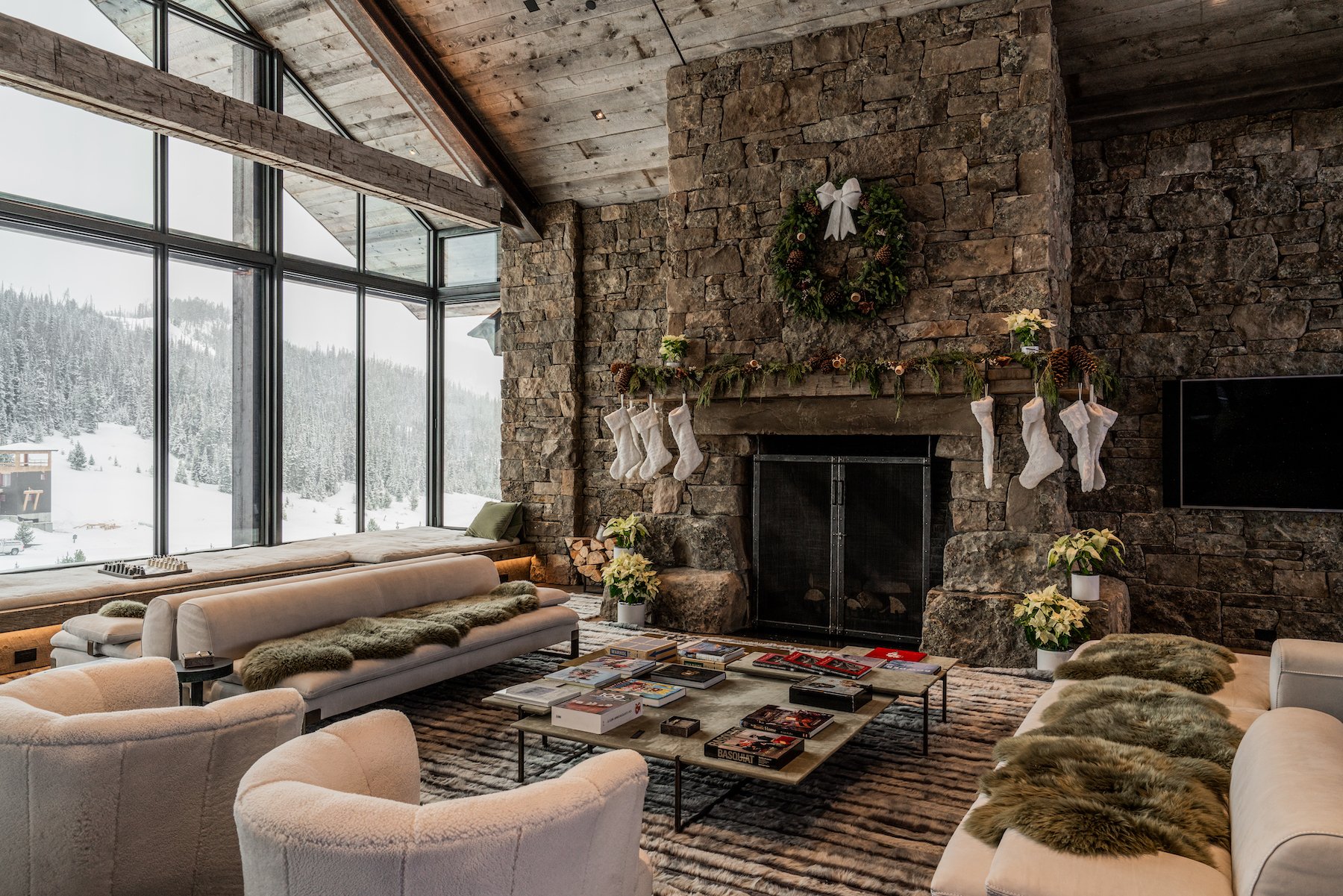 Curly Willow, Red Dogwood, and fresh-cut greens all make for lovely arrangements. And berries add a nice touch of color.

We create lots of arrangements both with and without flowers. Those without flowers will last longer and be easier for homeowners to maintain.
Getting the Most Out of Your Home at the Holidays (and Beyond)
We feel that using houseplants in holiday decorating can truly help homeowners to get the most enjoyment out of their home during the holiday season (but beyond, too). If you have had plants in your home before, you know that they can go a long way in lifting moods and even reducing stress. This is important when it comes to overcoming the "winter blues."

As we begin to spend less time outside, it's relatively common that we can start to feel a bit down. But interior plantscaping can help lift the spirits.

If you're considering adding any sort of indoor plants to your home in Bozeman or Big Sky, MT we'd love for you to consider Blanchford Landscape Group. We have the horticultural knowledge and experience to help you make wise plant choices and create arrangements and designs that truly enhance your home.

Whether you're just looking to add some holiday cheer or you want indoor plants to brighten the mood all winter long, we can help you implement transformative ideas that will create the look, feel, and experience you're seeking.

Are you ready to learn more about our interior plant designs for your Bozeman or Big Sky, MT home or business? Let's connect and talk about your needs. Then we can meet and review a detailed plan of action. With everything being handled for you, you'll be able to relax and enjoy your indoor plants to the fullest.
Image sources: poinsettia, paper white narcissus, amaryllis, rosemary, christmas cactus