Have you been thinking about adding a fire pit to your Bozeman or Big Sky, MT home? In general, fire features add a special ambiance to an outdoor living area. But there's something particularly welcoming about a fire pit. The very nature of a fire pit's design beckons people to come and gather around it.

If you're thinking about adding one of these features, you might be weighing a gas vs. wood fire pit. There are certainly different reasons why each might appeal to you. We'll walk you through some considerations so that you can ultimately choose what is best for you.
The Pros and Cons of a Wood vs Gas Fire Pit
As you weigh your options, let's explore some of the pros and cons of gas and wood fire pits. Keep in mind what might be a "pro" for one homeowner would be a "con" for another. We'll present all of the information you ought to know so that you can come to the best decision on your own.
Wood Fire Pits
When you envision spending time outside at your fire pit, do you picture a campfire-style feature that burns real wood? Plenty of homeowners say that they feel like nothing beats the sound, the smell, and even the look of real wood. You get that "crackle and popping" and a distinct aroma that seems to add to the overall ambiance of the experience.

With a wood fire pit comes the need for wood. We know that sounds pretty obvious but sometimes homeowners don't always think through what that means. You'll need to have a place to store the wood where it will stay dry. You will also need to make sure you have wood handy (whether you're purchasing it from somewhere or obtaining it on your own) or else you won't be able to use your fire pit.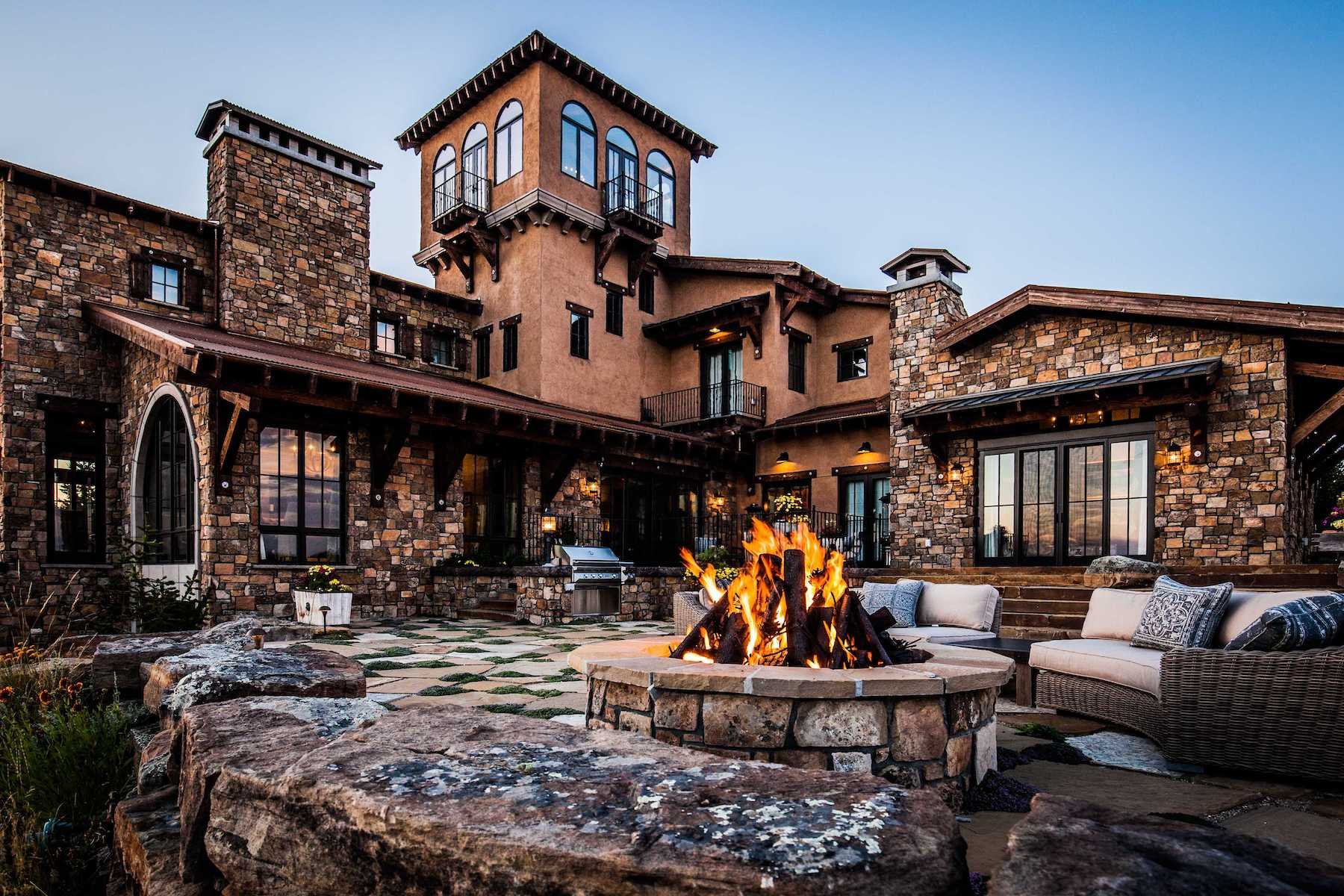 Keep in mind that with a wood fire pit, you'll also need to "tend to" the fire to keep it burning safely.

For many, these factors are not a deterrent. In fact, gathering the wood, building a fire, and keeping it going might even be part of the experience for them. But they are points that are worth keeping in mind as you weigh a gas vs. wood fire pit.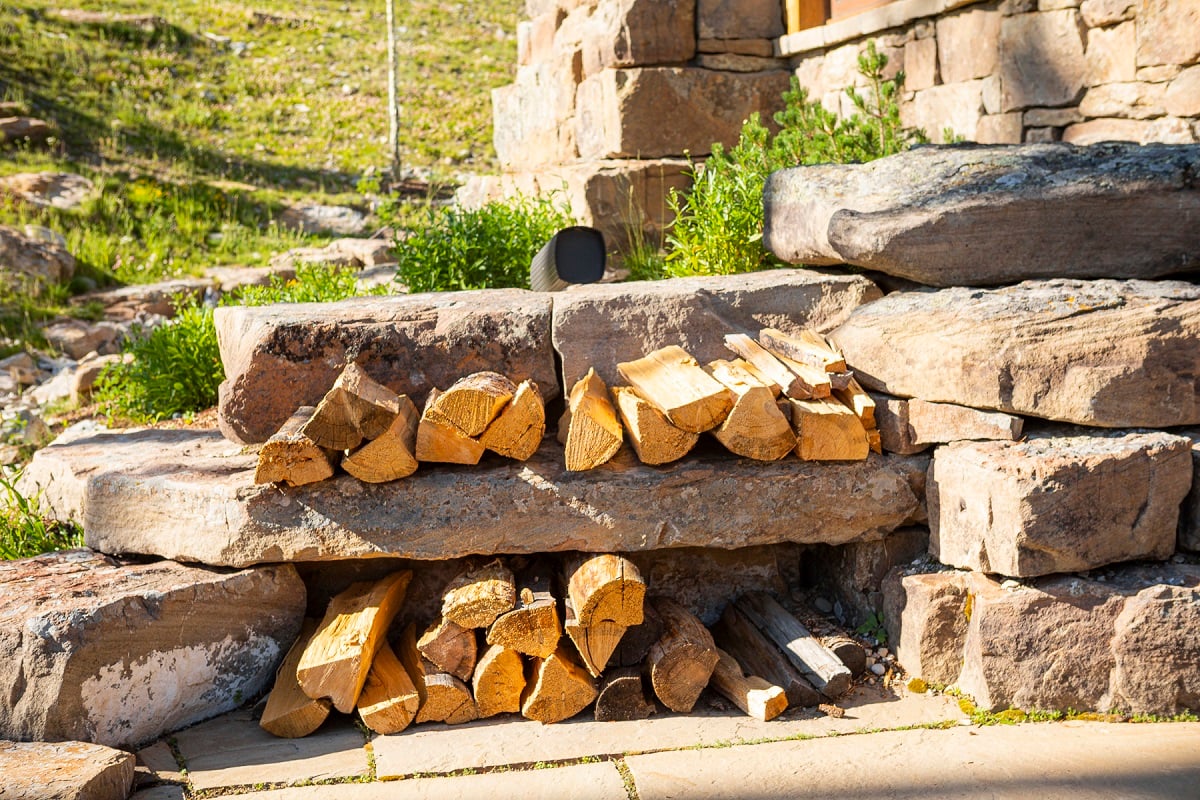 There is also smoke to think about. If you have a windy property where smoke is constantly going to be blowing in peoples' faces, then this might be another consideration to take into account. While you may be able to work with a landscape designer to install the fire pit in a place where the wind will not be a major problem (taking into account the way it typically blows on your property), this is not always achievable. Since people gather around a fire pit, there's probably always going to be someone that is getting hit by the smoke on a windy day.
Gas Fire Pits
The biggest difference with a gas fire pit is the fact that it comes on at the push of a button. For a lot of homeowners, this convenience is unbeatable. There is no time involved in gathering wood or building a fire. None of the "'messy" parts of creating and maintaining a fire are involved.

There is also no need to worry about storing wood, either.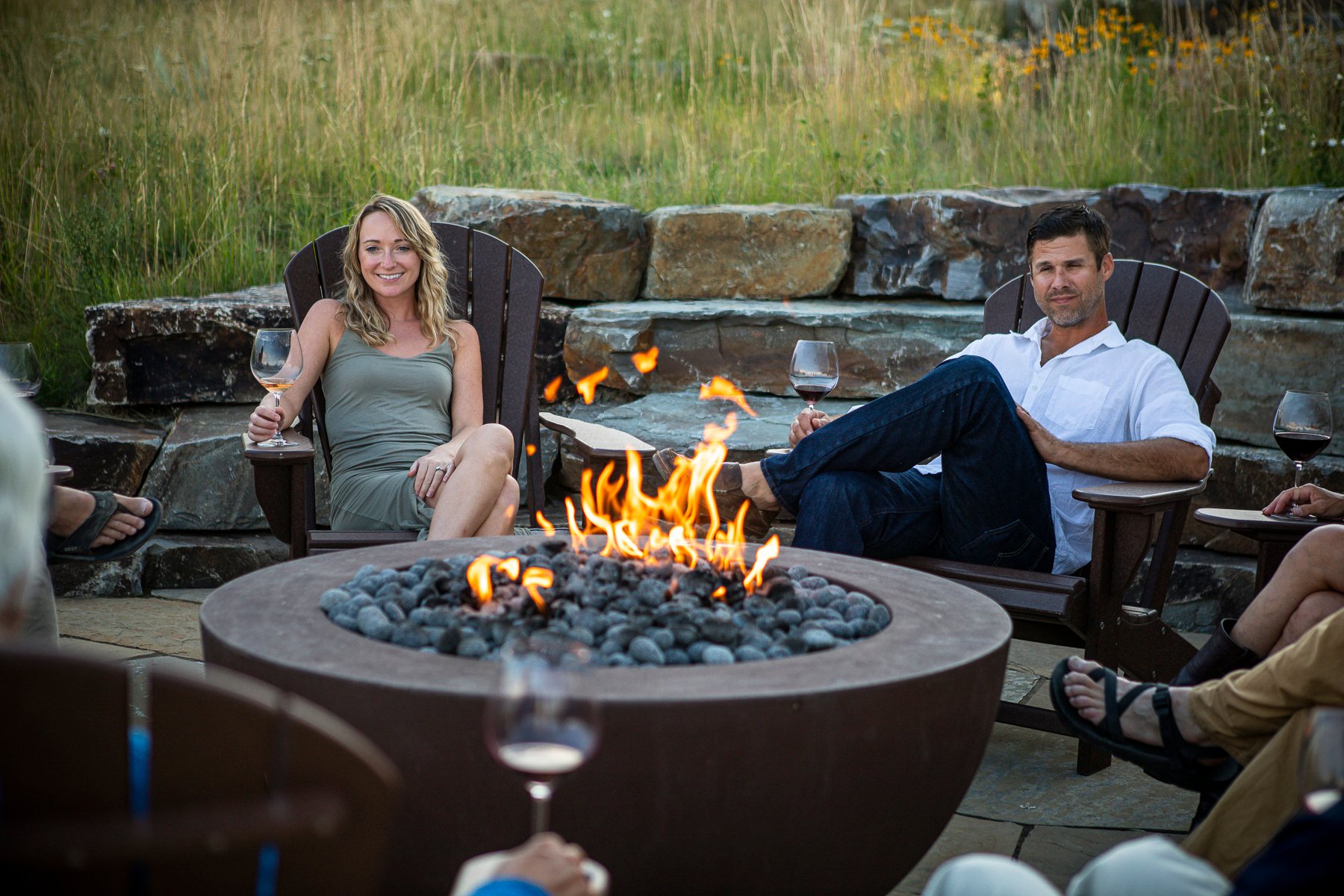 Plus, as quickly as the fire starts up, it can turn off, too. That means you don't have to worry about watching it safely burn out. When you're done spending time at the fire pit, you can simply shut it off.

You could also make the argument that a gas fire pit is safer because of the fact it can be shut off instantly and that you will get a consistent flame. You aren't going to accidentally add too much wood and create a larger fire than you intended to and there won't be any flying sparks and embers, which is the biggest wood-burning fire pit safety concern.

But with a gas-powered fire pit, you don't get the smell or sound of real wood and for some homeowners, that can be a con. Certain homeowners may feel that with a gas fire pit, you lose a little bit of that ambiance. For some, the scent and the sound are nostalgic or part of the overall experience and they aren't willing to compromise on them for convenience.
How to Make the Decision of Gas vs. Wood Fire Pit
Ultimately, the decision between a gas-powered or wood-burning fire pit is a personal one. You need to weigh the pros and cons we've mentioned and determine what will work best for you.

There could be some factors that are out of your control. For instance, you might really prefer the idea of a wood-burning fire pit but you also know that your property is windy and the experience might not be as enjoyable as you picture in your mind.

You should also keep in mind that some HOAs do not allow wood fire pits. If you happen to live in an HOA neighborhood, then the decision might already be made for you.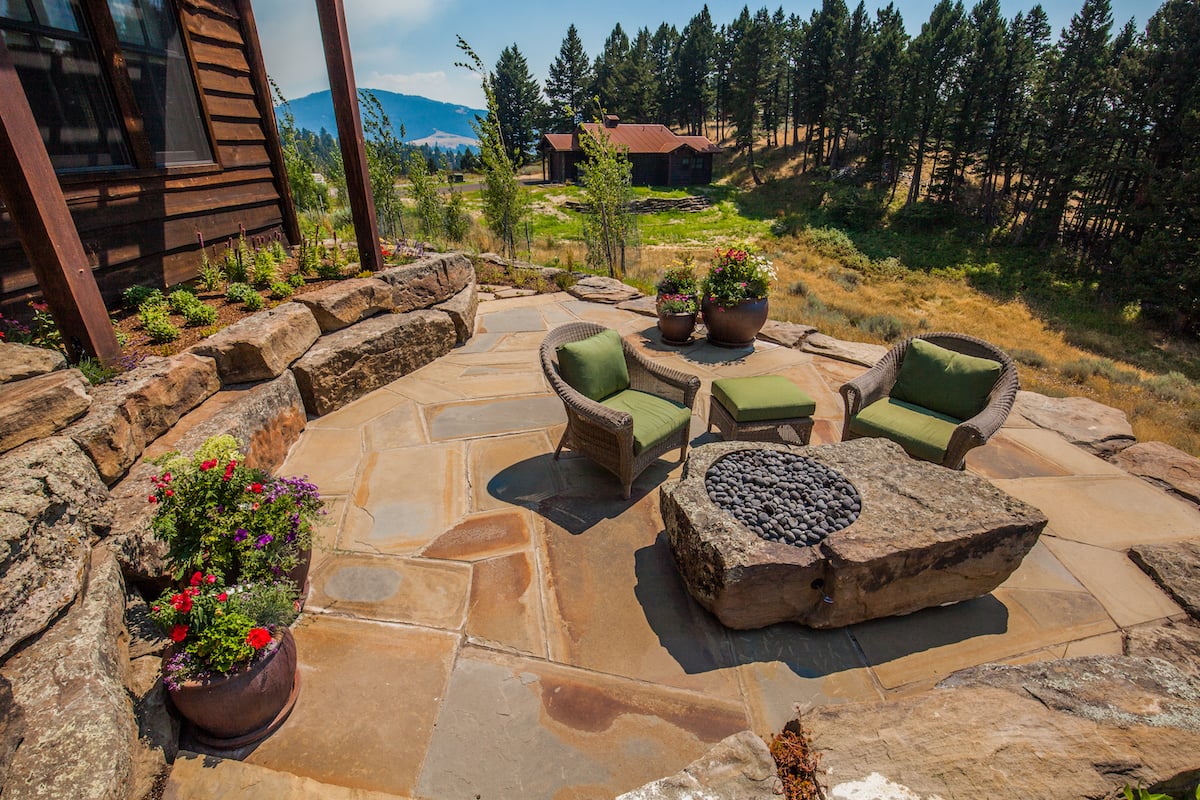 Other Important Fire Pit Decisions
Choosing between a wood fire pit and a gas fire pit may feel like a big decision. Or, you might already know what you prefer. Either way, this choice is ultimately only one of many that you'll need to make.

You'll also need to decide upon other important factors such as the size of your fire pit, its best location, whether you want a seat wall around it, and how many people will typically use it.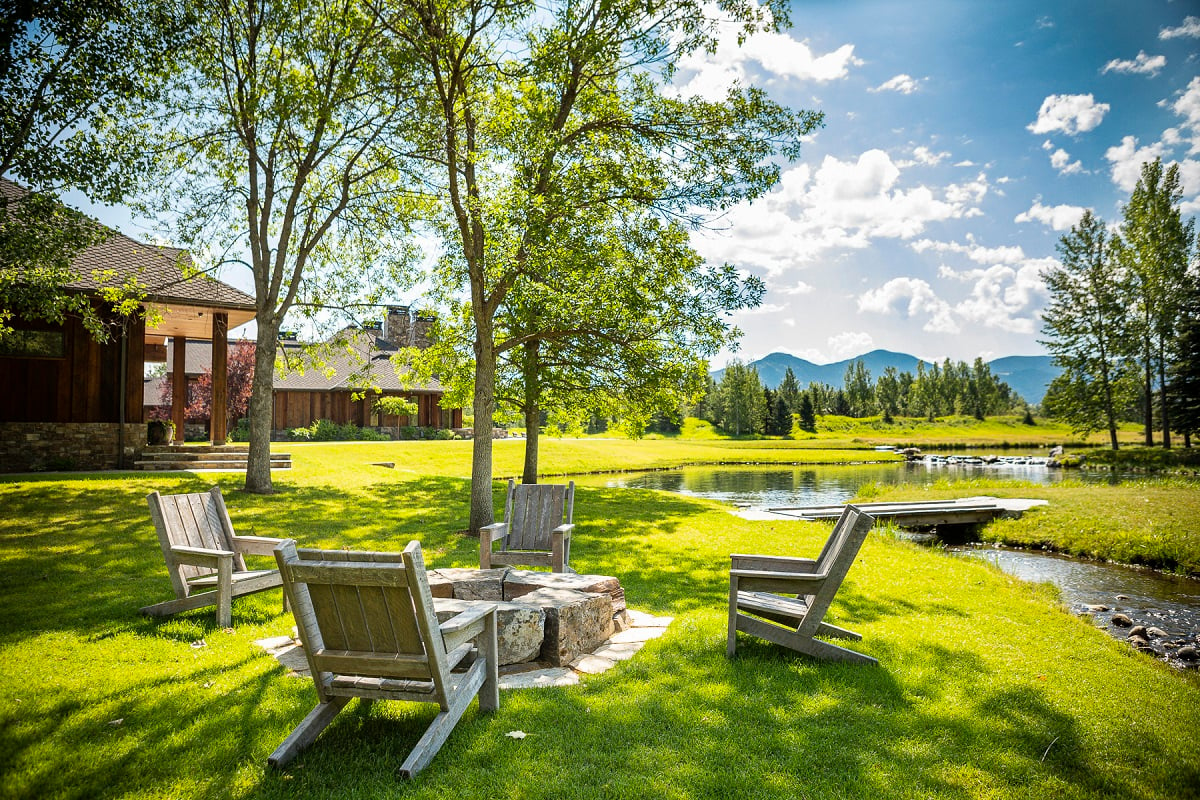 The truth is, getting the most out of your fire pit area will come down to making wise choices during the design process. This might sound daunting but with the help of a landscape professional, you can ensure that you're thinking about all of the possible factors that could impact your use and enjoyment of your fire pit so that you can get the most out of it. This is important as you're investing in an outdoor living area with a fire pit so that you can spend more time outside. You certainly want it to be a functional space where you want to spend time.
Choosing a Landscape Designer for Fire Pit Design in Bozeman or Big Sky, MT
There's a lot more to choosing a fire pit than homeowners often realize at first. Everything from the type of fire pit that you choose to where you have it installed can make a big difference. While you might have a lot of your own fire pit ideas, it always helps to work with a landscape professional who can help guide you to the best choices for you and your property.

Unfortunately, some landscape designers may not be as detail-oriented in the design/build process as you'd like. They might not take the time to go through all of the different specific factors that may impact your use and enjoyment of the space. Instead, they might just make decisions based on what's convenient for them. But this could create disappointment and frustration on your end.

That's why it's important to work with a landscape designer who will take the time to fully work through the process.

At Blanchford Landscape Group, we want you to feel confident you've gotten a fire pit area that you truly love. That's why we're here to help! You can always count on us to answer questions and help you make wise choices that you'll be happy with for years to come.

Are you ready to get the process of designing your gas- or wood-burning fire pit at your Bozeman or Big Sky, MT home? Let's connect and talk about your project. Then, we can meet and begin talking about your ideas! We can't wait for you to be able to enjoy your amazing space.