When a South Florida attorney brought his dream of creating a Tuscan villa to the mountains of Montana, it called for the utmost attention to detail in order to transform the landscape to support the magnificent home in every way.
The landscape design not only needed to be integrated with the home's Italian-influenced architecture, but it also had to blend with the natural Montana surroundings.
The Inspiration Behind the Space
This vacation home was a passion project for our client. The property had been owned by his father since the late 1970s, at which point it had a small ranch and was used for hunting retreats.
However, our client's travels to Italy ultimately inspired him to build a Tuscan villa on the property which he could enjoy with his family while on vacation.
Given the client's attention to detail in creating the home itself—and maintaining its authenticity as a Tuscan-inspired space—it was important that the landscape design was given that same level of care. The client wanted to create the rustic feel of a Tuscan villa that fit within the natural Montana landscape.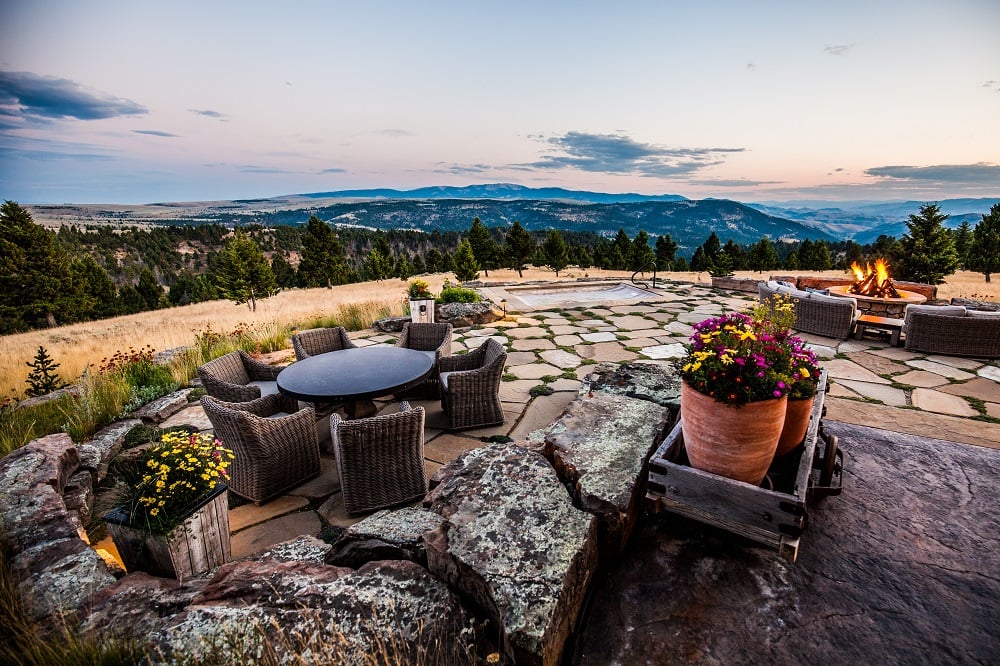 This included a large outdoor terrace in the back where friends and family could gather. It also included a more formal parterre, complete with a fountain, in the front. Given the fact that the home itself (and its surroundings) were so large, it was important that the outdoor space was scaled accordingly. It was also essential that the family wanted to preserve their nearly 360-degree mountain views. Keeping this in mind, all tree placements were incredibly calculated and precise.
A Nod to Authenticity
In an effort to support the authenticity that this family was after, we put careful thought into plant selection. Though the ideal would have been to add Italian Cypress trees (sometimes referred to as the "Tuscan Cypress"), the Montana climate was simply not conducive to this tree type. So, in an effort to be as authentic as the climate would allow us, we incorporated Columnar Swedish Aspen trees, a narrow specimen tree that has a similar resemblance. These trees have required ongoing attention and care in order to keep them healthy in the space.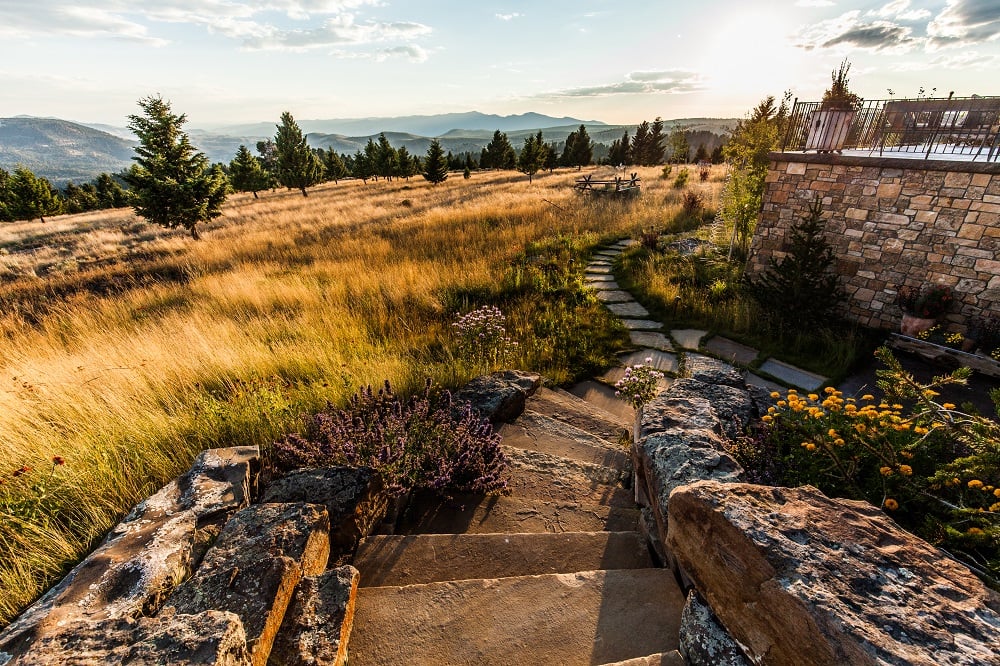 We also performed a survey of native meadows and did our best to replicate that Tuscan meadow look with a custom seed mix, which has filled in beautifully.
Container gardens were also an essential piece of the overall aesthetic look. The client sourced some unique containers as well as an old mining cart which connects the space to the region's gold mining history.
In terms of the pavers, we took our cues from the building, which is covered in Montana Moss Rock. That dictated our use of stone throughout the space as a whole, including the retaining walls in which we utilized the same stone—only in larger pieces. The back terrace is paved with a native-to-Montana sandstone and features Thyme joints (for which an irrigation system was installed). Beautiful slab sandstone stairs lead up to the house.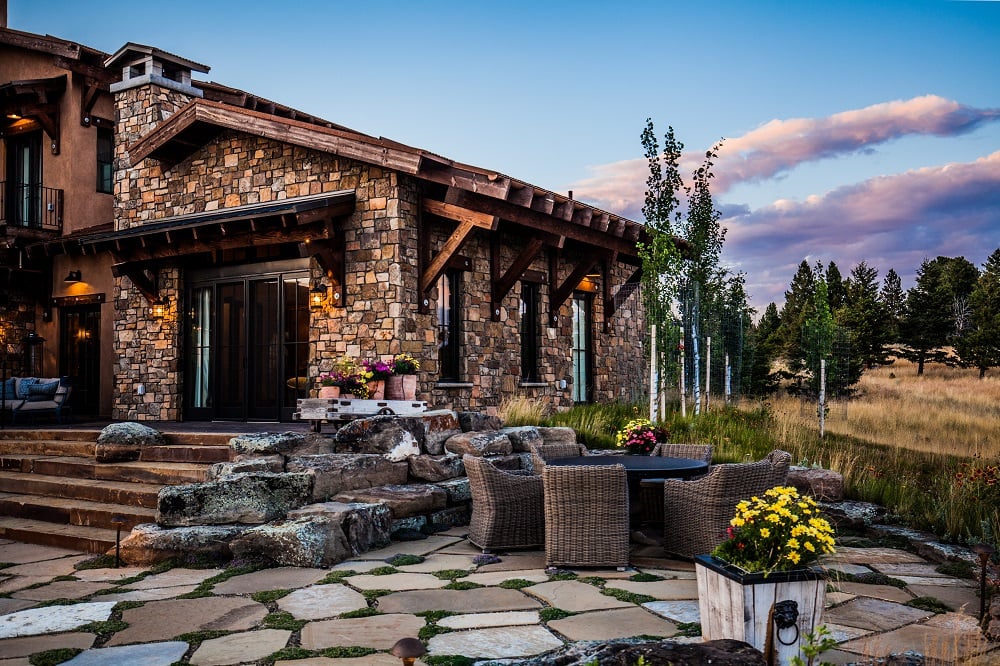 This back terrace also features a gas-powered fire pit with custom fire logs, a spa with an infinity edge, and mossy boulder retaining walls. Seat boulders on the far side of the fire pit create overflow seating for large gatherings.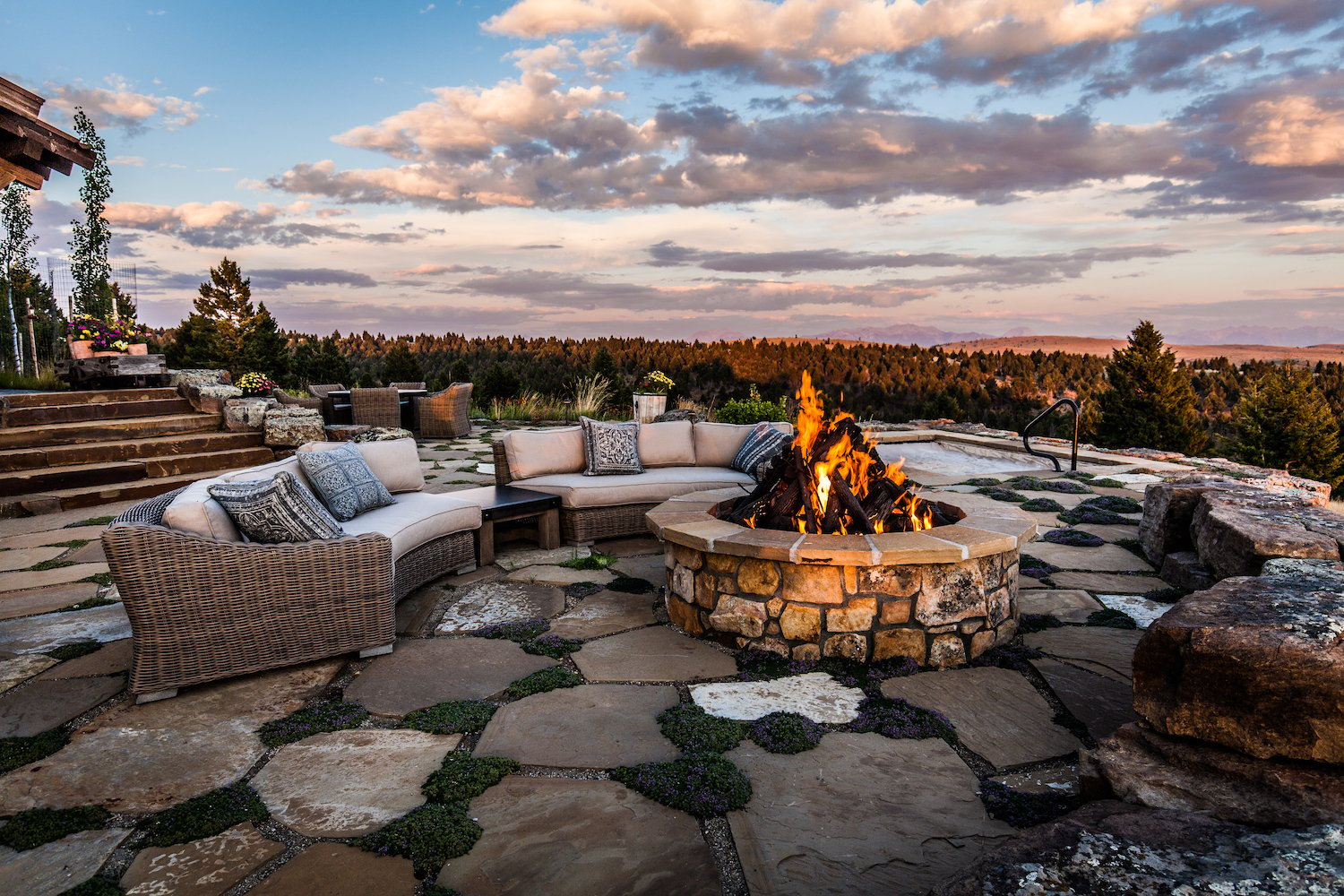 This cozy space makes the ideal place to enjoy the expansive and awe-inspiring view.
The Italian garden in the front yard is also a nod to authenticity with its natural stone paths, benches, and formal plantings. The fountain was brought in from a vendor who specializes in fine stone statues and fountains.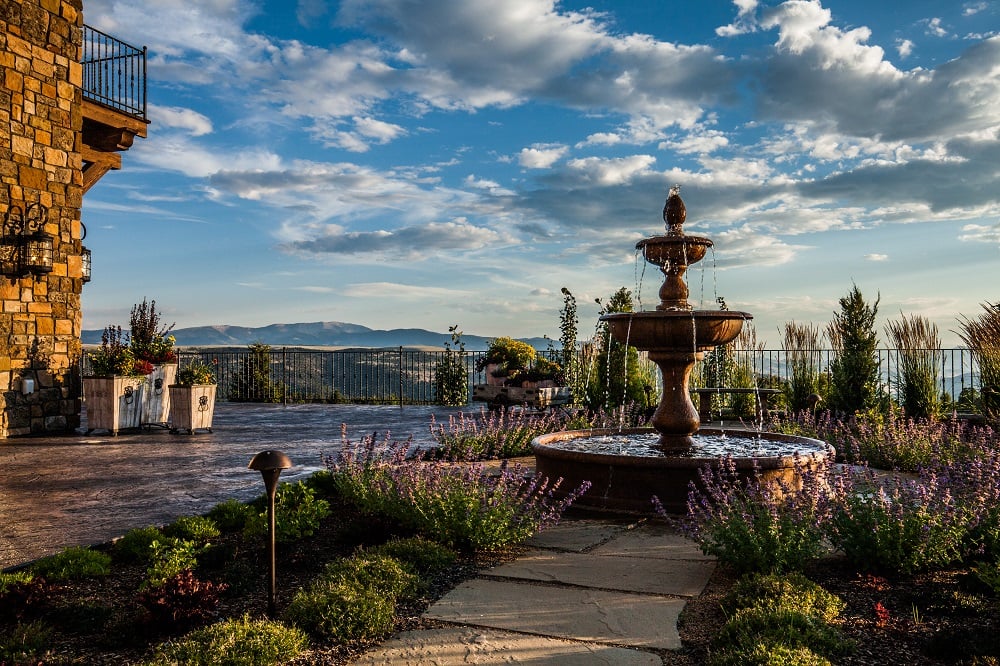 The formal front entryway is also framed with topiary pines in containers, columnar junipers, and container bowls strategically placed atop of the entry columns. Low voltage lighting was used under the column caps to accent the gorgeous masonry in the evening hours.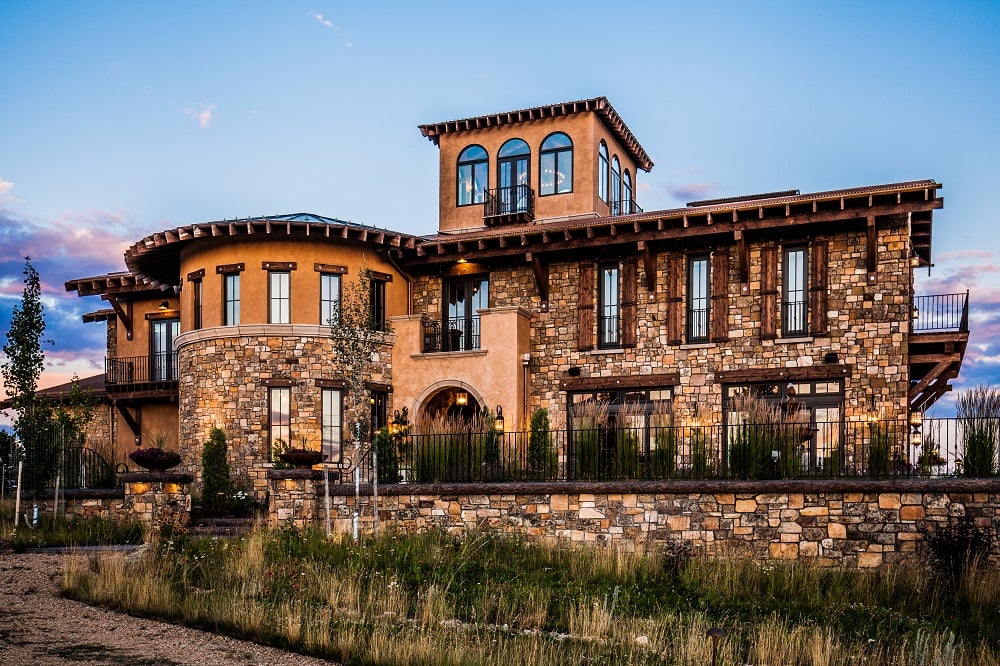 Overcoming Landscape Design Challenges
Every landscape design project poses its own unique set of challenges to overcome in the design and build phases. The location of this particular project—which was a two-hour drive from our shop, a half-hour of which was on dirt roads—was certainly one challenge. Rain and snow could easily make the roads impassable and lead to delays but we worked hard to keep this project on track.
In addition, due to the narrow and winding nature of the road, we were limited in deliveries to smaller and straight trucks. For this project, we brought in 300 tons of stone and 500 cubic yards of topsoil.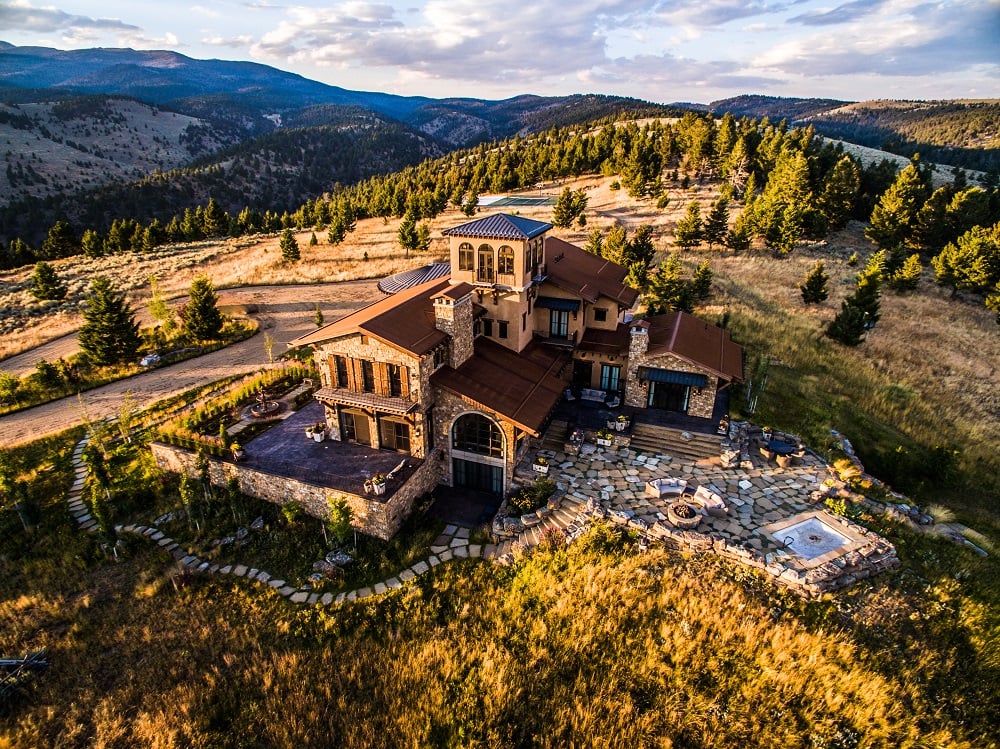 Of course, we also found some advantages in terms of working with what we already had on-site. The subgrade was 100-percent clean, decomposed granite which was a great material for the patio base and driveway surface. We were also able to spade 20 10-20-foot native Douglas Firs from the site with a 100 percent survival rate. This saved us from trucking in trees from elsewhere.
A Spectacular Outdoor Living Area that Lives Up to Its Surroundings
In the end, this project came together in a spectacular fashion with stone that looks timeless and meadows that truly look as though they've always been there. Most importantly, the outdoor living space blends seamlessly with the Tuscan villa vacation home.
At Blanchford Landscape Group, our design philosophy is three-pronged. We always look to integrate client needs with the natural surroundings and the home's architecture. Only when all three influences are weighed equally, in a balanced way, do we believe that great design solutions can truly emerge.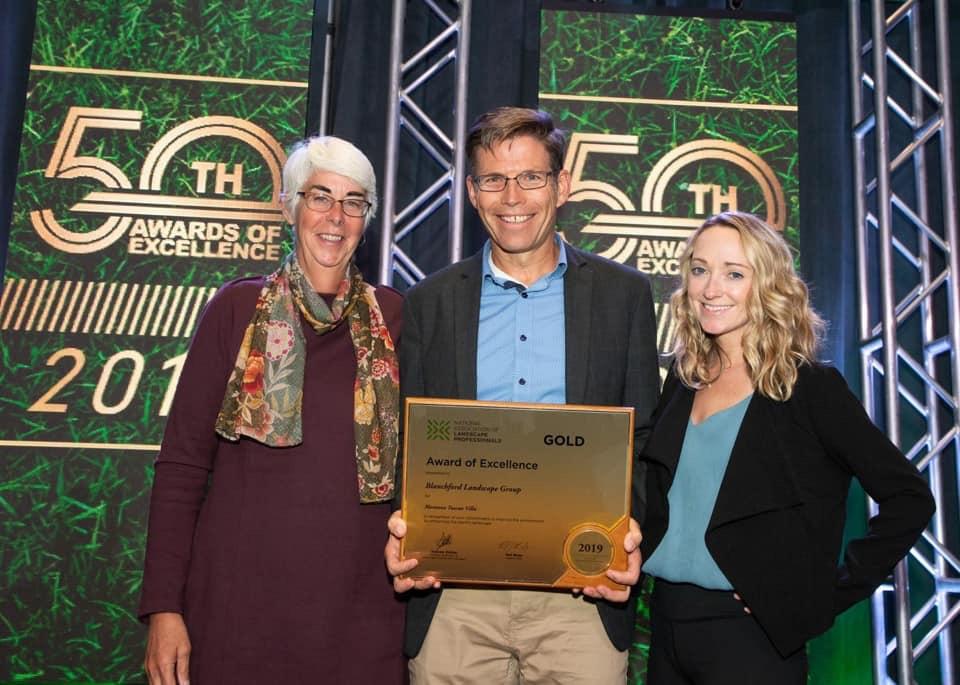 That was the case with this Tuscan Villa project, which ultimately won the National Association of Landscape Professionals (NALP) highest design honor, an Award of Excellence Gold Award. We also won an award at our local state level for this Montana masterpiece.
Though certainly on a larger scale than some of our projects, this complete outdoor living space is a prime example of how we use landscape design to our advantage in all of our projects. When finished, we always want these spaces to fulfill those 3 design philosophy tenants that ultimately helps ensure we've maximized the possibilities and created a space that comes together harmoniously to be enjoyed for years to come.
Are you ready to get the process of bringing your outdoor dreams at your Bozeman or Big Sky, MT home to life? Let's connect and talk about your project. Then, we can meet and begin talking about your ideas.