At Blanchford Landscape Group, we have always embraced being a part of the local community. One way that we have done this over the years is to be involved in various community organizations and projects.

A great example of this is the Bozeman Sunrise Rotary Club. Both myself (Andy Blanchford) and our designer, Mason Shaffer have been members.

So, when we had the opportunity to be involved in the construction of a pavilion to celebrate the Rotary's 100 years of service in Bozeman, we were excited to be involved.

Since then, we've been contributing to the park in various ways. Our goal has been to add enhancements that make the park even more enjoyable (and usable) so that people are truly maximizing time outside.

We have found it's been an opportunity to showcase our work, promote pollinators, and also add some unique elements to the park that we are proud of.
It Started with the Pavilion and Grew From There
Our role in the park dates back to 2018 when we started on the initial design and concept for the Centennial Pavilion at Glen Lake Rotary Park.

This pavilion was meant to commemorate the Rotary's 100th anniversary and was the Club's gift to the park. The pavilion was designed to hold up to 50 people inside and is used for a variety of events.

While the pavilion is metal, we added a specimen Ginkgo tree to the center of the pavilion to soften the overall look. This breathes life into the pavilion while also adding a focal point. Water drains to the center planter to help support the tree's growth and maintenance.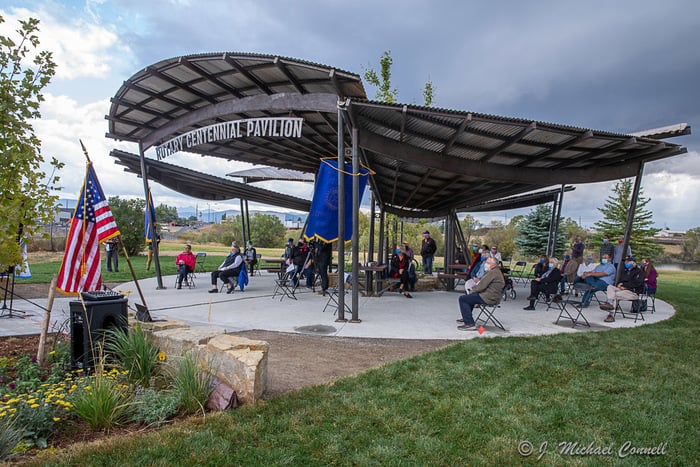 The pavilion is in the shape of a wheel to represent the rotary wheel. It's meant to create a sensation of motion.

This idea of a wheel in motion was also carried into our design of a pollinator garden, something that we are eager to promote. The pollinator garden brings butterflies and bees to the area, helping to keep the area buzzing with life.

We love adding pollinator gardens to our client's properties as they are so important to the local ecosystem.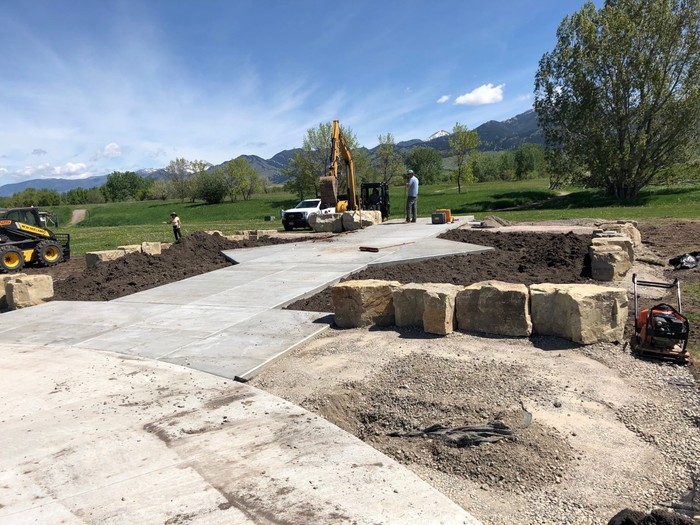 There was also a lot of symbolism involved in this project.

As we mentioned, the layout of the pavilion represented the rotary wheel. But there was also the idea of continually serving others. That's really what the rotary is all about…helping others who help others (and so forth, over time).

This is something that we truly embrace as a company as well. It was very easy to throw ourselves behind this important work because it represents so many different things that we believe in.
At Blanchford Landscape Group, We Love Giving Back
One of the aspects of this work that has been most meaningful to me is how important it has been to our team. Many of our team members have said it was the most meaningful work that they've been involved in.

Our team really loved creating a public space that could be used by many. They saw it as a wonderful opportunity to give back to the community.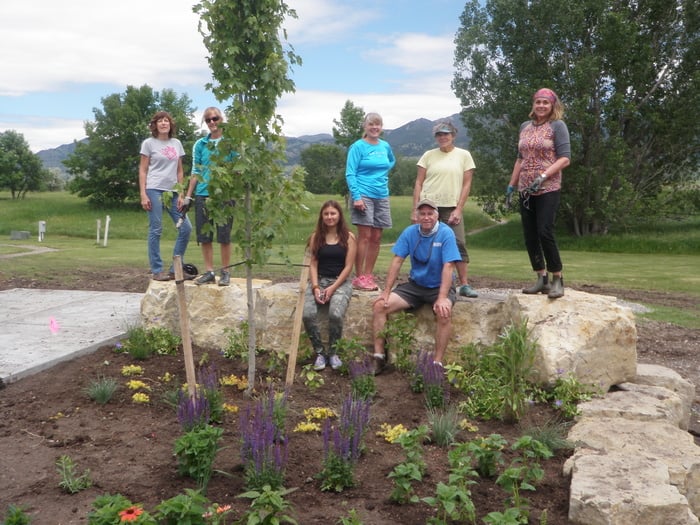 We love to give back to the community and set an example for how we can all work together. Our team values these opportunities to serve and it makes them feel good about our company culture and our values.

One of our core principles is "prosperity." This means doing well…but also doing good.

It's not just about making a profit for the sake of more profit. It's about making a profit for a purpose. When we are profitable, we can give back to our community, take better care of our team, and contribute time, talent, and money to causes that we care about.
Creating an Authentic Outdoor Living Experience
As we've mentioned in other articles, we love the idea of creating an authentic outdoor living experience. One of the things that we enjoy most about the line of work that we do is inspiring people to spend more time outside.

Authentic living is living one's best life…and being true to ourselves.

This is another reason that we really embraced the Centennial Park project. Just like the work we do for our residential clients, this project is a place that inspires people to get outside and enjoy nature.

We look forward to completing many more projects like this one. In fact, we are excited to use some of the design ideas that we used in the Centennial projects in other areas of our work.

Authentic outdoor experiences can be created for your home, organization, or business in a way that truly reflects who you are.

This project is an excellent example of the way in which symbolism can be infused into a project to make it truly one-of-a-kind. We can carry many of these concepts into other work that we do.

At the end of the day, this project (like so many others) comes back to maximizing time and enjoyment outside. We are all proud that the work we've done will be enjoyed for so many years to come.

Are you ready to get the process of creating an authentic outdoor experience in Bozeman or Big Sky, MT? Let's connect and talk about your project. Then, we can meet and begin talking about your ideas.