The holidays can be a relaxing and magical time of year here in Montana. For many, it's a chance to unwind and make meaningful family memories. This is a popular time for many second homeowners to arrive in town and begin enjoying their vacation home while they have some time off of work and school.

Since you do have some free time set aside for the holidays, chances are, you don't want to spend it getting your Montana home ready with holiday decorations—you want to spend that free time simply enjoying the season.

That's why you might be considering a professional holiday lighting installation in Big Sky or West Yellowstone, MT.

To help you get started with the process, we're rounding up some considerations to keep in mind as you get started planning the perfect holiday and Christmas lighting and decorations for your home. These ideas can help ensure the holiday decorations that are added to your home help to truly make it special.
A Professional Holiday and Christmas Lighting Installation can Make Your Home Shine
There's nothing like the sight of a beautifully decorated home with dazzling lights to get you in the holiday spirit. And the truth is, a professional installation of outdoor lights can really make your home shine in an impressive way.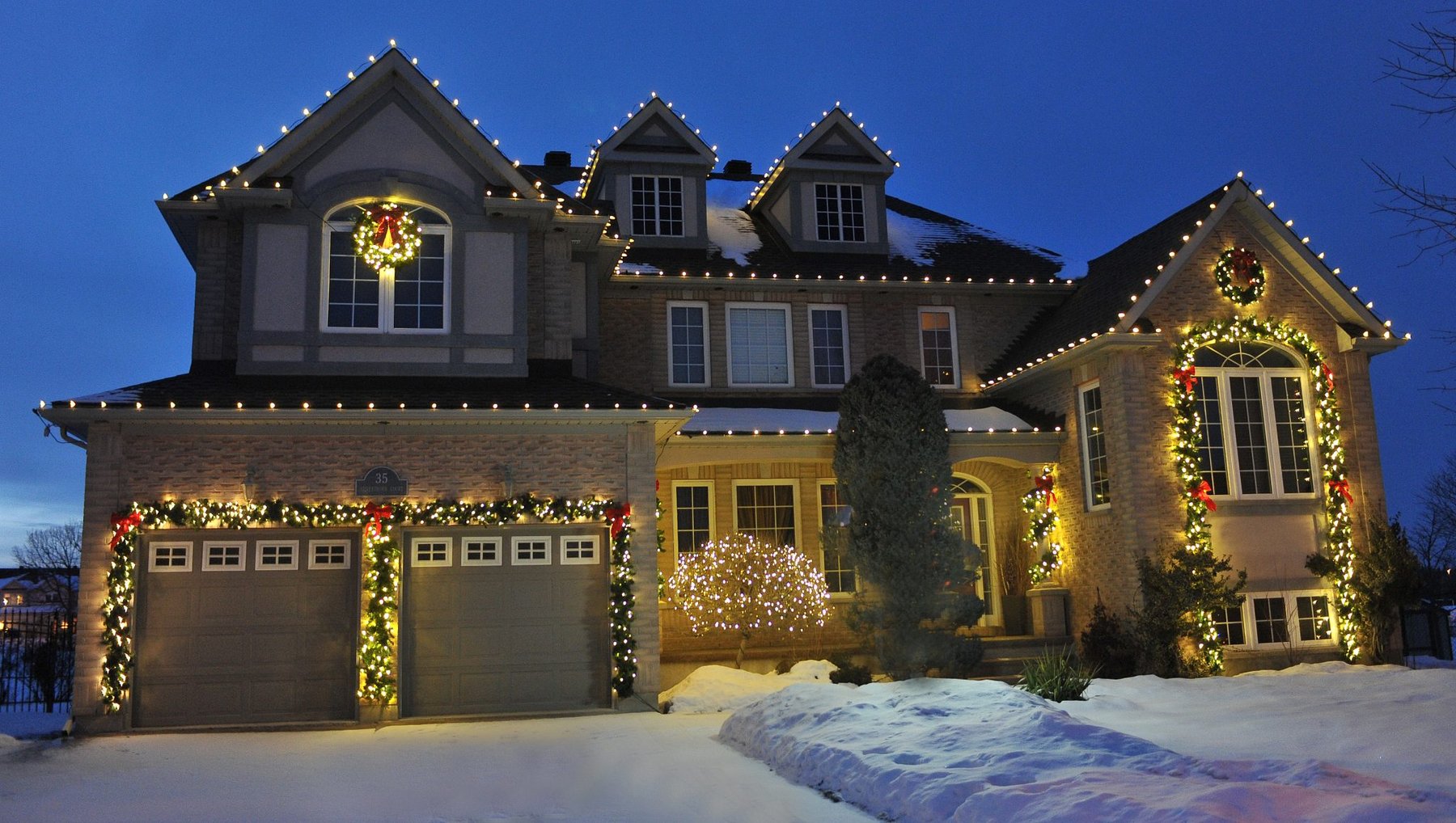 At Blanchford Landscape Group, we are a franchisee of Christmas Decor, the nationally known holiday lighting experts. We utilize commercial-grade, LED lights that are designed to be a reflection of your personality and individual love of the holidays.

We can follow the lines of your roof, windowsills, and other elements of your home to accentuate details and create custom displays. The result is a professional-looking display that came with zero hassles on your end. After all, as magical as holiday lights can be, when you install them yourself, they can also come with endless headaches. Lights might not be functioning properly or are a frustration to install.

Taking a DIY holiday lighting approach also comes with a danger factor since you have to climb a ladder and potentially work on your roof.

These are all reasons why you'd most likely prefer to leave it in the hands of a pro.
Light Up Outdoor Trees for Added Appeal
In addition to roof lights (and lighting up windows and other elements of the home), we also create a lot of light displays that include lights on outdoor trees. Most of the time we are lighting up evergreens but we also sometimes add lights to tree canopies on Aspens or other trees on our clients' properties.

Creating a Christmas lighting installation that includes your exterior trees is a great way to transform your property into a winter wonderland in a tasteful way.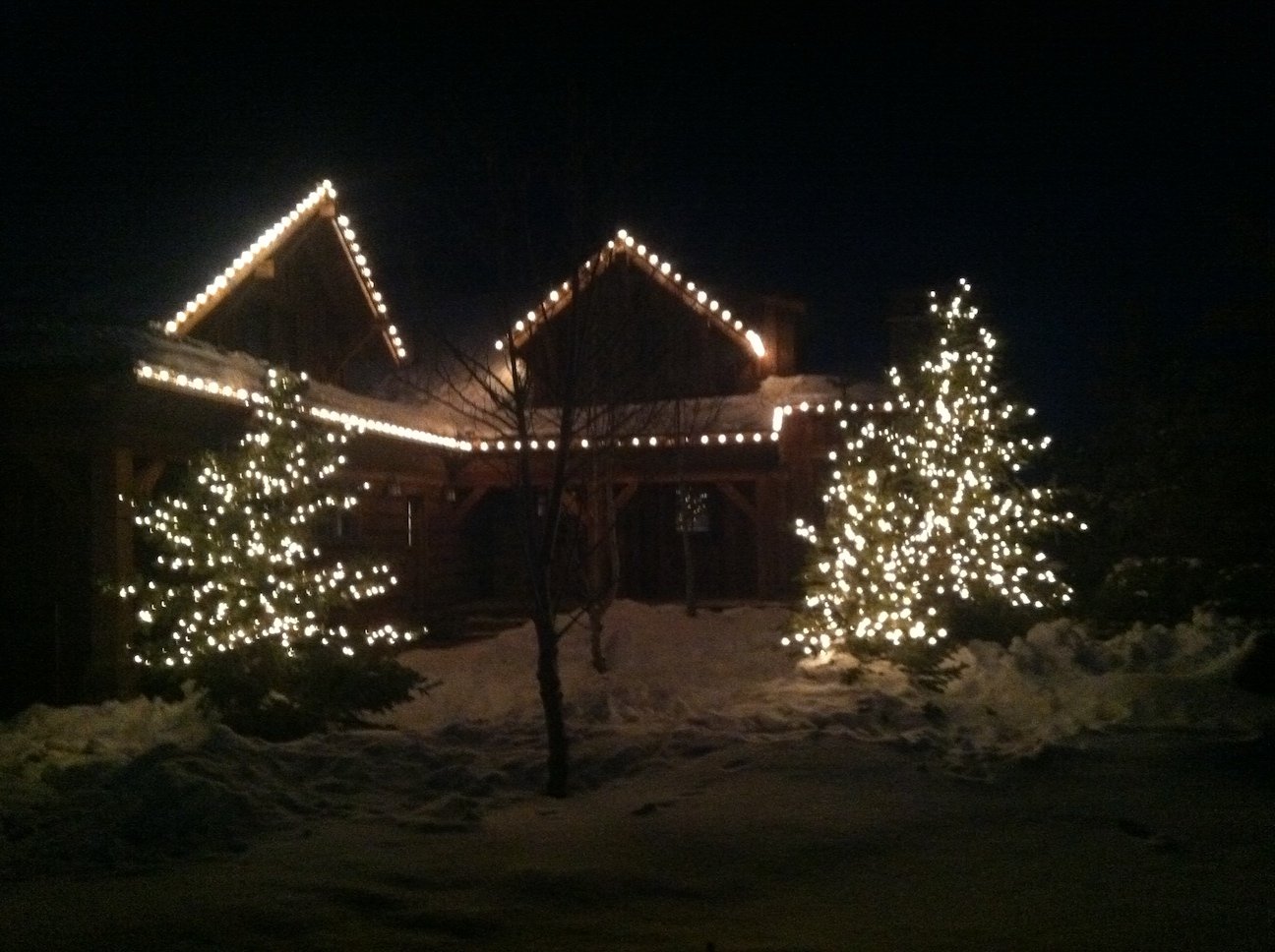 This is another one of those displays that can come with headaches if you take a DIY approach. You'll have to drag the lights out into the yard, make sure you have the right amount, and then wrap them in a way that's aesthetically appealing—not something that looks haphazard and thrown together.

Honestly, achieving these types of results takes both skill and practice, as well as an eye for design. When you leave these types of displays up to a professional, you can feel confident you're going to get something you'll be proud to show off.
Live Garland Can be a Tasteful Addition to Your Interior and Exterior Holiday Decorations
At Blanchford Landscape Group, we're also doing a lot of decorating work with live garland. On the exterior, we might use it to do a spiral wrap around a home's railing. Sometimes we'll also add lights to this.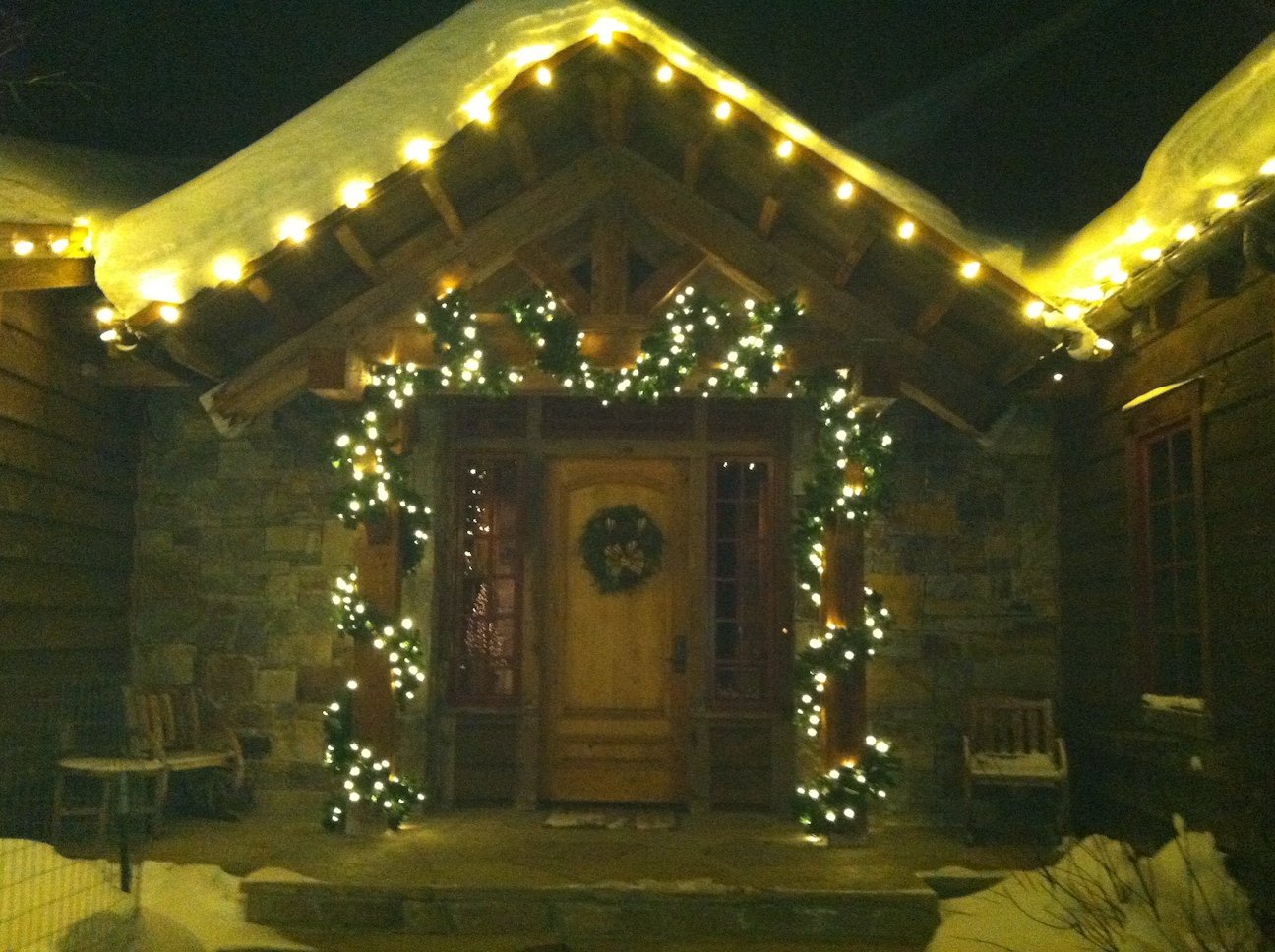 We're also using live garland to frame doorways for a really festive touch. We bring in this live greenery and everything is highly custom. Homeowners can specify exactly what they like.

In addition to garland, we're also using greenery to create living wreaths. We'll hang custom-made wreaths over doorways or create a huge lit wreath for the garage. Each and every wreath is custom designed with the homeowner's wishes in mind.

All of this greenery (garland and wreaths) can be used both inside and out to create that holiday wonderland you're looking for. It will not only give you the look and feel of a magical holiday, but the smell, too! There's nothing like live greenery in and around your home.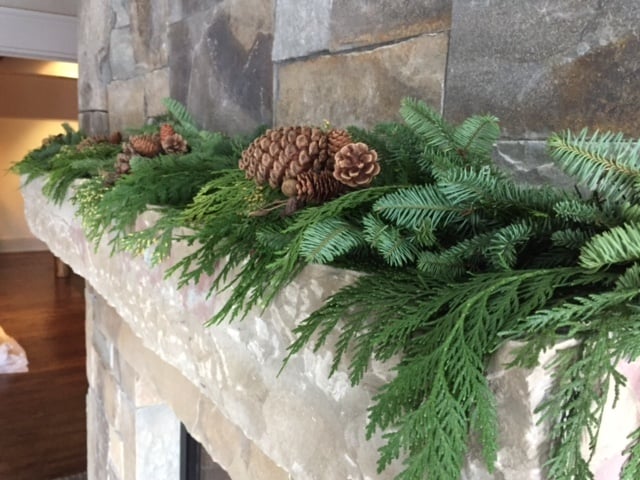 Create an Experience with Custom Selected Interior Holiday Decorations at your Montana Home
As we mentioned, we can also bring greenery inside of the home to help create a seasonal interior that will evoke a sense of holiday magic as soon as you step inside. Many of our residential clients are vacation homeowners here in Montana and just want to be able to show up and enjoy the holidays, with their home already decorated.

In addition to interior garland and wreaths, we can also bring in and light your live Christmas tree so that it's ready-to-go upon your arrival. This is another custom decision, based on what you're looking for. We have brought in all different varieties of heights, though most average around 10- to 12-feet tall. The largest tree we brought into a home was 24-feet tall.

Inside of the home, we're also adding table runners and decorating mantles. It's all part of creating a special experience that will make your home ready-to-enjoy as soon as you get there.
Consider a Holiday and Christmas Lighting Installation for Your Montana Business
While it's true that many of our clients are residential homeowners (the majority of which are vacation homes), we also do a lot of commercial light installation work with Montana businesses. Local resorts and other businesses have hired us to help make their spaces well-lit and festive for the holidays.

Holiday decor is something that can enhance the experience for their guests and their clients and we love being a part of those creations, as well.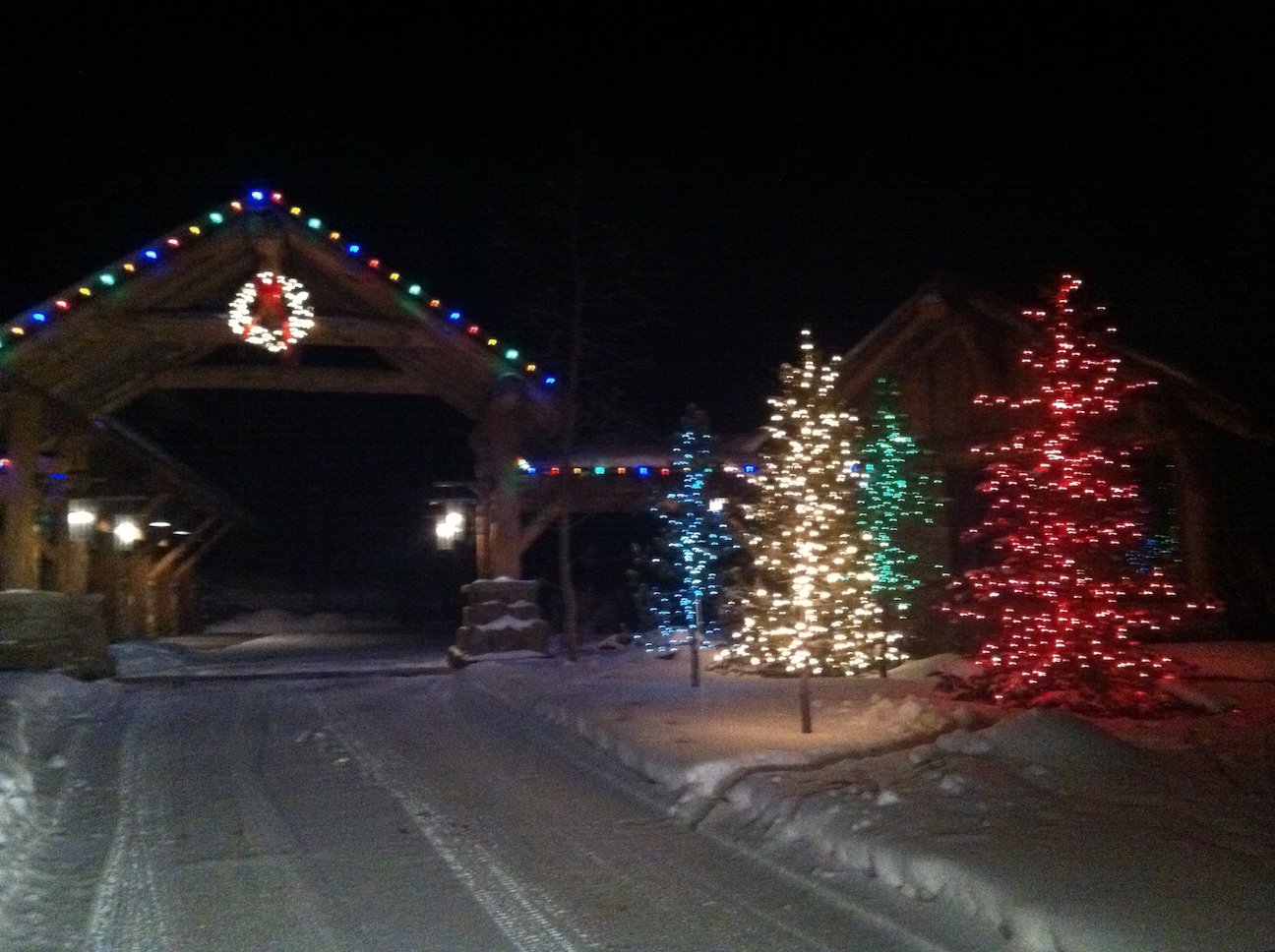 In fact, it is these types of displays that truly make the holidays feel even more special. When you drive around and see twinkling lights not only on residential properties but on local businesses, it just enhances that holiday spirit.
Let a Pro Take the Hassles and Guesswork Out of Holiday Decorations
Whether it's lighting, live greenery, or other holiday decorations, there can be a lot of hassle associated with getting displays done in time to fully enjoy them. This is where working with a professional can be so valuable. Not only are you ensuring that you get a fantastic-looking display with someone who has an eye for design, but you're also removing the headaches from the equation.

When we handle a holiday decor job, we're not only bringing in the lights and decorations but we're taking them down, too. The latter is probably most peoples' least favorite aspect of holiday decorating. While decorating can have an element of fun, de-decking is not fun at all.

On top of all that, we're also handling problems if they arise. If a lightbulb blows out, that's not your problem—it's ours. We're going to promptly take care of anything that goes wrong so that you can continue to enjoy your holiday decor to the fullest, throughout the season.
Choosing Blanchford Landscape Group to Create Holiday Magic
When you're investing in professional holiday decor, you want a finished product that looks spectacular and not like something that you could have done yourself. That's why it's worth investing in a company that you know has a keen eye for design and will create a truly custom look for your home.

You also want to choose someone you can trust. When you are hiring a professional to handle interior holiday decorations, they're going to be in and out of your home prior to your arrival.

These are some of the reasons why our clients have chosen us to handle their professional holiday decor. They have already trusted us to maintain the exterior of their home with all of their landscaping needs. Our clients view us almost more as "property managers" who are looking out for their homes when they're away.

On top of all that, we're also taking the guesswork out of the process, making it a truly hassle-free experience. All you have to do is show up and enjoy it!

Instead of ending up with a mediocre holiday lighting job, by choosing Blanchford Landscape Group, you'll get a home that shines brilliantly and truly makes your experience special. When you look back on the times spent in your Montana home, those feelings and holiday spirit created by your spectacular decorations will all be part of those special memories.

Are you ready to begin the process of creating a magical holiday display at your Montana home? Let's connect and talk about your project. Then, we can meet and begin talking about your ideas.