Do you love plants? If you're like a lot of people, you probably really appreciate the beauty of having plants in and around your home or your business. And while you might think of plants largely in terms of exterior landscaping, you may have noticed that interior plantscaping is gaining quite a bit of traction.
Plantscaping, also known as "interior landscape design," is just what it sounds like. It's decorating the inside of your home (or office) with plants.
But it's more than just choosing a few houseplants and randomly putting them around the interior space. There is a whole strategic process of selecting the proper plant species and choosing where they work both in terms of spatial design as well as species' needs (sun and water conditions, mostly).
We've rounded up a few of our best tips when using plants in interior design so that you can feel you'll get the most out of it.
1. Choosing the Right Species is Important
As we mentioned above, there's more to indoor plantscaping than just picking some houseplants that you think look nice. We've written an entire article on how to choose houseplants, that you can read for more in-depth information. However, we'll share a few of the highlights.
The two biggest factors that will determine how well a plant will perform inside are light and humidity. Unfortunately, here in Bozeman and Big Sky, MT, most houses are pretty dry. This is the number one reason why houseplants will struggle.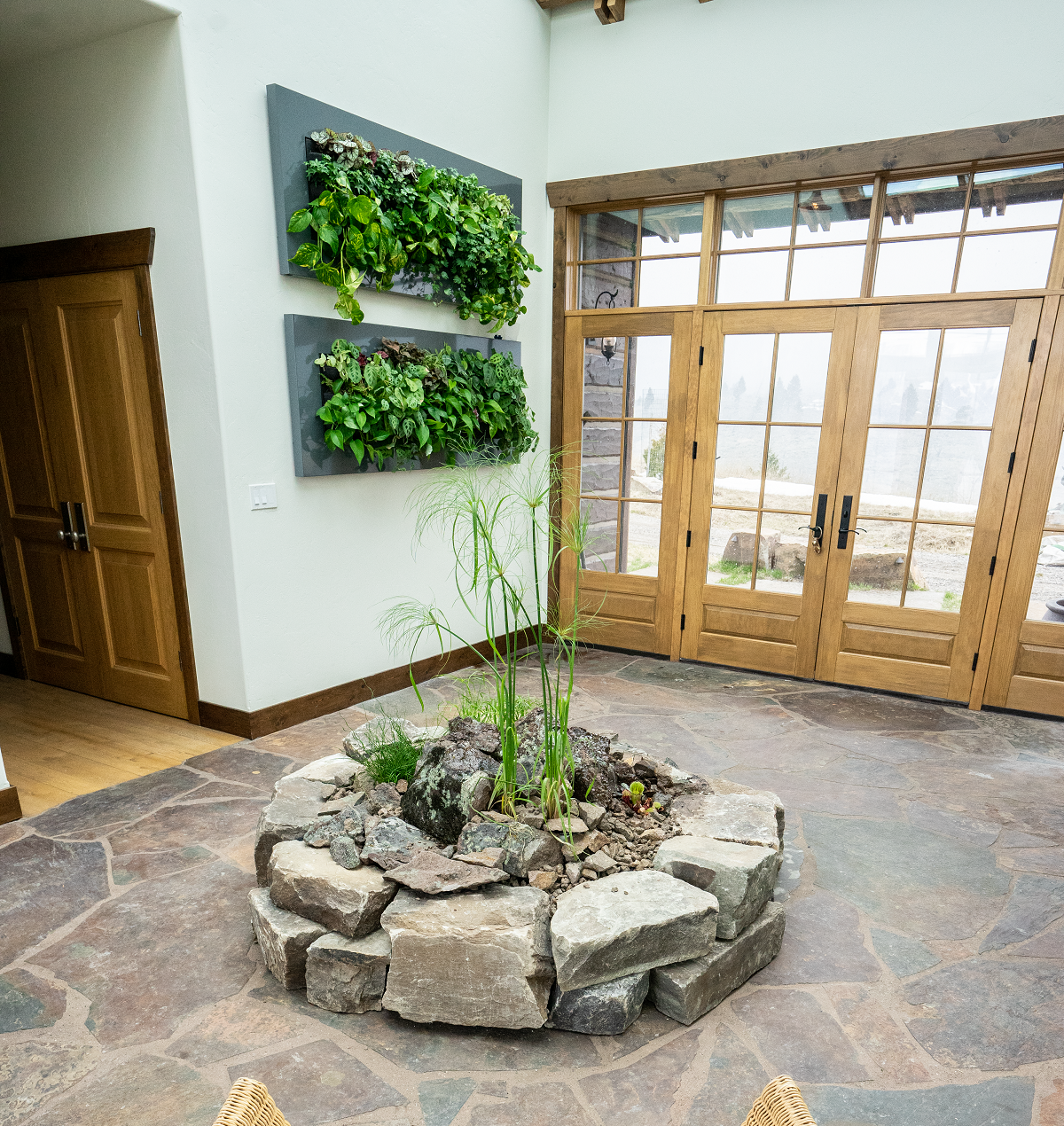 We may sometimes recommend a humidifier if you have species that really need more moisture in the air.
In addition to the plant and its needs, you'll also want to think about your own needs. Are you looking for something that is just green or something that also flowers? Do you want a plant that is just going to sit in or near a window, or something on the floor?
If you have any pets, you'll also need to consider choosing species that are not poisonous if touched or ingested. Many people are surprised by how many plants can be dangerous for pets.
2. With Indoor Plantscaping, Placement (and Location) is Everything
You probably already know that you need to keep the plants' needs into account when deciding where to put them. In other words, you wouldn't want to put a plant that needs indirect sunlight right in a windowsill. It's going to receive too much sun and likely get scorched leaves.
But there's more to placing plants than just meeting their needs. Since the goal of using plants in interior design is to create a beautiful space, you also want the layout to look aesthetically pleasing.
We think of interior plantscaping as "bringing nature in," and want to make sure that our arrangements truly provide the benefits that homeowners and business owners are looking to achieve with the design.
An interior plantscape design might mean grouping certain potted plants together that look best. But it could also mean a living wall in which we could cover an entire wall with living plants.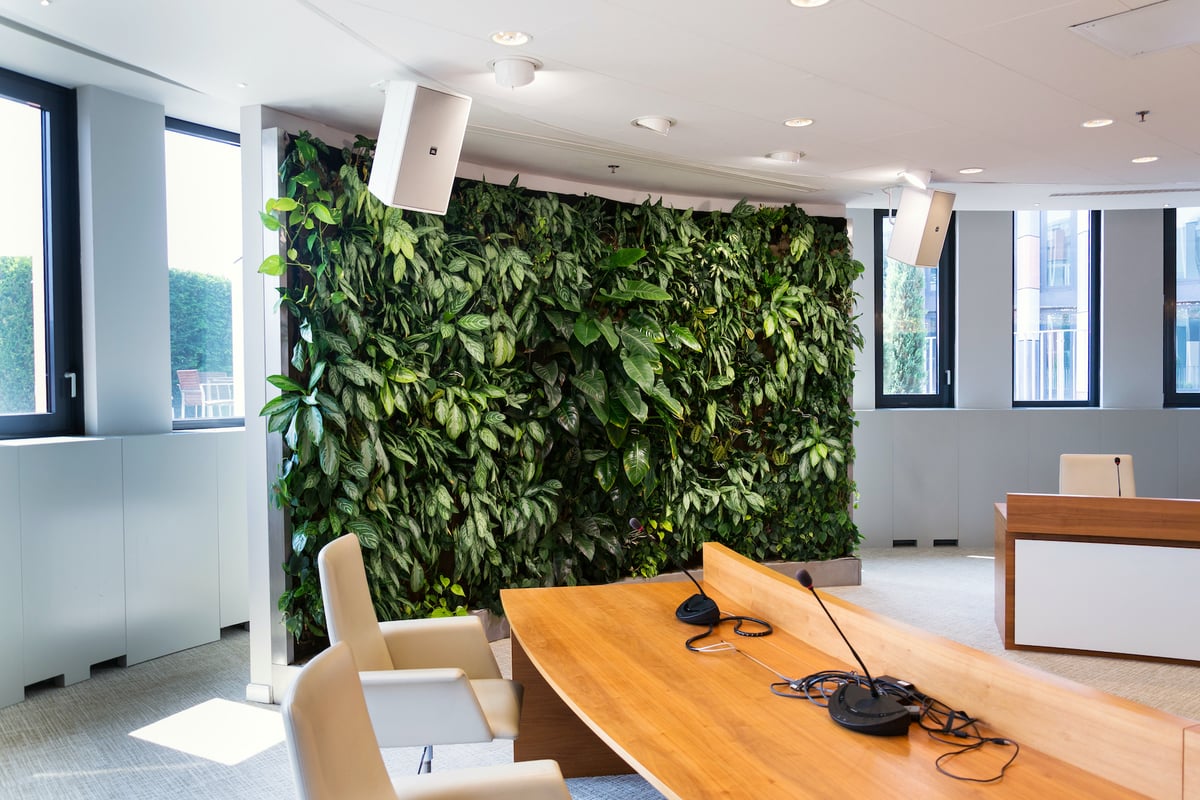 Visibility is also important. We have an entire article written on some of the benefits of interior plantscaping in the workplace. Benefits include things like increased productivity, decreased stress, and enhanced creativity.
But these benefits are contingent upon the plants being "seen." With a plantscape design, that means taking into account where plants will have the best visibility. If people are sitting in cubicles or offices, we need to consider their lines of sight and what plants they'd actually be able to view from their desks.
The same is true around homes. Interior decorating with plants wouldn't make sense if the plants are going in obscure places where you never spend much time.
All of this needs to be taken into account when planning the perfect locations for your various houseplants.
3. An Indoor Plantscaping Design Will Need the Proper Care
Just like outdoor plants, your interior plants will need oxygen, water, and sunlight to survive. They'll also require occasional fertilization.
Unfortunately, the biggest way that people go off track is when it comes to interior plant maintenance. They forget to water the plants or provide fertilization when it's needed. Or, perhaps they fail to check in on them and recognize that something is going awry. Indoor plants are prone to disease and pest issues and can go downhill if they aren't properly cared for.
It's easy for these issues to happen. We all get busy and a few missed days of watering can quickly multiply.
This is where having a professional handling your indoor plantscaping can really pay off.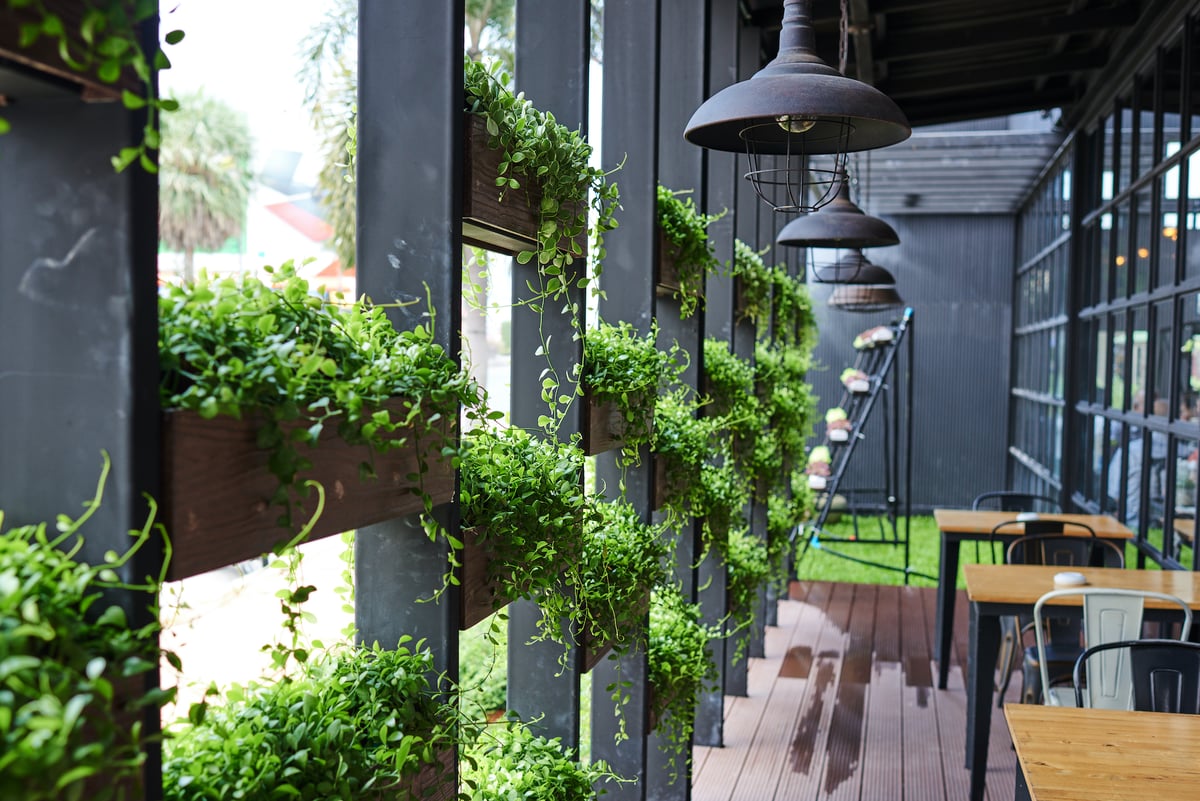 Not only will a pro know exactly where in your space that plants will perform best (from a sunlight standpoint) and how much water each of your plant species will need, but they'll be able to watch for disease and pest problems. Early detection with these concerns is everything.
One of the other benefits of working with a pro is that when a plant is struggling and sickly, it can be returned to the nursery and nursed back to health while another plant is put in its place. That means you'll never have to live with an unattractive and declining plant.
4. A Professional Can Deliver the Best Results with Interior Plantscaping
When it comes to achieving everything involved with these tips, you'll be in the best shape in the hands of a professional.
As we just talked about, a pro will help you to properly care for and maintain your plants so that they don't get sick and struggle.
But they'll also be able to help you with the interior plantscape design.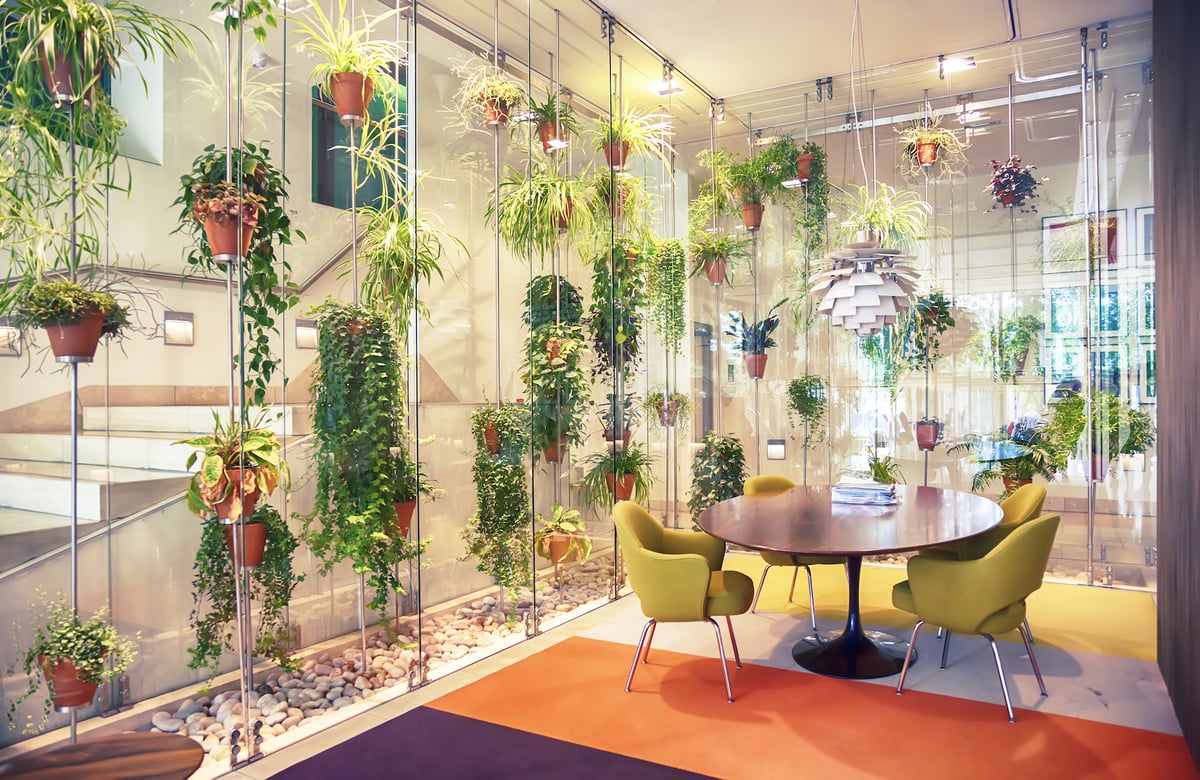 For one, this means choosing the best species. A professional should have access to a much wider variety of plant species than the average person.
At Blanchford Landscape Group, we have made connections with growers and nurseries in Florida, California, and Texas, giving us access to some really unique plants that homeowners or business owners couldn't otherwise find here in Montana. However, it's important to remember that certain species are going to need extra attention and care. A professional will have the horticultural expertise to know what these plants need.
Beyond choosing the plant material, it also means laying them out in your home or office where they will perform and look their best. There is a huge "eye for design" with this process that people tend to forget about.
Sticking a houseplant in a window here and there just isn't going to deliver on the results you're seeking.
It's also important to remember that an interior plantscape is an evolving thing. You don't want your interior plantscape to suddenly start looking messy because no thought was given to the design or the future of the design. After all, plants are living, growing, and changing things. Though your arrangement might initially look good, over time, as plants grow, they might start to look sloppy.
Working with Blanchford Landscape Group for Indoor Plantscaping
Rather than attempt to tackle plantscaping on your own, you can hire a professional with the horticultural knowledge and experience, as well as the eye for design, to get you the best results.
At Blanchford Landscape Group, we tend to think of ourselves as "plant geeks." We absolutely love plants and we love using plants in interior design.
Whether you have a commercial space or a residential one that you feel could benefit from interior plantscaping, we invite you to reach out and find out more about the process and how it could best serve you. In the same way that we get excited about transforming our clients' outdoor living spaces, we love creating beautiful indoor spaces, too.
Are you ready to learn more about our interior plantscaping services at your Bozeman or Big Sky, MT business? Let's connect and talk about your needs. Then we can meet and review a detailed plan of action. With everything being handled for you, you'll be able to relax and enjoy your indoor plants to the fullest.