Plants in the workplace can be an aesthetically pleasing and welcomed addition. But there are tangible benefits beyond just looks. In this article, we'll discuss some of the benefits of interior plantscaping in the workplace. You might be surprised by just how powerful some greenery can be.
What is Interior Plantscaping?
Before we go any further and discuss the benefits of interior plantscaping, we want to make sure we explain what it is.

Plantscaping is essentially "interior landscape design." But it is more complex than just bringing plants inside. It includes the strategic placement of plants around the interior space not only for aesthetic purposes (where they "look best") but also in terms of where they'll function best (based on their needs, primarily sunlight requirements).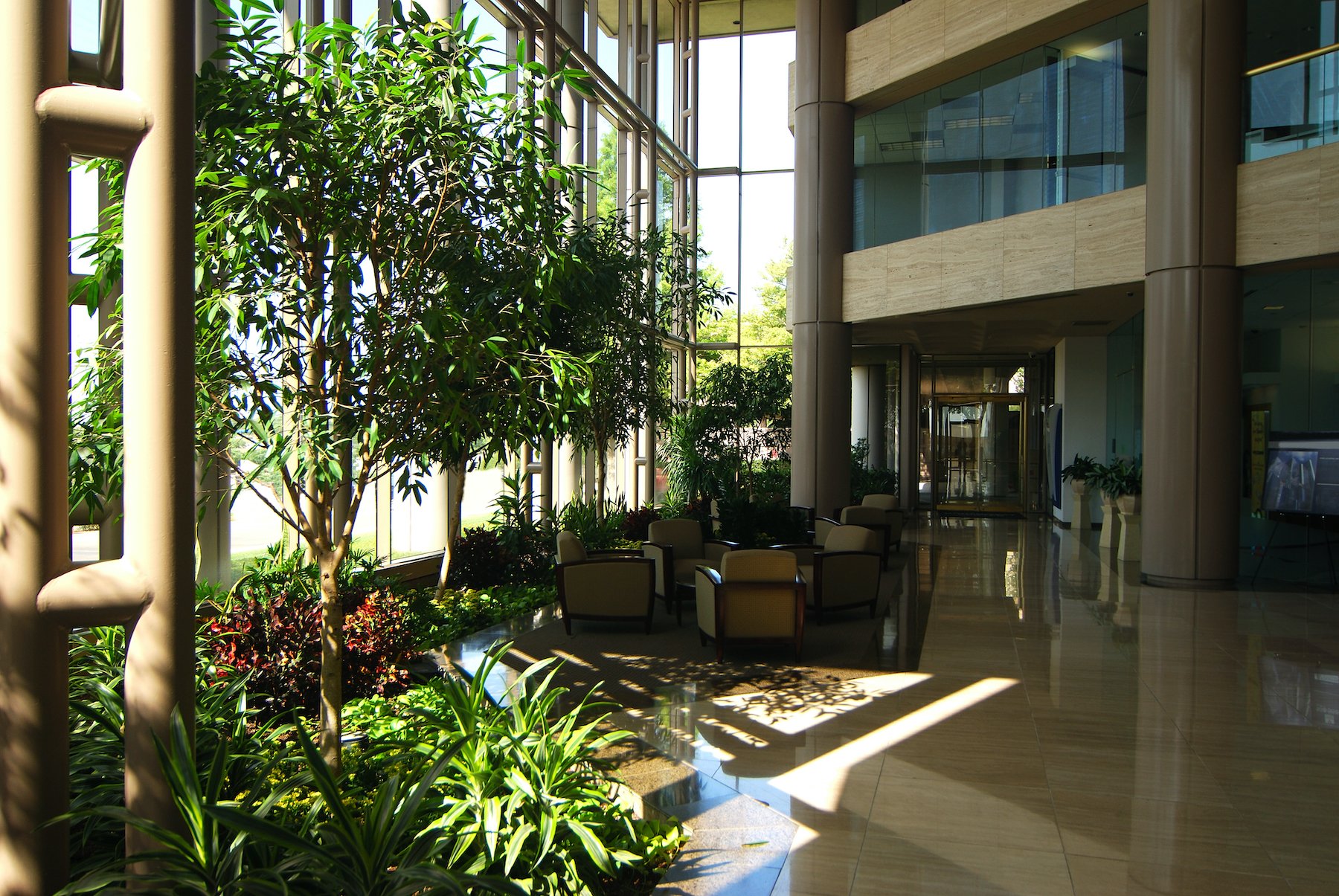 We like to think of plantscaping as "bringing nature inside." For those that can't spend all day outside, this is such a welcomed practice. They can gain some of the benefits that they are used to receiving when spending time in green spaces, but now indoors.

An interior plantscape could be as simple as some groupings of potted plants, laid out with spatial and functional considerations in mind. Or it can be as complex as an entire living wall that is completely covered with plants.

Let's look at some of the benefits that can be expected from having plants in the workplace.
The Many Benefits of Office Plants
If you are thinking about adding plants to the workplace, you might be wondering what you and your employees have to gain. The aesthetic appeal is obvious. But as we mentioned, there's more to it than that.

Here are some of the common benefits of plants in the workplace.
1. Plants in the Workplace Help to Increase Productivity
Research performed by the University of Exeter found that plants in offices increased happiness and, in turn, the levels of productivity amongst employees. In order to get this full benefit, the study found that it was important that everyone could actually see a plant from their desk.

It had the result of helping to keep employees "pscyhologically engaged."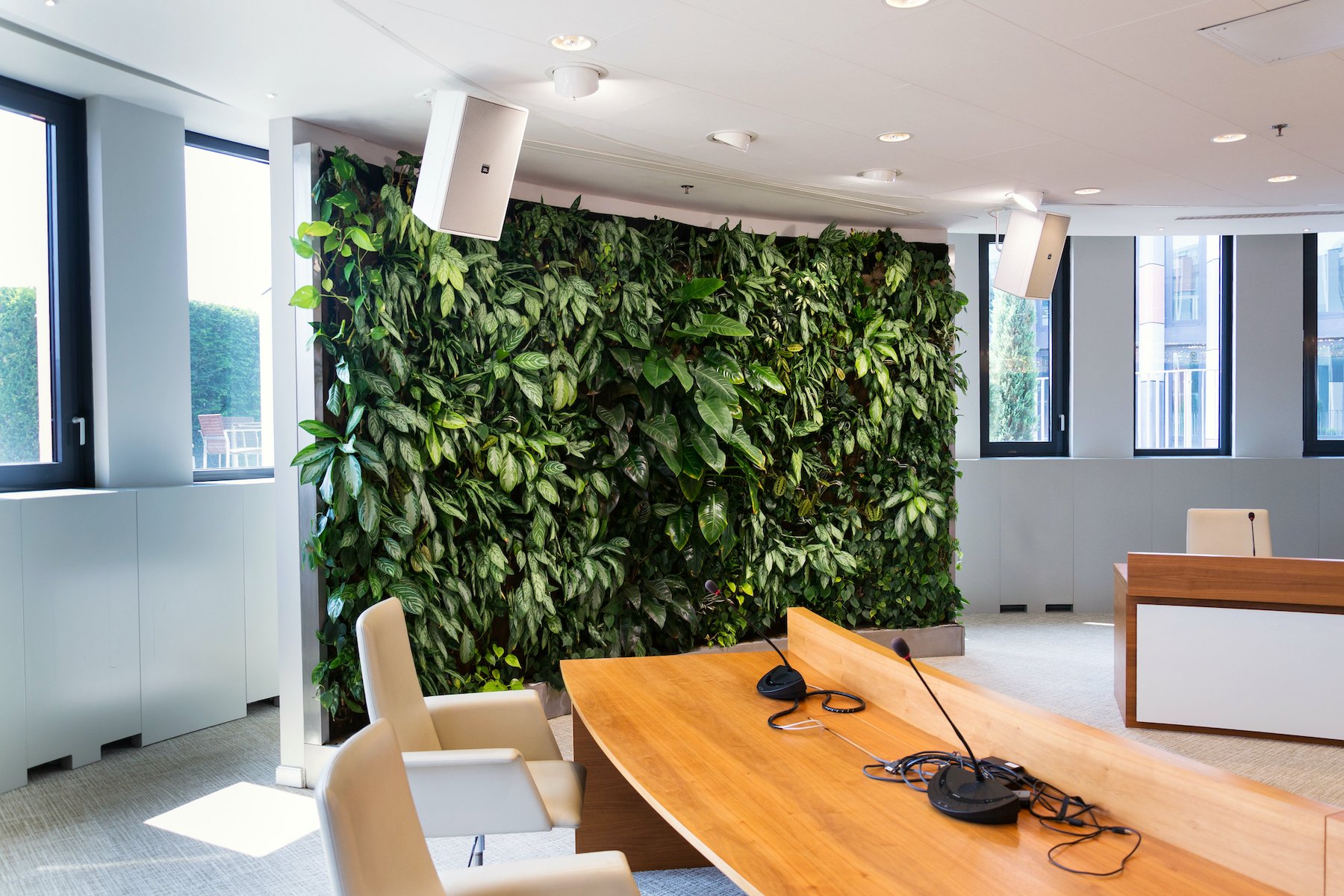 It's fascinating how much plants can engage our brains, often without us even realizing it. But this wasn't the first or only study to look at plants and happiness. Various research has linked greenery to feelings of happiness.

Honestly, it's fairly easy to see why. Plants are beautiful and appealing and that has a psychological impact. Whether employees realize it or not, it also ends up inspiring them to work more efficiently.
2. Plants Clean the Office Air
Another benefit of having plants in the workplace is their purification abilities. Research by NASA has revealed that indoor plants can remove up to 87 percent of air toxins. As a result, NASA suggests having at least one plant per 100 square feet of home or office space.

More recent research coming out of the University of Technology Sydney also found that indoor plants can help reduce carbon dioxide levels by about 10 percent in air-conditioned offices and by about 25 percent in buildings without air conditioning. That research showed that palms were the best for carbon dioxide reduction. But in terms of volatile organics, just about any plant had a benefit.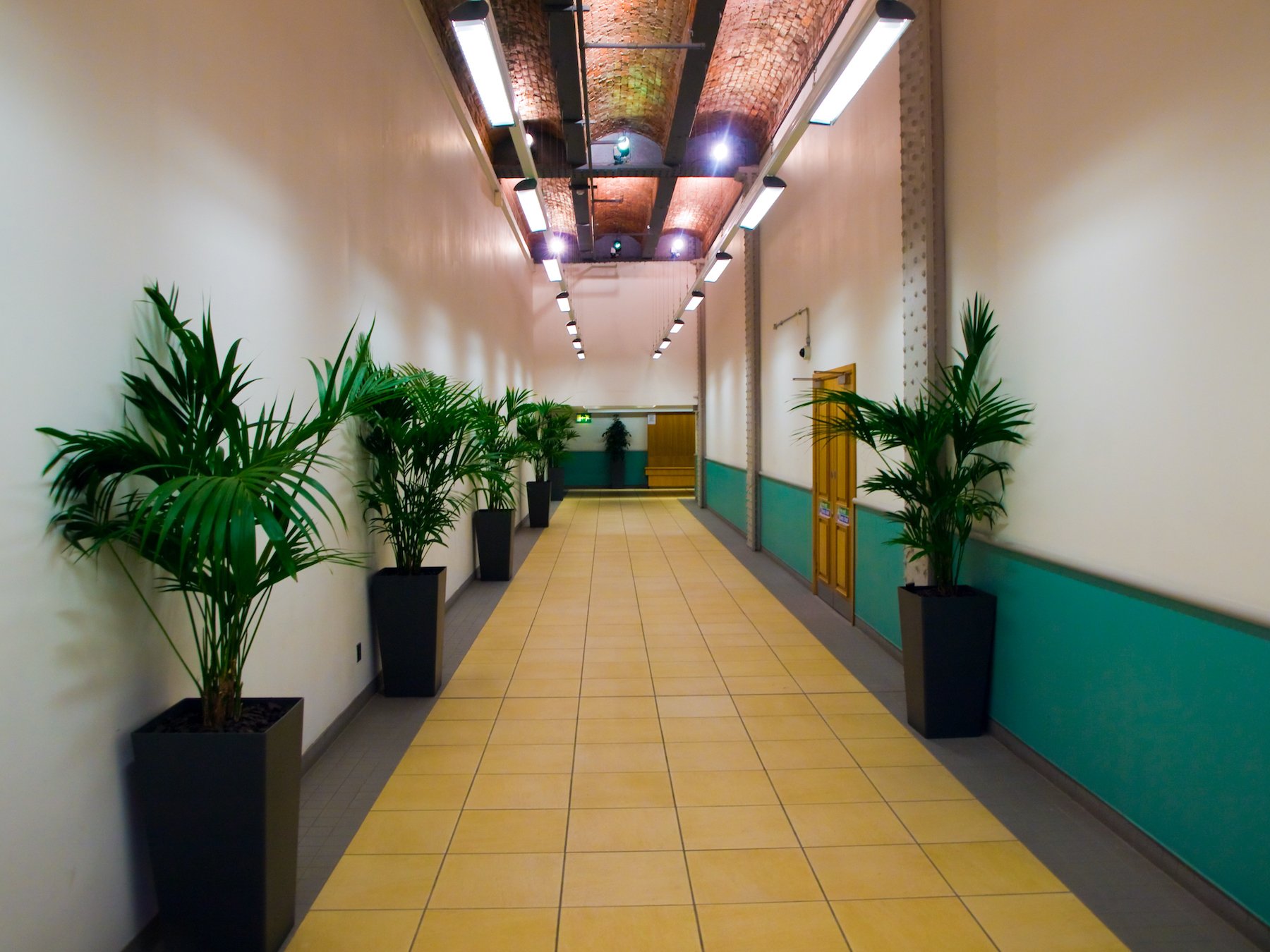 3. Plants in the Workplace Boost Creativity
Just as plants can keep us psychologically motivated, they are also thought to impact creativity.

Some research has shown that workers report feeling more inspired or having more creative ideas when they are around plants. It's the very reason why so much of our wonderful literature throughout the years has been inspired by nature. Or why you so often hear of writers spending time outside to spark innovation.

If you want to help boost your employees' innovative thinking, plants in the workplace can be an easy addition that just may get those creative juices flowing.
4. Office Plants Help to Reduce Stress
These days, we're all a little stressed. Even if you have an incredibly positive workplace with a great team culture, it's likely that many of your employees feel stressed. Even if it's stress from their personal life, you want your employees to be able to let go of tension and anxiety when they come to work so that they can focus on their job.

Plants can be great for that!

There is a variety of research that links the presence of plants to reduced stress. For instance, a recent Japanese study found that plants can improve mental health while at work. Study participants who spent their workday around plants were less stressed. They had a decreased pulse rate and scored better on anxiety testing.

The thinking is that plants serve as a "restorative distraction" from draining tasks. Plants offer a sense of contentment and peace, helping to bring a feeling of calm around the office.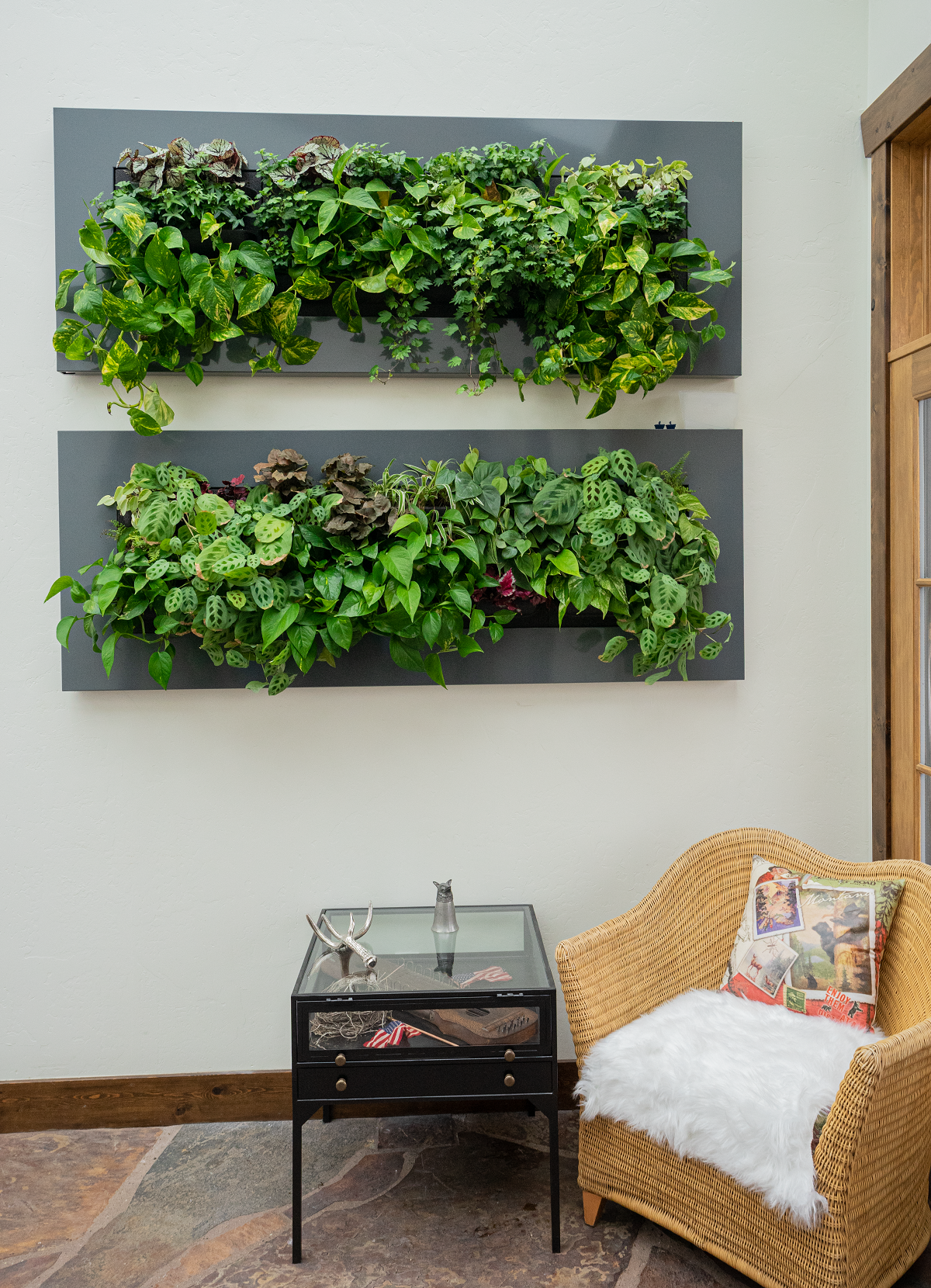 5. Plants in the Workplace Make the Office More Attractive
As we mentioned early on, plants definitely bring an aesthetic appeal to the office (in the same way that artwork or other beautiful additions would). But what you might not be considering is that this is not only beneficial to your existing employees but to potential hires, as well.
Office plants make your workplace more attractive to job applicants.

When potential hires come into your office, you want them to get a great first impression of what it's like to work there. Having plants around the office will impact their feelings whether they recognize it or not.
Benefits of Interior Plantscaping: Tips for Success
Now that you have a better understanding of some of the many benefits of office plants, you might be thinking about interior plantscaping. After all, you want to make sure that these benefits are realized.

Here are some interior plantscaping tips to set you up for success.
1. Choose the Best Plants
Successful plantscaping is contingent on the best plant choices for the conditions. Light and humidity are two of the biggest factors in whether or not an interior plant will thrive. Unfortunately, here in Bozeman and Big Sky, MT, most offices are pretty dry, which is why interior plant maintenance can be a struggle.

A professional can help you to choose the best plants that will thrive in your office conditions. But the truth is, some plants may never perform optimally inside. That's one of the benefits of working with a pro who can "swap out" plants as they end up needing to return to the greenhouse for some extra TLC.

With a plantscaping program like this, you can always have something that is beautiful and flourishing in your office. If plants start to get droopy or seem to be struggling, they can be easily swapped out.
2. Arrange Plants for Both Functional Needs and Aesthetic Appeal
As we mentioned, where you place plants within the office is also important. You need to consider their sunlight needs. But you also want to think about how the arrangement looks from an aesthetic standpoint so that your employees can get the most benefits out of them.

Since some of the benefits of office plants are contingent on everyone being able to physically see a plant (or more) from their desk, this is another consideration that needs to be taken into account during a thoughtful arrangement.

There's more to this than just choosing some plants and sticking them by a window. In order to make it look best (and gain the most benefits), there has to be an "eye for design."
3. Be Sure to Care for Plants Properly (and Protect Your Investment)
Of course, ongoing care is also essential to have thriving office plants. The last thing that you want is to invest in a variety of indoor plants only to have them decline and possibly die.

But there's more to their care than just sunlight and water as many people think.

Indoor plants are prone to disease and insect problems. If you have an indoor plant collection for long enough, it will likely become infected with something (disease or pests) at some point—and you may not know what to do.

This is where having a professional handling your plantscape can really pay off. Not only will a pro know exactly where in your space that plants will perform best (from a sunlight standpoint) but they'll be able to watch for disease and pest problems. Early detection with these concerns is everything.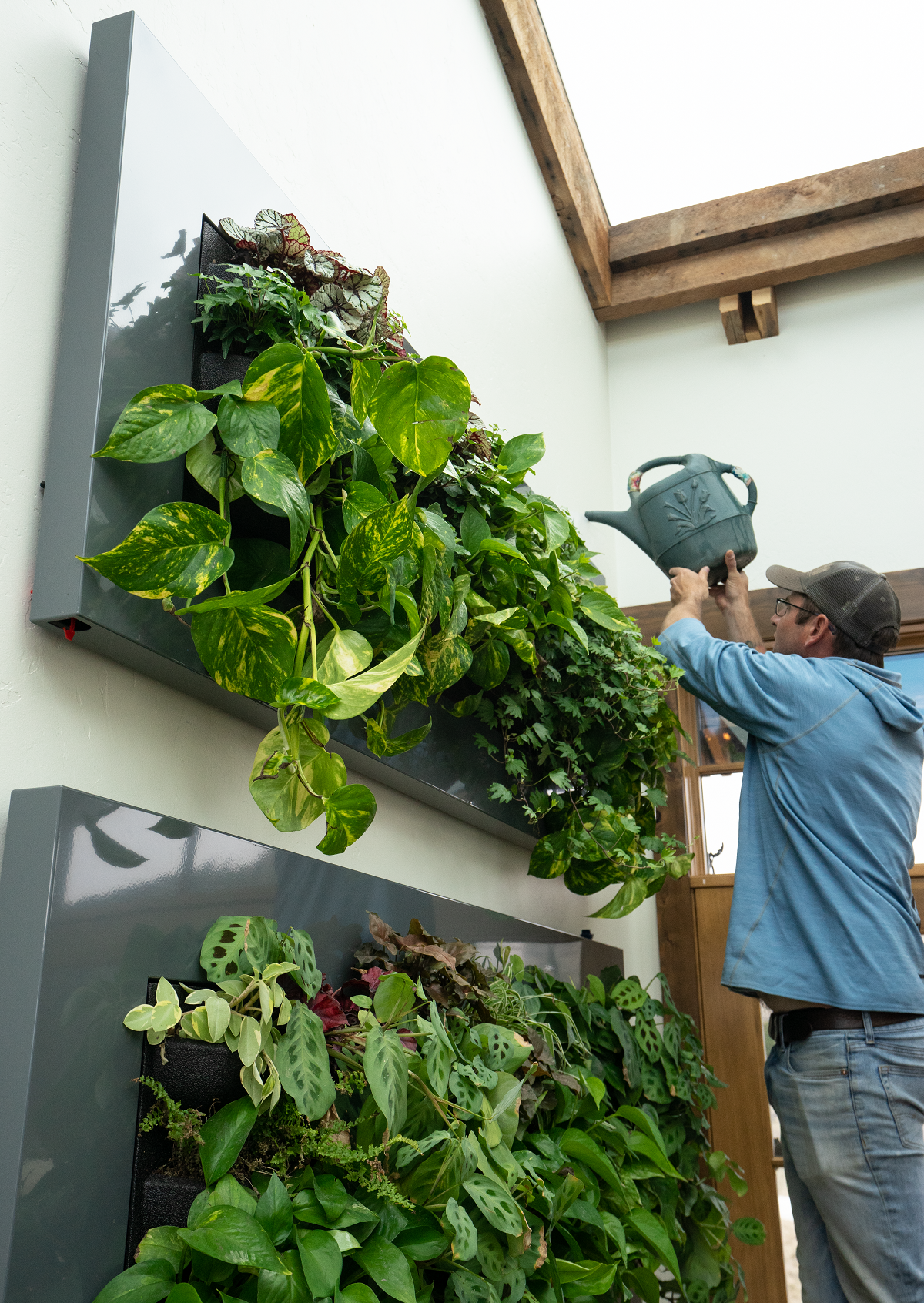 A pro also knows how often and how much to water your plants—and can handle that service for you. It removes all of the guesswork on your end. All you have left to do is enjoy your plants.
Working with Blanchford Landscape Group for Interior Plantscaping at an Office
At Blanchford Landscape Group, our focus on horticultural knowledge and experience has made interior plantscaping a natural fit for us. We're using the same approaches and care to our interior designs as we have used for our exterior ones.

You might call us "plant geeks," and we're totally okay with that!

We understand the power of plants and the many benefits of interior plantscaping and it feels amazing to be able to bring all of that to local offices. In the same way that we get excited about transforming our clients' outdoor spaces, we are also incredibly passionate about interior plantscaping.

If you are looking for interior plantscaping for your commercial office, then we invite you to reach out and find out more about our process and how it might best serve your needs.

Are you ready to learn more about our interior plantscaping services at your Bozeman or Big Sky, MT business? Let's connect and talk about your needs. Then we can meet and review a detailed plan of action. With everything being handled for you, you'll be able to relax and enjoy your indoor plants to the fullest.